Introduction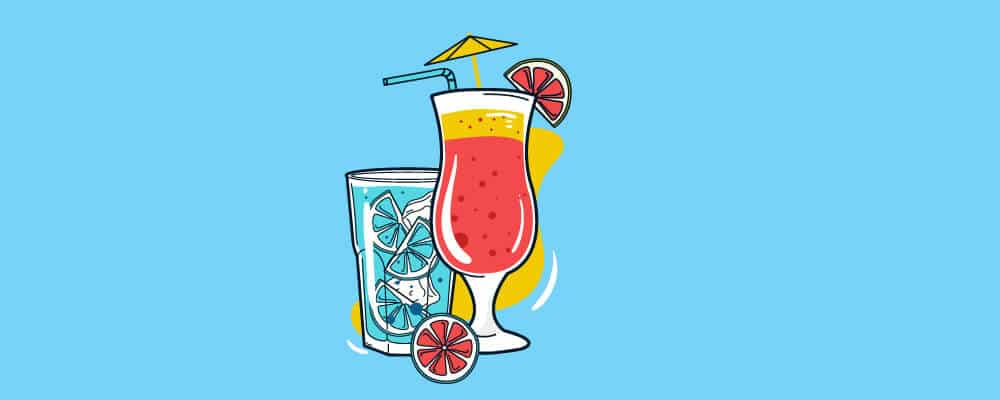 When we head out for drinks, we have the choice of beers, wines, liquors, and cocktails. So many people enjoy the taste of a delicious cocktail. They are often fruity and full of flavor, the combination of many ingredients mixed into one delicious drink. 
Yet, there are so many cocktails out there, it can be hard to know which is the best, and no matter how many you have tried while out for drinks with friends, it is unlikely you have tried them all. But you can always try out the most popular ones, and that is why we are here.
What is a cocktail?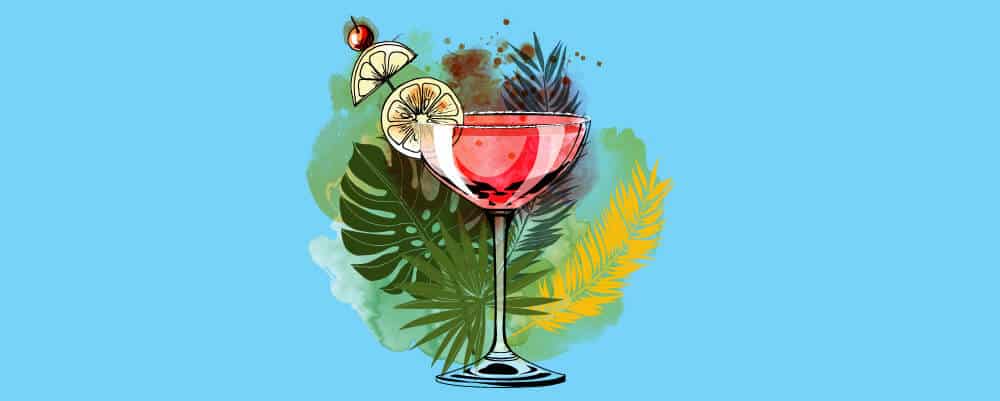 One of the first descriptions of a cocktail was in an article in a Hudson New York paper in 1806, it was noted as 'cocktail, then, is a stimulating liquor, composed of spirits of any kind, sugar, water, and bitters.' 
This was long considered to be the first mention of the world, and so any true cocktail was expected to contain those four elements. An 'Old-fashioned' is the classic example of this. Yet when you look at other drinks, such as a martini, would not be a cocktail by this definition, and a vodka-soda, would also not be a cocktail by this definition either. 
A cocktail, really, is the mixing of two or more things. Of course, then it is important to distinguish between a mixer and a cocktail, a rum and coke is not a cocktail, but if you mix vanilla vodka with lime juice, two whole passion fruits, sugar syrup, and passoa, you have a porn star martini- which is a cocktail. 
Modern cocktails tend to be fruity, and often have a fruit juice in them, and like the porn star martini, can often have whole fruits in them too. Think of a piña colada, another cocktail.
A brief history of cocktails
Cocktails are often considered an American invention. However, they were at least partially inspired by punches in Britain, which were big bowls of spirits mixed with fruit juice, spices and other flavors, which would be consumed in punch houses back in the 18th century. 
The term 'cocktail' was first seen in a British newspaper printed in 1789, however, the term was not defined until 1806, as we previously mentioned, in Hudson, New York. 
A list of the 20 most popular cocktails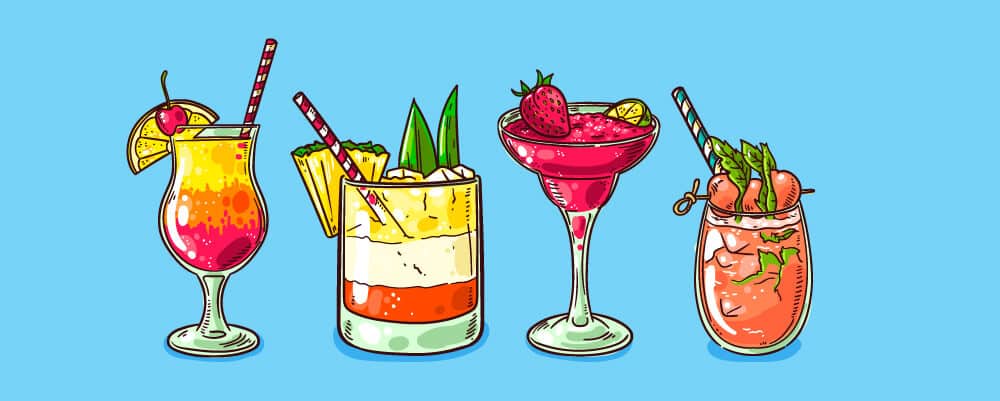 There are so many cocktails out there, and we love them all. However, we cannot mention all of them, or we would be here for years. Yet, the world does have a few favorites. 
But, before we get down to mentioning them, let's note, these are worldwide popular cocktails, and you may never have tried some of them. There are some that didn't make this list that you probably have tried, or heard of, such as the Long Island iced tea, the cosmopolitan, Irish coffee, porn star martini, piña colada, gin fizz, amaretto sour, sidecar and so on. 
Now, let's get down to the top 20, worldwide favorites. 
Old-fashioned
We previously mentioned the old-fashioned. This cocktail is not only the most popular cocktail in the world, but it is probably one of the only cocktails that actually sticks to the old definition of what a cocktail is. It is a simple classic which is made with rye or bourbon, a sugar cube, angostura bitters, a thick cube of ice, and an orange twist that delivers every single time. 
It can be difficult to decide on the best bourbon for an old-fashioned, it doesn't have to be super expensive or rare but it needs to be good enough that you could sip it neat without pulling a face.
This is it, plain and simple, the most popular cocktail in the world. 
Negroni
Negronis are much loved, and if you have tried one, you will often be a bit disappointed if a bartender has no idea how to make one. We would hope that most bartenders will know how to make a Negroni, since they are consistently being nominated as the second most popular cocktail in the world. 
It is a simple concoction of gin, campari, and vermouth, in a tasty punchy package. Yum! 
Daiquiri
We know you have definitely heard of number three on this list, the daiquiri is a famous and popular beverage, although very often misunderstood. Although, it is a drink often related to fruit and blenders. This is not the case, although there is nothing to say that you cannot get a bit imaginative with it if you want to. Daiquiris are simply made, a gentle mixture of white rum, lime juice, and a simple syrup. It is safe to say that this is a drink that will definitely wake up your mouth with its refreshing citrus tang.  
Dry Martini
The elegance of a martini comes with the panache of style, the feeling of waltzing around in an old-fashioned casino like the legendary James Bond. Martinis are probably one of the most popular cocktails with simple thanks to the James Bond franchise, and it is no wonder. Bond made the martini into an elegant and classy drink that makes you feel like a super secret agent whenever you hold the thin stem of a martini glass tenderly between your fingers at the bar. 
If it is well-made and presented well, it is elegant in a glass. It is simple, too, just a classic mixture of gin and dry vermouth. It is often in the list of top cocktails, and we are not surprised by this at all. 
Margarita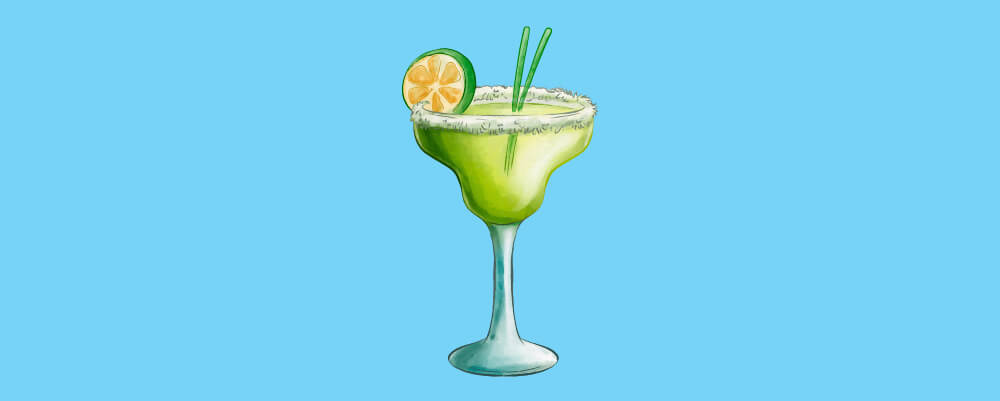 The margarita, who hasn't tried it at least once. It is also without a doubt one of the most popular cocktails in America. You wouldn't want too many of these thanks to their tequila-based content, however, they are absolutely delicious, and their fun, tangy, flavor always makes you feel like you are on vacation. 
They are the most well-known tequila cocktails in the world, and they always look gorgeous as well, especially when served with a lime slice on the side and salt sprinkled around the rim. 
Espresso Martini
This drink is not unlike the classic martini, however, it does differ in that it will surely wake you up. It is the perfect balance between the energy boost of pure caffeine and the relaxing, soothing effect of a tasty cocktail. Much like a refined Red Bull and vodka, it gives you the best of both worlds, however, this is more of a drink for the coffee enthusiasts out there. 
This is a drink best had after-dinner, offering the perfect pick-me-up when you start to feel happily lethargic with a belly full of food. It is often called a Vodka Espresso or a Pharmaceutical Stimulant as well. 
Whiskey Sour
If you are a lover of whiskey, but also like the zest of citrus, you could not ask for a better drink. This is a drink that you cannot go wrong with. It is dependent and fits both whiskey lovers and those who are wary of it, if you love citrus, or whiskey, it suits.
The lemony lift and slight sweetness make this drink appealing for citrus lovers, and its whiskey content and unique flavors make it suitable for whiskey enthusiasts too. The simplest of recipes make up a whiskey sour, simply whiskey, lemon juice, and sugar. 
Manhattan
Much like the infamous city, the drink, Manhattan, is just as hard to stray from. It is even more difficult to stray from it with the recent rise in rye whiskey. We cannot deny its deliciousness, and if you haven't yet tried it, you need to, especially if you are a fan of whiskey. It is a bit more complex than some of the aforementioned beverages on our list, with spicy rye, sweet vermouth, two dashes of Angostura, stirred, strained, and beautifully garnished with a brandied cherry. 
This drink can make you feel like a class act, and gives you the classy and stylish vibe that you would also get from roaming the busy, famous streets of Manhattan. 
Aperol Spritz
If you are a social media buff, spending time on Instagram and venturing the online world to see what everyone is up to, you will probably be familiar with the Aperol Spritz. If you are a fan of trying out cocktails, or just a fan of the online world, then you will know this one. It moved into the top ten most loved cocktails in 2017, making it into the top ten list when it previously sat at number 22. It is an increasingly popular apéritif, and there is no surprise there, it is visually pleasing, tasty, and it is super easy to make. 
Feel free to whip it up yourself in your kitchen, all you need is a three-two-one ratio of prosecco, aperol, and soda. With the rise in popularity of prosecco in recent years it is no surprise that this drink skipped the queue of the most popular cocktails. 
We are starting to learn that if it contains prosecco, it is only a matter of time before it becomes adored. 
Mojito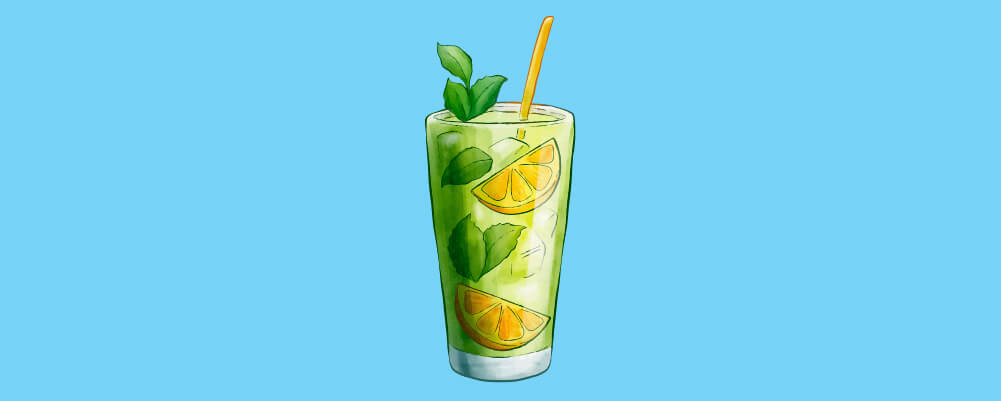 Here's another that simply everyone will know, even people who do not drink know the mojito. This is a drink that will wake up your mouth and make you feel fresh, and it's not all down to its zesty citrus content. You just look at a mojito, and you feel refreshed, a clear white glass packed with ice, mint, and lime. 
This drink is undoubtedly Cuba's most popular and loved contribution to cocktail culture. It is a refreshing mix of white rum, lime juice, cane sugar, and soda, with muddled mint. It is tropical fresh and gives you that feeling of being abroad on vacation. 
It can even work well as a palate cleanser, if you were out for a meal, and you wanted a palate cleanser but didn't fancy the traditional methods, try a mojito, its minty, citrus freshness is certain to cleanse your palate effortlessly while giving you that white rum buzz. 
Bloody Mary
We cannot forget the Bloody Mary. This is another drink everyone will have heard of. Most will relate it to the childhood scary story of what happens if you say 'Bloody Mary' three times in a mirror. Although we tormented ourselves as children with this weird scary story, the Bloody Mary drink is much nicer, and it is definitely not scary, however, it is definitely a great choice of cocktail for Halloween. Why is this? Well, this is because the tomato juice ingredient will make it look like you are drinking a spooky blood cocktail. It's the perfect cocktail for the spooky season. 
Not only that, but it is an experience to drink it, and it is more than just a great drink for the ghostly time of year. It is also a staple for brunch menus, it is a combination of tomato juice, vodka, and spices, and if you like you can add in an array of garnishes as well, ranging from celery to olives, bacon, and of course, why not add in a whole cheeseburger to your brunch-time Bloody Mary experience. 
It's a great drink, perfect for brunch, or seeming spooky. 
Gimlet
Not one of the most known drinks, but definitely a drink that is vastly popular around those who have tried it. A gimlet is two parts gin, one part lime juice, and one half part sweetener. It is an easy drink for gently sipping away at, and it inspired many iterations. It has been popular and has maintained its place in the most popular cocktails for quite some time now. 
If you haven't tried a gimlet yet, what are you waiting for? This is a one to try for gin lovers. And with gin on the rise in popularity of late, we are sure that more people will be trying this cocktail, and soon it will be working its way higher up the list of popularity. 
Moscow Mule
The Moscow Mule is a tasty cocktail that will refresh you, and is wonderfully cold, so it is certain to cool you down on a hot day. It is a cocktail made from vodka, spicy ginger beer, lime juice and is garnished with a slice, or a wedge of lime. It is also a type of buck, and this is why it often takes on the name 'vodka buck' as well.
It is popularly served in a copper mug known as a Moscow Mule mug, which maintains its cold temperature. A Moscow Mule is always served in a mug filled with ice, hence the cold temperature, and probably the name too. If you are out on a hot summer's day, and need a drink that will keep you cool, a Moscow Mule is sure to do the trick. 
Penicillin
We do not mean the drug when we say penicillin. This drink was created in 2005 by a New York bartender named Sam Ross. The name Penicillin derives from the drug, which hints to the medicinal properties of some of its ingredients. Suggesting effects similar to those of a 'hot toddy' which is rumored to relieve symptoms of colds and flu. 
It is something of a cure for a weary wintertime drinker, made with blended Scotch, smoky Islay scotch, lemon juice, and honey ginger simple syrup. Reminding us of much of the cure for any sore throat- lemon and ginger- this cocktail is both a delicious alcoholic beverage and a cure for an itch you can't scratch when you have a tickle in your throat. 
Some might even say, why take penicillin when you can have a penicillin? 
Dark 'N' Stormy
The Dark 'n' Stormy is a highball cocktail that is made with dark rum and ginger beer, usually served over ice and garnished with a succulent slice of slime. Lime juice and simple syrup are also frequent additions to this drink. 
It is not dissimilar to the Moscow Mule, however, the Dark 'n' Stormy features dark rum instead of vodka. The rum used in this cocktail is Goslings rum (and only ever Goslings rum). Keeping it simple and consistent. If you want to make a Dark 'n' Stormy at home, you better go and get some Goslings' rum, other rum just doesn't hit right. 
Corpse Reviver
The Corpse Reviver is an interesting beverage, with an interesting name. The cocktail noted with this name has two versions, and they are also not only drunk as an alcoholic beverage that tastes wonderful, but, they are sometimes drunk as an alcoholic 'hangover' cure, with the potency or characteristics to, tongue in cheek, be able to revive even the most dead hungover person. Hence, the name. 
There are two versions of this drink, the first contains Cognac, calvados, brandy, and vermouth. The second version of the Corpse Reviver contains equal parts gin, lemon juice, Cointreau, Lillet Blanc, and a little dash of Absinthe. Which would you try?  
This drink is also traditionally served straight up, without ice, inside a cocktail glass much like a martini. If you feel brave enough to test its revival powers, be sure to let everyone know the results. Does this drink truly live up to its name?
Clover Club
Clover club is a delicious drink, however, it is not suitable for vegans. While a majority of alcoholic beverages simply contain spirits, fruit juices, cordials, and a form of soda, this drink has an extra special touch thrown in at the end. 
This drink was actually originally named after a men's club in Philadelphia, however, it is also synonymous with the eponymous premiere cocktail club in Brooklyn. The Clover Club drink is a gorgeous bright pink color and contains gin, lemon juice, raspberry syrup, and an egg white (hence the avoidance for vegans). 
The egg white is not added for flavor or taste. It is there as an emulsifier, so when the drink is shaken in the mixing process, the egg white forms a characteristic foamy head that we relate to this gorgeous cocktail. 
This drink is traditionally served in a cocktail glass, straight up, without ice. You may also find a few raspberries on the side for an added dash of style. 
Boulevardier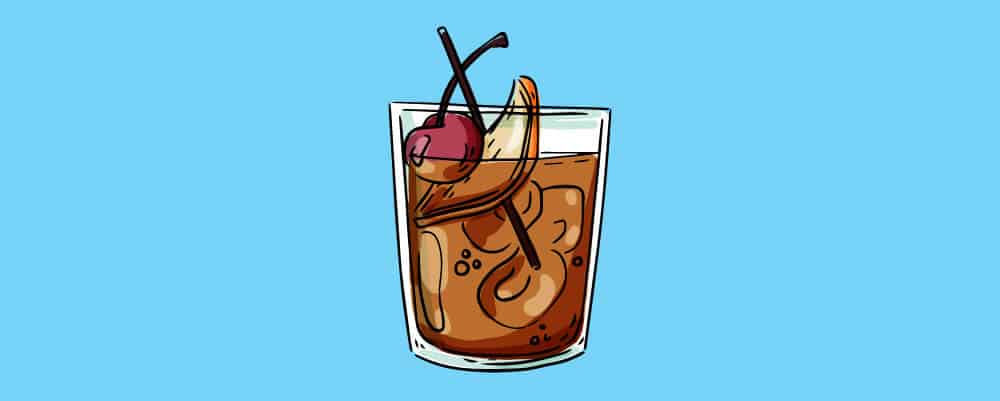 If you like the sound of the Negroni, but aren't a massive fan of gin, the Boulevardier might be more for you. It is the Negroni's cousin, using whiskey instead of gin in its makeup. It uses equal parts of rye, amaro, and sweet vermouth. 
The creation of this drink is accredited to Erskine Gwynne, who was an American-born writer who founded a monthly magazine, known as the Boulevardier from 1927 until 1932. It is prepared by stirring with ice, straining, garnishing and then serving. It is served on the rocks, poured over ice. 
Since this drink is often served with a garnish, you should expect either a cherry or orange peel to accompany your beverage. It is served in an old-fashioned glass, otherwise known as a lowball glass. 
Mai Tai
If you want something colorful, Mai Tai is the drink for you. It is probably the most tiki of tiki cocktails. It is hard to resist as a tasty beverage. The bright colors scream Caribbean vacation in the sun. It is a cocktail based on rum, Curaçao liquor, orgeat syrup, and lime juice. However, it can also be made with different varieties of rum, orange juice, triple sec, and sweeteners. There is no strict recipe, however, rum and sweetness are consistent. It is made by shaking all ingredients, bar the rum, together, with ice. Then strain it into a glass and float the rum onto the top. It is usually served with garnish and a straw. 
Mai Tai is always served on the rocks, and it is usually served with a straw to drink it too. The most common garnishes you will get with a Mai Tai are usually lime peel or a spear of pineapple. These are often served in a highball glass or in a lowball glass. 
There is no doubt that this is a proper tiki drink, however, it also gives off those summer vacation vibes, and it makes for the perfect drink to have by the poolside. 
Sazerac
This drink is unique, and while it is not as popular as it once was, it is still highly loved. The drink originated in the 1850s in New Orleans, and it is still deeply a part of the Crescent Cities culture. It can be typically made with rye or brandy, as well as Demerara syrup, Peychaud's bitters, a lemon twist, and absinthe. 
It is the local variation of cognac or whiskey cocktails that is housed in New Orleans. The name comes from Sazerac de Forge et Fils brand of cognac brandy that served as the original main ingredient. 
To make a Sazerac a chilled lowballer glass needs to be rinsed with absinthe. Then add in some crushed ice and set it aside. Stir in the remaining ingredients over ice, then discard the ice and any excess absinthe from the prepared glass and strain the drink into the glass. Add lemon peel to garnish it, traditionally. 
This drink is served without ice, although ice is used in preparation to chill the glass. It is always served with lemon peel for that added freshness. As an old drink, it is served in an old-fashioned glass, or low baller. 
Peanut Butter Whiskey
Peanut Butter Whiskey is a type of flavored whiskey. It is flavored deliciously with peanut butter or peanuts. It is most often consumed as a shot, or it is also used as an ingredient in cocktails or as a cocktail, you can sometimes find it drizzled over ice cream too! 
You can make a beautiful peanut butter whiskey cocktail with 3 oz screwball peanut butter whiskey, 1 oz chocolate liqueur, 1-2 oz of milk, and a little dash of salt. Always serve it cold with ice, and enjoy the nutty tasty mingled with the unique whiskey flavor. It is the ideal beverage for whiskey lovers with a sweet tooth! 
Easy cocktail recipes to make at home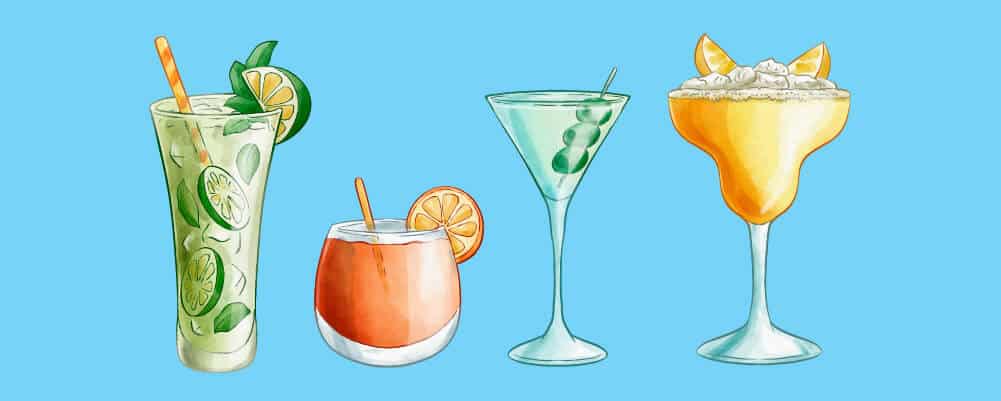 So, these are the top most popular drinks in the world, we know there are many more, and each country, city, and even town, will have its own most popular drinks. However, there are some on this list your local bartender may not know how to make. It is worth knowing how to whip up some of these delicious cocktails in your own home. 
You do not need bartender training, or a whole bar at home to do this. Making cocktails can really be super simple. We will give you a list of some easy cocktail recipes to make at home, pick your favorite and give it a try. Before you know it, you'll never need to head to the bar again to get your favorite drink! 
Making the Negroni
Negroni is probably one of the easiest cocktails you can whip up at home, it only has 3 primary ingredients and one common garnish ingredient. All you need is some Campari, sweet vermouth, and some gin. Easy things to get from your local superstore. 
Recipe. 
1 oz London dry gin. 
1 oz sweet vermouth.
1 oz Campari. 
Add the ingredients into a lowball glass with ice and stir. Finish off by garnishing with orange peel, and enjoy! A super easy drink to make! 
Making a Traditional Martini
There are a couple of ways to make a martini, and you can do it however you like. You can use gin or vodka, whichever takes your preference. Then include dry vermouth and add orange bitters, which is better for gin but is not necessary for vodka. 
If you are going to make the gin recipe, which is probably the most popular since the rebirth of gin popularity, here's how to make yourself a gin martini. 
Recipe 
2 oz gin. 
1 oz dry vermouth. 
A dash of orange bitters (as desired). 
Mixing glass/ metal shaker.
Lemon peel as garnish (as desired). 
Add the contents together into an ice filled mixing glass or shaker. Stir, do not shake, (unless you are James Bond) for about 10 seconds, then strain into a cocktail glass and garnish as desired. 
Making it Manhattan
The Manhattan is another easy-peasy drink to make, it does not need much, and you can find all you need in your local liquor store. All you need is either bourbon or rye whiskey (whichever you prefer), sweet vermouth, and bitters. 
Recipe. 
2 oz rye whiskey/ bourbon.
1 oz sweet vermouth.
2 dashes of Angostura bitters. 
For this drink you want to use cracked ice, stirring the ingredients in with the cracked ice, and then straining it into a lowballer glass. Garnish your drink with an orange twist or some brandied cherry (don't use maraschino cherries, though). 
Making a Daiquiri
If you enjoy daiquiris but are sick of having to go out to have one, you will be so glad to hear they are so easy to make, even though the bartender may make it look like an art form. All you need to make a daiquiri is white rum, freshly squeezed lime juice, and sugar.  
Recipe. 
2 oz white rum.
1 oz freshly-squeezed lime juice. 
¾ oz simple syrup. 
Mixing glass. 
Combine the ingredients into a mixing glass with ice, shake them well and then strain into a coupe glass (like a martini glass but with a rounded bottom. 
Making a Dark 'n' Stormy. 
A stark and stormy is another simple drink you can make. All you need is dark rum (Gosling's black seal is best), as well as lime and ginger beer. It is so easy to make at home, and you probably already have ⅔ of the ingredients at home already. 
Recipe. 
Gosling's Black Seal Rum.
Ginger Beer. 
Fill up your glass with ice, then at 1 part rum, and top it off with 2 parts ginger beer. Use a lime wedge, squeeze in some of the juice and then garnish it with a lime wedge. Tasty! 
Summary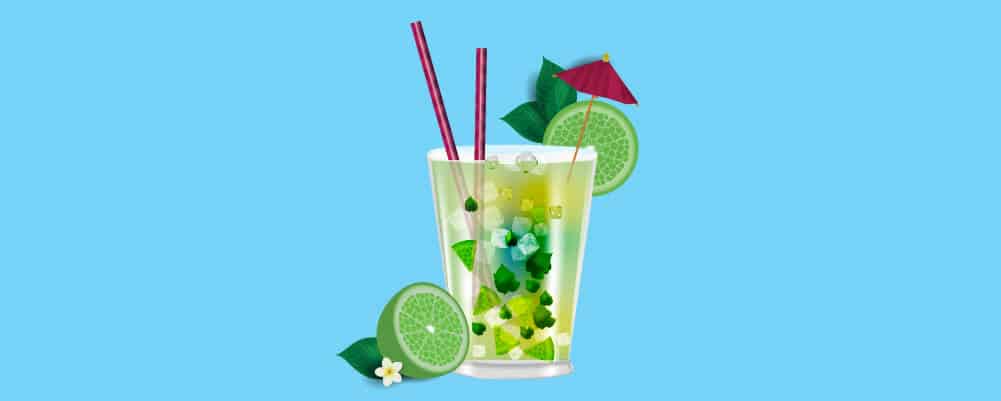 Cocktails are delicious drinks, and they have been around for quite some time. New cocktails are constantly being invented, and the opportunities that come with mixing different flavors, juices, syrups and spirits together are endless. 
These are the favorites, but we are sure you have your own favorites, perhaps it is not even on our list. All you really need to make your favorite cocktail whatever it is are the ingredients, some ice, and a mixer, as well as whatever glass it traditionally goes in. 
You do not need to be a pro bartender to try and make your favorite cocktail at home. 
While these are the most popular cocktails in the world, the list is ever-changing, so by the time you read this, it might have changed, as new cocktails are invented, and people learn about different ones they never tried before. Always try new cocktails, because you never know what you're missing out on.
Related Articles