When it comes to scotch whisky, Glenfiddich and Glenlivet are world-renowned. There have been plenty of debates over which is better and it is a tough choice.
If you are looking for a comprehensive comparison between the two, you've come to the right place.
We'll compare the technical breakdown of these single malt scotch whiskies. Then we'll dig a little deeper for a more in-depth look at their differences.
They both hail from Speyside, where over half of Scotland's distilleries are located.
Fun fact: Most scotch is a blend. That is what makes these single malts so incredible.
↓👇 Jump straight to the poll 👇↓
Glenfiddich Versus Glenlivet (Compared)
Technical Specifications
Production
Glenlivet and Glenfiddich scotch whiskies are both distilled in copper stills. They enter wash stills after fermentation and then spirit stills.
Glenlivet stills have long, narrow necks shaped like lanterns while Glenfiddich uses swan neck stills.
There are other key differences between the two. They use different springwater in their brewing process. Glenfiddich uses the Robbie Dhu spring and Glenvilet uses Josie's Well.
Glenfiddich prefers a more traditional approach to brewing. The copper stills are small and they do the cuts manually. Glenvilet is fully automated, with the cut points controlled by flow meters.
Glenfiddich also distills their whiskies a third time. This makes a lighter, smoother spirit.
The final stage in whisky production is the marrying of casks. The spirits get poured into large marrying tuns with other whiskies of the same age or older. They rest here for roughly 9 months.
This blends the different vintages. The younger brews will mellow and smooth into the older brews. The whiskies will end with the desired flavor profile that is unique to each distillery.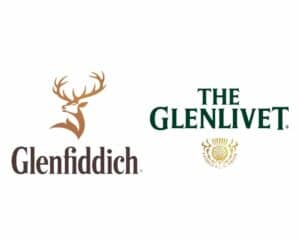 Flavor Profile
Glenlivet has a bright, citrusy scent. It smells of oranges, maple syrup, and vanilla, with a hint of grassy tones. Adding water to it will bring out the fruit and oak scents.
While it may smell sweet, Glenlivet is a bit stronger on the palate. The first sip is akin to warm spice on your tongue followed by brown sugar and zesty orange, with a hint of apple. It has a smooth, long finish.
Glenfiddich has a more delicate scent of creamy pear mixed with honey and whipped cream. Adding water allows the oak to seep through a little and the floral scent gets stronger.
It's as soft on the palate as it is on the nose. Creamy pear and toffee soften the woody flavor. Notes of dried fruits and vanilla seep through. This gives it a lighter and softer taste than Glenlivet.
It has a long, mellow finish.
Variety – Glenfiddich Vs Glenlivet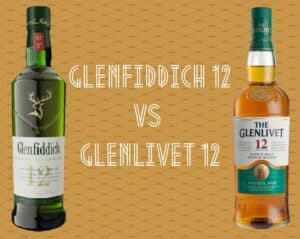 There has been much debate over which distillery's 12-year-old single malt is better. The truth is, it all comes down to personal preference.
Glenlivet 12-year-old is the distilleries signature expression. It's been called sophisticated and classy, with a delicate balance with fruity, strong pineapple notes.
The 12-year-old Glenfiddich has the signature creamy pear and subtle oak tones. This single malt is softer, with notes of butterscotch and cream.
These are only a single example of each distillery. There are more available options than their core range.
Glenfiddich has a considerably wider selection of variants to choose from. These include Special Editions, Rare and Vintage, and even an Experimental Series.
Glenlivet only has 4 variants aside from their core range. Don't let this fool you though. The Nadurra Oloroso has been a particular favorite. It has a warm, spicy taste, blended with luxurious dark chocolate.
Both single malts are enjoyable in a variety of ways with different mixes to suit everyone's tastes.
The glamourous New York Sour with Glenfiddich 15 Year Old is perfect for an exciting night out.
Need to warm up instead? Spiced Spey Coffee with The Glenlivet 12-year-old is perfect for cold winter nights.
Glenfiddich or Glenlivet: Which is Better?
Now that you've read the technical details, we'll dive into a more in-depth comparison of each.
Both of these Speyside whiskies have definite selling points. Below is a closer look at their selections and range.
We'll also look at their high and low points to give you a better idea of what each has to offer.
Glenfiddich – The Lowdown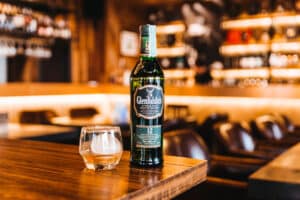 Glenfiddich was founded in 1886 by William Grant and has remained in the family ever since.
It was the first single malt Scotch introduced outside of Scotland and it lives up to its reputation.
Their handmade copper stills are identical to those used for the original Glenfiddich. This means that their signature brew has been the same since the very beginning.
After the whisky gets distilled twice, they allow it to sit for a little while before distilling it a third time. It is then matured in American and Oloroso oak.
Certain whiskies get selected for the Special Edition. These spend a few months in previously used casks such as Madeira or bourbon, or virgin oak. After that, they get transferred to marrying tuns to harmonize with other brews.
Glenfiddich has an impressive range.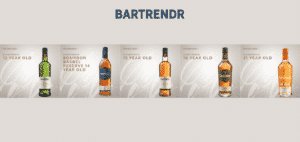 The Age of Discovery is one of the Special Editions. There are 3 different selections in this range: Red Wine Cask Finish, Bourbon Cask Reserve, and Madeira Cask Finish.
And let's not forget the Experimental Series. Project XX is credited to 20 of the most outstanding minds in the whisky industry.
Then there is the incredibly rare 1937 Collection. Yes, there other rare and vintage selections. But the 1937 edition is one of the oldest and smoothest whiskies in the world. It's said that the quality and complexity of the aroma and palate will likely never happen again.
It was also brewed at an important time in history: the year King Georg VI was coronated. All bottles were sold at auction.
Pros
Triple distilled. This makes for a lighter whisky.
It tastes as creamy and smooth as it smells.
A huge selection to choose from.
Great for cocktails and mixes.
Their stills have always been handmade and identical.
Cons
Their stills are smaller than modern stills. This means their batches are smaller too.
Their traditional approach means that cuts are still done manually.
---
Glenlivet – The Lowdown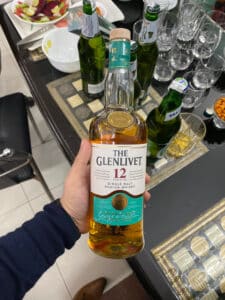 The Glenlivet was founded in 1822 by George Smith. Back then, distillation was illegal. George honed his craft while hiding in the hills from soldiers and Customs Officers.
By the time George had perfected his craft, Glenvilet was infamous. So infamous that King George IV asked for a taste when he visited Scotland in August 1822.
Today, Glenlivet has taken full advantage of modern technology. Their stills are completely automated, leaving nothing to chance and possible human error.
They can create larger batches since the brews don't need careful monitoring. The flow meter controls cut points, making production easier.
It is then matured in oak casks – either American or European oak, or a combination of them.
Their range is smaller, with only two others aside from their core range.
The Founder's Reserve is a marriage of aged oak and American First Fill casks. It is smoother than the core range with more complex fruit tones. It has a delicate creamy sweetness with hints of pear and toffee apple.
Then there is the Nadurra range. There are three selections in this rare range and they were made with traditional methods.
The Nadurra Oloroso is cinnamon and licorice on the nose and warm spice and dark chocolate on the palate.
The Nadurra First Fill aged in virgin American white oak. It has a sweet pear and vanilla scent and tastes creamy with banana, pineapple, and citrus tones.
And finally, Nadurra Peated Whisky Cask Finish. Aged in American oak casks that previously housed peated Scotch. This selection is smoky, creamy, and full-bodied.
It's the first Glenlivet peated whisky since the 19th century.
The Nadurra is a limited range. They were handcrafted and bottled in small batches, with no chill-filtration.
Pros
Fully automated. They can make larger batches and production is seamless.
Perfect for Coffee Whisky on cold nights.
It's sweet on the nose but warm spice and orange on the palate.
Lantern-shaped stills create lighter spirits.
Cons
There is a smaller range to choose from.
The spicy first sip might not be pleasing to everyone.
Only double distilled.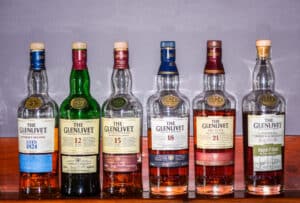 Glenfiddich and Glenlivet FAQs
What scotch is better than Glenlivet?
This all comes down to personal preference.
While Glenfiddich is Glenlivet's main competitor, there are other options on the market.
Highland Park is a great scotch if you are looking for something rich and smoky. In 2018, it made a wonderful impression in the International Spirits Challenge and World Whisky Awards.
Is Glenmorangie better than Glenfiddich?
If you want something flowery and fruity then Glenmorangie is a good option. It has a mostly citrus aroma and vanilla palate, with a long finish.
If you prefer something softer with a creamy palate and delicate aroma, then Glenfiddich is worth a try.
Is Glenfiddich a good scotch?
It is as creamy and mellow on the palate as it is on the nose. This is one of the best single malt scotches on the market.
The wide selection and variants make it a top contender in the single malt market. People tend to get bored easily. For Glenfiddich to have a variety of choices on offer is a definite plus.
---
👇 VOTE 👇
Which do you prefer – Glenfiddich vs Glenlivet?