I first discovered the El Mayor brand of tequila nearly a decade ago as a giveaway when I won their Blanco-style tequila.  I was pleasantly surprised with its quality so naturally, the first time I came across a bottle of El Mayor Anejo, I was eager to give it a try.
El Mayor ages this Anejo a minimum of 18 months but up to 36 months in white oak barrels. This Anejo boasts several awards and the endorsement of at least one major league baseball Hall of Famer, Ivan "Pudge" Rodriguez.
El Mayor Anejo Price & ABV
Price: $35
ABV: 40% / 80 Proof
Quality Rating: B+
Value Rating: A
El Mayor Anejo Tequila Detailed Review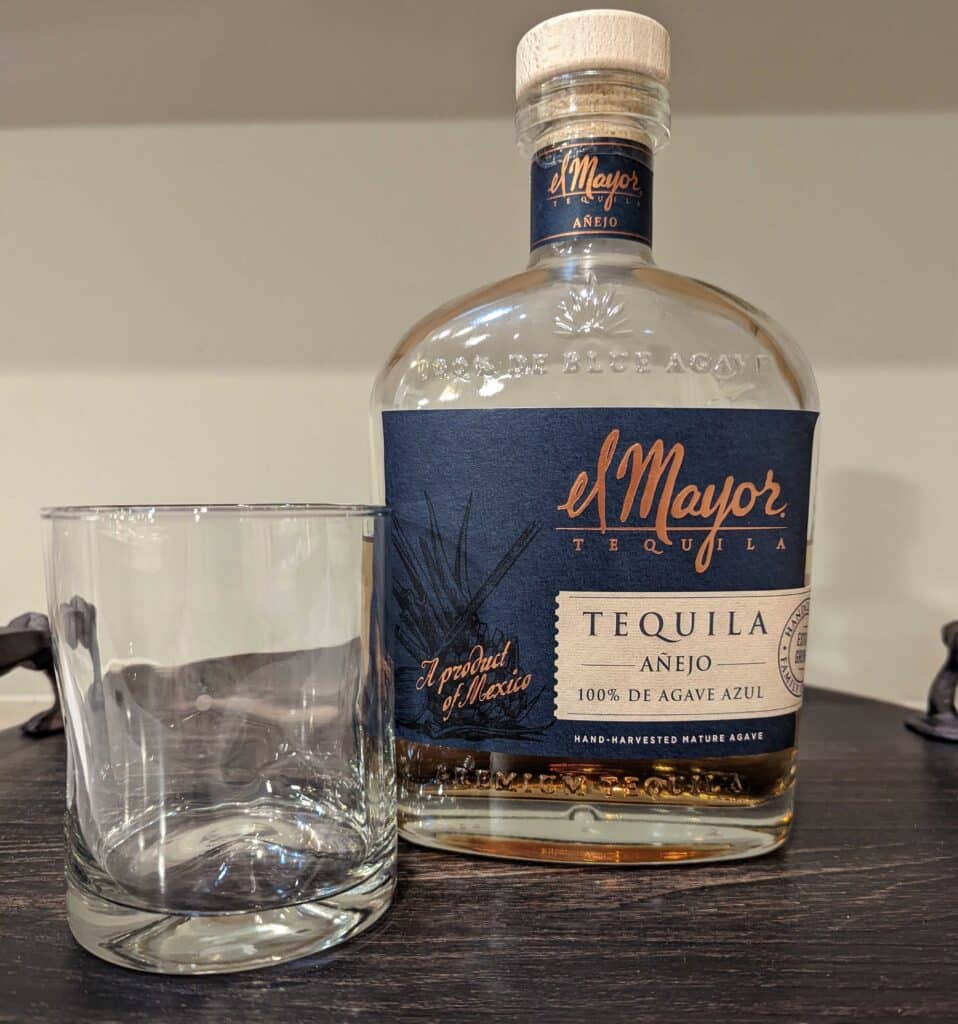 Aroma of El Mayor Anejo
As an Anejo tequila, your initial impression is derived as much from its smell as its taste.  El Major claims it has a nose that consists of "Caramel aroma with sweet fruit and light oak", I immediately notice black pepper and cinnamon scents.  For me, these smells overpowered the typical caramel and oak I expect from an Anejo.
Taste of El Mayor Anejo
At first sip, it becomes clear that the awards that the El Major Anejo has won are well deserved. You could easily mistake this $35 Anejo with offerings well over $100.  The flavor is on the lighter side.  The peppery aroma gives way to a soft caramel taste with the slightest fruitiness and just a hint of the species from its smell. 
Finish of El Mayor Anejo
Swallowing this tequila is as enjoyable as the rest of the experience.  I find that this El Mayor Anejo finishes fresh and clean with a hint of fruit, almost sweetness. It gives a truly great finish for any Anejo, much less for a bottle that is under $40.
The Bottle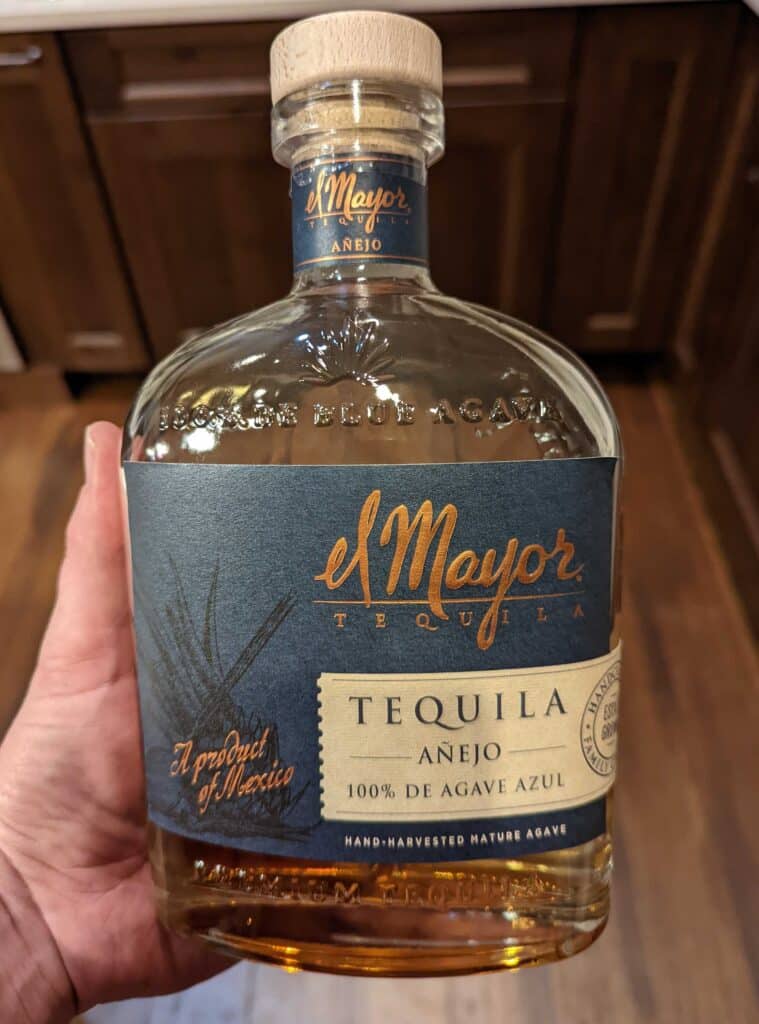 As with most modern tequilas, El Mayor prefers a slightly unique bottle shape.  The look is sophisticated and distinctive with its blushed blue background and copper, cursive lettering. It has a pretty standard removable cork cap, perfect for storing in the event you don't finish the bottle in one sitting.
How To Enjoy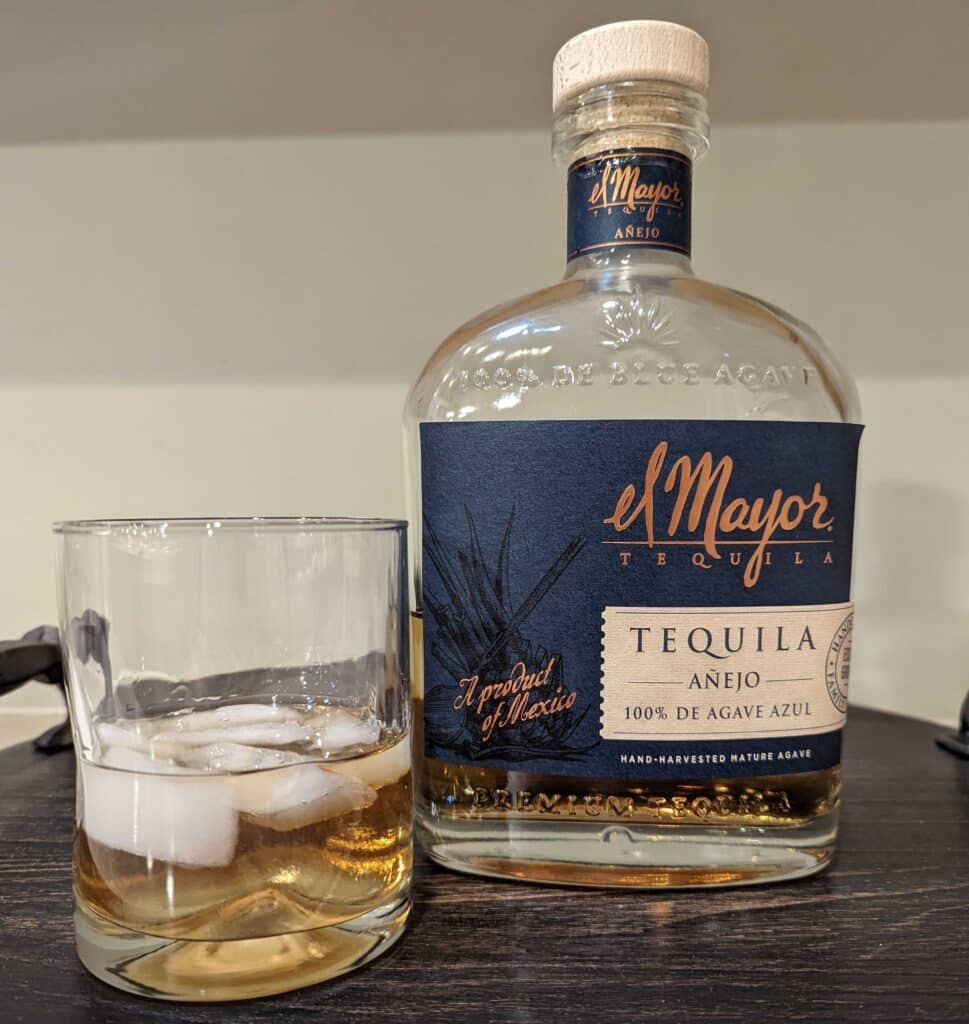 El Mayor has aged and distilled their Anejo to be an exceptional sipping liquor.  I recommend simply pouring over ice into a short tumbler glass.  However, with its relatively low price tag, it is not inconceivable to use it in a cocktail such as a Tequila Manhattan or Tequila Mash.
Final Thoughts / My Recommendation
This is on my list of best everyday sipping Anejos.  You will be hard-pressed to find a better value-quality combo in this sector.  The El Mayor Anejo has cemented its place in my liquor cabinet as my standard everyday sipping Anejo.
About El Mayor Distillery
El Mayor has a full line of tequila, everything from Blanco to Extra Anejo and Crystilano. Based in Jalisco, Mexico they grow the blue agave in rocky, volcanic soil.  But their differentiators do not end there.  They have a closely guarded family secret…the specialty yeast strain that they use for fermentation.  They ferment in stainless steel vats and double distilled in copper pots.  For the final touches, the bottle in a particle-free facility and rinse each bottle with tequila beforehand placing each label.
Related Reviews
Casamigos Anejo Tequila Review