818 blanco tequila review – I have been waiting since what feels like the dawn of time to get myself a bottle of Kendall Jenner's 818 Tequila. I've prided myself on having never purchased influencer products as they are typically underwhelming and overpriced, but here we are, and thankfully the opportunity to review 818 Tequila Blanco is here.
It's finally time to answer the question on everyone's minds: What does Kendall Jenner's 818 Tequila Blanco taste like? (and did I purchase an underwhelming, overpriced celebrity tequila?!)
818 Blanco Price & ABV
Price: $42
ABV: 40% / 80 Proof
Quality: B-
Value Rating: B-
818 Blanco Review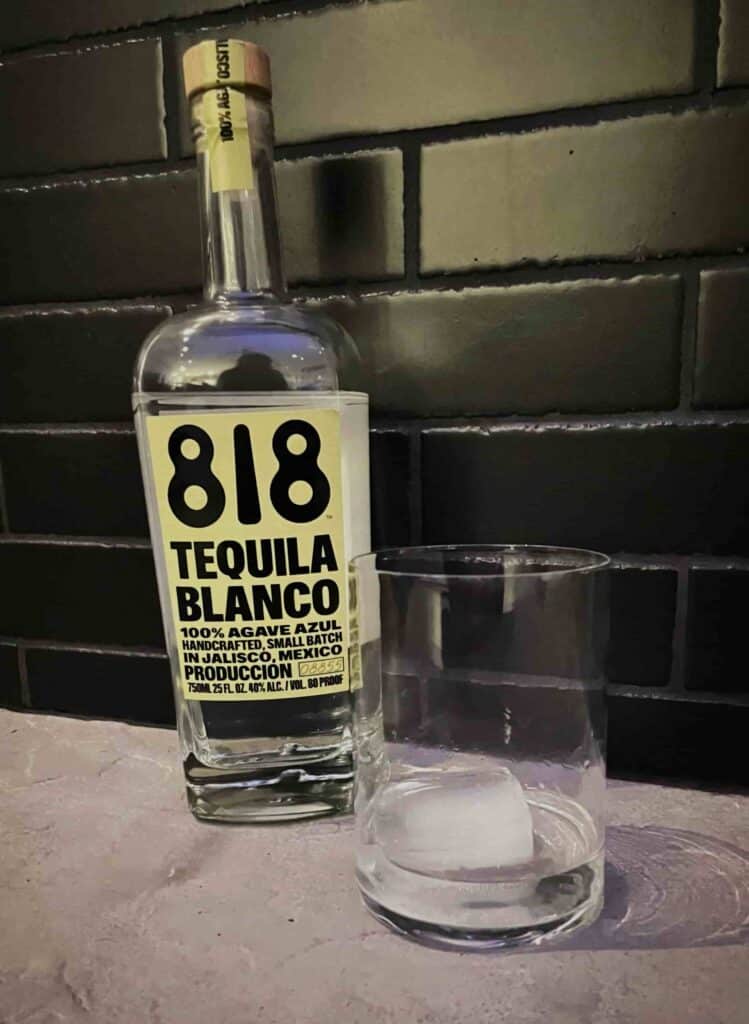 Aroma
What sticks out to me most while smelling 818 Blanco was the immediate vanilla scent that is accompanied by notes of agave and alcohol. While 818 does not list vanilla as an aroma one might expect to get from their blanco – it's most certainly at the forefront of this tequila. The tequila is rested in oak barrels where the vanilla is introduced. It's worth noting that 818 has lemongrass as the most prominent aroma for their blanco – a note that I did not pick up on.
Taste
To ensure a well-rounded review, I sampled 818 Tequila Blanco four ways: neat, on ice, with fresh lime juice, and finally with fresh grapefruit juice.
For my first tasting, I tried the 818 Blanco neat (no ice) and was immediately hit with intense vanilla flavors, with a touch of agave. Of course, the taste of alcohol is there, but this tequila offers a sweet vanilla taste, and the added warmth of cooked agave offers a smooth finish that isn't always there when one drinks blanco tequila neat.
When put on ice, the tequila's flavors become more muted, especially the alcohol; it shifts towards a lighter vanilla profile and adds a sweet citrus taste that is easy going down. I then paired the blanco with lime juice and then grapefruit juice.
The lime and 818 blanco combination delivers a fresh citrus infusion that doesn't hold this tequila back but also doesn't help it out either. The sweetness so prominent in 818s blanco is cut with the citrus rather than enhanced. This was not a problem when paired with grapefruit, which enhanced the vanilla and agave flavor. It also leaves me eager to craft the perfect Paloma using 818 Blanco.
Finish
The finish of 818 Blanco is smoother than many other blancos on the market. It holds the vanilla flavor, and while the taste of alcohol is there, it's faint enough to not ruin the flavors or experience but instead add a crispness, as the company website states.
The Bottle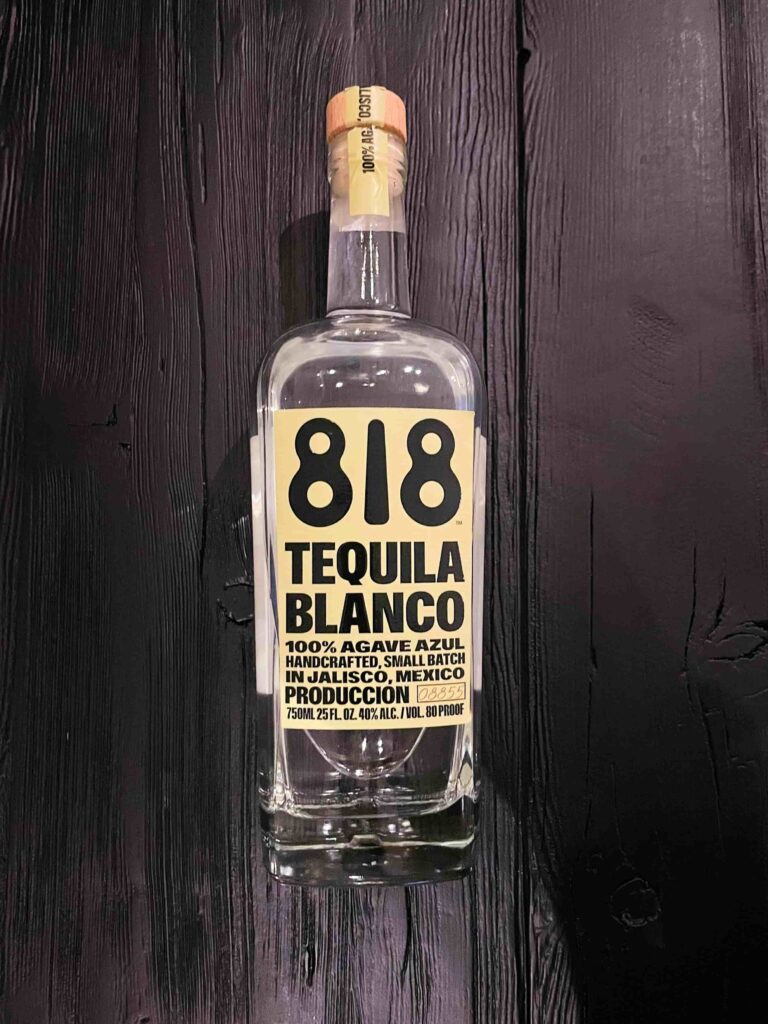 As someone who falls perfectly into 818's ideal consumer profile – I love the packaging and design on this bottle. However, I will also recognize that the label's design is very trendy and in tune with Gen-Z and Millennial style for 2022. Time will only tell how their branding will look in the future – but there is one thing I know for sure, and that is the Kardashian family will always find a way to evolve.
How To Enjoy 818 Tequila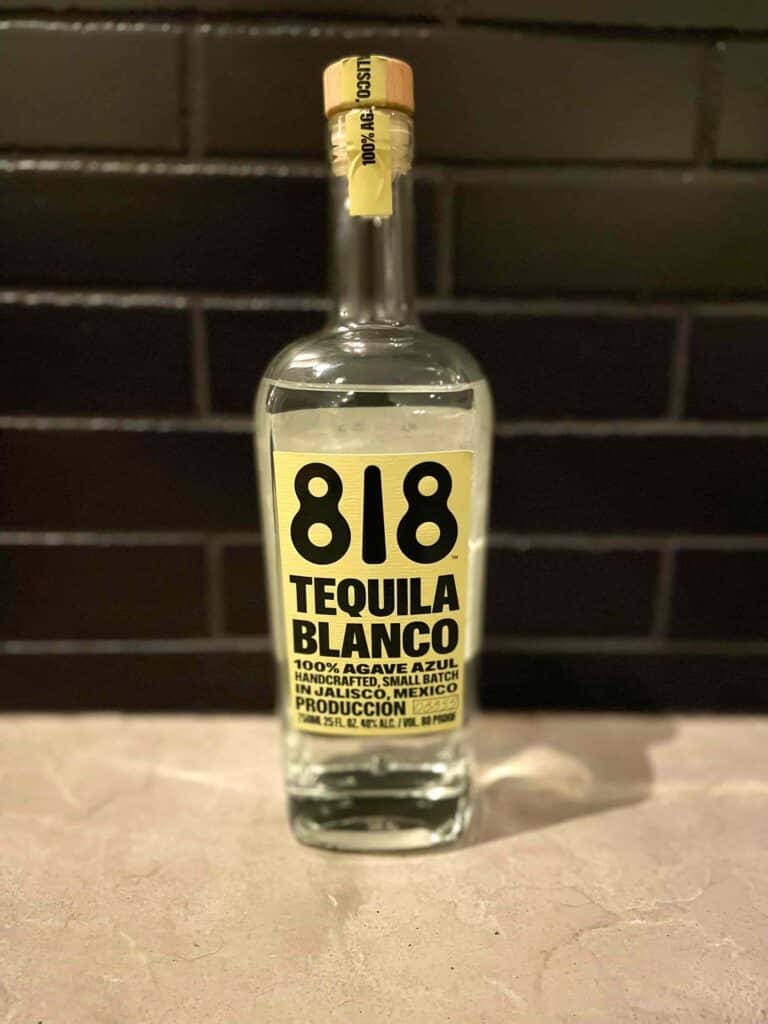 While sipping this type of tequila neat or on the rocks isn't always the typical way to enjoy this tequila, I am all for sipping 818's sweet vanilla blanco. It pairs perfectly with grapefruits and other citrus fruits making it the ideal tequila to enjoy on the rocks with a fresh squeeze of your favorite citrus. Still, it also would be great in a margarita, paloma, or ranch water.
Final Thoughts
Overall I really enjoyed and was pleasantly surprised by Kendall Jenner's 818 Blanco Tequila. There is a great versatility in it which is something that can't be said for every celebrity liquor or tequila. The ability to taste delicious both in a cocktail, with fresh juice, and on its own shouldn't be overlooked – much like the 818 Blanco Tequila.
I've never been big on sipping tequila, but this has changed my mind and palette on blanco tequila. This sweet tequila is perfect for anyone, even your non-tequila-loving friends. It's safe to say that Jenner's 818 Tequila Blanco is anything but another tacky celebrity tequila brand – instead, it's the perfect tequila to keep stocked in any bar.
About 818 Tequila Brand
New to the market 818 Tequila positions itself as a sustainable brand – notably, their distillery does not use any fossil fuels, running on solar power and biomass. Its ingredients are sourced from local, family-owned farms in the Tequila Region. 818 uses 100% Agave Azul cooked for 40 hours; the tequila is then fermented for 70 hours and distilled twice to ensure we all are getting the most out of the tequila.
More Tequila Reviews