Skatterbrain stumbles into the flourishing peanut butter whiskey market with all the bravado and mischief its name suggests. 
This peanut butter flavored whiskey rides on the coattails of those that came before however struggles to find itself a unique path. 
That's not to say it doesn't try and have a bit of fun along the way.
In this review, we delve into what makes this peanut butter whiskey worth a try. We will also look at its production, and deconstruct its appearance, aroma, palate, taste, and price. 
Skatterbrain Peanut Butter Whiskey (Our Review)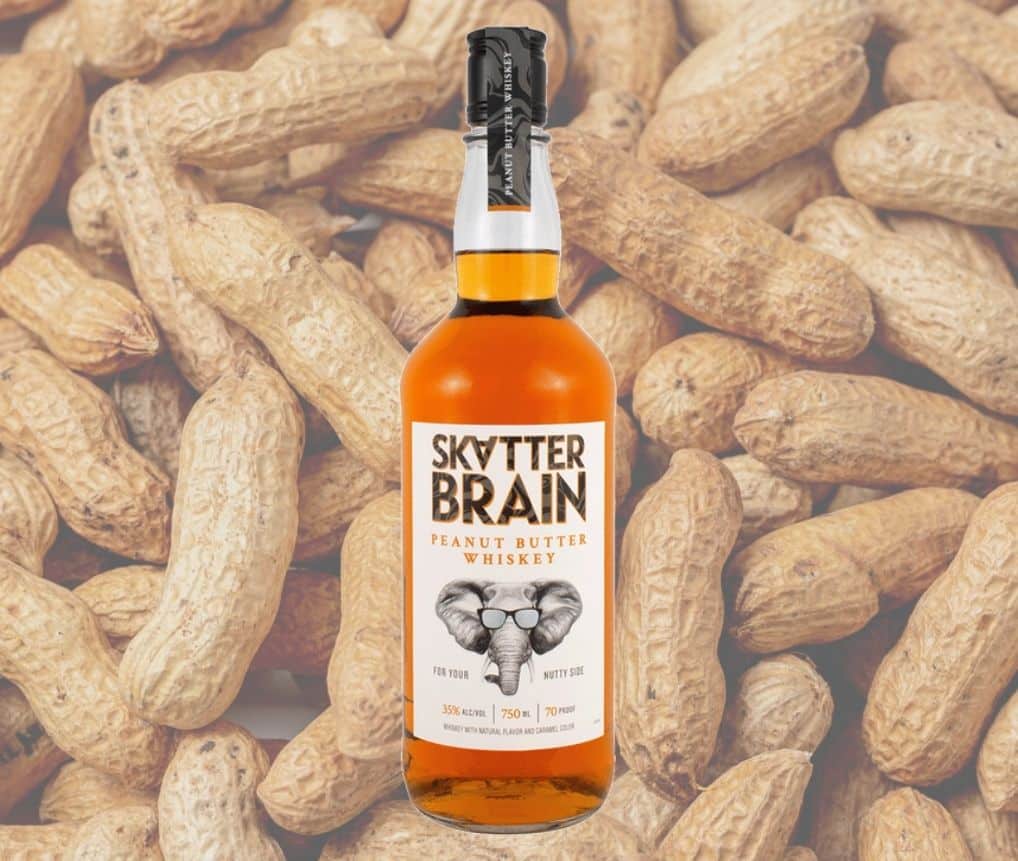 Overall Assessment
This flavor isn't new to the liquor market. Peanut butter is a great compliment to certain styles of alcohol. Whiskey and bourbon's caramel-like qualities are enhanced by this nutty butter. Some with a sweeter leaning palate might even say, this candied-up whiskey is an improvement on the good ole boy's drinks of choice.
One aspect, everyone can agree on is that the creamy flavor of Skatterbrain Peanut Butter Whiskey, mixed with the grain mash creates an unusual but comforting taste. Who wouldn't want to drink your childhood PB sandwich with some added adult edge?
This is where Skatterbrain Peanut Butter Whiskey scores. It appears as a mere youthful affectation but in reality packs all the alcohol and maturity of a good old-fashioned whiskey.
There are several other brands of peanut butter whiskey on the market, like:
If you love a bit of spice, you'll whiff ginger notes on the nose enhanced by a sugary first sip. These attributes make it a great addition to both traditional and innovative new cocktails. Its overall smoothness is also pure bliss for easy slide shooters.  
Tastes aside, Skatterbrain's festive packaging and overall kookiness make peanut butter whiskey an ideal gift or perfect party accompaniment to any celebration.
Skatterbrain Peanut Butter Whiskey is also affordable, priced around $20 per bottle. This makes it a great addition to the youth market or a no regret expense if you're just a curious first taster. 
If you're not a fan of peanut butter or allergic to nuts, you should steer clear. This is a whiskey that means what it says on the label. It's whiskey, it's flavored and it's hoping to make you nuts. 
Pros
It's a fun bottle to take along to a party
Great for shooters and cocktails
35% ABV
Reasonably priced
Relatively smooth
Cons
Again,  if you don't like peanut butter – you might not like this whiskey. It's not for everyone.
The saccharine aftertaste is disappointing
Peanut butter flavoring comes off as slightly inauthentic 
Detailed Analysis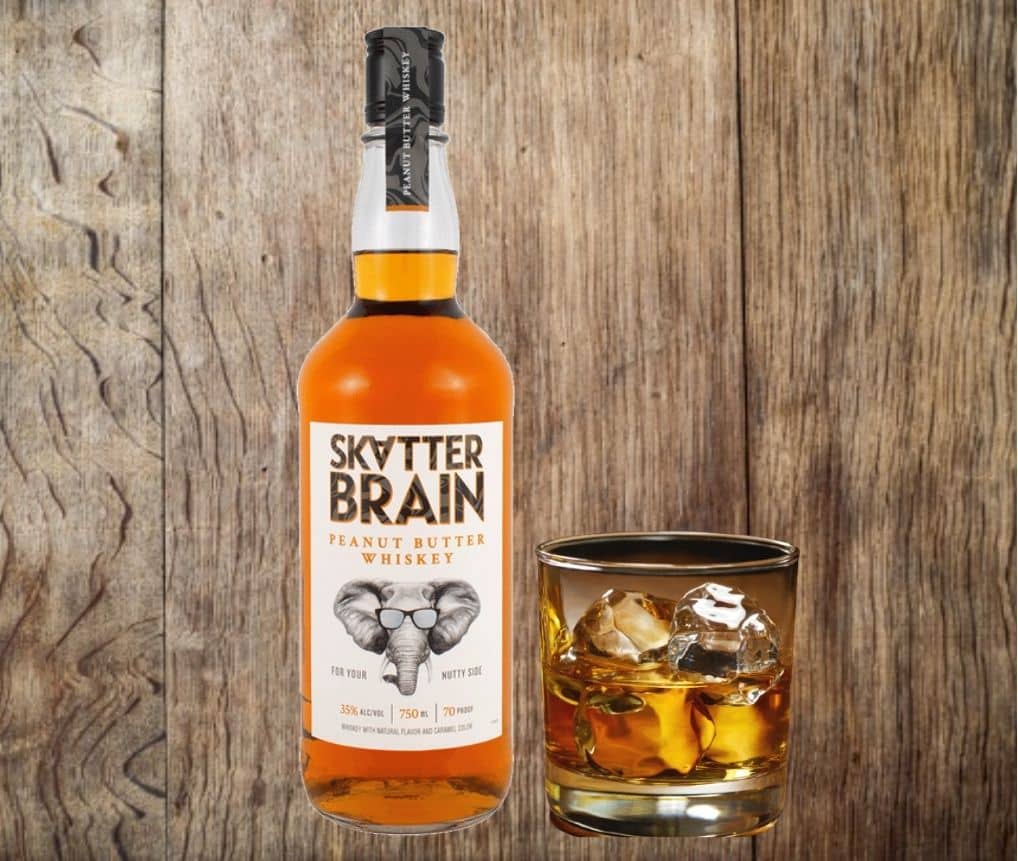 Skatterbrain Peanut Butter Whiskey is new to an ever-growing flavored whiskey market. t. What it does bring to the party is that it is still essentially a whiskey with an ABV of 35% and is 70% proof.
Skatterbrain Peanut Butter Whiskey is a beverage from the Universal Brands stable that is famous for creating unique spirits. 
Located in the American midwest and bottled in Minnesota, Universal Products range are available globally online. 
Appearance
This Canadian-sourced whiskey is colored to create the luscious caramel-like appearance that bounces through its traditional styled bottle. It has a pleasing amber hue that catches the light well as you enjoy it neatly on blocks of ice on a hot summer's day.
Don't get put off by the elephant with sunglasses on the label, embrace it! This is where you abandon your preconceived notions of drinking whiskey and dive into a world of the unknown.
Nose
Nostalgic smells of caramel popcorn and burnt sugar come rushing out as you lift a tumbler of this whiskey to your nose. 
It's sweet, maybe even a bit sickly sweet but that's soon overpowered by a heady mix of alcohol and a buttery nutty smell. I see where the elephant connection comes in peanut treats for our pachyderm friends?
Palate
Full-bodied and creamy in texture, Skatterbrain Peanut Butter Whiskey takes the notion of butter on the nose. It's almost oily in texture, though that could just be the mental correlation of the peanut flavoring. 
Finish
A hint of vanilla and chocolate pushes through as the whiskey runs down your throat. Alcoholic peanut brittle could be an apt description. 
This whiskey is best drunk chilled, the added flavors are too pronounced for it to be served at room temperature. It needs the crispness of ice to give you a clean aftertaste otherwise a hint of saccharine-like sugar lingers. 
Skatterbrain Peanut Butter Whiskey Drinks  
Do you need help preparing drinks to introduce peanut butter whiskey to your friends? Here are some fun ways to enjoy peanut butter whiskey. 
Minimal & Neat
To enjoy the peanut whiskey, you can enjoy a shot with a simple ice block. You can also add a few drops of water or nothing at all. 
This is the simplest way to appreciate the flavor, fullness, and creaminess. It's a fantastic way to introduce yourself to the world of flavored whiskies.
Peanut Butter Whiskey Coffee
We particularly recommend a cup of hazelnut coffee topped with whipped cream. For some enhanced flavors, you can also add the berry-flavored liqueur.
PB & J Cocktail
This cocktail is one that's designed to be enjoyed! A refined version of peanut butter and jelly sandwich. You can combine peanut butter whiskey, bourbon, vermouth, raspberry liqueur, and chocolate bitters. Stir the ingredients well and garnish with raspberries. Enjoy!
Skatterbrain Peanut Butter Whiskey FAQs 
Who makes Skatterbrain whiskey?
Skatterbrain Whiskey is made by Universal Products. It's a Canadian Whiskey bottled and packaged in the US. It's internationally available through Total Wine stores and various international outlets.
Is there peanut butter in Skrewball peanut butter whiskey?
Yes, Skrewball Peanut Butter Whiskey uses actual real peanuts to flavor their whiskey. This makes them unique in the flavored whiskey market.
Does peanut butter whiskey go bad?
Under the right, an unopened bottle can pretty much last for a few years without going bad.