In a world led astray by manipulative marketers pushing unconventional flavor combinations, let Sheep Dog Peanut Butter Whiskey guide you back to reality.
We know, peanut butter whiskey sounds strange but it's a clever play on traditional whiskey tasting profiles.
Some would say even closer to the sweet nuttiness of a bourbon. Sheep Dog Peanut Butter Whiskey will gratify all liquor sensibilities. 
The older market will enjoy its subtle honeyed adjustment to their favorite Kentucky whiskey whilst a younger generation will flip out its great cocktail-making options.
From price to taste agreeability, Sheep Dog whiskey will leave its pawprint on your heart.
Sheep Dog Peanut Butter Whiskey (Our Review)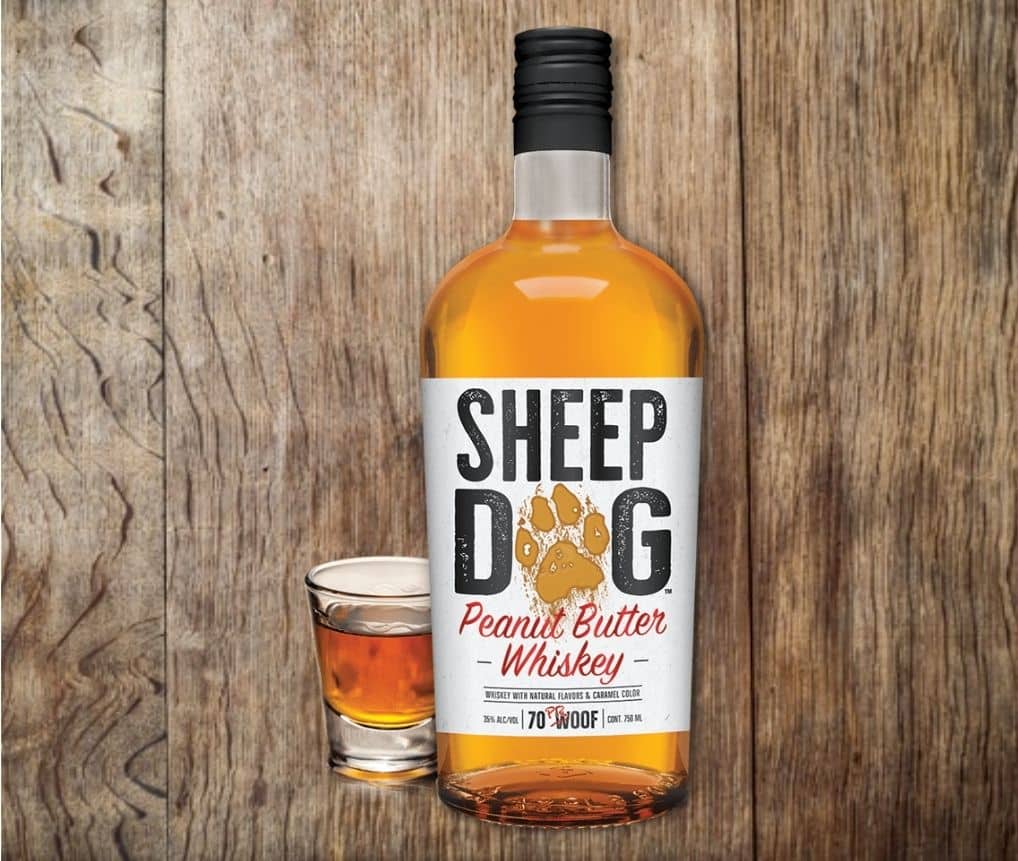 Overall Assessment 
Sheep Dog Peanut Butter Whiskey is the brainchild of the Sazerac Company.
Sazerac is a privately held American alcoholic beverage company headquartered in New Orleans, Louisiana, and its principal office in Louisville, Kentucky. They own and operate around nine distilleries and are operational worldwide in over 112 countries.
Bringing unusual drinks to the mass market is what they do best. And being based in the American south, they are especially interested in bourbon and more recently the whiskey market.
Their decision to invest in the flavored whiskey journey was a no-brainer due to the popularity of these unique spirits in recent years.
Sheep Dog Peanut Butter Whiskey combines your good old tipple with peanut butter flavoring and a light caramel colorant.
Other than being a refreshing hit of strength and sugar in a straight shot or poured liberally over ice, there are also a surprising number of ways to create some special sundowners.
The Sheep Dog Peanut Butter Whiskey website recommends it in every whiskey lover's favorite – The Old Fashioned. 
Take 1.5 parts Peanut Butter Whiskey, combined with Peychaud's Bitters, 1 part rye whiskey, orange peel, and Luxardo Cherry, and mix it up with ice.
However, a more controversial idea is to try a Peanut Butter Whiskey and Jelly shot by adding 1 part of Dr. McGillicuddy's Grape Liqueur to your chilled glass of Sheep Dog, interesting idea. 
Heads up though, don't drink too many of these, your blood sugar level will make you as giddy as a sheep without a guide dog.
Sheep Dog Peanut Butter Whiskey can also be used in Manhattan or a hot toddy for those cold winter nights in front of a fireplace.
Pros 
Subtle nutty peanut butter flavor that doesn't overwhelm the whiskey
Very affordable and available in 50 ml as a quick shot
Clear packaging without too much gimmickry
Able to be used in a variety of conventional and unconventional cocktails
Cons 
If drunk straight and unchilled can taste sickly sweet
Not a good drink for slow sipping throughout the evening
Colorant, if allergic double-check the ingredients
Detailed Analysis 
Detailed Analysis
If you haven't yet taken the plunge into the flavored whiskey arena, we'll guide you through it. 
No need to fear, life is for the living and if you stray too far, Sheep Dog Peanut Butter Whiskey will keep your drinking exploration within the borders of good taste. 
Below we look into the appearance, nose, palate, taste, finish, and price of Sheep Dog Peanut Butter Whiskey. 
We think you'll become big fans, just like us. 
Appearance
The first thing you'll notice is that Sheep Dog Peanut Butter Whiskey has a presence on the shelf. In its bold rotund bottle, it looks like a serious product.
The large sheepdog paw print on the label and its newspaper headline font screams for your attention. 
The clear glass bottle helps magnify the beautiful gold spirit waiting inside patiently for you to pop the cork.
Nose
This is where it gets fun. The first whiff is nutty. Caramel candy popcorn and smells of the funfair hit you immediately. One could almost hear the merry-go-round music in the back.
It is a joyful scent and we would not recommend leaving this bottle or your open glass near children. They could think it's a kid's drink, it smells that intoxicatingly sweet. 
After a moment, the alcoholic intensity of the whiskey hits you and that's when you know this is a real drink for brown liquor lovers. 
Palate
The first sip screams delightfully with butterscotch. It coats the mouth immediately in a warm sweet relish. 
Toasted sugars mingle with the fermented whiskey grains. It feels almost like a good dose of hot oats porridge with loads of maple syrup.
Taste
Drinking Sheep Dog Peanut Butter Whiskey straight on a few blocks of ice personally shows off its best qualities. 
One can enjoy the smokiness of the whiskey whilst delighting in the smooth candy naughtiness of the peanut butter flavoring. It's also great for mixing with coke.
And it's not overdone. The peanut butter is an aid to the overall taste rather than brashly pushing itself to the front of the mouth.
Its consistency is almost syrupy. Like dark sugar combined with melted butter. 
Finish
Whilst swallowing this unique elixir, the full impact of the 70 proof gives you a nice giddy hit. 
Sheep Dog creates an overall warm and fuzzy feeling with a lasting impression of sophistication that doesn't take itself too seriously. 
Price
One of the biggest selling points Sheep Dog Peanut Butter Whiskey has going for it is the price. A standard 750 ml bottle will set you back a mere $20. 
Quite unbelievable for such a premiere product.
This makes it an appealing bottle of spirits for first-time adopters of the flavored whiskey arena. 
Considering it's not a bottle you're going to finish in one night unless of course, you have a bunch of rowdy friends and family over with the intent of downing party shots, it should be a welcome special addition to your cocktail shelf
It's also available in 50 ml bottles for around $2. Useful as a cheap mini sample before indulging in the large bottle. 
Conclusion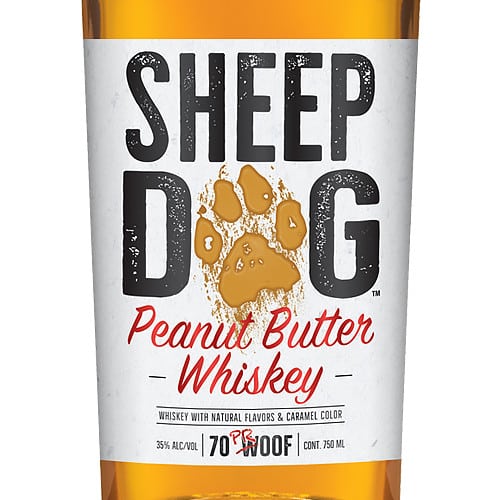 Though there are quite a few new peanut butter flavored whiskeys and bourbons now on the market, Sheep Dog Peanut Butter Whiskey is in a class of its own. 
There are plenty of other peanut butter whiskey brands out there like Skrewball Peanut Butter Whiskey, Sqrrl Peanut Butter Whiskey, Ole Smoky Peanut Butter Whiskey, and Skatterbrain Peanut Butter Whiskey. but Sheep Dog offers one of the smoothest.
It's versatile and has a good wallop of alcohol in it for you to get your rocks off.
But more importantly, it exquisitely balances the fine line between being a flavored dark spirit party trick and a genuine long-lasting party success.
It has just enough sense of humor in its taste in relation to seriousness in its form for it to have a long career in the whiskey and cocktail market.