The alcohol landscape has seen a massive upsurge of flavored whiskey options, and a popular one is peanut butter whiskey. 
Sqrrl Peanut Butter Whiskey has joined a plethora of nutty options and has quickly become a well-recognized label on the shelf. 
For those looking to venture out to the sweeter side of whiskey, the options are plenty, and therefore guidance is needed. 
We review Sqrrl Peanut Butter Whiskey to see if it matches up to similar whiskies on the shelf and whether it's worth adding to your liquor cabinet.
Sqrrl Peanut Butter Whiskey (Our Review)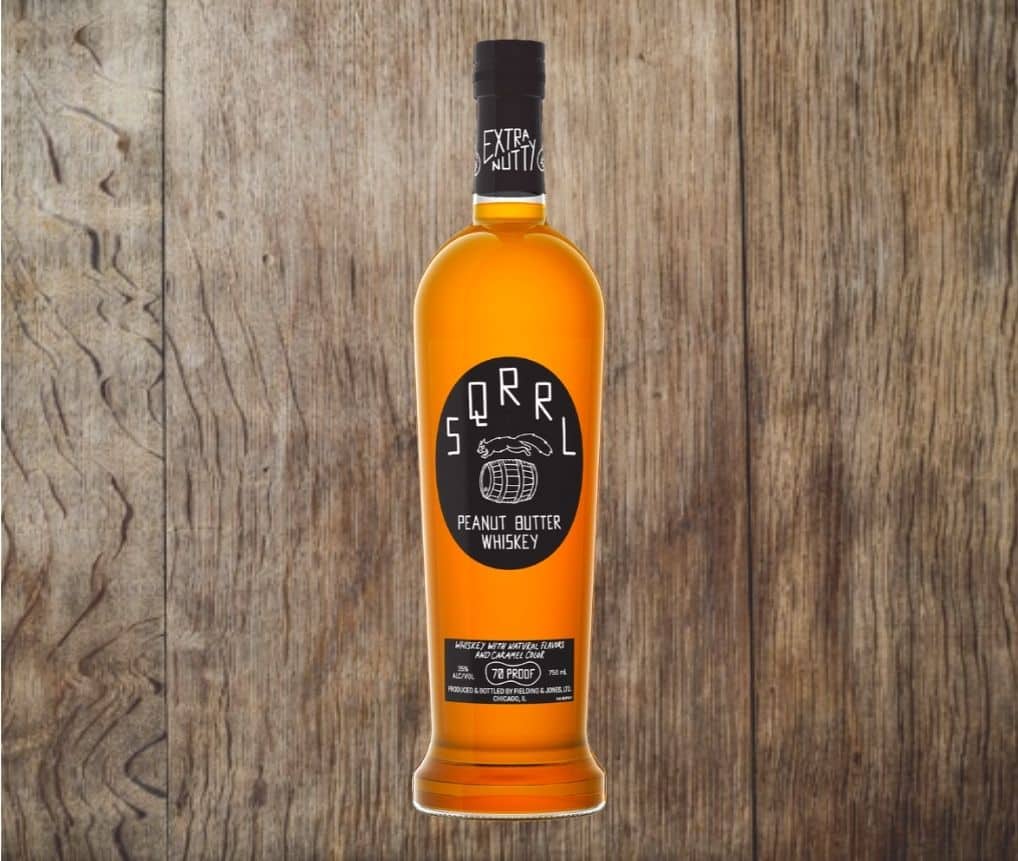 We try the popular Sqrrl Peanut Butter whiskey, and provide a detailed review of the flavor, aroma, finish, and price of the spirit.
Overall Assessment
Sqrrl Peanut Butter Whiskey is a recent release from beverage company Beam Suntory. An American multinational company that produces alcoholic beverages, Beam Suntory t is a subsidiary of Suntory Holdings in Japan.
Beam Suntory is the third-largest producer of distilled beverages in the world and is well-known for other flavored products such as Jim Beam Vanilla, Jim Beam Honey, Jim Beam Maple, and many more. It is no surprise that the company has delved into the soaring trend of peanut butter whiskey. 
At its heart, Sqrrl is a real American whiskey – with a sweet twist. The prominent peanut butter flavor comes from natural flavoring, that is added to a whiskey base. 
The whiskey is colored with caramel, giving it an amber appearance with golden hues. 
Bottled at 70 proof, it can be considered a mild whiskey. This makes it ideal for those who are not seasoned whiskey drinkers, and need something softer to introduce their palates to the spirit. 
Overall, Sqrrl Peanut Butter Whiskey is immensely sweet, with an evident peanut butter flavor. Compared to some of the other popular peanut butter whiskey options out there, it does have a subtler peanut butter flavor. This makes it a good choice for those wanting something a bit lighter. 
Pros
Smooth on the palate
Highly affordable 
A good entry-level whiskey
Easy to find
Complex flavors
Versatile: can be consumed neat, with ice, or mixed
Cons
Too sweet for certain palates 
Too mild for certain palates
Peanut butter flavor not as strong as other options
Detailed Analysis
Aroma
The aroma teases the sweet journey ahead, with immediate notes of honey and butterscotch hitting the nose. After the initial scent, the star of the show appears peanut butter. The smell is akin to opening up a jar of the luscious condiment and taking a sniff. It is a deeply nostalgic smell. 
After some time in the glass, you begin to pick up on subtle notes of maple syrup. The smell of alcohol is not very strong, but present. 
The aroma is as sweet as you'd expect from a peanut butter whiskey, and the notes quite accurately translate into the taste. 
Flavor
As you sip the whiskey, the first you notice is how smooth it feels on the palate. Immediately after, the sweetness appears. 
At first, there are strong notes of vanilla and butterscotch that rush your tastebuds in a sweet wave. As that passes, you get the notes of peanut butter and chocolate that are promised by the aroma. 
Then, there is a surprising twist. An unmistakable orange marmalade flavor seeps through. It gains momentum until you land up at the peak of the taste: a swirl of orange and smooth peanut butter. It might sound mismatched, but surprisingly, it works. 
The smoothness of the whiskey makes it suitable to be enjoyed neat, or on the rocks. This allows you to taste the complex and unusual flavors on offer. 
It is just as good mixed in a drink. Try out an Old Fashioned with a twist, or experiment with spiked hot chocolate. Mixing it with a berry- or cherry-based liqueur will result in a PB&J cocktail. The peanut butter sweetness rarely misses.  
Classic cocktails are having somewhat of a resurgence lately, why not throw a PB spin on an old-fashioned, or a manhattan?
Finish
The peanut butter, butterscotch, and vanilla create a lingering sweetness in the long finish. The orange peeks through in intervals, and a warm honey flavor lurks in the undertones.
You're left with a whiskey burn that is mild at best, and the sweetness sticks around for a while. 
Price 
Sqrrl Peanut Butter Whiskey is incredibly affordable, with an average retail price of just $20. 
It is also easy to find, with most retail outlets and online retailers selling flavored whiskey. 
Conclusion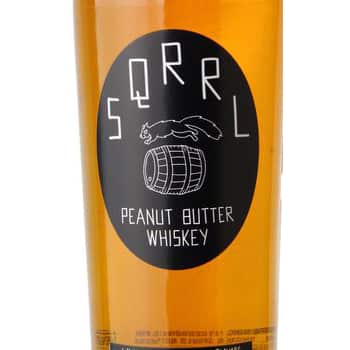 Sqrrl Peanut Butter Whiskey is exactly what's on the label: the peanut butter flavor comes through in smell, taste, and finish. 
For adventurous whiskey fans who are willing to venture out of their purist ways, it's a fun take on an old favorite. There are plenty of other brands on the market as well, like Sheep Dog's Peanut Butter Whiskey, Skrewball Peanut Butter Whiskey, Ole Smoky Peanut Butter Whiskey, and Skatterbrain Peanut Butter Whiskey.
For those who aren't as seasoned in drinking whiskey, it's a great option to add to coke or other mixers. It's mild on the palate to ease you in. 
Plus, at such a low price, it is a good starting point if you are eager to test the waters in the expanding world of peanut butter whiskey.
Peanut Butter Whiskey FAQs
Can someone with a peanut allergy drink peanut butter whiskey? 
Avoid it. Often the natural flavoring that is used in these whiskies can include real peanuts. Even if this is not the case, some of the flavorings or oils used may contain traces of nuts. Steer clear to be completely safe. 
Does freezing whiskey ruin it?
Yes, it can ruin it. Many opt to chill vodka, which is fine to do. However, whiskey becomes viscous when frozen, which results in dulled flavors. Don't waste a good whiskey – keep it at room temperature.
Is whiskey stronger than tequila?
Yes. Whiskey and tequila are both categorized as spirits. Tequila is typically made from agave, while whiskey is distilled using various forms of grain. A shot of whiskey will generally have a higher alcohol content than a shot of the average tequila. 
Is whiskey healthy alcohol? 
Yes. While alcohol is not a healthy choice overall and should be consumed in moderation, some forms of alcohol are healthier than others. Whiskey, tequila, and red wine are considered to be much healthier than beer, and sugary drinks like cocktails. 
The CDC recommends a two-drink alcohol limit per day for males and a one-drink alcohol limit per day for females.