Nostalgic childhood comfort food meets a 'grown-up' indulgence – the peanut butter whiskey is born. 
Alcohol companies, both old and new, have jumped on board this trend in recent years, and we are suddenly spoilt for choice. 
If you are hesitant about the idea or need help navigating which peanut butter whiskey is best suited to your tastebuds, we've rounded up some of the top choices available right now. 
Best Peanut Butter Whiskeys – How Many Brands Are There?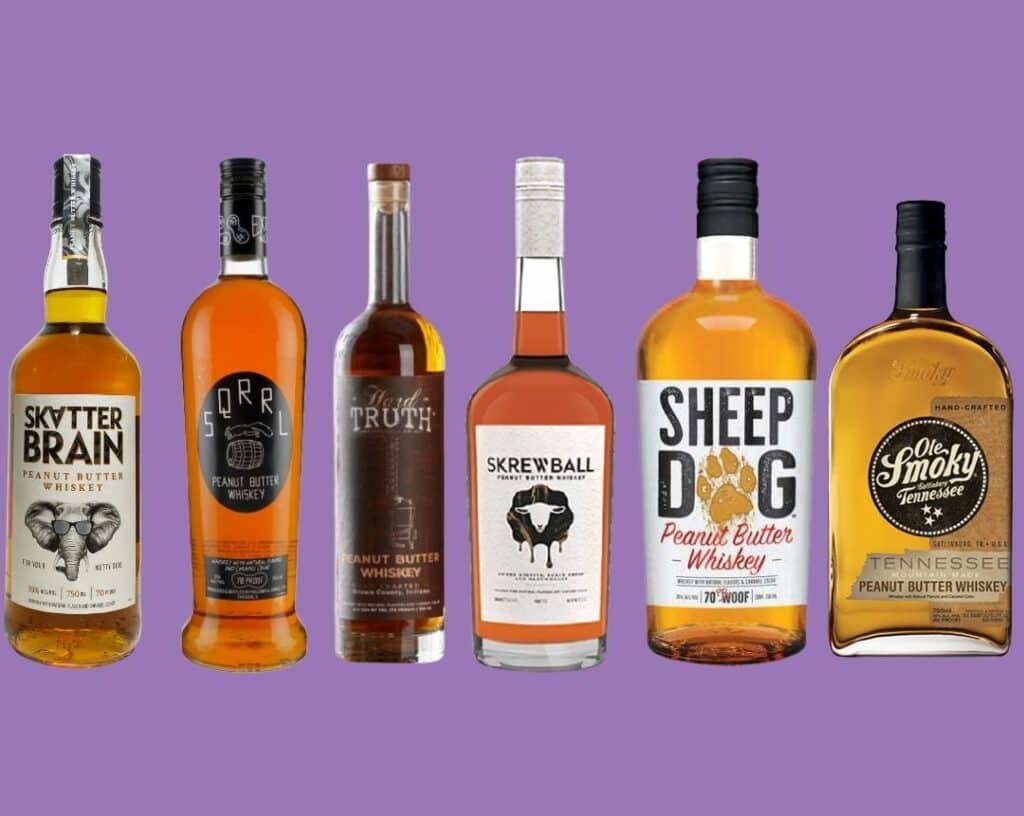 | | |
| --- | --- |
| ABV: | 35% |
| Made In… | San Diego, CA |
| Avg Price: | $23.99 |
Named best new product at the 2020 Market Watch Leaders awards, Skrewball Peanut Butter Whiskey was created in Ocean Beach, California by married duo Steven and Brittany Yeng. 
Steven, a bar and restaurant owner, created a shot combining two of his favorite things: whiskey and peanut butter. It quickly turned cynics into fans, and he teamed up with Brittany to turn the spontaneous shot into a full-blown, bottled whiskey. 
The whiskey has a medium oak appearance, and there's a whiff of warm peanuts and honey. The taste is subtle and smooth on the palate, with immediate, strong notes of vanilla that come through, with a hint of roasted peanut. 
There's a distinct similarity to a Butterfinger candy bar. The peanut butter makes a strong late appearance in the pleasant aftertaste, which lingers long after consumption. 
It goes down easily, making it a good entry-level whiskey for those who are more amenable to a sweeter drink. It is also reasonably priced. 
The whiskey would make a great addition to several cocktails, such as a Peanut Butter Espresso Martini, or a Spiked Peanut Butter Cider. 
Skrewball has quickly become the most recognizable brand for peanut butter whiskey and is often a benchmark for the quality of other peanut butter whiskies. For this reason, it would be a starting point for those wanting to give this type of whiskey a try, but don't know where to begin. 
Pros 
Popular and recognized brand
Widely available in-store and online
Pleasant to drink 
Reasonably priced
Cons
Too sweet for certain palates 
Some complain of an off-putting smell
---
| | |
| --- | --- |
| ABV: | 35% |
| Made In… | Louisville, KY |
| Avg Price: | $14.99 |
A new addition to the renowned New Orleans-based Sazerac brand, the 'naturally flavored' Sheep Dog whiskey is a well-priced peanut butter whiskey option. 
The whiskey's golden appearance is achieved by adding caramel, which also comes through in the taste. The texture is unusually syrupy, which is reflective of the sweetness. There is a strong, sweet aroma of a Butterfinger candy bar (similar to the Skrewball), maple syrup, and buttery popcorn. 
Rating high on the sweetness scale, the whiskey has strong notes of vanilla and brown sugar. The nutty flavor follows and is distinctly earthy. The Butterfinger might come through in the smell, but the taste is undeniably akin to the filling of Reese's product. 
This whiskey is best served on ice, as this pulls away some of the other flavors, and lets the peanut butter shine through. Worth trying as an interesting twist in a cocktail, such as an old-fashioned. 
Pros
Well-priced
Reputable brand 
Complex flavors
Cons
Too sweet for certain palates 
Vanilla can be overpowering 
---
| | |
| --- | --- |
| ABV: | 35% |
| Made In… | Illinois |
| Avg Price: | $17.49 |
Sqrrl Peanut Butter Whiskey is a recently released product of Beam Suntory, a world leader in premium spirits that has given us several creative alcoholic beverages over the years. 
The whiskey is an amber color with golden hues. It holds a freshly roasted peanut aroma, with hints of chocolate and butterscotch. There is a clear taste of caramel popcorn on the palate and a slightly syrupy texture. 
It leaves a lingering aftertaste and has notable buttery undertones which makes it a rich choice of beverage. The peanut butter is not as prominent as some of the other options, which makes it a good buy for those who want something a bit more subtle. 
The chocolate tones make this whiskey a good addition to spiked hot chocolate – the peanut butter and chocolate combination is another winner. 
Pros
Very affordable
Complex flavors 
Cons
Too sweet for certain palates 
Peanut butter is subtle 
---
| | |
| --- | --- |
| ABV: | 30% |
| Made In… | Gatlinburg, TN |
| Avg Price: | $17.49 |
Blended in Tennessee, the Ole Smoky brand, known for their Moonshine, has produced a Peanut Butter Whiskey to add to their reputable range. It is made from a 100% corn whiskey base barrel, which is aged for two years. 
The immediate aroma is simply peanut butter – you get what's on the label. There is also a slight whiff of buttered popcorn, honey, and shortbread. 
A host of natural flavors used in the whiskey includes real peanut oil, which gives it that peanut butter kick (in taste, and smell). It's smooth on the palate, and in addition to the creamy peanut taste, there are also subtle notes of vanilla, licorice, and oak. 
It would make a good addition to a traditional cocktail, such as an Old Fashioned or a Manhattan. If you want to get playful, combine it with a cherry liqueur for a take on a PB n' J. 
Many of these cocktails would also go well with banana whiskey.
Pros
Complex flavors
Reputable brand
Strong peanut butter flavor
Cons
Pricier than other options 
---
| | |
| --- | --- |
| ABV: | 35% |
| Made In… | Nashville, IN |
| Avg Price: | $29.99 |
Hard Truth Peanut Butter Whiskey is produced by Hard Truth Distilling in Nashville, a small operation started in a few small rooms above a pizzeria in 2015, that has grown into a massive distillery in just a couple of years. 
The Whiskey is auburn in appearance. The aroma holds what is typical of a fine, aged-straight whiskey – caramel, oak, and corn. 
The taste is distinctly rich and creamy honey-roasted peanuts with hints of oak and corn. There are also notes of sea salt, which results in an unusual (but enjoyable) sweet and salty blend. 
The whiskey is found at the Hard Truth distillery and elsewhere in Indiana and has slowly started to pop up in other states too. It isn't as readily available as other options on our list, so if you spot it, be sure to grab it. 
It is best served on ice, or in a creative whiskey-based cocktail, such as a peanut butter highball, or a Caribbean coffee.
Pros
Good, unusual combination of flavors
Strong peanut butter flavor
Cons
---
| | |
| --- | --- |
| ABV: | 35% |
| Made In… | Canada |
| Avg Price: | $18.99 |
Made by Universal Products, a subsidiary of the United States Distilled Products Corporation, Skatterbrain Peanut Butter Whiskey is a rich, sweet whiskey.
Skatterbrain uses caramel coloring to achieve an amber-brown appearance. The aroma is sugary, with just a slight hint of peanut butter. The whiskey is smooth on the palate. The taste is very sweet, however, there is a very subtle note of peanut butter in its flavoring. For those seeking that nuttiness, this might not be the best option. 
Compared to other products, it does not have the usual strong whiskey 'burn', and also has less of an aftertaste. This makes it a good option for those who do not typically favor whiskey. 
Serving it on ice eliminates most of the already limited peanut butter flavor, so it is wise to drink it neat. If adding to a cocktail, ensure there aren't any other sugary ingredients, as this provides all the sweetness you would need. 
Pros
Reasonably priced
No whiskey 'burn'
Cons
Peanut butter taste is too subtle 
Too sweet for certain palates
---
Conclusion
The Peanut Butter Whiskey trend has truly taken off, and we should expect that in the coming years, options will only broaden. 
Overall, regardless of the brand, it is a sweet drink. Whiskey connoisseurs might not consider it to be as sophisticated as a traditional bottle, but perhaps we should not be taking it that seriously. 
It's a playful take on a lifelong favorite – just enjoy it for what it is. 
If peanut butter isn't really your thing, maybe take a look at banana-flavored whiskies like Howler Head.
Peanut Butter Whiskey FAQs
What is the best peanut butter whiskey?
Overall, reviews, accolades, and popularity point to Skrewball as the best peanut butter whiskey. We tend to agree. However, you might find one of the other options more to your liking. Taste is subjective, after all. It might be worth trying more than one.  
Can you drink these if you have a peanut allergy?
We recommend that if you have a peanut allergy, you steer clear of these drinks. While they may not all use actual peanuts, many of the flavors/oils used will likely contain traces of nuts. Skrweball whiskey is made using real peanuts and should definitely be avoided if you have a peanut allergy. 
What is good to mix with Skrewball?
Neat, on ice, or in a whisky-based cocktail – depending on your taste. It is a good dessert drink, so you can get creative with it – whiskey affogato, anyone? 
PB whiskey and coke is a great place to start.
Can you drink Skrewball straight?
Skrewball whiskey is great for drinking straight. For an extra twist, add a salted rim to your glass which really brings out the flavors of this whiskey. It also works great in certain cocktails, or as a delicious shot. 
Does peanut butter whiskey, really taste like peanut butter?
While most reviews agree that it certainly does taste like peanut butter, many people agree that they have a caramel popcorn flavor.