The nutty spread meets the sophisticated booze to form an unlikely rising star behind bars everywhere, Skrewball Peanut Butter Whiskey. 
Named best new product at the 2020 Market Watch Leaders awards, it was created in Ocean Beach, California by married couple Steven and Brittany Yeng. 
Originally from Cambodia, Steven owned (and worked at) a bar and restaurant in Ocean Beach. Brittany was born and bred in Ocean Beach and worked as a pharmaceutical patent attorney.  
Behind the bar, Steven decided to experiment by combining whiskey and peanut butter to form a cocktail. It became a fast favorite, and the couple decided to turn it into the well-known brand it is today. 
We review this popular flavored whiskey and focus on the appearance, aroma, flavor, finish, and price. 
Skrewball Peanut Butter Whiskey (Our Review)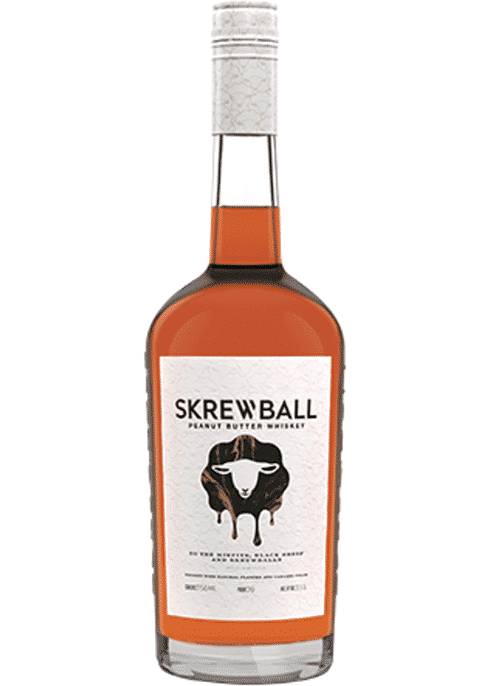 Overall Assessment
Peanut Butter Whiskey is a rising trend in the alcohol industry. 
Skrewball is the benchmark brand for this type of whiskey, with its popularity racking up numerous awards and rating high amongst consumers. For this reason, it is a natural starting point for first-timers. 
The avid whiskey connoisseur might not be used to the level of sweetness, but comparing it to a traditional whiskey would be missing the point of what Skrewball has produced. 
It should be enjoyed for what it is – a sugary, lively twist on the old classic. Peanut butter whiskey and coke also make for a great duo when it comes to sweet and savory cocktails.
Pros
Popular and widely-recognized brand
Readily available in-store and online
Pleasant to drink
Reasonably priced
Cons
Too sweet for certain palates
Some complaint of an off-putting smell
Detailed Analysis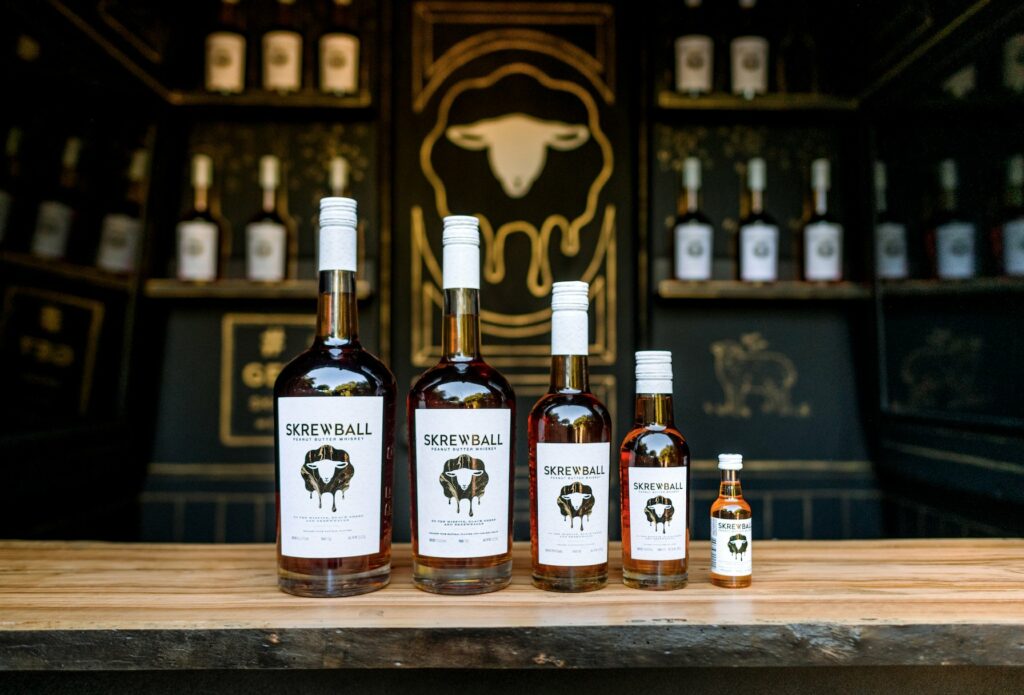 Appearance
The whiskey itself is naturally colored with caramel, which gives it a medium-oak appearance. The color is distinctly similar to the average scotch. 
It looks like a normal whiskey at first glance. 
It is only when you spot the 'peanut butter' in classic black font on the bottle, that you realize that what you are about to drink is something out of the ordinary.  
Aroma
Initially, the nose is hit with a whiff of warm peanuts and honey. Once that settles, the intensity of the peanut butter sets in. 
It is akin to opening up a jar of fresh, homemade peanut butter and taking a big sniff – it has an undeniable comfort. 
After a deeper smell, you start to pick up on a few of the subtler notes. There is caramel, shortbread, and of course, the vanilla that also comes through on the palate.
Overall, it is a wonderfully sweet, nutty aroma. You do struggle to pick up on the whiskey, but considering it is also subtle in taste, this is unsurprising. Yet another element that makes it easier to drink. 
Flavor
Upon first taste, there is an immediate strike of sugary sweetness to the palate. Vanilla comes through strong with a hint of roasted peanut at first, which is quickly followed by peanut butter. 
The taste is comparable to both a Butterfinger Candy Bar and a Reese's Peanut Butter Cup, candy in a glass. 
The texture of the whiskey feels thick on the palate, reminiscent of eating actual peanut butter. This is not completely unexpected with it being such a sweet drink. 
It is also unquestionably smooth on the palate. 
How you choose to drink this whiskey depends purely on your taste, it is versatile. 
If you prefer to have your drink on the rocks, you'll be pleased to know that the ice only leads to a very slight dilution of the peanut butter flavor and the sweetness. 
The flavors are there, and they're staying put. 
It can also be taken as a shot and is quite popular as a dessert drink. The sweetness means it works incredibly well as an ingredient in a fun cocktail, just ensure that you don't add another sweet component to it. This is all the sugar you'll need. 
Finally, it goes down very easily. The 'alcohol' burn is present but is not as strong as it can be in other whiskies. This makes it a great entry-level option for those who are more amenable to a sweeter drink. 
There are several other brands of peanut butter whiskey on the market, like Sheep Dog's Peanut Butter Whiskey, Sqrrl Peanut Butter Whiskey, Ole Smoky Peanut Butter Whiskey, and Skatterbrain Peanut Butter Whiskey.
Finish 
Despite the lessened 'alcohol taste' on the palate, the whiskey leaves a slight burning sensation afterward, but not as heavy as comparable liquors. The peanut butter makes a pleasant appearance in the sweet aftertaste, and it tends to linger. 
There are slight hints of Ethanol, which come and go between the strong peanut butter and vanilla remnants in the long finish. Finally, nutmeg and honey also peak through occasionally.
Price
A 750ml bottle will set you back between around $30, depending on where you purchase it. It is readily available on both online retailers and in-store retailers. 
What Recipes Can You Make with Skrewball Peanut Butter Whiskey?
So you've tried Skrewball whiskey neat, on ice, and with a dash of milk… now what?
How about some new twists on classic cocktails that make the most of that great peanut butter flavor? Here are a few of our favorites. 👇
1. The Skrewy Lebowski 🥜🥛
1.5 oz Skrewball peanut butter whiskey
0.5 oz Kahlua
0.5 oz @.app_gap_distillery Ridgeline whiskey
Few dashes chocolate bitters
Splash of half and half
---
2. PB & J 🥜
1.5 oz Skrewball peanut butter whiskey
1 can of Truly Wild Berry Seltzer
3. The Baa Baa Bramble 🍹
1.5 oz. Skrewball Peanut Butter Whiskey
0.5 oz. Green Chartreuse
0.5 oz. Lemon Juice
5 Blackberries
Mint & Blackberries for Garnish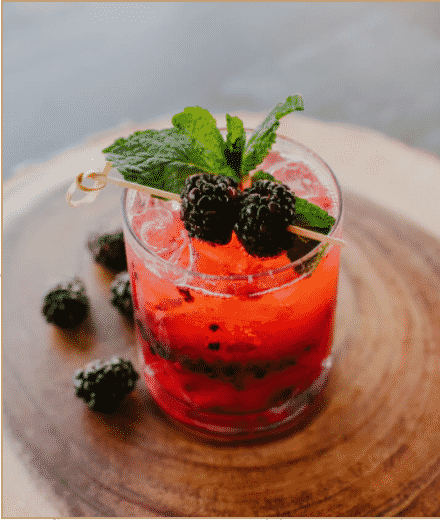 Skrewball Peanut Butter Whiskey FAQs
Can you drink Skrewball Whiskey if you are allergic to nuts?
No. It should be noted that there is a warning on the bottle clearly stating that the whiskey does contain peanuts, for those who have a nut allergy. 
Where is Skrewball made?
The company is based in San Diego, California. 
What cocktails can you make with Skrewball Whiskey? 
You can experiment with new cocktail ideas, or add a twist to old favorites, depending on your taste. A peanut butter espresso martini, spiked peanut butter cider,  a peanut butter Irish coffee, and so many more.
Can you freeze Skrewball whiskey? 
No – avoid freezing any whiskey at all costs. The liquid becomes more viscous, which causes it to lose flavor. Keep your whiskey at room temperature. 
Is Skrewball real whiskey? 
Yes, it is. It is made with real whiskey, peanuts, and cane sugar.