Every whiskey drinker has heard of, if not tasted, Johnnie Walker. They've been brewing fine scotch since the late 19th century, and are one of the most popular brands of whiskey around the world.
But if you go into any bottle store looking to buy some, you're going to find a lot of options. All their whiskeys are labeled with different colors, each denoting a different quality and price.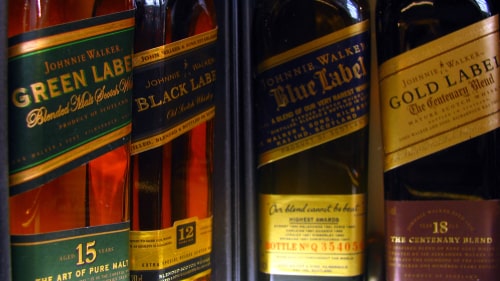 In this article, we'll rank and discuss all the Johnnie Walker whiskey brands, from cheapest to most expensive.

---
Johnnie Walker Red Label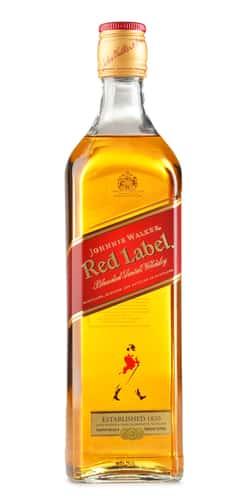 Johnnie Walker Red Label is the cheapest and most popular brand of whiskey. It's a blend of over 30 different grains and malts from all over Scotland.
Johnnie Red is a versatile beverage, great for drinking on the rocks or mixing into your favorite cocktail. It's an easy-drinking spicy scotch with a vanilla finish on the nose.
It ends with a notable smokey taste, a characteristic it gains from its wood-aged finish.
A typical bottle of Johnnie Walker red will retail for anywhere around $30 a bottle.
---
Black Label is widely regarded as being one of the best value-for-money scotches on the market today. It's one of the most popular whiskies across the world, and for good reason.
Johnnie Black is made of a blend of whiskies, all of which are aged for at least 12 years before being blended and bottled. The whiskey is a blend of over 40 premium grains and malts.
The 12-year aging gives Johnnie Walker Black Label gives the drink a complex flavor. The whiskey is known for deep caramel and coffee notes on the tongue. It has scents of tropical fruits like guava and pineapple with hints of spice.
A bottle of Johnnie Walker Black Label will go for around $50.
---
Johnnie Walker Double Black Label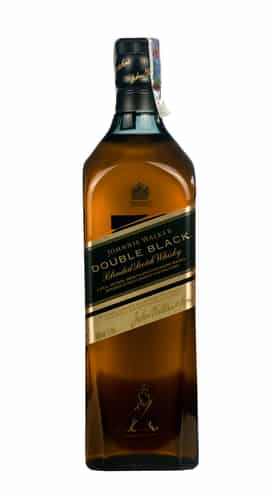 One of the newest additions to Johnnie Walker's range of whiskies, released in 2011, Double Black Label is a prestige blend of scotch whiskies from the Islay region of Scotland.
The whiskey is blended and aged in heavily charred oak barrels. This imparts a deeply smoky and peaty note.
The master blender, aptly named Jim Beveridge, based this blend on Island whiskies from the Caribbean, but with a classic, Scottish twist.
Double Black Label has characteristic notes of apples and raisins mixed with a rich, smokey flavor. The average bottle of Double Black Label goes for around $70.
---
This is one of Johnnie's less common blends. Getting your hand on a bottle of Green Label can take a lot of searching. It is often viewed as a bit of a collector's item among connoisseurs. It's brewed in small batches and is in high demand all across the globe.
Green Label is a blend of Highland, Lowland, and Speyside whiskies, aged in oak barrels for 15 years. The long aging time results in a smooth, complex beverage.
There are aromas of fresh grass and pepper, mingled with vanilla bean. The aging process imparts notes of oak and cedar on the tongue on the medium-bodied scotch. The blend has an interesting seashell finish, full of flavor and character.
A bottle of Green Label will cost collectors around $80.
---
Johnnie Walker Gold Label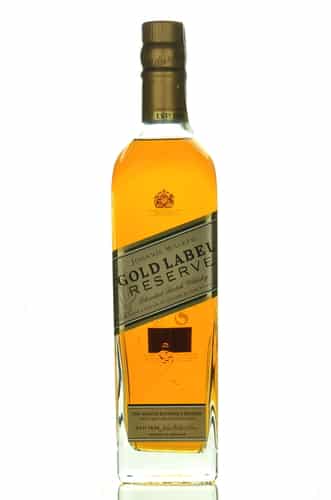 The first entry of Johnnie Walker's premium range. Gold Label is billed as a luxurious beverage for those with exclusive tastes.
The blend was released to celebrate over 200 years of whiskey brewing. It's a light and fruity drink, with lots of spicy, fruity flavors that linger on the tongue. It was blended to be a smooth drink with loads of subtle notes and flavors.
A bottle of Johnnie Walker Gold will set you back a pretty penny, running around $120 a bottle.
---
This is the one that gets us whiskey fans excited. Johnnie Walker Blue Label is one of those scotches that most people only get to drink once.
Johnnie Walker themselves brag that only one in every ten thousand casks of whiskey are turned into the elusive Blue Label bottle.
It's a wonderfully mellow and surprisingly smooth drink. Blue Label is a blend of hand-picked whiskeys from distilleries across all corners of Scotland. Johnnie Walker keeps the secrets behind the Blue Label rather clandestine, so most of the process behind making it is more myth than fact.
One thing that's no secret is the taste. Blue Label is velvet smooth and mellow. On the nose is the aroma of dried fruit like raisins and sultanas.
On the palate is a combination of honey and nuts, reminiscent of baklava. The finish is a lingering flavor of zesty citrus notes and roasted coffee.
Getting a bottle of Blue Label is going to set you back a little bit. A new bottle will cost you nearly $300, and they only get more expensive the older it gets.
---
Conclusion
That's our comprehensive rundown of Johnnie Walker's color range of whiskies. They're all good quality drinks, each one catering to a different market.
The price progression for Johnnie Walker colors is as follows:
So grab yourself your favorite bottle and pour yourself a dram.