What might you have in common with Winston Churchill and Richard Nixon? A love for Johnnie Walker, of course! 
Johnnie Walker has served up amazing blends since the 1820s and continues to provide easily the most loved whiskies in the world. 
Johnnie Walker Gold Label Reserve is often confused with the now discontinued Gold Label Centenary 18-year-old Blend. 
In this post, we review the Johnnie Walker Gold Label that features no age declaration. We expand on its history, flavors, and pricing. 
Johnnie Walker Gold Label Overview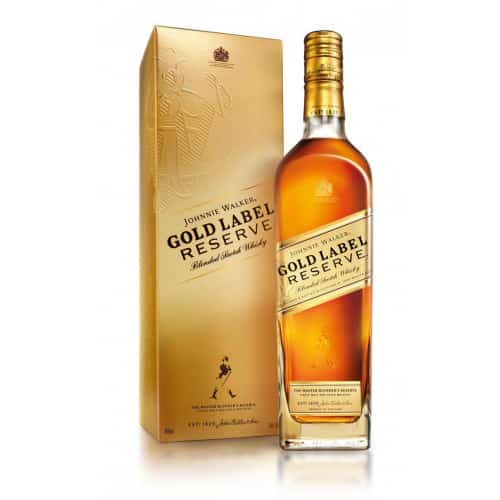 Overview
The Gold Label range celebrates nearly 200 years of Johnnie Walker whiskey blends and was dedicated to Mr. Walker's memory. 
It is widely loved and appreciated for its combinations of grain and single malt whiskies. 
The blended Scotch whiskey is quite uniquely positioned among Johnnie Walker's signature blends. 
The Gold Label Reserve claimed the winning title at the Whiskey Awards in 2018 for its variety of flavors and appealing character. In fact, the Reserve has won several awards around the world. 
This premium Scotch blend is made up of high-quality whiskies. The process of blending offers a premium experience at a reasonable price, and every now and again, a bottle as special as the Johnnie Walker Gold Label will make an appearance in the market.
As mentioned, the Gold Label was can be classified as their Celebration Blend. The discontinued 18-year-old Gold Label and the release of the earlier Platinum Blend have somewhat overshadowed the Gold Label Reserve. 
Most whiskey reviewers rate this blend quite highly and it's well respected among connoisseurs and enthusiasts. However, its smooth and subtle flavors make this an easy drink for newbie whiskey drinkers.
Pros
Unique pleasant taste
Sweet and smokey
Less bitter than most blends
Vibrant and full flavor
Cons 
Released occasionally in certain years. 
Available from collectors.  
Detailed Analysis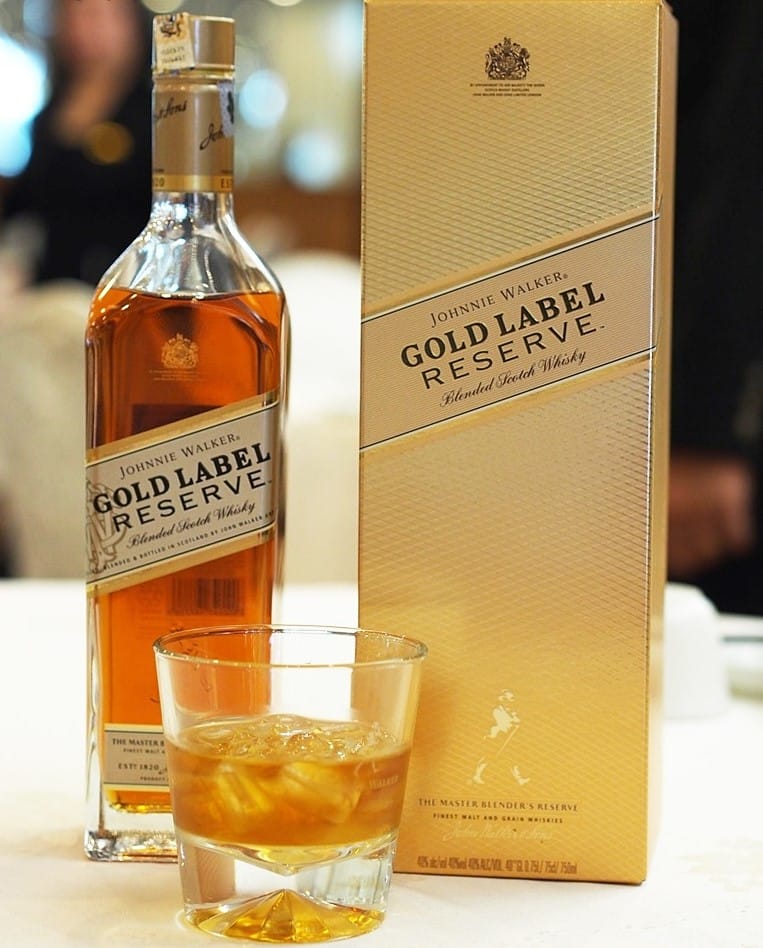 A Blend of Golden Flavors
Johnnie Walker Gold Label Reserve combines award-winning whiskeys from the Highlands to Speyside and the Scottish Islands. The blend of these unique tasting malts creates a sweet, spicy, and smoky finish. 
Gold Label features honey and amber tones. It is known for being enjoyed alongside chocolate-coated honeycombs. 
The manufacturing involves cereal or grains malts where it gains a smokey flavor and it's finally fermented. 
The bottle is ideal for special occasions and is best enjoyed in the company of people who will appreciate its smooth dram, honeyed flavor, and complex notes. 
Whiskey connoisseurs and enthusiasts usually appreciate the unique flavor, although some have criticized it for having an 'offish' taste and an anticlimax due to it leaving an aftertaste of butterscotch. 
Some have even accused the bottle of being sweet but flat, watered down and unsatisfying. However, the Gold Label Reserve remains a favorite in certain circles. Fans of the Gold Label 18-year often recommend the Reserve as an alternative since its discontinuation. 
Perhaps, it's an acquired taste. Like any alcoholic drink, there are different ways to appreciate the flavor and get the best out of every sip. It is a fine blend that goes well with a drop of water, on the rocks, or garnished with an orange slice for a simple yet elegant drink. 
Enthusiasts can also prepare the Scotch whiskey in such a way that enhances the flavors yet doesn't alter its original intent of an incredible taste and drinking experience.  
Fragrance & Taste
The Gold Label carried a distinct creamy yet smoky sweetness in line with the profile of most Gold Labels within the Johnnie Walker brand. 
The sweetness is quite similar to honey on the palate and carries rich spicy notes layered with cinnamon and candy cane flavors. 
As opposed to the usual burning sensation one would typically experience with other whiskeys, rather the first sips present a light, sweet, smokey, and smooth flavor. 
This uniqueness explains why this bottle remains a firm favorite among whiskey enthusiasts.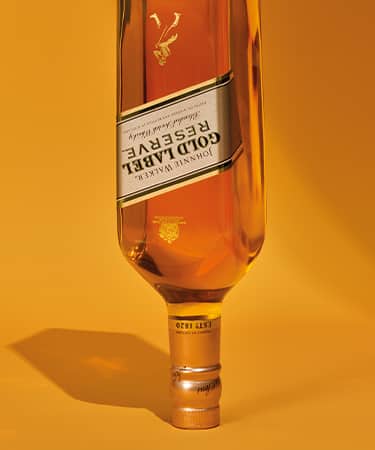 Ideal Serving
Most enthusiasts and whiskey experts advise enjoying this particular with no more than two drops of distilled water or one ice cube. 
The scent is part of the experience so you'll find most drinkers will take in long inhalations to take in the flavors before tasting the unique blend. 
An alternative is freezing the scotch in a chilled tumbler for 24 hours, the alcohol content will not be altered and the flavors will be enhanced. 
After 24 hours, it won't freeze but transform into a gel-like consistency. If you have a sweet tooth, you can add chocolate milk to craft a liqueur experience. 
Johnnie Walker Gold Label Price
The Gold Label Reserve goes for around $80. While its price tag is certainly higher than other Johnnie Walker blends, we think it's worth the money.
It's affordable enough to enjoy with friends and family and makes the perfect gift for whiskey drinkers. 
The price progression for Johnnie Walker colors is as follows:
Conclusion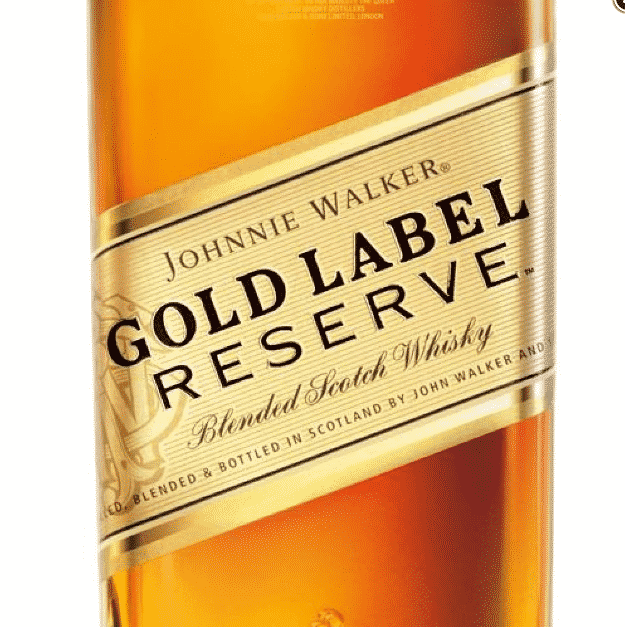 The Gold Label is considered a step up from the Platinum and Green bottles and is a gentle blend. With a 40% alcohol content, the 18-year-old blend features over 15 offer a full-bodied flavor, and is ideal for celebrations. 
As a renowned blend of Scotch whisky, it offers the enthusiast a thoroughly pleasing experience. This particular expression offers great flavors at a reasonable price without compromising the quality. 
Johnnie Walker Gold Label Reserve FAQs
Is Gold Label better than Black Label?
Black Label is stronger on the nose in comparison to soft and smooth Gold Label. Smoke and oak flavors are more prominent in the Gold Label and it makes for an easier drink for new whiskey drinkers. 
Is Johnnie Walker Gold Label better than Green Label?
Both have a sweet flavor profile with hints of vanilla and caramel. Most whiskey enthusiasts prefer the premium Green Label but the peat is more present than in the Gold. So for more subtle flavors and a smooth drink, we would recommend the Gold Label. 
How many years is the Gold Label Reserve? 
We have found conflicting evidence on the age of Gold Label Reserve but according to the Johnnie Walker brand it is aged for a minimum of three years. Not to be confused with the 18-year-old Gold Label which is now discontinued and has been replaced by the Platinum Label.