Johnnie Walker Red Label is one of the most bought and consumed whiskeys in the world at an affordable price. It's a classic Scotch whiskey that's accessible to everyone.
But how does it hold up in terms of quality?
We've taken the time to run a taste test to answer exactly that.
We'll let you know whether this whiskey is worth a buy in our Johnnie Walker Red Label review.
Johnnie Walker Red Label (Our Review)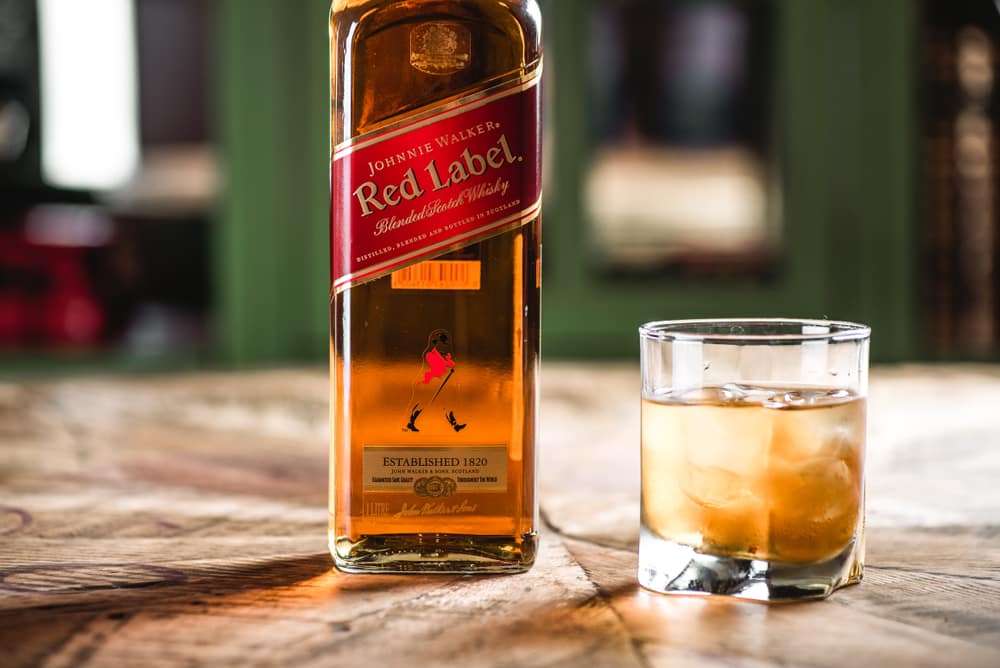 Overall Assessment
The high affordability of the Johnnie Walker Red Label makes it a great beginner whiskey. If you're just dipping your toes into the whiskey world, then this is the perfect place to start.
Though it's the cheapest of the Johnnie Walker colors, they don't sacrifice flavor for cost. This whiskey has a surprising amount of depth for its price.
The taste itself is also highly enjoyable. And it doesn't have that strong afterburn that many competitors in its price range struggle with.
It tastes better cold, so we recommend either refrigerating it or having it on the rocks. Neat whiskey drinkers probably won't get as much enjoyment out of this whiskey.
It also makes for a great cocktail whiskey. It's not too overpowering, so it mixes very well with other flavors. This whiskey also makes for the best substitute for brandy in sangria.
That being said, there are deeper and more complex whiskeys out there, if you're willing to shell out quite a bit of money. So if you're an avid whiskey fan that doesn't mind spending a bit of extra money, then this probably isn't the whiskey for you.
Pros
Highly affordable price
Doesn't sacrifice flavor for cost
Tastes great on the rocks
Perfect for beginner whiskey drinkers
Great as a cocktail whiskey
Cons
Doesn't taste as good warm or neat
Not the perfect fit for experienced whiskey drinkers
Detailed Analysis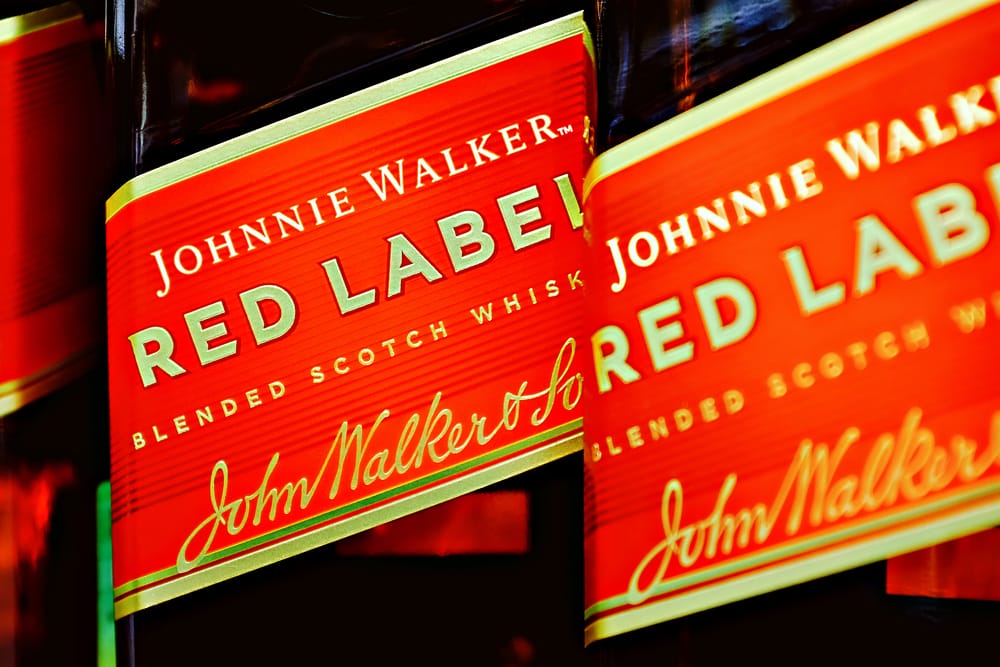 Now that we've discussed some of the pros and cons of Johnnie Walker Red Label, let's get into a bit more of a detailed analysis. Here, we'll be discussing its price, nose, palate, finish, and packaging.
Price
Jonnie Walker Red Label comes at a highly affordable price, as low as $23. This makes it one of the most affordable whiskeys you can get.
The price progression for Johnnie Walker colors is as follows:
Though there are other whiskeys priced similarly to Johnnie Walker Red Label, none of them reach the same level of quality. This makes it the best value-for-money budget whiskey.
Nose
The most prominent scent on the nose is a hint of fresh apple and raisins. You can smell a little bit of oak alongside some sweetness that is balanced out by the malt and the alcohol.
In all, it's pleasant and surprisingly complex for such a low-cost whiskey. The alcohol is a little more prominent than in some higher-cost options, but it doesn't at all mar the experience.
The nose of Johnnie Walker Red Label gives just a taste of what's to come.
Palate
The palate opens up with a gentle honey and vanilla flavor. Hints of apple come in, followed by cinnamon and pepper.
Its mouthfeel is less creamy than some other whiskeys and has a slight oiliness to it.
Drinking it chilled or on the rocks brings out some of the sweeter and more pleasant tones. You lose some of this when drinking it neat.
Overall, the palate is pleasant, much more so than many competitors in the same price range, but doesn't have quite the same depth as more expensive whiskeys.
Finish
The oakiness comes out in full force on the finish. Smokiness predominates the tastebuds, much like all Johnnie Walker whiskies.
The finish is rather short and doesn't linger as much as pricier whiskeys. Even so, it's still pleasant, with some hints of apple remaining.
Though there is a slight burn, it isn't as strong as other budget whiskeys. This makes it an excellent beginner or cocktail drink.
Packaging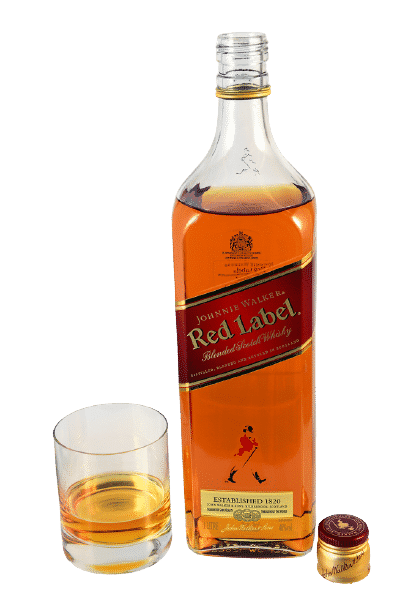 Johnnie Walker Red Label comes in Johnnie Walker's standard, square bottle. Though it isn't anything unique in terms of design, it's iconic.
It's sleek and classy and will look excellent on any whiskey shelf. The well-known design is easily recognizable by anyone.
Its range of sizes also makes it highly portable, making it the perfect whiskey to bring to a dinner party with friends.
Conclusion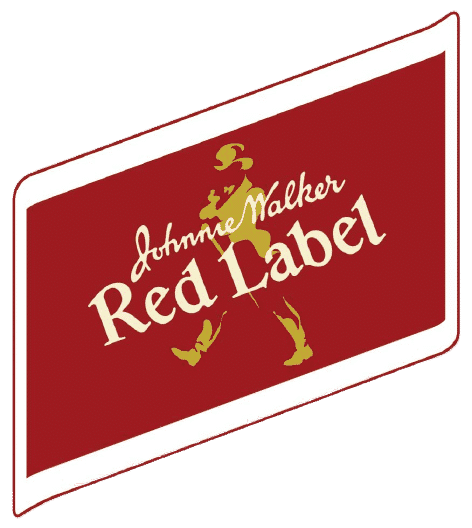 Johnnie Walker Red Label is an excellent beginner whiskey. Its lack of burn and high quality means that anyone can drink it. It's the perfect jumping-off point for anyone looking to dip their toes into the whiskey world.
This is only compounded by its low cost. You won't have to fork out a lot of money if you're just looking to try it out.
Its hints of sweetness make it perfect on the rocks or in a cocktail. You can easily enjoy this alone or with friends, no matter how much you know about whiskey.
Is Johnnie Walker Red Label a good whiskey?
Johnnie Walker Red Label is an excellent whiskey for its price. It easily beats out most of its competitors.
Avid whiskey drinkers might find it a little lacking in some areas, but it's a high-quality whiskey that is great for beginners.
Can you drink Johnnie Walker Red Label straight?
Though many people use it as a mixer or in cocktails, you can enjoy Johnnie Walker Red Label straight.
If you're drinking it straight, it's better to have it chilled or on the rocks. This brings out some of its more pleasant, sweeter tones.
What is the price of Johnnie Walker Red Label?
Johnnie Walker Red Label usually ranges somewhere between $23 and $25.
As whiskeys go, it's one of the cheapest on the market. Its price alongside its quality makes it fantastic value-for-money.
What is the difference between Black Label and Red Label?
Black Label vs Red Label… Between these two Johnnie Walker classics, the main difference is their blend. Red Label is a blend of 35 grain and malt whiskeys, and Black Label blends 40 12-year-old whiskeys.
Black Label is a milder drink than the Red Label, but they are both loved by newbie whiskey drinkers.
They also differ in their color as Black Label is a deeper amber color than Red Label.
Johnnie Walker Special Editions