If you're at all familiar with Johnnie Walker Blue Label, you'll know that it's tasty, expensive, and difficult to find. Even some of the most seasoned whisky drinkers haven't had the opportunity to taste this illustrious blend.
But if you've never tasted Blue Label, it's a lot to ask to pay for an entire bottle just to find out if you enjoy it or not. That's where we come in.
We had the chance to review Johnnie Walker Blue Label. We'll go over the key aspects of the whisky, the flavor, aroma, finish, and price.
Johnnie Walker Blue Label – Our Review
Overall Assessment
As Johnnie Walker's flagship spirit, Blue Label has a lot to live up to. Johnnie Walker themselves proudly boasts that only one in every ten thousand casks is of high enough quality to receive the Blue Label stamp of approval.
Inspired by the original Old Highland Whisky that was made by the Walkers in 1867, it has a long pedigree of excellence.
Blue Label is more than just whisky. It's made as a showcase of Scotland's long history of whisky distilling. Blue Label aims to blend flavors from the four corners of Scotland. Each flavor is an homage to a particular region's history; its terroir and landscape.
Bottles of Johnnie Walker Blue Label come in all shapes and sizes, from standard 25-ounce bottles to sample kits.
No matter the shape, a bottle of Blue Label will set you back a pretty penny. Because of the limited production and high demand, Blue Label is well-known to be a pricey beverage that's best left for only the most seasoned connoisseurs. 
As we'll discuss further on, Blue Label is a great whisky for all sorts of drinkers. It's a versatile beverage with a lot to offer.
Pros
Easy drinking whisky for all palates.
Great for a special occasion.
A whisky with a long cultural tradition.
Cons
More expensive than most other whiskies.
High demand makes it difficult to source.
Detailed Analysis
Now that we know what Johnnie Walker Blue Label is, we can talk about what it's like to drink.
We'll cover the tasting, aroma, and finish notes of the beverage, as well as what you can expect to pay for a bottle and exactly how it's made.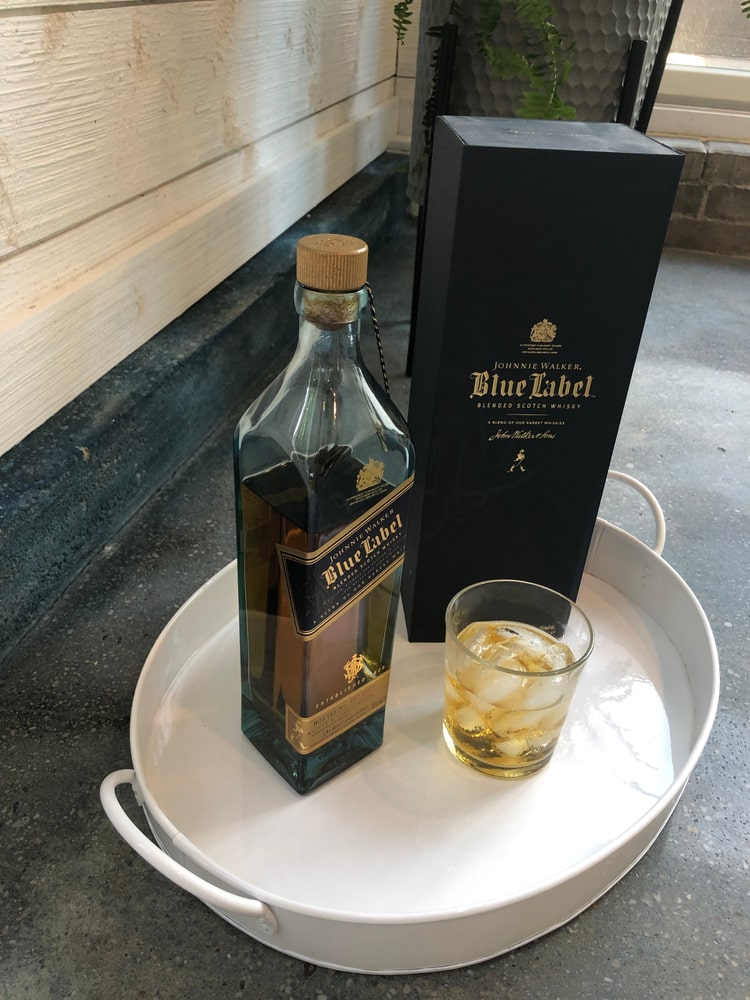 Flavor
The first thing you'll notice when you pour a dram of Blue Label is the beautiful amber color of the drink. It's crystal clear and a wonderful golden straw color with strong, viscous legs.
The first sip reveals a subtle combination of vanilla, honey, and rose – like a mature Turkish delight. There's a balance between the sweet notes of honey and hints of dark, bitter caramel.
A second tasting brings out the fruity, lively side of the drink. The middle palate is crammed full of dried fruit like cranberries, raisins, and sultanas. The intense sweetness is cut through with zesty citrus flavors: orange, lime, and grapefruit.
All of these flavors are paired beautifully with smokey notes that the drink picks up from aging in charred oak barrels.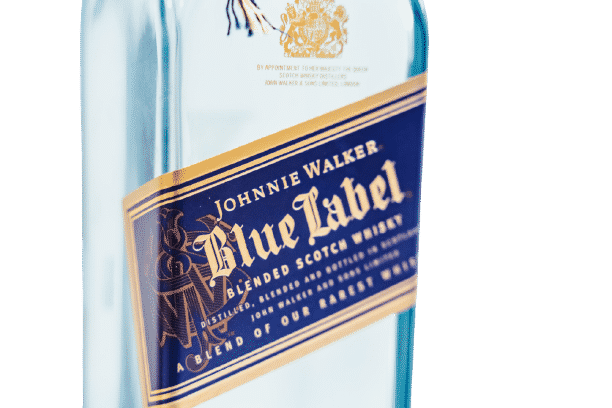 Aroma
Your first sniff of Blue Label will make your hair stand up with its characteristic combination of oak smoke and alcohol. But a gentler, slower approach reveals the complexities of this world-renowned spirit.
At the front of the nose are all the spicy, fruity aromas that make it such a well-rounded drink. There are notes of wood shavings, bitter orange, and cocoa nibs that mingle together to create a lovely, warm sensation.
The darker aromas of Blue Label are present at the back of the nose, deep in the sinuses. Waves of heavily roasted nuts, dark coffee, and molasses will sit in the air long after you've put down your glass.
Together, the aroma creates the impression of a lavish gentleman's study. Images of resplendent leather chairs and wafting cigar smoke jump to mind.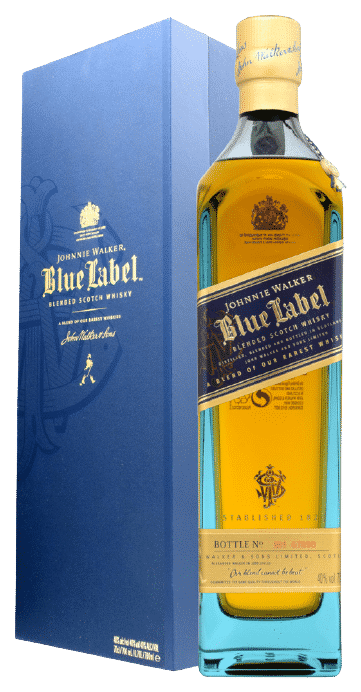 Finish
So we know that Johnnie Walker Blue looks, smells, and tastes amazing. But what's it like after you've taken your first, second, or twentieth sip? The finish of a beverage is the feeling and flavors left in your mouth after you've swallowed.
Blue Label's finish is like a Rennaisance oil painting – dissolving into layer after layer of taste and sensation.
The initial finish leaves a thin, sumptuous oily film in the mouth. The flavor of the whisky lingers for long at the back of the tongue.
The oily richness is cut through as a light, smoky spiciness emanates from deep within the throat. The combination of rich flavors and spice makes it impossible not to take a sip.
Price
Johnnie Walker Blue Label has a bit of a reputation in whisky circles for being prohibitively expensive. In reality, it's a mid-range bottle, pricey for a blend, but many single malt whiskies are more expensive by a couple of zeros.
A standard 25oz bottle of Blue Label will cost you anywhere between $250-$300. Some years are more expensive than others, and if you're willing to dig around a bit you can find it for a bit less.
The price progression for Johnnie Walker colors is as follows:
There are also some premium ranges and blends of Blue Label. Just this year, Johnnie Walker released the King George V Premium Blue Label. This highly elusive spirit will cost $680 per bottle.
Production
Little is known about the exact process that Johnnie Walker uses to create their Blue Label whisky. Understandably, they keep their operation a secret from the outside world.
What we do know is that Blue Label is a blend of whiskies from the four corners of Scotland. These regions – Highland, Lowland, Speyside, and Islay – have unique conditions and climates that affect the end product of the whiskey.
Like all scotch, these whiskies are aged for a minimum of three years in new, charred oak casks.
Johnnie Walker tastes and combines whiskies from each of these regions to create the Blue Label blend that has become so popular today. There is only one person in the world qualified to discern the quality of a Blue Label blend: a direct descendant of Johnnie Walker himself.
Conclusion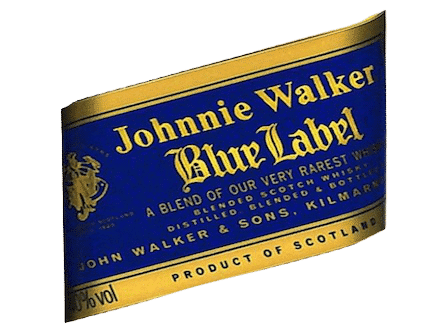 Normally, when reviewing a whisky, we try to find both positive and negative points about it. This proved surprisingly difficult with Blue Label.
It's earned its place at the head of the table when it comes to blended whiskies. In terms of taste, aroma, and finish, Blue Label is second to none.
While the price tag could turn some people away, it's a bargain for what you're getting out of it.
Johnnie Walker Special Editions