So you need some Johnnie Walker in your life? If you're looking for an affordable whiskey, you've come to the right place. 
There's nothing better than the sophistication of a smooth liquor hitting your throat after a hard days' work – purely for the reason that you deserve to be treated. 
As whiskey enthusiasts, we've broken down the good, the bad, and the ugly of the iconic blended scotch for a mental taste test. 
A bottle of Johnnie Walker Black Label will cost you about $30, which means you can keep drinking this first-class whiskey without blowing your budget. 
It's one of the biggest sellers of the Johnnie Walker brand and we explore why it's such a popular whiskey in this article. 
The drink is laden with notes of citrus, tropical fruit, and smokiness. Johnnie Walker Black Label offers a heavy sweet, almost toffee, finish. 
Johnnie Walker Black Label Overview
Overall Assessment 
Johnnie Walker Black Label is one of the most distinctive premium whiskies in the world, aged for no less than 12 years. 
As one of the most famous whiskeys around, it can easily be purchased anywhere. 
In making this blended scotch whiskey, Johnnie Walker's Master Blenders fuse different whiskeys (grain and malt) to obtain a rich, deep taste. 
Your bottle of Johnnie Walker can contain a blend of up to 40 different whiskeys, adding to the complex flavor. 
It is smooth with the perfect blend of smoky and sweet. Anyone with a zest for life will enjoy what the 'Striding Man' has to offer.
One of the most commendable traits of this product is undoubtedly its affordability. The Johnnie Walker Black Label price makes it accessible to anyone. 
Some seasoned whiskey drinkers say the peat smoke flavor has steadily declined over the years, possibly due to different batches and the mixing of different blends.
Don't let this scare you off, it's common in blended whiskey varieties. Whiskey experts suggest that Johnnie Walker Black Label is a great introductory whiskey for beginners. 
The Johnnie Walker distillery recommends drinking Black Label neat with small sips of water in between to clean your palate. 
Adding a little water to your whiskey can also aid in diluting the peat if you are not a fan. This is a perfect tip for beginners to slowly ease into drinking whiskey the old-fashioned way. 
Another popular way of enjoying Johnnie Walker Black Label is by adding some ice. This makes for a refreshing, enjoyable drink. 
Keep in mind that too much ice will interfere with the signature flavor.
Pros
Price is relatively economical 
Versatile – Drink it neat, on the rocks or even in your favorite cocktail
Health benefits to drinking whiskey 
Popular worldwide
Cons 
Flavor has declined over time according to reviews
There are cheaper whiskey options 
Some feel that it's too 'watery'
Detailed Analysis
Johnnie Walker Black Label is great because anyone, from the seasoned whiskey taster to the novice, can enjoy the delicacy of the sweet and peat. 
We focused on the appearance, nose, palate, and finish of the whiskey for this tasting. 
The color and fluidity can give a great indication as to which oak barrels were used in the whiskey crafting process.
The smell of the whiskey adds to the tasting experience. One expects the standard smoky aroma attributed to the drink, which is exactly what we experienced. 
Palate refers to the characteristic taste of the whiskey and the presence of different flavors. 
Some say they taste grilled onions, others even Turkish Delight, though we didn't pick this up.
Lastly, the aftertaste is smooth and warm, as it should be.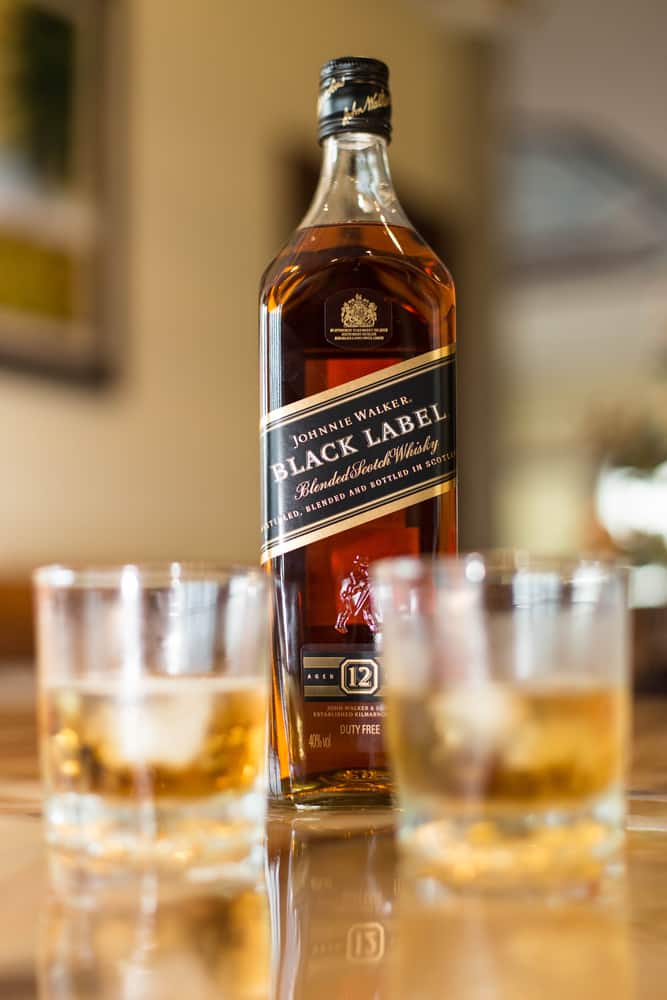 Appearance
Characteristically the color of Johnnie Walker Black Label ranges between golden hue, amber, and copper. 
Though our sample leaned more towards golden, experts say that very light color is indicative of pre-used barrels. 
The bottle is typically square-shouldered with the sticker angled slantingly at precisely 24 degrees. The iconic logo sports the 'Striding Man', a cartoon standing since its creation by Tom Browne way back in 1909. 
Nose
When taking a whiff of Johnnie Walker Black Label, a pronounced scent of vanilla and citrus is present. 
Everpresent is a delicate smoky smell, exactly what one needs from a glass of Scotch. 
Others smelled orange marmalade, leather, toffee, and herbs. The overarching consensus, it smells rich, sweet, smoky, and fruity.
Palate
Johnnie Walker Black Label has a fragile sweet note of toffee. The peat taste is subtle and not too overwhelming. 
There is a fine and elegant balance between the sweet and the smoke. The liquid is silky,  like nutty, spicy honey. This delicate balance of flavors is what keeps whiskey lovers coming back for more. 
Finish
Once the taste of slightly sweet toffee disappears, it is replaced with a pleasant lingering of citrus and raisins, some say, sultanas. 
The smoky taste stays and mixes splendidly with the fruit. 
Some say the finish can be a bit underwhelming, but for us, it hits the spot.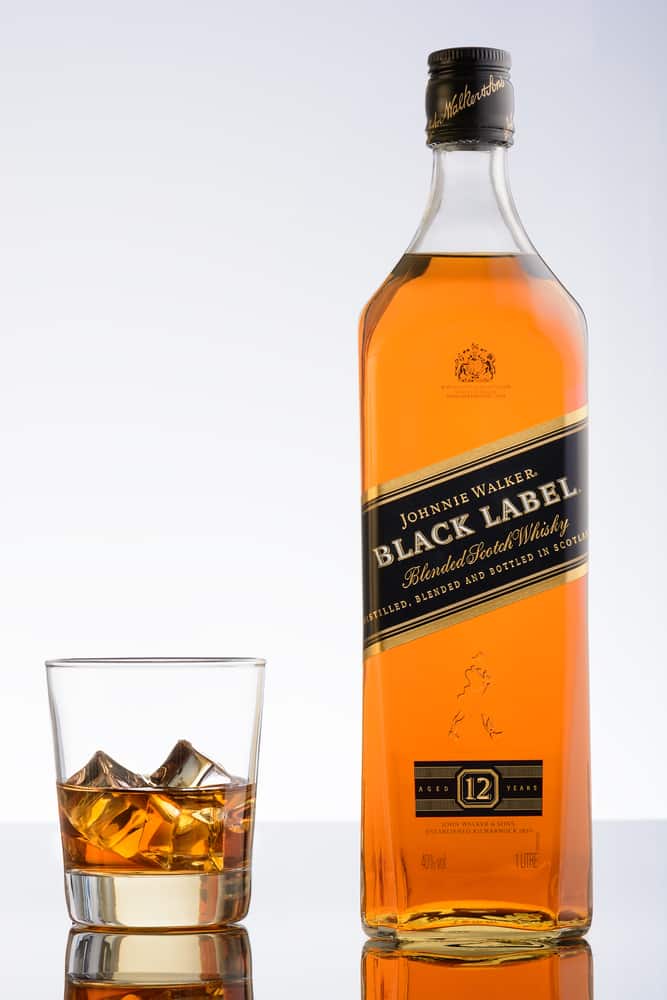 Price
Last but not least, the Johnnie Walker Black Label price is one of its best features. You need to budget for around $30 to $35 per bottle. 
The price progression for Johnnie Walker colors is as follows:
Many seasoned whiskey drinkers agree that the price is very economical and measures up well to other more expensive whiskeys. 
Conclusion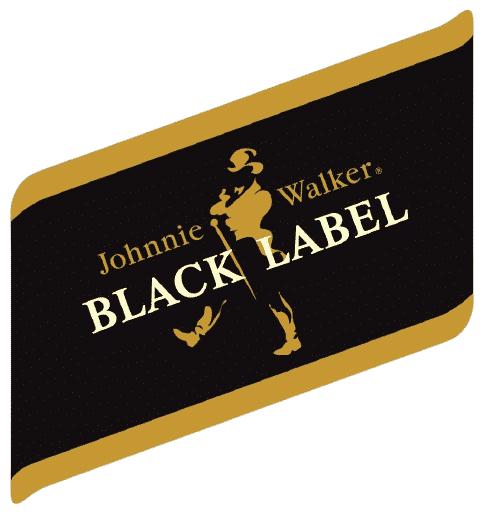 We've had it before and we'll have it again. Johnnie Walker Black Label is a delicacy. 
One of the greatest accomplishments of the brand is the affordability of Johnnie Walker Black Label. It's well worth the money you spend on this whiskey. 
The distinctive ambery-golden color is mesmerizing. It's a readily available drink found in all parts of the world.
It's considered a comfortable whiskey that is ideal to many novice whiskey drinkers, and those whiskey connoisseurs that are looking for something more affordable than their usual high-end options. 
It is smoky, a little sweet, fruity, with hints of vanilla and other warm spices. Would we recommend it? Absolutely. 
It would be hard to find someone who wouldn't recommend this elegantly subtle whiskey, although those that believe the taste has depreciated over time will tell you otherwise.
In our opinion, the taste is delicate, yet deep. Elegant, yet rugged. All-in-all, we give it a big thumbs up.
Johnnie Walker Special Editions