Whether you want a bit of a healthy buzz or you're looking for an alternative to carb-heavy beer, Juneshine Kombucha is the hooch for you.
This review breaks down what Juneshine hopes to achieve with selling their hard kombucha. We give you an analysis of the product's ingredients and how it stacks up against other kombuchas and liquors.
Do they live up to their promise of producing products that are gluten-free and have low sugar contents?
Juneshine Kombucha Review
Before we can get into the Juneshine brand, we need to understand what exactly they're trying to sell to us.
Difference Between Kombucha and Hard Kombucha
Kombucha is a sweet Chinese non-alcoholic tea that's made by fermenting tea. Black tea is most common, but green tea is also an option.
The tea is fermented by adding sugar and a mix of macrobiotic cultures, typically called a SCOBY.
Kombucha is considered a healthy drink that helps with mental and gut health due to it being rich in probiotics that have a direct effect on the intestinal cells. 
Hard kombucha, on the other hand, is like standard kombucha with the inclusion of alcohol. Sugar and yeast ferment to create alcohol.
It's not classified as a beer and is instead a healthier alternative. Instead of fermenting wheat and making a carb-heavy beer, Hard Kombucha uses tea during its fermenting process to release carbon dioxide and alcohol. 
This means you won't have to worry about carbs when enjoying your hard kombucha as you do with drinking a cold beer. The carbohydrates in beer also lead to heartburn, indigestion, and bloating.
Juneshine and Their Mission
Juneshine is a brewery based in San Diego. It opened its doors on June 1st in 2018.
They use organic ingredients to bring you some of the best hard kombuchas on the market.
Juneshine provides a gluten-free and probiotic-rich hard kombucha to give you that summery taste on a hot day.
Their mission is to provide you with the highest quality 6% ABV kombucha to your doorstep.
Juneshine has made sure that their ingredients and brewing process is planet-conscious. The brand partnered up with Climate Neutral to produce the drink with no carbon footprint. That means drinking Juneshine's hard kombucha won't only be beneficial to your gut, but it also helps the planet.
Their team is composed of workers who originally came from the beer industry and have extensive knowledge of breweries. It's safe to say that Juneshine has an all-star team with tons of experience. 
These are people who have worked in the beer industry and are familiar with the fermenting process. Experience is everything, especially when it comes to creating good products. 
Juneshine is transparent about what ingredients are going into their hard kombucha. This honesty allows you to know what's in your drink, the same way you know what's in your favorite food. 
You can rest easy when buying a case of Juneshine knowing that their ingredients and brewing process is clear and transparent.
Juneshine's Wide Range of Kombucha Flavors
Where most hard kombucha brands use black tea and sugar, Juneshine stands out from the crowd by using green tea and honey to give it a lighter, fresh, and fruity flavor.
The use of green tea during the fermenting process is known as Jun Kombucha. 
Some of its products, like the Midnight Painkiller, include activated charcoal which is good for the digestive system as the charcoal filters toxins.
Juneshine's products are fruity and flavorful. They have 5 flavors to choose from: The popular Blood Orange Mint, the previously mentioned Midnight Painkiller, the sweet and sour Hopical Citrus, the Grapefruit Paloma, and, lastly, the Acai Berry.
12 proof (6% ABV) is the standard throughout all their hard kombucha products.
You should note that this is higher proof than what's found in your regular beers. 
Their claim to be low sugar isn't exactly accurate either, as there are 6 grams of sugar in every can of their hard kombucha. This is the same amount of sugar that you'll find in light beers.
On a positive note, all of their products have modern and funky can designs that will look great on a shelf if you are a collector of cans.
For example, the Acai Berry hard kombucha has a pascal and glossy design of a bird flying over the sea towards the sunrise.
Who is it for?
People who are gluten sensitive and want an alternative to beer will feel at home with Juneshine's Hard Kombucha. All their products are gluten-free and don't contain any cereal grains.
It gives you a light buzz that doesn't make you sluggish or tired and keeps you sociable. This is a big improvement to the sluggishness and bloating that you feel after quaffing beer for an afternoon.
Due to its alcohol content, we don't recommend this to pregnant women or anyone with liver or kidney problems. The problems that arise from too much alcohol consumption still apply when drinking hard kombucha.
If you don't want to spend a fortune on a can of hard kombucha, Juneshine's prices are affordable and it's delivered throughout the US.
Each can of hard kombucha costs around $3, which is cheaper than other hard kombuchas as they range from $5 to $10 for a 16 oz can.
It's also important to store these cans in the refrigerator as warm temperatures will continue to ferment the kombucha. This leads to the taste being ruined and the pressure inside keeps rising which can lead to the can bursting.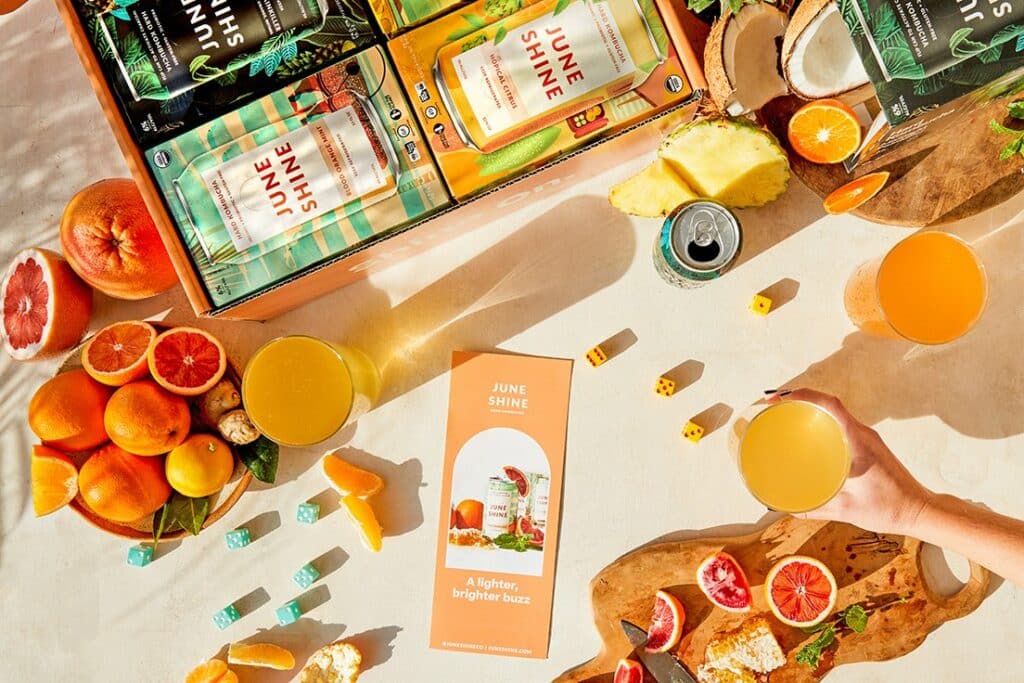 Fermentation Process
Juneshine's brewing team starts with hundreds of barrels filled with green tea. It's then infused with honey before it's sent off to the primary fermenter.
At both primary and secondary fermenters, everything is monitored closely. Master brewers pay close attention to the levels of sugar and the rate of fermentation.
Honey is used during the primary fermentation whilst organic cane sugar is used for secondary fermentation. These ingredients come from regenerative and sustainable producers so no bee populations are being harmed and pestered for their honey. This adds to Juneshine's planet-conscious goals.
Once the base is formed, a portion of the sugar is consumed by the yeast to create the alcohol and carbon dioxide, which makes the drink fizzy. 
The bubbles are smaller than what you'll find in beer or soft drinks, which can leave a slight tingling sensation on your tongue.
In terms of how Juneshine gets their flavors, they use organic juices and spices without including any artificial sugars or flavor extracts.
How to Get Juneshine Hard Kombucha
Juneshine's hard kombucha can be purchased at its original location in North Park and its stores in Orange County, Santa Barbara, Sacramento, and Portland.
Their products can also be found on store shelves or purchased directly from Juneshine's website.
Pros
Variety of flavors
Gluten-free
Includes probiotics
Affordable
Cons
Must be refrigerated
Very carbonated
Brand Reputation
Juneshine is a well-known brand for surfers and party goers who want a healthy alternative to drinking beer.
We say surfers as Juneshine sponsors and endorses many professional surfers such as the four-time Sports Centre Top 10 candidate Austin Keen.
Juneshine Price
When comparing Juneshine to other brands such as Jiant and KYLA, it's more affordable and it has a greater variety of hard kombucha than the competition. One of the huge upsides to buying from Juneshine is that you can order online and have it shipped directly to you. Which is far from common in the alcohol world.
The downside to this is when purchasing directly from Juneshine, you only get the option to purchase their products in packs of 12, 24, and 36. On top of that, you still have to take the cost of delivery into consideration.
Juneshine Ingredients
Juneshine's use of organic ingredients and green tea makes for an earthy and sometimes fruity hard kombucha.
Let's break down the ingredients in their 5 products.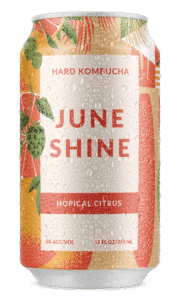 Grapefruit
Pineapple
Simcoe hops
Cascade hops
Citrus zest
Green tea
Jun kombucha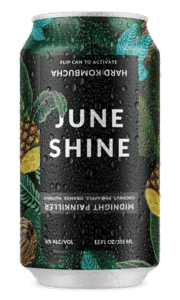 Coconut
Pineapple
Orange
Nutmeg
Activated charcoal
Green tea
Jun kombucha
This is our favorite flavor! The activated charcoal turns the drink almost fully black and adds depth to the flavor and mouthfeel. The coconut really compliments the orange and pineapple well, and the nutmeg gives it a little kick. 10 out of 10 for us on this one!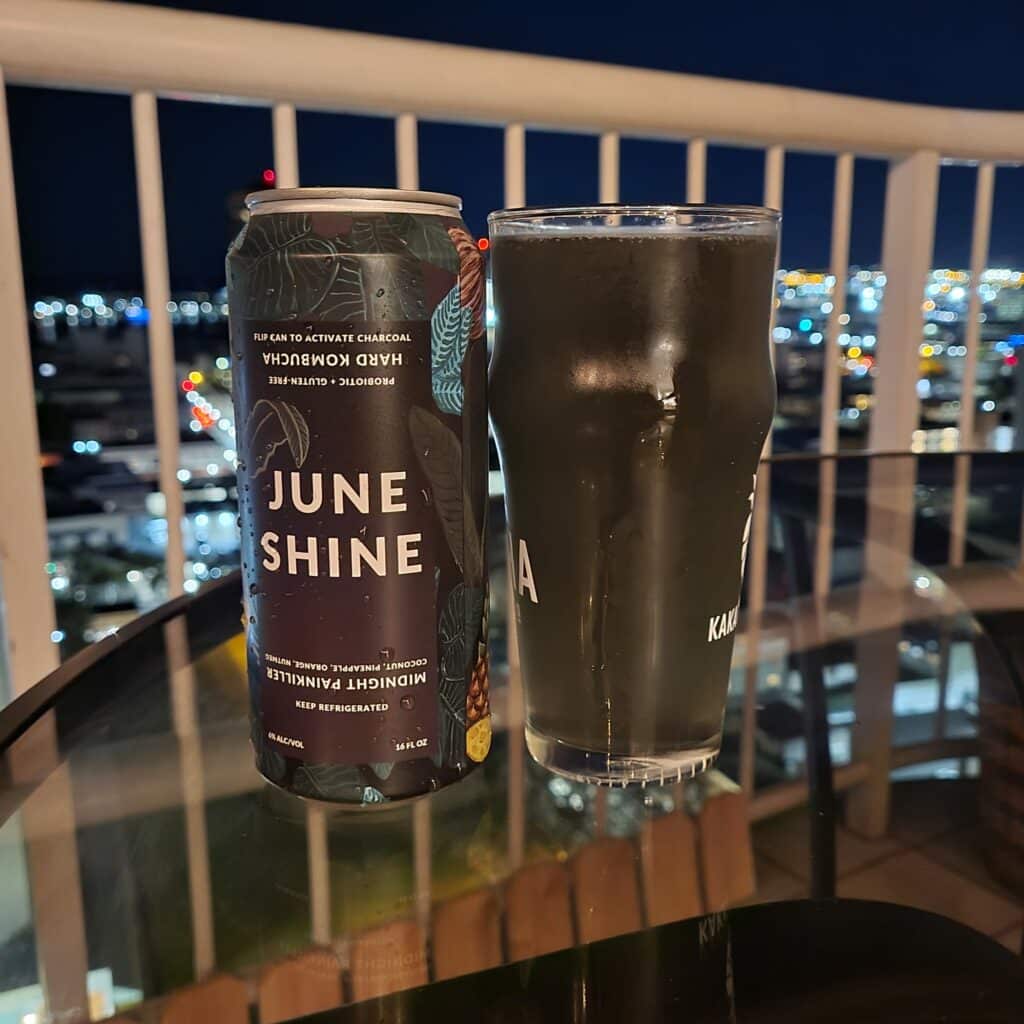 ---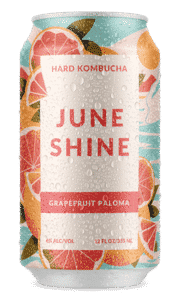 Grapefruit
Lime
Green tea
Jun kombucha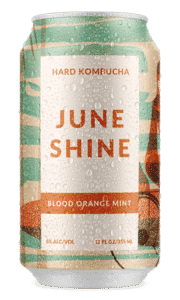 Blood orange
Mint
Beet juice
Green tea
Jun kombucha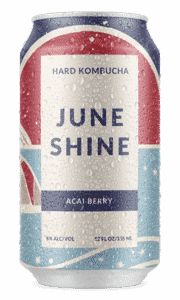 Acai
Blueberry
Green tea
Jun kombucha
Health Benefits of Juneshine
While it does contain many probiotics and vitamins, you can't go into Juneshine's hard kombucha thinking you will get the same health benefits as drinking standard kombucha.
This means that drinking hard kombucha won't benefit your gut health to the same extent as normal kombucha. The probiotics aren't able to withstand the amount of alcohol, so you don't get as much of the good stuff.
However, Juneshine's hard kombucha still contains the same polyphenols and antioxidants as standard kombucha due to the inclusion of green tea.
Polyphenols assist in maintaining your blood pressure levels, and antioxidants reduce the risk of diseases affecting the heart by neutralizing any harmful compounds.
It's also much better to drink the hard kombucha over beers as it's lower in carbohydrates, sugar, and overall calories.
Conclusion
It's safe to say that Juneshine's kombucha is a good way to enjoy an alcoholic beverage and get a healthy dose of probiotics and vitamins.
However, while it has added benefits compared to drinking beer, it's not the best substitute or alternative because it still contains alcohol. Alcohol has negative effects on your brain, kidneys, heart, and liver, no matter how many probiotics are present.
The Juneshine brand is trustworthy and, most importantly, transparent when it comes to discussing the contents found within their kombucha.