Bushmills and Jameson are the ultimate Irish whiskies.
Deciding which is better comes down to personal choice. But that doesn't mean you can't do some research before testing them out.
In this article, we compare two of the world's greatest whiskies.
First, we will look at the technical differences between these two giants. Then we will break them both down for an in-depth comparison.
Fun fact: Unmalted barley is uniquely found in Irish whiskey. This is what makes these whiskies creamier and spicier than others.
↓👇 Jump straight to the poll 👇↓
Bushmills versus Jameson (Compared)
Technical Spec
Production
Bushmills and Jameson are both triple distilled in copper stills. But that is where their similarities end.
Bushmills use water from the River Bush for the production of their whiskies. The distilled whiskey is aged in oak that previously held Oloroso sherry and bourbon.
They have blended and single malt whiskies in their selection. The blended whiskey consists of a single malt mixed with either a lighter grain or a sweet grain whiskey.
All Jameson whiskey is a blend of the distillery's single pot still whiskey and grain whiskey. They use water from the local Dungourney river during production. The whiskey is then aged in former bourbon and wine casks.
Certain casks are then chosen for charring during maturation. This encourages the bourbon oak to release richer flavors into the whiskey while it ages.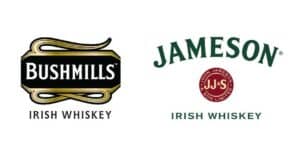 Flavour Profile
Each whiskey has a flavor profile that is unique to the distillery that produces it. And even then, there are variations of it. But we'll get back to that in a bit.
Bushmills is light and fruity. Its scent brings to mind an orchard during harvest with a hint of vanilla.
The taste of vanilla is soon followed by fruit and honey. Hints of caramel give it a rich and smooth finish.
By contrast, Jameson has a floral scent with sweet and spicy notes.
Nuts, vanilla, and spice are prominent on the pallet with the first sip. Sherry and oak peek through, giving it a smooth, long finish.
Variety
Above, we looked at the flavor profile of the Original whiskey for each of these distilleries.
But like all spirits, Bushmills and Jameson do not have only one type of whiskey. They each have many variants. These include their core whiskies as well as special and rare selections.
Bushmills' original recipe is a blend of single malt and lighter grain whiskey. They have been using this recipe since before the Prohibition.
They have 3 single malts in their core range, each with a different finish. They use the 10-Year-Old in one of their special selections: Marsala Cask 25-Year-Old.
If you've never heard of this, it's unsurprising. The 10-Year-Old is married and then poured into Marsala casks to age for a further 15-years. The scent and taste are both complex and deep.
Jameson's selection is only a little larger. Their original blend is a mix of pot still and fine grain whiskies from their distillery.
From there, it seems that all other selections are completely unique after distillation. Take Jameson Black Barrel, for example. The bourbon cask that houses the whiskey gets charred – twice – during the aging process.
This brings out the more complex flavors that are usually hidden. It gives the whiskey a smooth and rich flavor.
Bushmills or Jameson
We touched on the variations they each have to offer. Now it is time to take a closer look at each distillery. The hope is to give you a better understanding of each.
There is one main difference between the two. Bushmills produces blended and single malt, while Jameson only makes blended whiskey.
Bushmills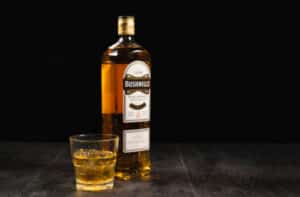 Bushmills has been in the whiskey-making business since 1608. This makes them the oldest licensed whiskey distillery in the world.
Distilling for over 400 years is no easy feat. Not even the Prohibition had been able to cripple them. When the US reopened its borders, they were ready with large stores of whiskey to ship to Chicago.
Their fame continued to grow in the years that followed. Soon, Bushmills was being featured in prominent advertising and even classic films.
They have a good selection of single malts, each more special in their own way.
The 16-Year-Old single malt is where things start getting interesting. After maturation, the whiskey is then finished in port pipes for 1 year. This gives the whiskey a lovely ruby color. Layers of fruits, nuts, and port are prominent.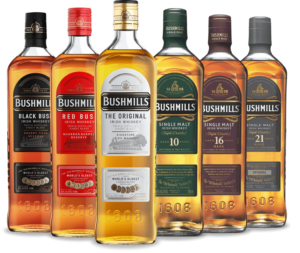 The 21-Year-Old marries and finishes in Madiera oak after maturation. It rests there for 2-years, allowing it to gain extra depth. It has a decadent taste, with dark chocolate and toffee being prominent.
Then we have the Black Bush blended whiskey. This is the culmination of a sweet small-grain whiskey married to a high volume of single malt. The result is deep and rich with an intense character. It is a surprising balance of peaches and sherry with a hint of nuts.
The distillery also features 3 special and rare selections. These are Marsala Cask 25-Year-Old, Crystal Malt 23-Year-Old, and PX Sherry Oak 28-Year-Old.
The Crystal Malt is particularly unique – the malted barley is still wet when placed in the roasting drum. This means that it steams and heats for much longer. It is then aged in first-fill bourbon casks.
The end result is deep and rich. Decadent chocolate and creamy butterscotch take center point. This process is rare since it takes longer and has a lower Spirit yield.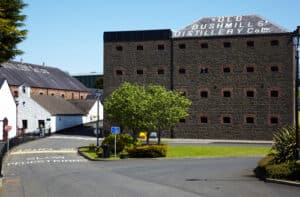 Pros
Over 400 years of whiskey-making under their belt.
Triple distilled which makes it smoother.
Each selection is entirely unique.
They are versatile, producing single malt and blended whiskey.
Great in mixes and cocktails. The Bushmills Highball comes to mind.
Cons
A wider selection of single malts as opposed to blended whiskey
Their overall selection isn't big.
Jameson Irish Whiskey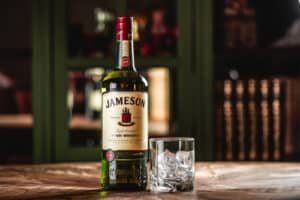 Jameson was founded in 1780 by John Jameson. Four of his sons became whiskey-makers as well (although at different distilleries). This led to them becoming the most prominent whiskey-making family in Ireland.
By 1805, Jameson had become the number one whiskey in the world.
The 19th century brought many setbacks for the distillery. The temperance movement and the Irish War of Independence hit them hard. But it was Prohibition that was the true enemy of Irish whiskey-makers.
Jameson was not exempt from this struggle, but they didn't let it stop them. Today, they are the third-largest producer of single-distillery whiskey in the world.
Their selection is only a little larger than Bushmills'. They have a wonderful selection of special and rare whiskies.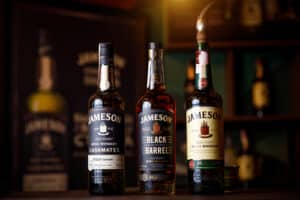 The Caskmates Editions were a stroke of genius (or madness). There are 2 selections in this range: The Stout Edition and the IPA Edition.
The Caskmates Stout Edition takes their signature Irish blend and ages it in ex-craft beer barrels. The result is a complex scent of cut hay and orchards, with hints of hops and cloves. It has a sweet taste, with hops and cocoa beans peeking through.
Similarly, the Caskmates IPA Edition is their classic blend aged in ex-India Pale Ale barrels. This results in a light citrus palate complemented by hops and herbal notes.
There is also the rare Bow Street 18-Year-Old Batch 1. This is a blend of pot-still single malt and Irish grain whiskies. After maturation, it is then married and finished in first-fill bourbon casks.
The Bow Street is wood and spice on the nose, with a hint of toffee. The palate is more powerful and complex, with toffee and walnut on the first sip. This is then followed by vanilla and leather, with a hint of sherry.
It is bottled at cask strength, and if that isn't rare enough – it is only bottled once a year.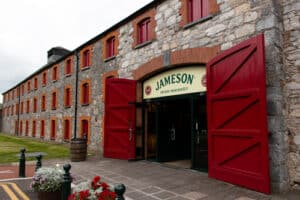 Pros
They have a wider selection than Bushmills.
Triple distilled for a smoother taste.
Their selections are all unique.
Has been considered one of the top whiskey-makers since 1805.
Great for cocktails, like the Jameson Manhattan.
Cons
Not as versatile – only produces blended whiskey.
The spicy palate might not suit everyone.
Bushmills and Jameson (FAQ)
Which is better: Bushmills or Jameson?
We have to say that this is a personal choice. It all depends on your taste preference.
The flavor profile of Bushmills is a little more complex. Dried fruit and honey are prominent, with spicy and woody notes. There are also hints of toffee and vanilla.
Jameson is a tad spicier, with nuts and vanilla also prominent. Hints of sherry add a little sweetness too.
Does Bushmills taste like Jameson?
No, it does not.
Firstly, Bushmills produces mostly single malts, while Jameson only produces blended whiskey. These are two completely different types of whiskey and would in no way taste the same.
Secondly, Bushmills is more light and fruity, while Jameson is mostly sweet and spicy.
Is Bushmills a good Irish whiskey?
It is. And how could it not be?
They've been making whiskey for over 400 years, and have honed the craft to perfection. You don't become a world-renowned whiskey by being anything less than great.
---
👇 VOTE 👇
Which do you prefer – Bushmills Vs Jameson?