Cognac and Whiskey are both beloved spirits. While they share some similarities, Cognac and Whiskey are also very different from each other.
Comparing Cognac with Whiskey is a bit like comparing apples with oranges – or grapes with grains.
In this article, we take you through the main differences between Cognac and Whiskey, give you a detailed breakdown of both spirits, and highlight the pros and cons of each.
↓👇 Jump straight to the poll 👇↓
Cognac and Whiskey (Compared)
Main Ingredient: Grapes or Grains
The biggest difference between these two spirits is their main ingredient.
Cognac is made from grapes, and Whiskey is made from grains.
Whiskey can be made anywhere in the world from barley, rye, wheat, or corn.
While cognac can only be made with select green grapes from the Cognac region.
Age terms
The age terms used for Whiskey are simply the number of years. For instance, you could choose between whiskey aged 3, 5, or 10 years old.
Some whiskey lovers believe that older is better but we believe you can still get a flavorful drink from a more middle-aged whiskey.
Types of Cognac are created by blending different spirits of different ages.
It is then labeled with the terms VS, VSOP, or XO to indicate the minimum age of the youngest component.
VS. – Very Special (two years of cask aging)
VSOP – Very Superior Old Pale (four years of cask aging)
X.O. – Extra Old (ten years of cask aging)
Area of production
Cognac is only produced in the area of Cognac, France. Within Cognac, there are six sub-regions namely Grande Champagne, Petite Champagne, Borderies, Fins Bois, Bons Bois, and Bois Ordinaires.
The differences in soil and other characteristics allow the grapes to take on distinctive qualities in each cru.
On the other hand, Whiskey can be produced internationally.
Whiskey is produced differently in different areas, which means there is a large variety of unique combinations for whiskey drinkers.
Here are the different types of Whiskey you can find around the world and their different flavors:
Irish Whiskey – light and fruity, oak, caramel
Scotch Whisky – malty taste, differs by region
American Whiskey:

Bourbon – vanilla, oak, and caramel
Tennessee – a lighter version of bourbon, and hints of charcoal
Rye – spicy, earthy, peppery, and hints of vanilla

Canadian Whiskey – light, palatable and sweet
Japanese Whiskey – fruity and floral, modeled after Scotch.
Cognac or Whiskey
Cognac and Whiskey are similar in the way they are both distilled and then aged in wooden barrels to develop a signature smoothness.
Now that we understand the difference between Cognac and Whiskey, we can look at the individual differences within Cognac and Whiskey.
Cognac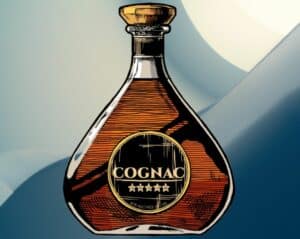 Cognac has a grape base which means there are many fruity and floral flavors to play with. It is also flavored by charred oak barrels during aging, which can produce tones of caramel, toffee, leather, coconut, wood, and spice.
The Petite and Grande Champagne are more subtle and elegant than cognacs from other regions. Borderies, Fins Bois, Bons Bois, and Bois Ordinares have varying flavors and depth.
Pros
Grape base and charred oak allow for complex flavor profiles.
Guaranteed authenticity as strict regulations and standards ensure reliable high quality.
Anti-inflammatory properties help with sore throats and lower blood pressure.
High in antioxidants and vitamin c, which keeps colds away.
Cons
Strict regulations limit the variety that can be produced – less creative freedom for the cellar master.
More complex and expensive than whiskey.
Whiskey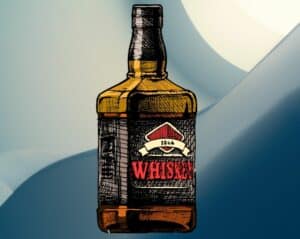 Different types of whiskey differ in color, aroma, and taste, as well as price.
The various flavors of whiskey will depend on the type of grain used, how it was fermented, the type of cask used, where and how long it was aged, as well as how it was filtered and distilled.
Whiskeys differ characteristically based on where they were produced.
Irish whiskey is made from the fermented mash of malted corn, wheat, and barley
Scotch whisky is made from malted barley
American Bourbon is made with 51% corn and tastes like vanilla, oak, and caramel
Japanese whiskey is made from malted barley and tastes like honey and perfume
Whiskey can also be blended or single-malt, which refers to the number of distilleries involved.
Single-malt whisky is made from one batch of Scotch at a single distillery in Scotland. On the other hand, blended whisky involves mixing various spirits, often from varying price ranges.
Pros
More easily available than Cognac
Assortment allows for good quality at reasonable prices
Zero carbs or sugar, and lower in calories
Fewer restrictions allow for a variety at each price point.
Decongestant and Antibacterial properties could relieve cold symptoms
Cons
Its basis of grains is less complex than grapes and relies mainly on oak aging for flavor
Cognac and Whiskey FAQs
What is better cognac or whiskey?
The Cognac or Whiskey debate is not new. While both are distilled fermented spirits aged in oak barrels, they are made of entirely different ingredients.
Cognac is more complex, takes longer to produce, and is more expensive than whiskey. But at the end of the day, it is up to personal taste.
Do whiskey and cognac taste the same?
Cognac is brandy, which tastes different from Whiskey as they are made from different ingredients. You can also find different flavor profiles within each spirit.
Whiskies tend to be more subtle than cognac, with vanilla, smoke, and buttery tones.
On the other hand, cognac has a deeper, sweeter, and more complex fruity flavor, but can also take on tones of caramel, toffee, leather, coconut, wood, and spice.
What makes cognac so special?
Cognac is luxurious, authentic, and unique. It is only made in six regions of Cognac according to specific standards.
The only regions authorized to produce Cognac are Bon Bois, Bois Ordinaire, Petite Champagne, Grand Champagne, Borderies and Fins Bois.
---
👇 VOTE 👇
Which do you prefer – Cognac vs Whiskey?