An Old Fashioned, the perfect cocktail that exudes the elegance of a bygone era using the best bourbons of the day. 
Voted as the number one best-selling cocktail of 2020 by Drinks International, the Old Fashioned is a timeless classic that can be drunk before or after a meal. 
Originally made with rye whiskey, we much prefer our Old Fashioned with a good American bourbon.
The classic recipe for an Old Fashioned is half a teaspoon of sugar, a dash of Angostura bitters, some ice, an orange peel, and of course a slug of good bourbon.
The contemporary liquor market offers a wide range of commercial and handcrafted bourbons for your Old Fashioned. 
We don't believe that you need the most expensive bourbon on the market to make a good Old Fashioned. Quality bourbons can still be found at affordable prices.
We've narrowed your choices and compiled the best bourbon selection for you as the star Old Fashioned ingredient. We'll also give you our favorites at the end of our review.
Best Selection of Bourbon for Old Fashioned (Our Review) 
Choosing a whiskey to be used in an old fashioned is a different task to choosing the best sipping bourbon. It needs to compliment the other flavors in this classic cocktail.
Let's take a look at our picks:
Four Roses Single Barrel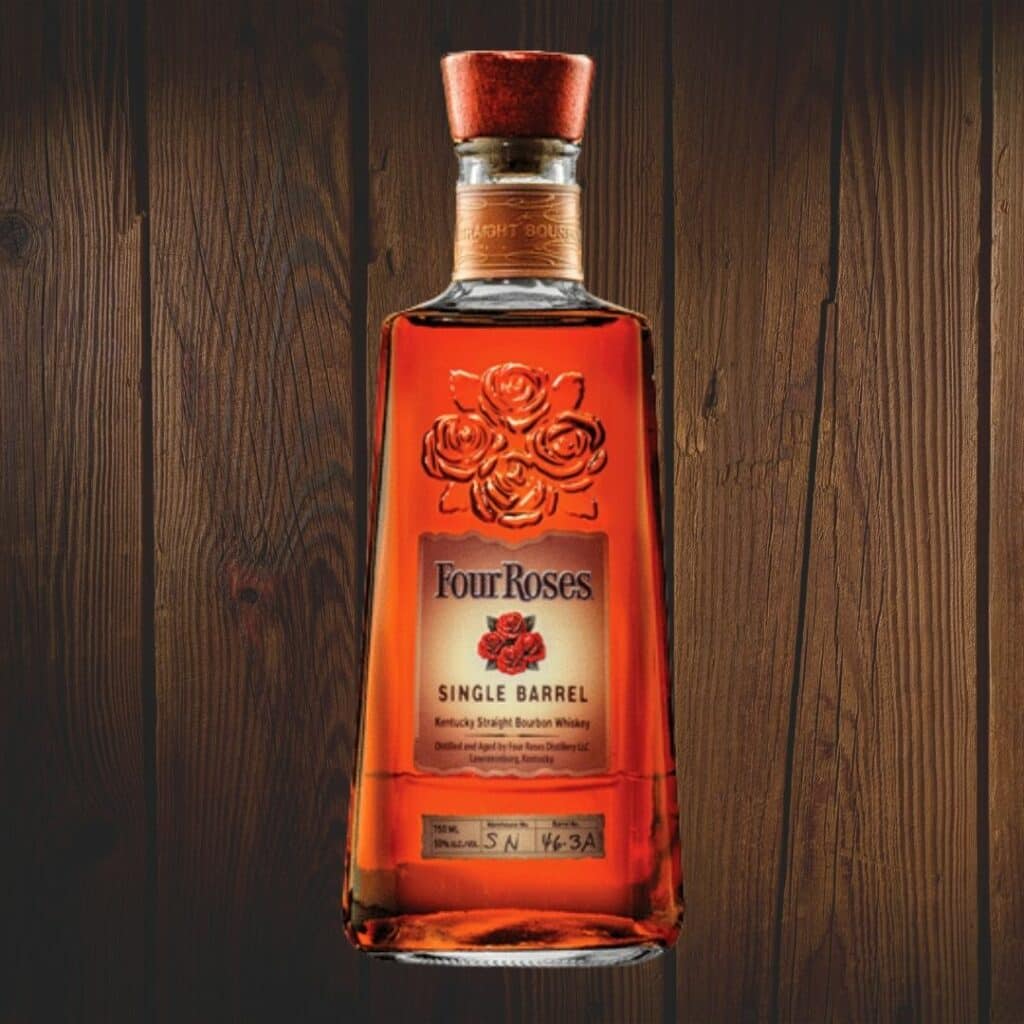 A silky single barrel with a sophisticated flavor profile tasting of maple syrup and berries. Smooth and sweet which supports an Old Fashioned with a less robust alcoholic edge. 
Four Roses Bourbon distillery is unique for two reasons. They mix 10 original recipes and use two mash bills in their production which gives their bourbon, its creamy fruity taste. 
Well priced and available, if it's a gentle Old Fashioned you're after, this is the bourbon for you. An elegant and mellow bourbon for the perfect Old Fashioned sundowner or enjoyed after a hearty meal.
Pros  
Balanced
Smooth
Award-Winning
Suitable for Vegetarians
Cons 
Michter's 10 Year Kentucky Straight Bourbon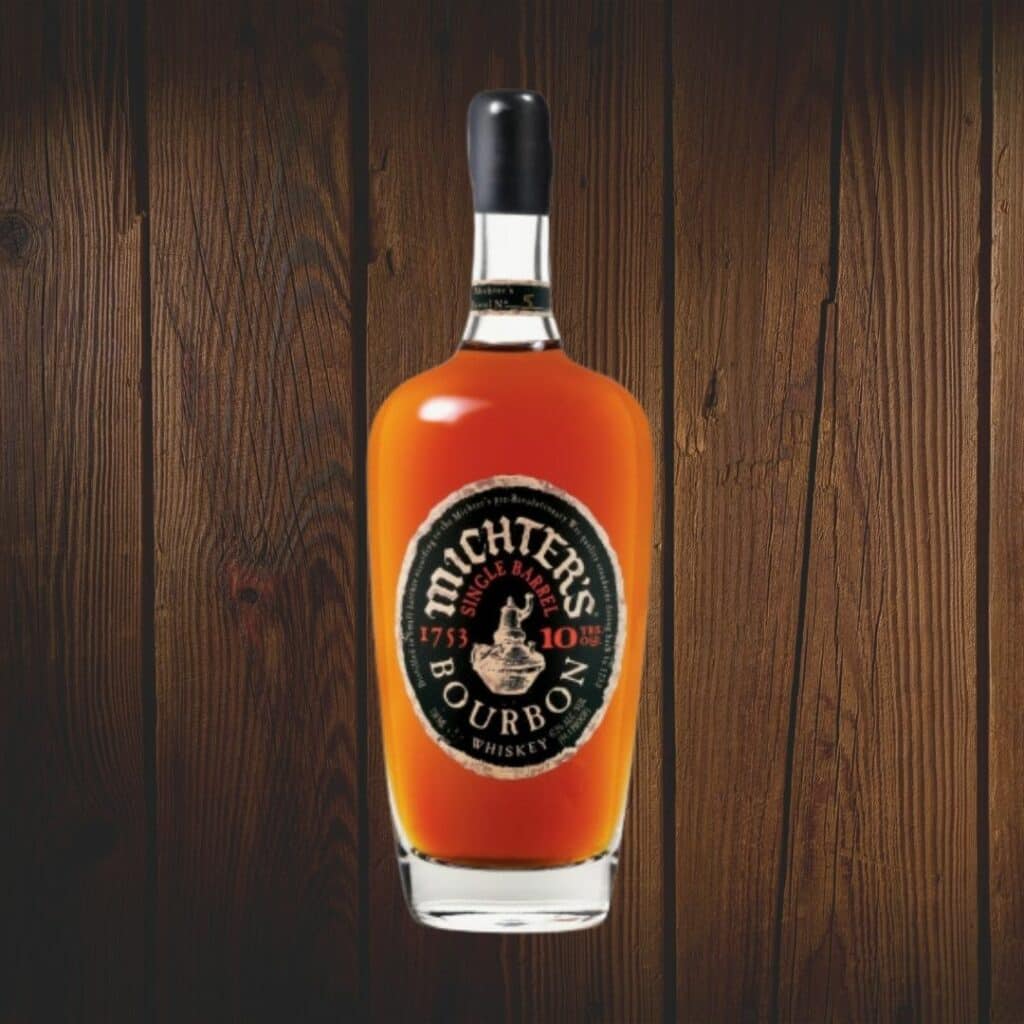 Michter's ten-year-old Kentucky Straight Bourbon has a superior taste and is a favorite of connoisseurs the world over. Special occasions demand special cocktails and this bourbon is sure to impress your guests on their first sip of their Old Fashioned. 
A well-balanced bourbon with smoky and spicy notes enveloped in vanilla. This Louisville, Kentucky single barrel-aged in fire-charred, new American white oak is bottled at 94.4 Proof (47.2% abv). 
Serve it on large rocks of ice and a single burnt orange peel to ensure a classy choice for an Old Fashioned. 
Named "Best American Whiskey" by Food & Wine Magazine, its hazelnut and coffee finish adds a soothing, nuanced flavor to your cocktail. Pricing is more on the high-end side.
Michter's Kentucky Straight Bourbon is a historical legacy that can be traced back to 1753 when America's first whiskey company started.
Pros  
A distillery with 267 years of bourbon-making experience
Spicy and fruity
Vanilla flavors
Cons 
Buffalo Trace Bourbon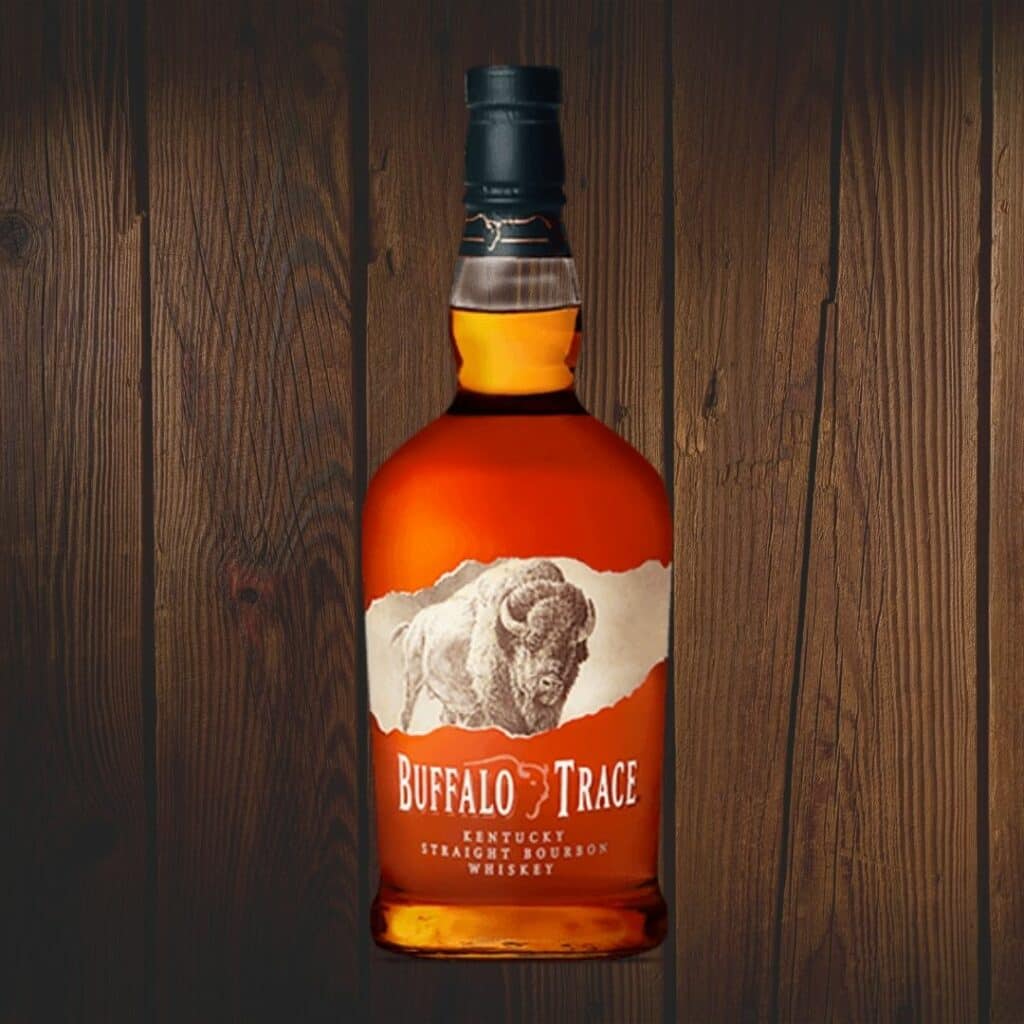 If sugar and spice make Old Fashioned nice, then this flagship bourbon from the world's most award-winning distillery is the right choice. With a long smooth finish with accents of toffee, mint, and molasses, Buffalo Trace hits all the right notes. 
Its complex flavor profile works its magic when you add a few dashes of bitters to your Old Fashioned. 
Buffalo Trace Distillery has been making bourbon whiskey the same way for more than 200 years. One of the oldest operating distilleries in the USA with a large family of brands, led by their namesake, Buffalo Trace Bourbon. 
It keeps providing its loyal customer base with a reliable sweet, almost caramel-like bourbon, that is used in a variety of cocktails. 
Buffalo Trace Bourbon is well priced and well regarded as the 'bourbon's bourbon'.
Pros  
Flagship bourbon
Most Awarded distillery worldwide
Complex aroma
Cons 
Jim Beam White Label Bourbon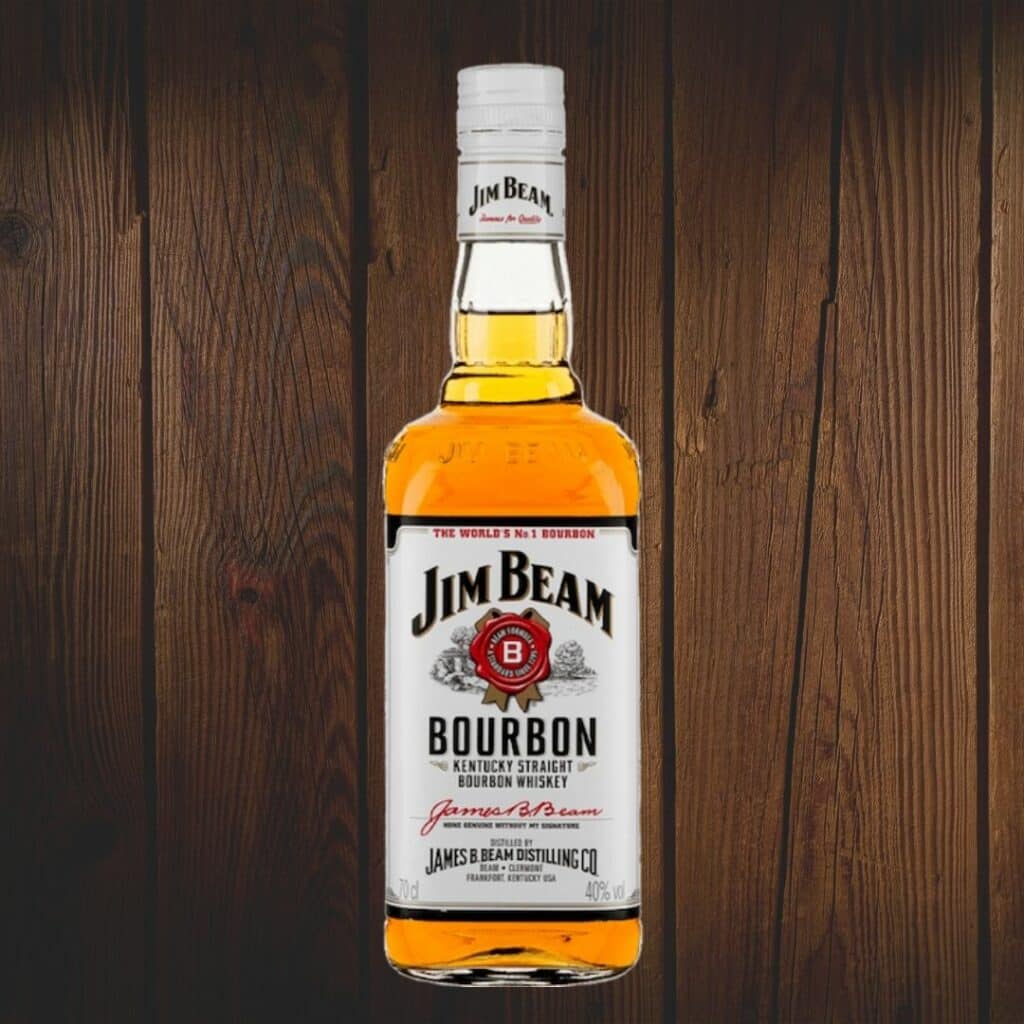 Good ole Jim Bean, the quintessential American bourbon. Well priced, always mellow, and with no surprises, the key components which make it so popular. 
The four-year process of aging in new charred oak barrels is a Jim Beam bourbon family tradition and after two centuries, they're in no immediate rush to change it. Seven generations from over 200 years have been involved in the Jim Beam bourbon family business.
Not too fruity, not too spicy, the emphasis is on smoothness. This is why it needs a good splash of orange and lemon juice when making your Jim Beam Old Fashioned, to liven it up. 
It's a low-proof, low-cost alternative to the richer bourbons on the market and a suitable bourbon to mix with almost anything.
Where do you stand on the Jim Beam vs Jack Daniel's debate?
Pros  
Aged 4 years
Oaky and vanilla flavors
Complex aroma
Cons 
Maker's Mark Bourbon Whiskey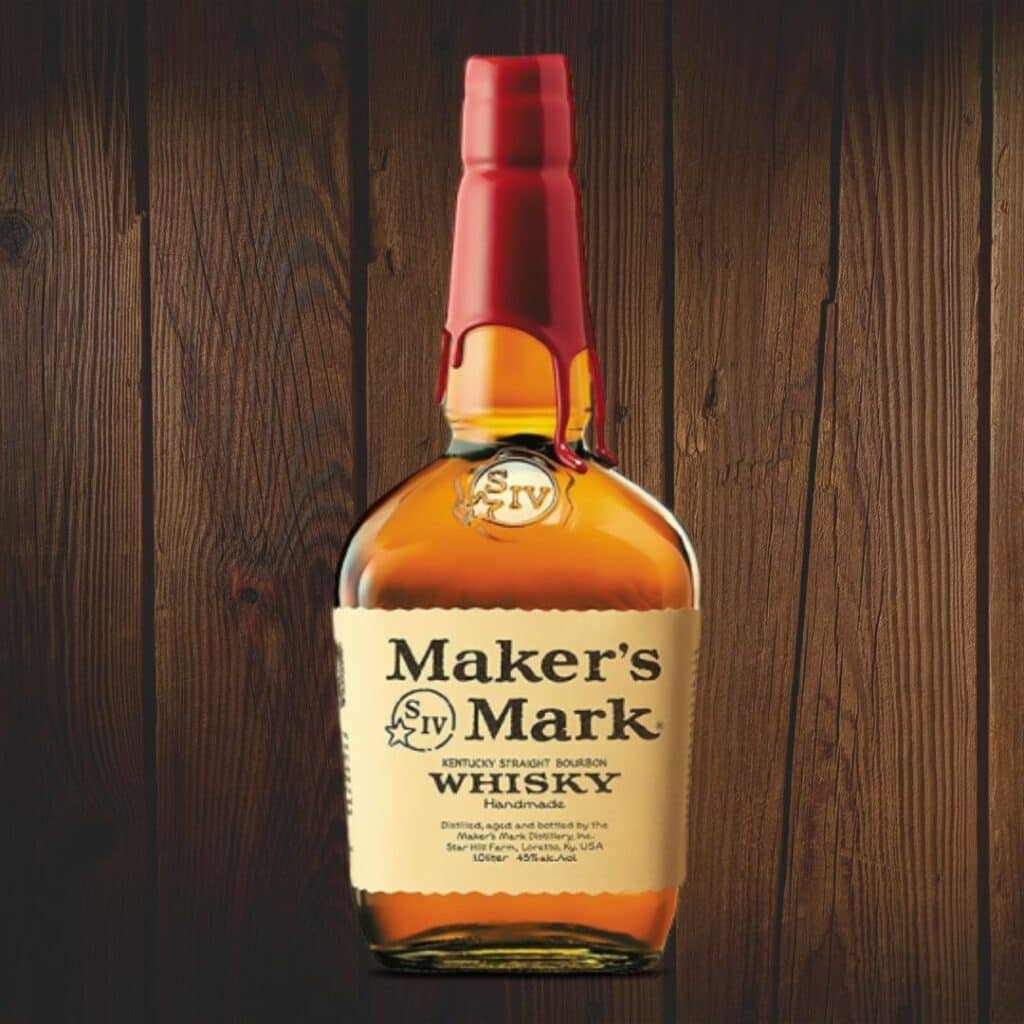 This is a one-of-a-kind bourbon. Maker's Mark has a deep red color with golden hues due to it being made with soft red winter wheat, instead of the traditional rye. 
Other than its distinctive flavor, the packaging is iconic, hand-dipped in red wax. Rich, creamy, and aged in new toasted American oak barrels, it's a punchy bourbon that invites you to double the shot in your Old Fashioned. 
Lending apple spice, hints of pear, and a crispness to the palate, there's no reason to weigh your cocktail down with too many additions. 
This reasonably priced Kentucky bourbon is a must-have for serious collectors and the amateur bourbon drinker's liquor cabinet. 
Pros  
Handmade
Not Sharp
Affordable
Punchy Oak Character
Cons 
Basil Hayden's Kentucky Straight Bourbon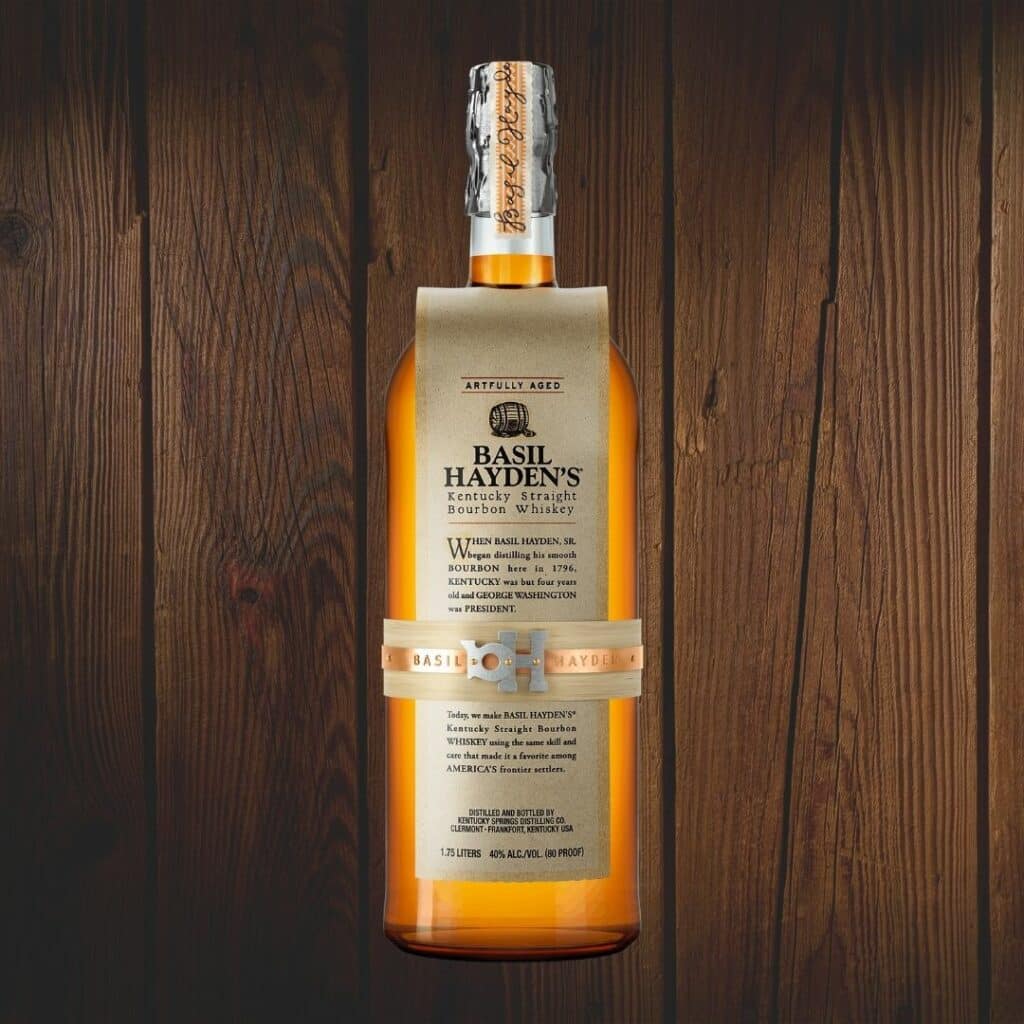 In 1796 Basil Hayden experimented with his traditional corn base by adding in a mix of small grains with plenty of rye at its core. With this higher percentage of rye in its mash bill, this Kentucky favorite is a delight of sweet and spicy versatility. 
It has a hint of peppermint and is extra-aged, which adds a beautiful melody of notes to a traditional Old Fashioned. 
Distinctive with a lingering spicy aftertaste, it's easily drinkable straight up but benefits from the addition of bitters, heated orange, or grapefruit peel oils to play up its citrus overtones. 
It does feel slightly thinner in the mouth than some of its more heavy well-rounded bourbon cousins, but the sweetness from the corn makes it a pleasant easy drinking experience. Also good for a nightcap after coffee. 
Pros  
A higher percentage of rye
Extra aged
Citrus Overtones
Cons 
Knob Creek Straight Bourbon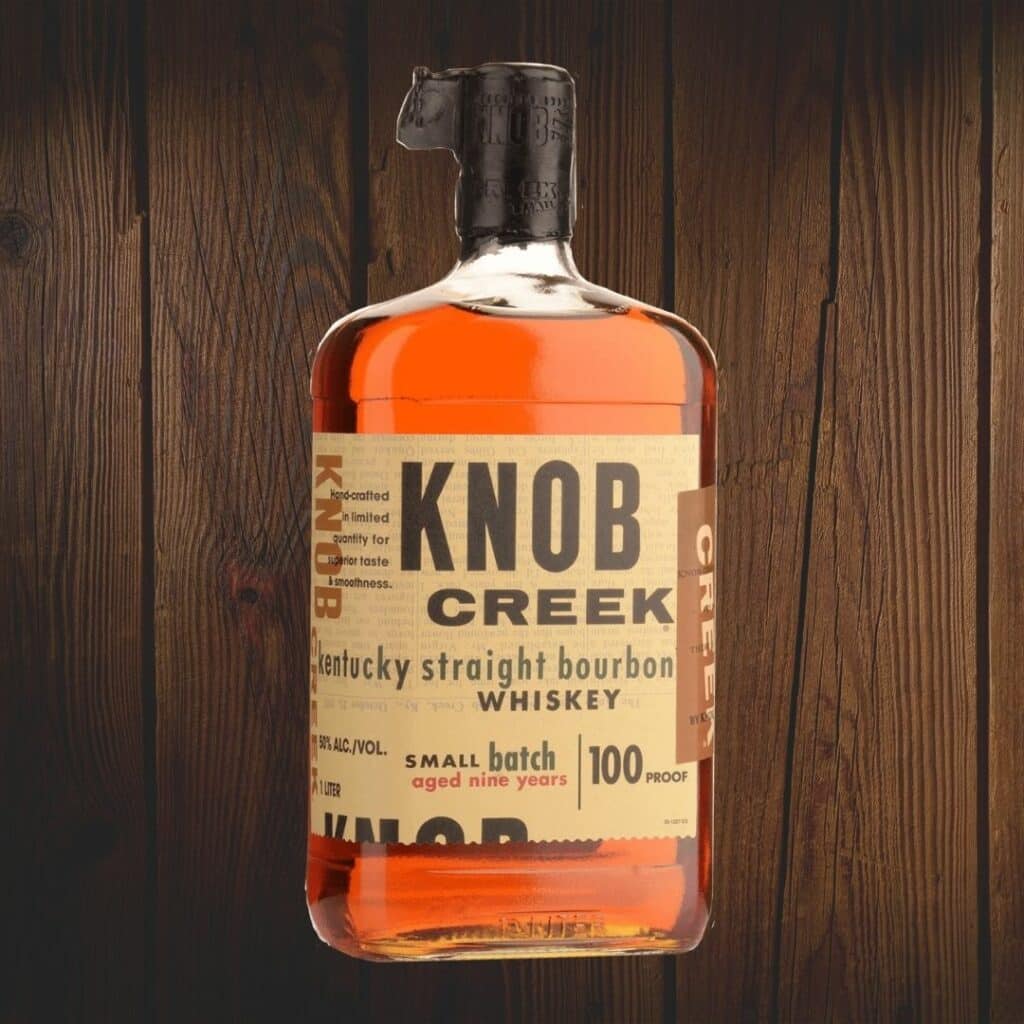 With its trendy, sexy bottle with the loud and proud newspaper headline font, Knob Creek, is straight-up bourbon gold. Named after Abraham Lincoln's Kentucky boyhood home, Knob Creek screams prohibition-era stylistically and tastes of freedom. 
A dark amber liquid that exudes marmalade notes on first sips whilst the scent is pure maple syrup deliciousness. 
Interestingly, Knob Creek is one of the four Jim Beam small batch bourbon brands targeted at the more cosmopolitan liquor market. 
Don't be put off by the marketing angle, this is pure bourbon pleasure, combining honey, peach, and oak accents to create bold flavors. Use additions sparingly and just a large cube of ice, to unleash its purity. Slightly more expensive than your commercial bourbons. 
Pros  
Bold on the nose
Long powerful finish
Fruity with honey overtones
Cons 
Hand-bottled so limited quantity 
Wild Turkey 101 Bourbon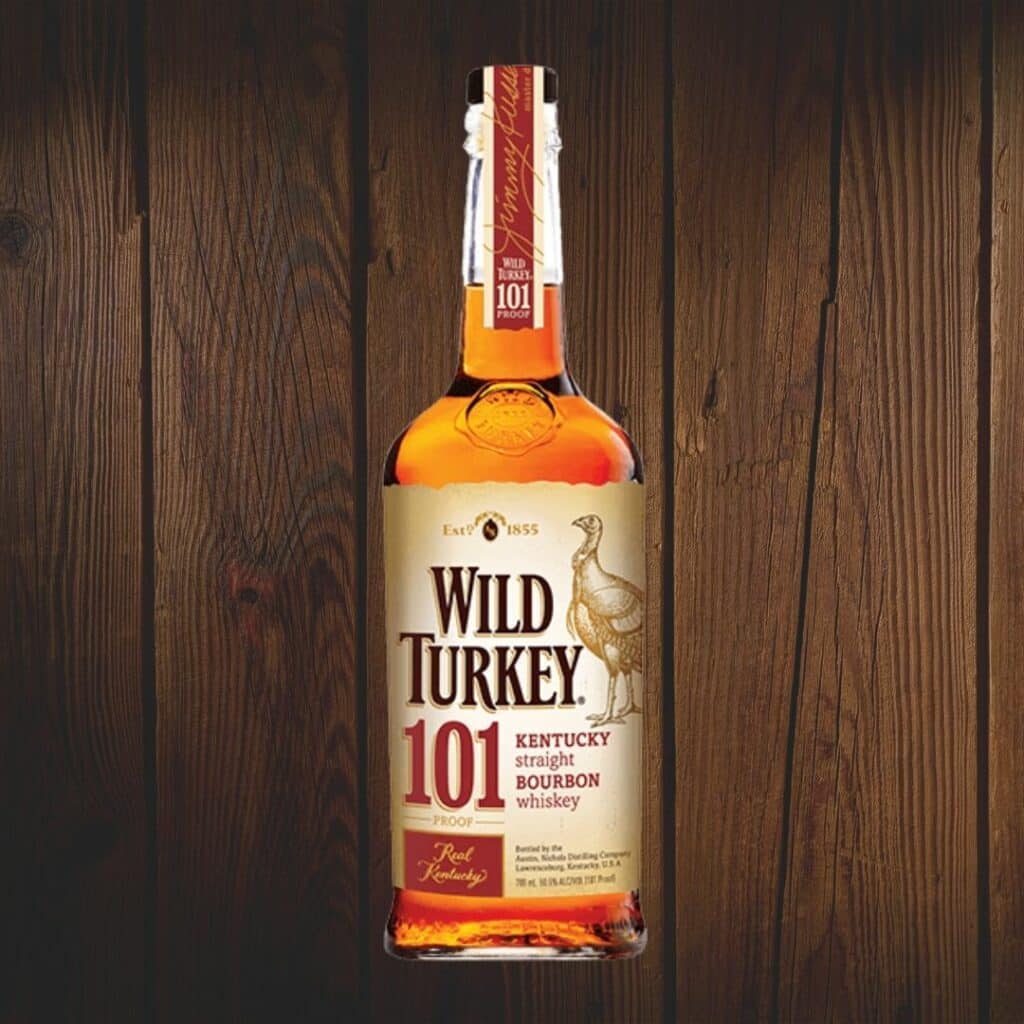 101 proof Kentucky makes Wild Turkey one of the easiest bourbons for your Old Fashioned. Aged longer than legally required, the deep char of the barrels creates a well-recognized impression amidst the lighter fruity honey tones.
Wild Turkey is loved internationally and is an easy to enjoy bourbon due to its caramel-like quality. Rich with a faint sweet cigar scent and peppery top notes it's a punchy full-bodied bourbon. 
Because of its nectarous feel, a double shot of citrus or bitters is useful in bringing this remarkable and well-priced bourbon to quality Old Fashioned tasting heights.
Alternatives to 101 from the Wild Turkey team are numerous but for an Old Fashioned, the Wild Turkey Long Branch and Wild Turkey Rare Breed are worth checking out.
Pros  
101 proof
Long aged in white oak barrels
Fruity with honey overtones
Cons 
Double intensity, mix well with acidic accompaniments 
Woodford Reserve Kentucky Straight Bourbon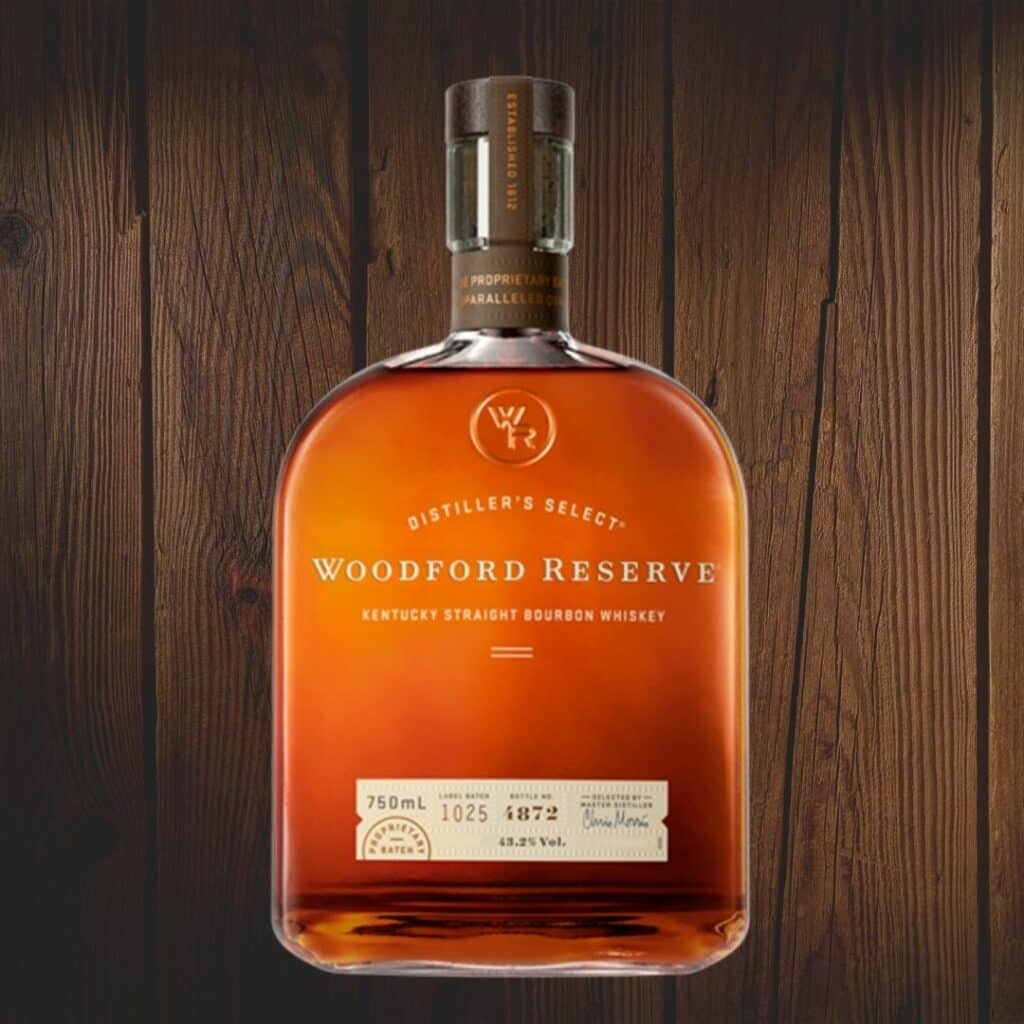 If you want to emulate the creme de la creme, then know that Woodford Reserve Kentucky Straight Bourbon is served in an Old Fashioned at 90% of the top cocktail bars in the USA. 
Chewy, smooth with a complexity to challenge the gods, this bourbon tops the best of lists worldwide as an award-winning artisanal craft beverage. 
Think chocolate, cinnamon, fruit, and spice in the front of the palate before dissolving into a warm tobacco afterglow in the gulp. Keep away from direct sunlight to let these flavors ripen at their own accord. 
No sniffing ceremony is necessary when indulging in this superb bourbon. Keeping with its unusual taste, the bourbon is triple distilled and matured for at least six years. 
A winner, best made for an Old Fashioned with no added sugar necessary. Prices are at the top end of the market.
Pros  
Artisanal crafting in small batches
Award-winning
Complex with citrus, cinnamon, and toffee
Good value
Cons 
Bulleit Bourbon Frontier Whiskey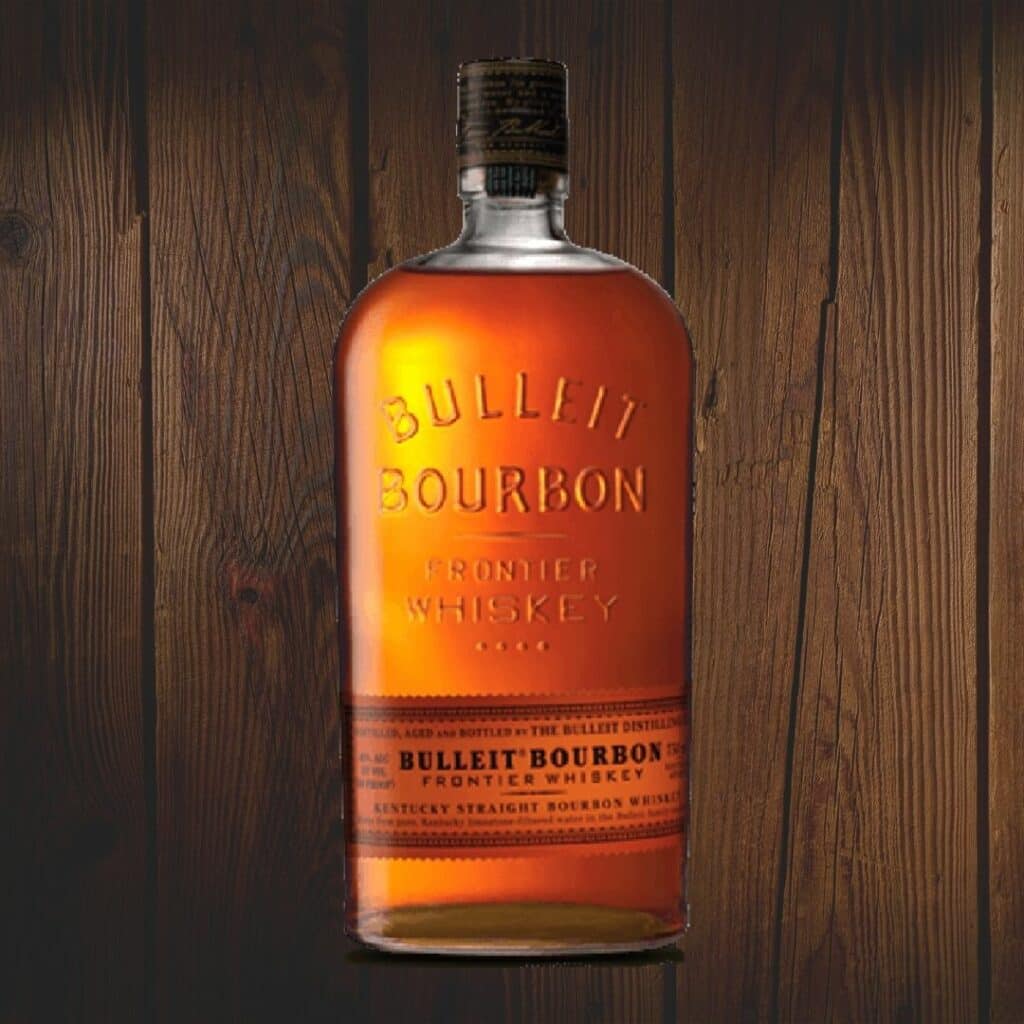 Mixologists love Bulleit Bourbon for good reason. With its rich honey oak aroma and crisp taste, it's the perfect start to any bourbon-infused cocktail. 
Old Fashioneds revel in this bourbon's bold finish allowing a dance of the taste buds as its spicy notes take center stage. 
Inspired by pioneers of whiskey craftsmanship of old, using the purest limestone-filtered water and American oak barrels, Bulleit Bourbon is a bold beloved faithful of connoisseurs going on five generations. 
It's a classy choice, extremely drinkable, versatile, and good value for your money.
Pros  
Excellent in cocktails
Long dry finish
Rich oaky aroma
Cons 
Alcohol smell can be slightly overwhelming
Larceny Small Batch Bourbon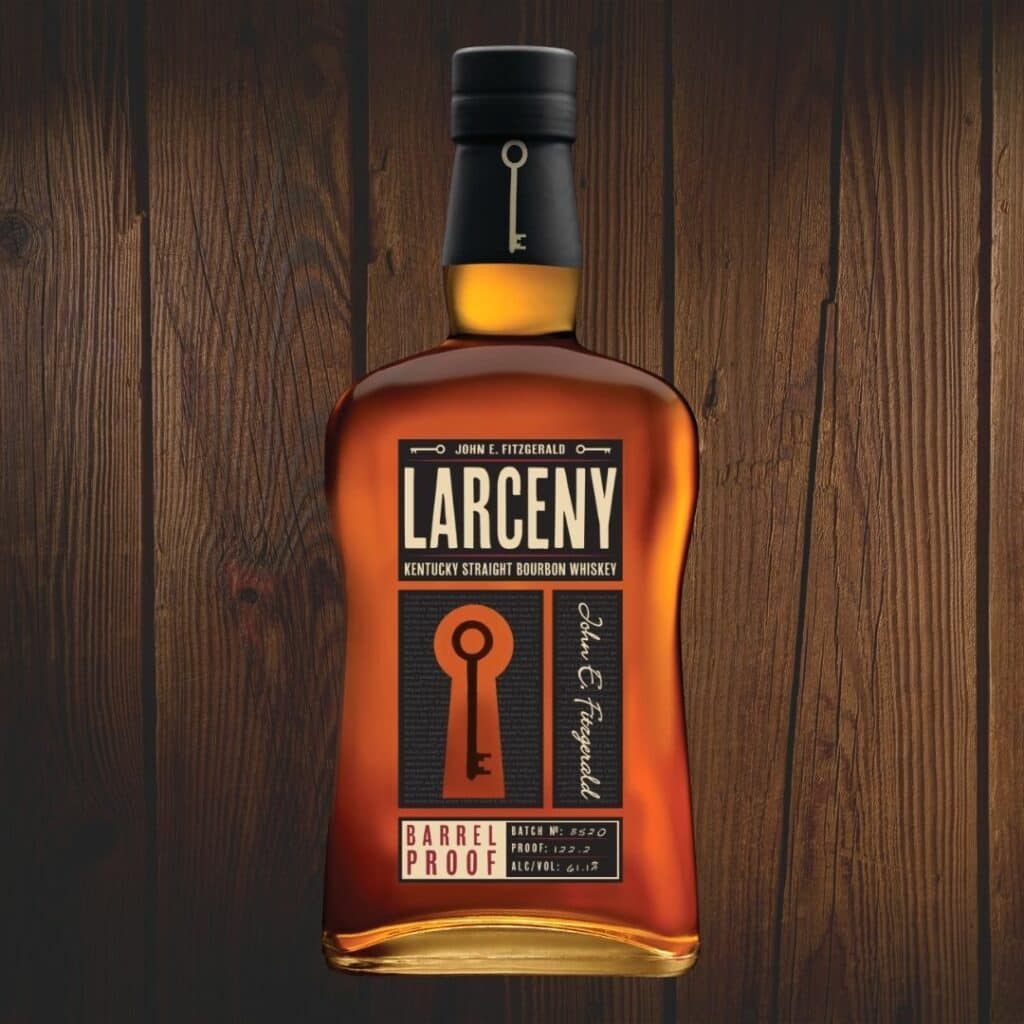 Larceny bourbon is made with wheat instead of rye and offers a smooth irresistible taste. An award-winning bourbon that compliments your cocktail perfectly. 
It boasts an inviting copper color, a smell of fresh bread, and butterscotch with a rich caramel flavor. It's a sweet and savory mix that should be tested by every bourbon lover. 
The Larceny Small Batch Bourbon comes with a better price tag than most bourbons on the market. Enjoy this bourbon on the rocks, or simply neat. 
A full-flavored bourbon with an Oakey kick makes it the perfect pairing with a sweet mixture. It made our list because it's a decent bourbon that's great value for money. 
Pros  
One of the best bourbons for cocktails
Affordable
Doesn't finish hot
Cons 
Old Fashioned Bourbons FAQ
What bourbon should I use in an Old-Fashioned?
A darker bourbon, full of spice, is the preferred spirit of choice. 
If choosing a more mellow creamier bourbon, you can complement it by adding a touch of orange or lemon juice, to give it more bite. 
A whiskey with a heavy rye content can also be used, like whiskey spirits from Balcones. Plus, another good option is Blanton's Bourbon.
What can you expect an Old Fashioned to taste like?
Enjoyed the world over by everyone whose taste buds delight in the herbaceous aromas of Angostura bitters, the deep citrus oils of orange, lemon, or grapefruit, a hint of sugar, and the all-around caramel spiced punch of bourbon, the Old Fashioned is in fact very fashionable. 
The Old Fashioned used to be referred to as a 'macho man' drink but times and tastes have changed since the first bourbon distillery was born. 
Is Maker's Mark good for an Old Fashioned?
Maker's Mark is an excellent bourbon choice for an Old Fashioned. 
Paired with bitters, a splash of water, and a touch of sugar, you'll have the perfect Old Fashioned. One cannot forget the orange slice garnishing with the classic cherry on top. 
Is an Old Fashioned the same as a Manhattan cocktail?
An Old Fashioned and Manhattan are made with different ingredients. The Old Fashioned consists of bourbon, bitters, and sugar, whilst a Manhattan includes sweet vermouth instead of sugar, and most importantly uses rye whiskey. 
How bad is bourbon for you?
When consumed in excess, any alcohol is bad for you. But of all the alcoholic beverages, bourbon has some surprising health benefits. 
When consumed in moderation, bourbon can assist with weight management, heart health, and even help prevent cancerous cells. Bourbon is fat-free and has been found to reduce the risk of Alzheimer's, blood clots, and reduce stress. It is also safe for people with diabetes.
Conclusion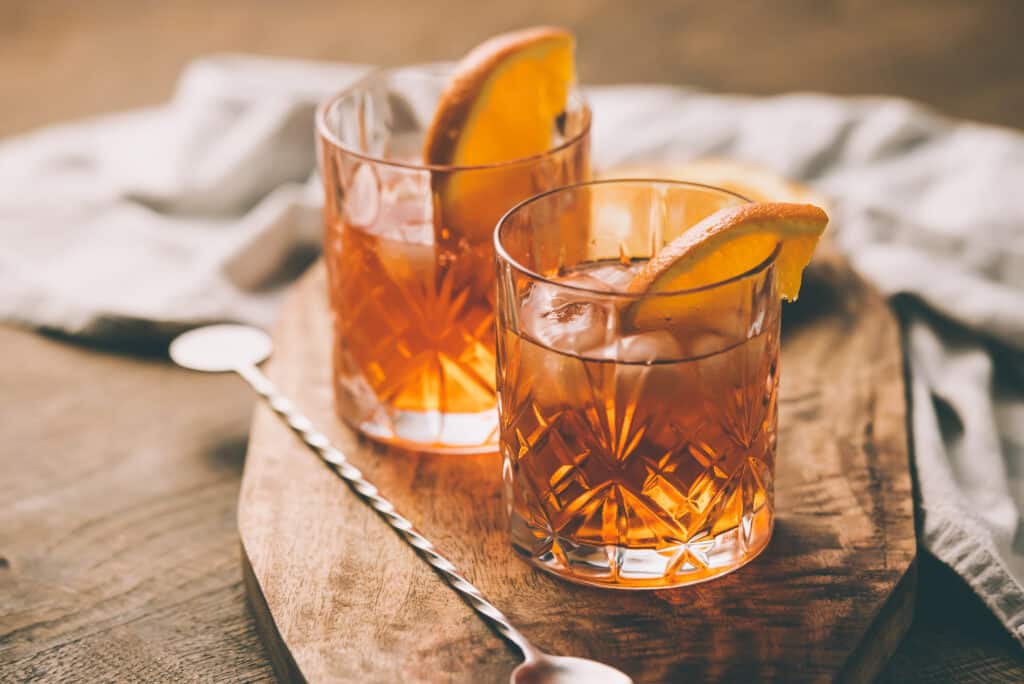 Since the 1880's the Old Fashioned has become the seminal cocktail of serious foodies and those who appreciate the finer drinks in life. 
Its clean, no-fuss ingredients, simplicity, and easy-drinking nature make it the perfect vessel to understand and appreciate bourbon's unique flavor. 
If we had to choose, our favorite bourbon for our Old Fashioned would have to be the Knob Creek Kentucky Straight Bourbon. The bold flavors complement this drink perfectly and it's the one we recommend when out at the bar, or making your very own Old Fashioned at home. 
For the bourbon or cocktail lover who likes things sweet, we recommend the Larceny Small Batch Kentucky Bourbon. If you're looking to up your mocktail game, take a look at the Ritual Whiskey Alternative from Ritual Zero Proof.