There are a number of reasons you may choose not to drink alcohol, and all of them are valid. But for many who've given up booze, finding a suitable substitute can be a challenge. Ritual Zero Proof's alcohol alternatives claim to deliver the same great taste of your favorite drink with none of the downsides.
This is a bold claim and one that practically every zero-alcohol alternative drink makes. So does Ritual live up to their promise?
In this review, we discuss what the brand does right and whether its products truly work as a replacement for alcohol.
Ritual Zero Proof (Our Review)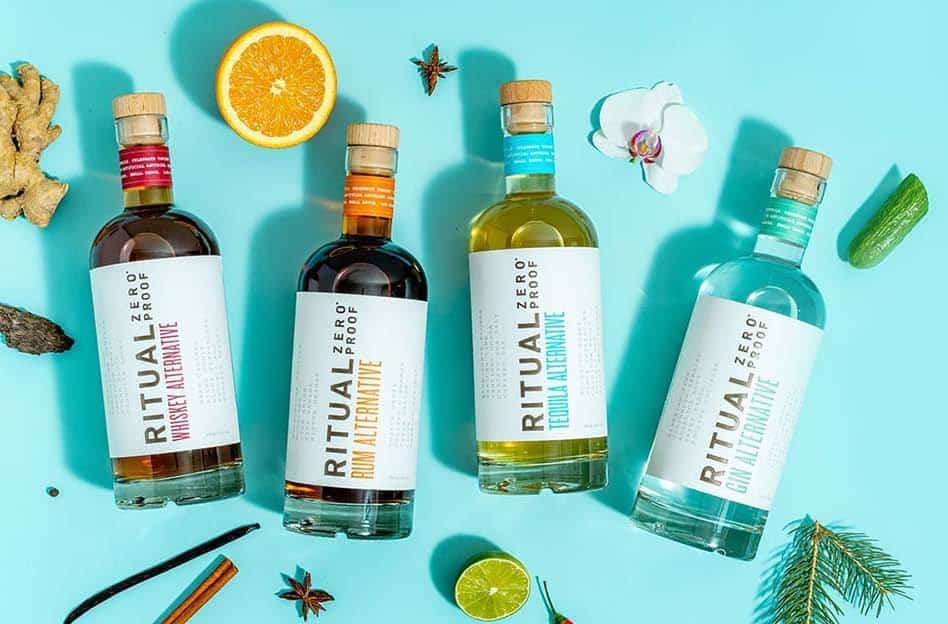 Ritual Zero Proof is made from all-natural ingredients such as American oak and Siberian pine, giving it that alcoholic smoky scent and taste. 
Now you can have a drink during the working week and not have to worry about pesky hangovers.
You can drink their products neat, but Ritual Zero Proof's non-alcoholic alternatives are mostly used in mixers. Add a tot of gin alternatives to tonic water with a slice of lemon to enjoy a G&T that closely resembles the real thing.
It's a healthier and, depending on what you drink, a more affordable way to enjoy your favorite drinks.
Quality
The bottle closely resembles that of your typical whiskey or rum, so they won't stand out if you keep them next to the regular stuff on your bar. 
A neat addition to these bottles is the cork stopper which adds to the beach-bar aesthetic.
In terms of the quality of the products, each alternative resembles, at least somewhat, the taste of what they are trying to replicate. While it's a passable substitution, something is lacking that just can't replace the burn of alcohol
All their products come in one standard size of 8.45 ounces, so there's plenty to go around.
Ritual Zero Proof promises to deliver your product within 48 hours. If the bottle breaks or they send you the wrong product, their refund process is quick and reliable.
Price
Ritual Zero Proof, when compared to other non-alcoholic alternatives, won't break the bank. Their products aren't the cheapest, but they don't cost an arm and leg either.
As we found in our Surely wine review, the pricing for NA alternatives are now fairly similar to that of their alcoholic rivals. This is largely due to using superior ingredients in an attempt to create the closest thing possible.
You can get yourself a bottle for anywhere between $25 and $30. You can save more by creating an account and gaining access to their membership benefits. Compared to another zero-alcohol replacement, like the $40 Monday Gin, Ritual gives you more bang for your buck.
They also provide bundles that include alternative whiskey, rum, gin, and tequila at a discounted price.
Range
Ritual Zero Proof provides alternatives to whiskey, tequila, rum, and gin. This is an impressive range, and it's not every day we get a non-alcoholic alternative to rum. This opens a number of interesting cocktails you can experiment with, like Mai Tais or a Dark n' Stormy.
We also like that you get free recipes for cocktails that are made using their products.
Ingredients
Ritual Zero Proof gives you products that are allergen-free and claims to contain zero calories. This however is a marketing loophole and isn't clear to those who don't do more research.
The calorie count is listed as zero due to rounding off their calorie count to the nearest five. That means that the inclusion of 2 calories of sugar will be labeled as zero. 
This isn't too much of a problem as you'll easily burn that off in a couple of hours.
Ritual Zero Proof uses filtered water, natural botanical flavors, sugar, citric acid, and xanthan gum.
Compared to the contents found in alcoholic drinks, it's safe to say that Ritual Zero Proof cares about your health whilst satisfying your taste buds.
Reputation
It's important to know whether the company you are buying from is legit and stays true to its word. 
Ritual Zero Proof has a booming Instagram page where they will post images and videos of satisfied customers enjoying their beverages. If you like what you purchased and tag Ritual Zero Proof on Instagram, you might just find yourself on their page.
Ritual Zero Proof's customer service will gladly respond to any queries via email or telephone should you have any issues.
What's more, their products are sold in bottle stores nationwide.
Throughout the brand's existence, Ritual Zero Proof has taken home many awards for being the best tasting non-alcoholic alternative on the market.
In 2020, they won the award for creating the world's first non-alcoholic alternative tequila and were named the "Best Non-alcoholic Spirit in the World" by the Beverage Testing Institute.
After trying their products and reading positive reviews from their customers, a minor complaint we have is their delivery services and times. Their products don't always arrive on time, despite their insistence on a 48-hour turnaround time.
We purchased our products and they arrived after their 48-hour claim, so we had no choice but to wait. If a product arrives late, you don't get a refund.
Ritual Non-Alcoholic Alternatives
The Ritual Zero Proof Tequila alternative is designed to be used in classic cocktails like margaritas and negronis. It's one of their award-winning products and holds the title of the Best Non-alcoholic Spirit in the World.
There's a depth of flavor that just isn't matched by other alcohol-free beverage alternatives.
On the tongue, you pick up hints of tropical guava, black peppercorns, charred oak, and lime. The pepperiness had us a little divided. For some, it made for a rough, spicy, and refreshing tequila. For others, it became overwhelming.
We tried the Paloma cocktail recipe straight from their website. The tequila alternative combined with lime juice and grapefruit mixture has a taste reminiscent of the real thing.
It deserves the awards and praise as it's difficult to tell this apart from your everyday tequila.
Pros
Closely resembles tequila 
Built for cocktails
Award-winning product 
Good floral aftertaste
Cons
---
Whiskey is probably the most complex beverage to replicate. The whiskey alternative is soft and smooth with hints of oak fused with vanilla, and peppercorns to add warmth.
We drank it on the rocks and the taste resembled something more like iced tea with a bit of a burn. Out of all their products, this one is probably furthest from its inspiration.
The smokiness leaves a subtle burning sensation at the back of your throat and scores points for replicating the mouthfeel and finish whiskey. 
Where it lacks in taste it makes up for in sensation.
We found that having the alternative as an element in a cocktail is much better than drinking it on the rocks. However, it still doesn't quite resemble whiskey as much as the tequila alternative resembles regular tequila.
Pros
Good smell
Warm flavors
Clean bottle design
Goes well with a Coke
Cons
Doesn't resemble the taste of regular whiskey
Can't be enjoyed neat
---
Gin alternatives aren't easy to get right but Ritual Zero Proof makes use of all-natural botanicals, mint, and basil with juniper berries to create the ultimate alternative to your favorite gin.
While it's designed to be used in cocktails, after having a neat shot, it's safe to say that this alternative closely resembles your typical gin.
In a gin and tonic, the combination of the smoky flavors along with the aromatic juniper berries make it difficult for you to determine whether you're drinking alcohol.
Pros
Has a good kick to it
Floral aroma
Can be enjoyed neat as a shot
Cons
Thicker texture compared to regular Gin
Lemongrass leaves a strong aftertaste
---
The Ritual Rum Alternative is the latest addition to the Zero Proof family and has received a lot of praise since its release.
The blend of honey, toasted cinnamon, fresh cloves, and bitter orange gives it a good kick that resembles rum.
Ritual Zero Proof recommends adding this alternative to a cocktail but also states that it can be enjoyed neat.
After experiencing both sides of the story, we recommend this product if you are a lover of dark rum and are looking for a non-alcoholic replacement for your weekend rum-and-coke.
Pros
Works great with Coke
Smell resembles rum
Warm sensation when drinking
Innovative and unique
Cons
Isn't labeled as spiced rum but is spicy
Doesn't closely resemble rum in terms of taste
Conclusion
Of the four products offered by Ritual Zero Proof, the award-winning tequila and the gin are the best in terms of resembling their alcoholic siblings. The rum alternative is also a favorite due to its dark and rich taste.
Overall, Ritual Zero Proof gives you top-quality non-alcoholic alternatives to drinks that contain alcohol. Their blend of natural ingredients makes for a healthy way to enjoy a drink during the week and serves as a good substitute for alcohol.
There's no disguising that these products don't contain alcohol, especially if you're drinking them neat. The characteristic burn and depth of real alcohol simply can't be made up for, no matter how much attention is paid to the component flavors.
However, of all the zero-proof alcohol alternatives we've tried over the years, Ritual is the one that stands out from the crowd. Used in cocktails and mixers, you get to enjoy many of the great tastes that you're looking for, with none of the side effects.