Smith & Sinclair's Eat Your Drink Gummies are a fun and innovative way to enjoy alcohol.
When thinking of alcohol, people generally associate it with the myriad of liquid beverages at our disposal.
We've been consuming alcohol for thousands of years. For celebrations, to form relations and to just let loose and enjoy ourselves.
Despite our long history with it, the methods we use to consume alcohol haven't changed all that much.
Smith & Sinclair are looking to change that.
They've introduced a new method for us to enjoy alcohol, a way to spice up drinking rituals that have existed for centuries. With their Eat Your Drink edible cocktail gummies, they've brought something new to the bar.
Consuming alcohol can once again be a novelty experience.
Eat Your Drink Gummies (Our Review)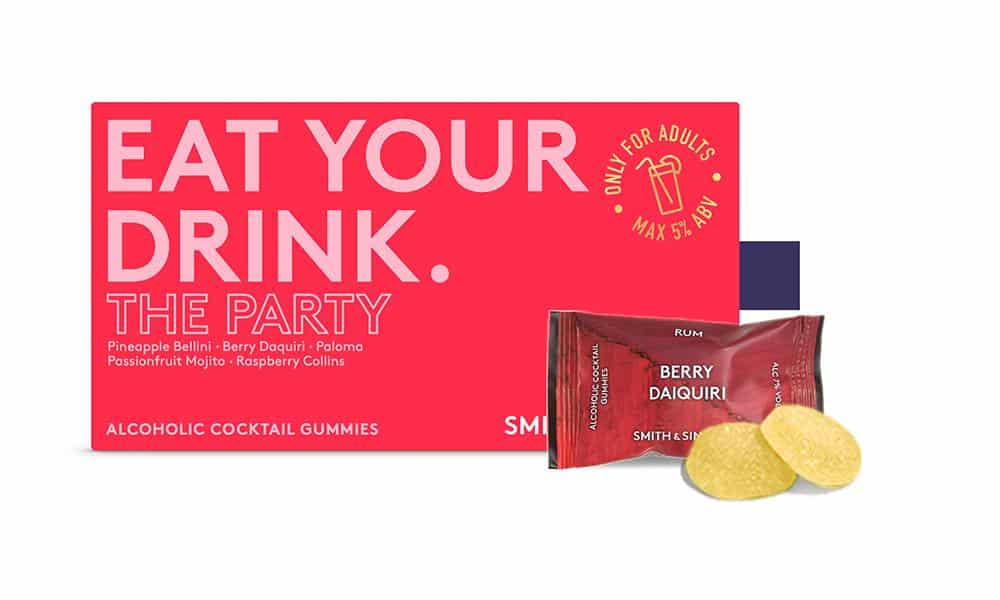 ---
Overall Assessment
Eat Your Drink Gummies were made to be enjoyed socially. Co-founders Mel and Emile wanted to add something new to their group dates. 
The gummies were a hit with the other couples. They then decided to sell them at a stall in Berwick Street Market before going official and starting their business in 2014.
The gummies contain all the things we enjoy from a good cocktail in a small, tasty, sugar-coated package.
These gummies are completely vegan, so they can be enjoyed by everyone at the party. We thought this was a great consideration, as many gelatinous products tend to leave vegetarians and vegans out of the equation.
Smith & Sinclair took the concept of alcohol-infused gummies and turned it into something a bit more refined and elegant. They're reminiscent of vodka gummies, but more attention has been paid to the flavors and ingredients.
However, similar to vodka gummies, they lack the potency of liquid alcohol. So aside from the novelty of "eating your drink", there's not much that this product offers that you couldn't get from a cocktail.
That being said, eating your drink does come with a few perks. The first, and possibly biggest, is the amount of time and money it saves as opposed to traditional cocktails. There's no more fiddling with muddlers, shakers, and strainers. Also, you don't have to stock up on tens of different beverages simply to get out a cosmopolitan or pina colada.
Pros
Vegan
Gluten-free
Fewer calories than average cocktails
Tastes delicious
They are individually wrapped
Cons
Less alcohol than an average cocktail
Potentially too sweet
Detailed Analysis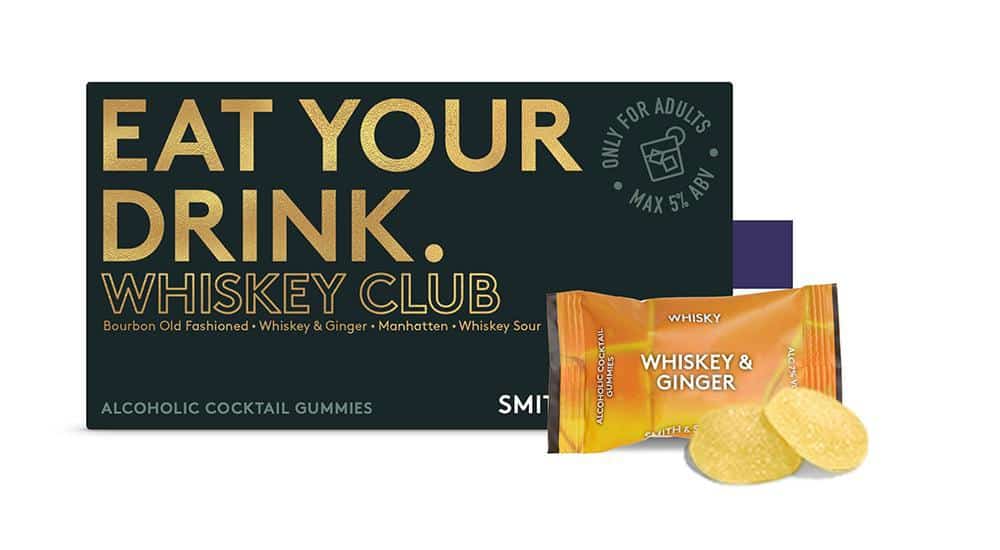 ---
Features
Eat Your Drink Gummies are made with high-quality spirits and natural ingredients like fresh fruit, herbs, and spices. Everything your favorite cocktails have to offer in one delicious and stylishly decorated package.
The box is made with compartments which allows you to store the gummies easily. Although useful, the packaging can be a bit excessive. It seems like a waste to wrap each gummy individually when they come in pairs.
The gummies are garnished with different types of flavored sugar. The sugars are specifically chosen to complement the contents of each gummy. This is similar to the sugar used to line cocktail glasses.
People without much of a sweet tooth could be turned away. The gummies are sweet at the best of times, and it can become overwhelming if you've snacked on more than just two or three of them.
The cocktail gummies contain 5% ABV (alcohol by volume). This is about the same as half a shot of alcohol.
The result is an altogether pleasant, sweet experience with an alcoholic kick. 
Consumption
Simply tear open the individual wrapping, take a second to enjoy the powerful aroma, pop it into your mouth and consume in two bites for your enjoyment.
Enjoy the combination of the flavored sugar garnish, fresh fruit, spices, herbs, and premium alcohol along with the smoothness of the gummy. They don't even stick to your teeth. 
Although, not everyone enjoys its peculiar texture. They've clearly added lots of emulsifiers to make up for the alcohol content, giving it a slightly rubbery mouthfeel. Not everyone picks up on it, but it's something you should be aware of.
Smith & Sinclair's suggests two gummies per serving. Since the gummies are each 5% ABV, the suggested serving is equivalent to a single shot of alcohol.
Although you are able to taste a bit of the booze, it's easy to forget about the alcohol content while eating these. Keep in mind that about five of these cocktail gummies will leave you unable to drive, so eat responsibly and keep out of reach of children.
Variety
Eat Your Drink gummies offer different selections of flavors for various preferences. Each of them is based on your favorite cocktail blends.
Whether you prefer fruity summer cocktails or the sharper alcoholic flavors of neat rum, gin, or whiskey, there's something for everyone.
The flavors are each sorted into different boxes of varying color-coded selections for you to choose from. 
One selection is "The Party." This selection has pineapple bellini, elderflower gin spritz, mandarin Aperol spritz, and passion fruit mojito gummies. The sugar garnishes on each gummy pair well with the cocktails to create a burst of flavors.
There's also a whiskey-based selection called "Whiskey Club." Here you'll find bourbon old-fashioned, whiskey and ginger ale, manhattan, and whiskey sour gummies. This selection is the go-to for those who want to enjoy more traditional flavors in a fun, new way.
If you're a lover of cocktails and anything fruity or sugary, then you'd likely enjoy the "Summer Lovin'" selection. This selection features cocktail blends like the pina colada gummy garnished with banana and cinnamon sugar. 
---
Uses
Smith & Sinclair's Eat Your Drink gummies are a great idea for a birthday or valentines day gift. It's sure to brighten someone's day. Not many people are even aware that a product like this exists.
They even provide you with cards if need be. So if you do decide to gift this to someone special, you'll have the perfect card at the ready.
Since they're more likely to give you a light buzz than leave you staggering, they're well suited for a wide range of occasions. They can be enjoyed anywhere thanks to their individual packaging.
You can enjoy it on your way to the bar or club. If you're traveling in a group, this works great as a substitute for a fun pre-club drink, since it can be enjoyed in an uber, unlike liquid alcohol.
This alcoholic treat can also be enjoyed without the hassle of having a full bladder. Not having to worry about using the restroom is another reason this product is well-suited for on-the-go fun.
While it's perfectly suited to use on its own, it works best as an accompaniment to a drink. We had loads of fun using the gummies as a garnish for cocktails. This is the best way to consume Eat Your Drink Gummies if you want to enjoy it with some added kick that it lacks on its own.
A relaxed evening by yourself, with close friends, or your significant other is a great way to Eat Your Drink. Pass them around during games night and cocktail parties or share them with your partner during movie night.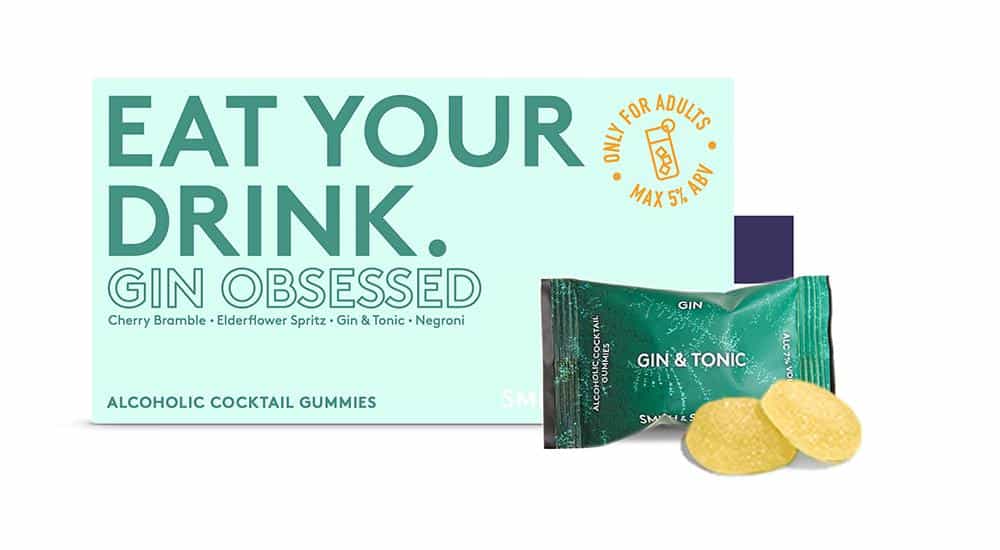 Eat Your Drink Gummies FAQs
Can Smith & Sinclair's Eat Your Drink gummies get you drunk?
While it won't necessarily leave you black-out drunk, depending on how quickly you eat them and alcohol tolerance, it will get you buzzed at the very least. Each cocktail gummy contains about 5% ABV (alcohol by volume).
This is about the same alcohol content as half a shot.
Do you need to be of legal drinking age to consume this product?
You need to be of legal drinking age to consume this product. The Eat Your Drink gummies contain 5% ABV and the legal limit for minors is about 0.5% ABV.