Wheated bourbons age beautifully in oak barrels for up to 20 years. They develop the delicious, sweeter flavors of caramel, vanilla, honey, and sometimes butterscotch. The rye generally used in bourbon is replaced with wheat.
To get an idea of the effect this has, think of the difference between baking with rye and with wheat. Rye is coarse, bold, and peppery. Wheat is soft and fine. It's often used in baking sweet treats.
If you're a Bourbon lover like us, we've got a roundup of 9 of the best bourbons available. Although there are many more rye bourbons on the market, these are our top choices overall.
Best Wheated Bourbons (Our Review)
Maker's Mark has a good balance of sweetness. This is achieved with soft red winter wheat and limestone-purified water.
This bourbon is made in small batches in Kentucky, in the heart of the bourbon-making region. Yet it's readily available and popular worldwide. It's also very well priced.
Maker's Mark carries light wood and caramel aromas. The flavors are fruity with caramel and vanilla. If you'd like to try something extra special, consider Maker's Mark 46 or their Wood Finishing Limited Release.
Pros
Value for money
Highly rated, quality brand
Widely available
Cons
A few people felt it lacks sufficient smoothness for their taste
---
Rebel Yell 10-Year-Old Single Barrel Bourbon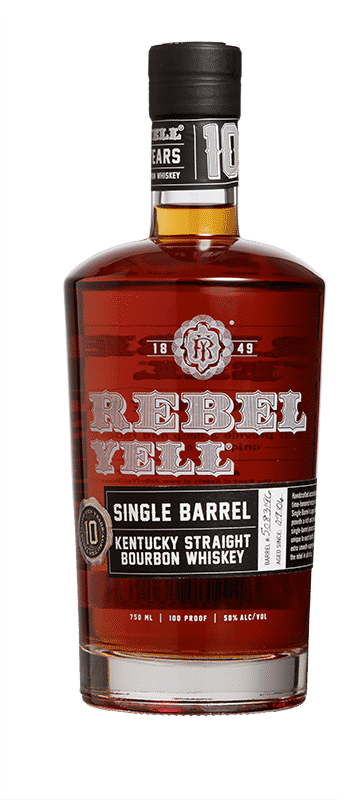 This Rebel Yell premium wheated bourbon is highly rated. The longer aging time makes this spicier than is usual for a wheated bourbon. The warm spice notes linger longer than usual.
Professional tasters found this 10-year bourbon has fruity, berry-like aromas. The flavors are similar, with a touch of citrus zest. Some noted a cherry aftertaste which was surprising and tasty.
Try this Rebel Yell bourbon the old-fashioned way with the 'Kentucky Chew'. First, relax your mouth and pretend you have no teeth. Just a mouth full of gums. Savor the aromas first. Take a small sip and roll your tongue around it until you have experienced all the delicious richness. Make a duck face and finally swallow it back with a slight shake of the head.
Pros
Multi-award winning
Unique fruity notes
More consistent quality than most single barrels
Cons
Some mark-ups on this bourbon are excessive
---
Redemption Wheated Bourbon is another well-priced quality option. It's aged for 4 years in oak. Redemption has won many awards for this bourbon. It's considered unique with nuanced aromas and flavor.
The aroma profile is strongly vanilla, which stands out in the taste as well. It's also nutty and smoky, with a hint of coffee. It's suggested to enjoy this bourbon in cocktails with cinnamon and apple.
Redemption Wheated Bourbon is noted for rarely disappointing even more fussy bourbon drinkers. It also makes a good introduction for those who want to get into American whiskeys.
Pros
Well-priced for its quality
Ideal as an introduction to bourbon and for experienced bourbon drinkers
Unique aromas and flavor
Cons
A few people think this bourbon was better before it became so popular
---
Heaven Hill Distillery makes this international multi-award-winning bourbon. Larceny is another term for stealing. That's what you'll want to do if you can't afford this bourbon. All the same, this is an affordable liquor.
Larceny Small Batch Bourbon has well-rounded flavors. They include buttery caramel and honey, with a freshly baked bread aroma.
Try the classic Kentucky Mule with Larceny Bourbon. Make it with ginger beer, fresh lime, mint, and sugar syrup. Serve it the traditional Kentucky way in hammered copper mugs.
Pros
Great value for money
Rich flavors
With its attractive packaging, it makes a great gift
Cons
Some felt this bourbon is too strong for their preference
---
If you can get hold of Pappy Van Winkle, you would be very fortunate. Pappy's is the most expensive and sought-after wheated bourbon. Those who have tried any of these bourbons say they are worth the effort to find and the investment.
Van Winkle bourbons are matured in the finest oak barrels for 10 to 23 years. We haven't selected a particular expression here because they are all amazing. If you can afford it, you will find the flagship Family Reserve second to none.
Some of the unique flavors in Van Winkle bourbon are tobacco, burnt caramel, and dried fruit. The oldest expressions also reflect cedar and maple, which is extremely rare for bourbon. Beware of forgeries sold online!
Pros
Considered the best bourbon in the world
Highly unique profile
Every sip is a special experience
Cons
Very hard to come by
Most expensive on our list
---
Many bourbon-makers have tried to imitate Pappy Van Winkle's bourbon and fall short. Weller's Special Reserve is the closest you will get to the magic of Pappy.
Although, William Larue Weller's recipe is the master original and it was copied by Pappy Van Winkle and others.
The amber color of the Special Reserve is alluring. The aromas are dark fruit and cinnamon. There is a subtle licorice taste and a slightly smoky finish. This is a premium bourbon worth savoring neat.
Weller Special Reserve is aged for 7 years. It's a bit younger than some premium bourbons but very impressive for its age. It is part of the excellent Buffalo Trace Antique Collection. Weller's has wonderful flair and is considered the 'aristocrat' of the bourbon world.
Pros
One of the very best bourbons available
Traditional recipe continues to shine 150 years later
Cons
Sometimes out of stock
More expensive than most other bourbons on our list
---
Old Elk from Colorado makes this 5-year bourbon with a low barley content. The tasting notes are creamy toffee and toasted almonds, with a hint of clove. The aromas are vanilla ice cream with floral hints.
Old Elk is a relatively new brand. Yet it boasts an experienced team of bourbon-makers. This flagship bourbon has recently won some gold awards.
The price of the Old Elk Straight Wheated Bourbon is higher than average. But it's well worth it for bourbon lovers. It has distinctive, attractive packaging and it's a high-quality option. This makes it a superb gift.
Pros
Noted for its unique profile
Easy-drinking
Great for cocktails
Cons
Might be worth waiting for their upcoming 8- and 10-year expressions
---
WhistlePig's recent experimental bourbon has gained a substantial following. It was blended, taste-tested, and approved by a community of thousands of bourbon lovers. The distillery took the opportunity to get their input while in lockdown.
This craft blend includes 3 bourbon expressions: a 5-year wheated bourbon as well as rye and barley whiskeys of similar ages. Their ingenious approach paid off for this award-winning bourbon-maker.
WhistlePig fans say it's ideal for summertime and sharing with friends over a meal. It's not 100% wheated bourbon. Yet there's wisdom in WhistlePig's crowd-sourced approach.
Homestock is lighter and sweeter than rye bourbon but retains a spicy finish. It features orange and vanilla aromas with a ripe berry and roast nut palate.
Pros
Well-rounded aromas and flavors for easy drinking
Uniquely crowd-sourced blend
Award-winning distillery
Cons
More expensive than most other options on our list
---
Garrison Brothers HoneyDew from Texas is infused with wildflower honey. This makes it sweeter without being overly sugary. The honey flavor lingers nicely. The tasting notes also include apricot and peach.
This craft liquor can be enjoyed in many different ways. Try it neat, with a little soda and ice, or mix a delicious cocktail. If the honey flavors do not appeal to you, look at Garrison Brothers Small Batch Bourbon. It is a touch more smoky and spicy.
Note that this liquor cannot strictly be called bourbon. The flavor added to the final product prevents this. It is made in the same way as bourbon up to the point when the honey infusion is added.
Pros
Much less sugary than other honey-infused expressions
No harsh or bitter profile
Very impressive gift
Cons
More expensive than other honey-infused liquors
---
Wheated Bourbon (FAQ)
How does wheated bourbon differ from other types of bourbon?
To be called 'bourbon', a liquor should be made from a specific combination of grains, called the 'mash bill'. More than half of the mash bill must be corn.
The rest is usually a mix of rye and barley. Some distilleries replace the rye with wheat. The liquor they make is called wheated bourbon.
What does wheated bourbon taste like?
It is usually sweeter, smoother, and creamier than other types of bourbon. Rye makes for a bold, spicy taste in bourbon.
This is muted when replaced with wheat. In good wheated expressions, a little spiciness is still present though.
What's the best way to enjoy this type of bourbon?
Wheated bourbon is suited to everyday enjoyment and some prefer it neat, or with a little mixer and ice. If you want to mix up a cocktail, wheated bourbon works well with ginger beer, lime, and aromatic bitters.
You can also try the classic mint julep. It's made with bourbon, soda, ice, and mint leaves crushed together with sugar or syrup.
How is bourbon different from whiskey?
Whiskey and bourbon are made from much the same grains and in a similar way. The name bourbon tells you that it is a whiskey made only in the US. Whiskey can be made anywhere in the world.
There are regulations in place that have to be met for a whiskey to be called bourbon legally, besides the place of origin. Bourbon must be made using more than 50% corn.
It must be matured in brand new charred oak barrels. It has to be bottled with a 40% alcohol content minimum (80 proof).