I was eager to get my hands on this bottle of 1800 Anejo tequila to review. 1800 is such an iconic and well-known brand of tequila, that is often featured as the signature tequila in specialty margaritas.  Its well-deserved usage in premium cocktails is well deserved because of its consistent quality of production. 
1800 uses 100% Weber blue agave for this Anejo.  It spends a minimum of 14 months aging in French Oak barrels. To quote their website: "This deep, luxurious tequila is ideal for sipping".  Let's find out if their claims hold up.
1800 Anejo Price & ABV
Price: $43
ABV: 40% / 80 Proof
Quality Rating: C-
Value Rating: D
1800 Anejo Review
Aroma
The smell of agave and alcohol is front and center for me with this Anejo.  I also get just a hint of the oak barrels from the aging process.  It is very reminiscent of a clean whiskey, possibly more so than the typical caramel and vanilla I have grown accustomed to with this subsect of tequila.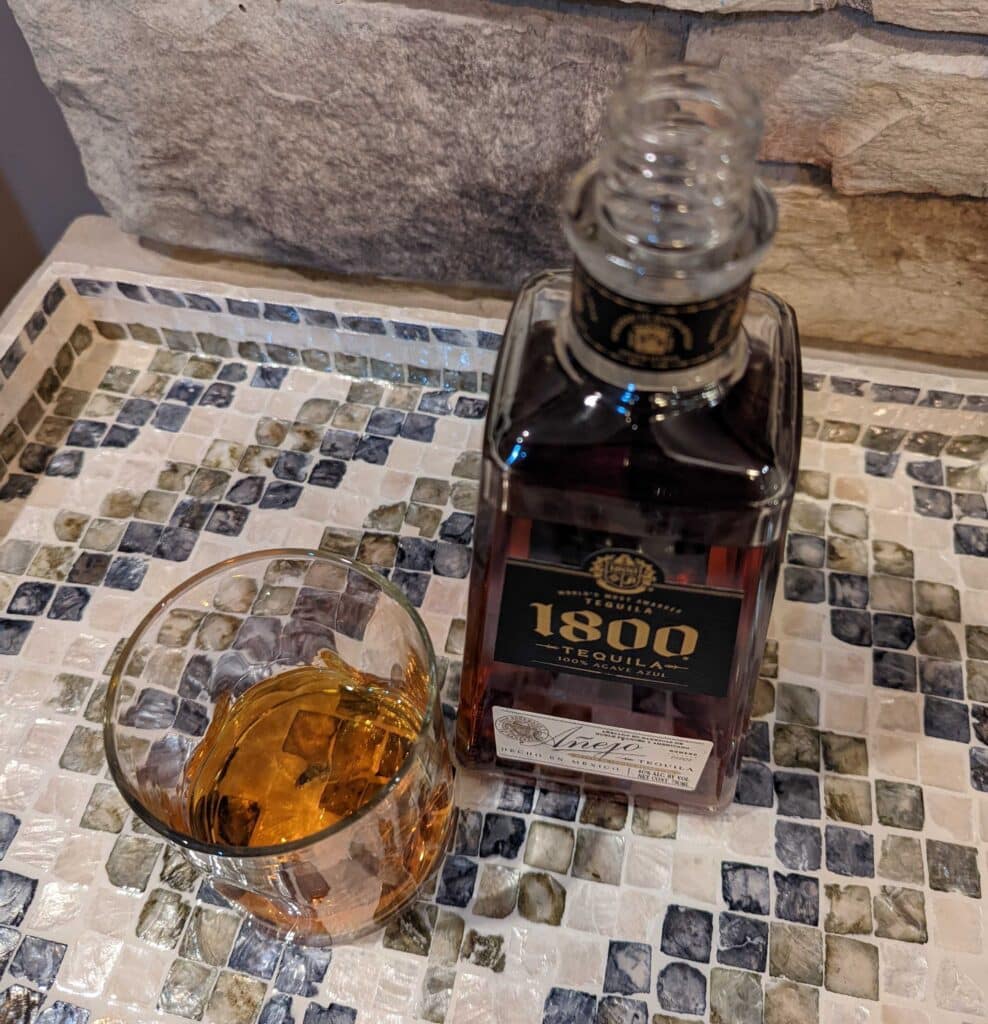 Taste
Tasting the 1800 Anejo neat (no ice) I am quickly brought back to the familiar caramel and vanilla flavors typical of Anejo.  It does still have a strong alcohol taste about it.  When drinking this tequila neat, you know you have a stiff drink in your glass.
The taste when drinking on ice is quite different.  The ices mutes almost all of the three primary flavors mentioned above.  Only when swishing it around in my mouth did I find just hints of vanilla and agave.  Straight sipping on the rocks and this Anejo is nearly flavorless.
Finish
The 1800 Anejo finishes in the mouth more like a whiskey than a tequila.  However, it does not produce the whiskey fire belly but feels like tequila.  I did have a lingering whiskey and alcohol after taste, that I do not expect from an Anejo, especially one that calls itself premium tequila.
The Bottle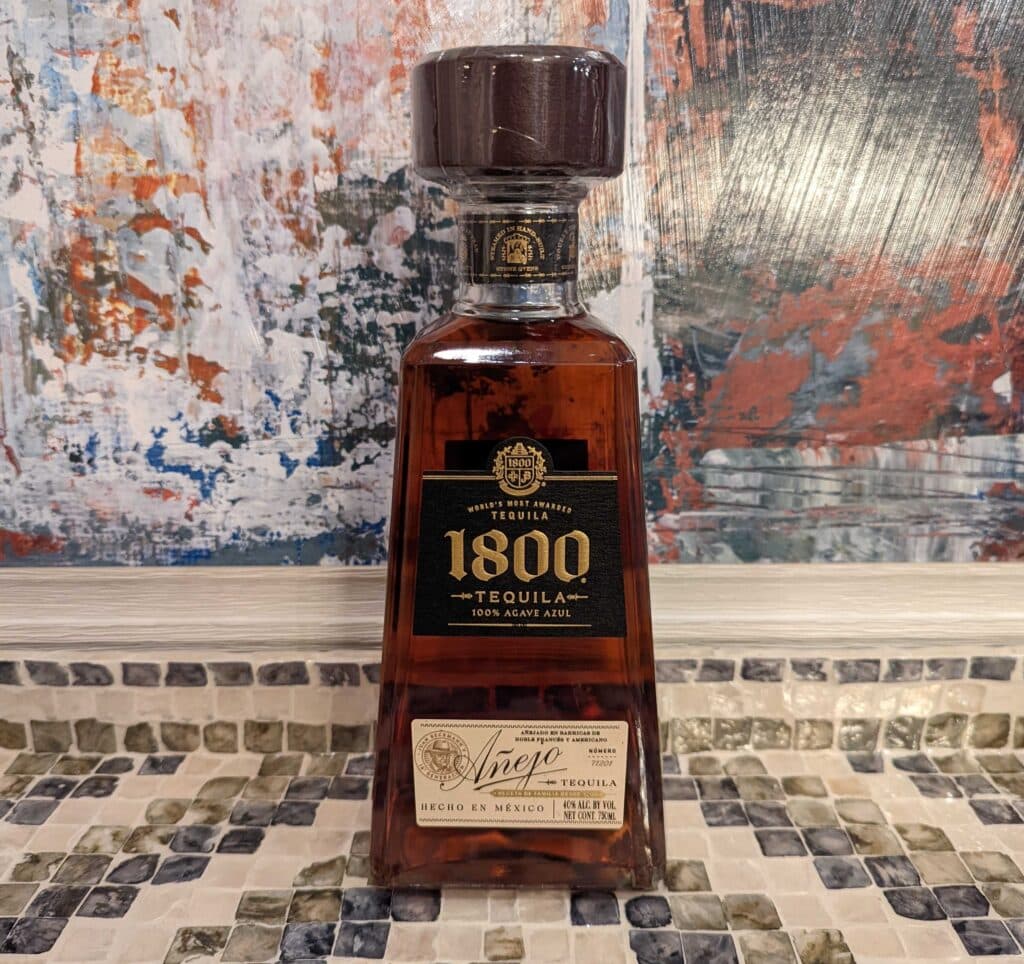 Tequila brands really like to create uniquely shaped bottles to help distinguish themselves.  1800 is no exception. The shape of their Anejo bottle follows that of their iconic brand, a trapezoidal shape meant to remind us of the Mayan stone pyramids with clear glass that showcases the deep rich color. 
Personally, I like their bottle.  I find it to be easy to handle, I can grip it with one hand and the oversized topper makes for easy cap removal.  The bottle disappoints me when it comes to the cap.  A twist-off cap is not befitting of this price range of tequila.  The neck of the bottle also makes it more difficult than necessary to pour.  The opening is so narrow that it is nearly impossible to avoid a "clug-clug" pour.  The label color is a bit dark for my liking, but they do make the "anejo" on the label evident, which many other brands tend to make it hard to find the type of tequila listed on the bottle.
How To Enjoy 1800 Anejo
According to 1800 this tequila is "ideal for sipping."  Anejo is a type of tequila that is specifically crafted as a sipping drink, preference of neat or on-the-rocks is up to you.  While it is designed as a sipping drink, I believe that tequila is meant to be enjoyed in whatever (safe) manner you like best.  Because I did not particularly enjoy this Anejo, I am more likely to use it in a tequila old-fashioned, it should work well in a drink originally designed for whiskey.
Final Thoughts
Ultimately, I can not recommend the 1800 brand of Anejo.  At $43, there are simply better options that are readily available almost anywhere.  There may be some room to help this spirit along with a squeeze of lime juice but as a standalone sipping tequila, there are far better options for your money.
About 1800 Tequila Brand
1800 calls itself the world's first premium tequila.  I am not able to confirm nor deny these claims, but it is certainly one of the most common premium tequila brands.  Their distillation process is the same as it was over 200 years ago using only 8-12-year-old Weber blue agave which has been harvested at their prime sweetness.  1800 boasts the full standard line of tequilas (silver, reposado, Anejo, Cristalino) along with a few especially crafts.
Related Reviews
Casamigos Anejo Tequila Review