If George Strait tells me to try a certain drink, I'm going to give it a try.  If he produces an entire song about it, I'm going to buy an entire bottle, even if it does cost north of $100.  Not all celebrity tequilas are worth the price tag that gets attached but Codigo 1530 Anejo stands firm in its quality, worthy of the price of a true premium tequila.
Working on this Codigo 1530 Anejo review was combining two of my favorite things in the world, George Strait music and Anejo tequila. With all of the excitement and anticipation from me, this Anejo tequila had a lot to live up to, in order to earn high marks. Codigo 1530 has a unique twist in that they age their Anejo for 15 months in Napa Valley Cabernet French White Oak wine barrels.  This extra attention to delivering a distinct taste serves them well.
Codigo 1530 Anejo Price & ABV
Price: $120
ABV: 40% / 80 Proof
Quality Rating: A
Value Rating: B
Aroma of Codigo 1530 Anejo
Even just getting the first whiff when opening the bottle you can tell that Codigo has produced a premium spirit.  In the glass, the scent is soft and not over-powering.  The aroma is a sweet-smelling blend of agave, pepper, oak, and spices. I can even detect just a bit of fruit and caramel as well. The smell almost makes you salivate waiting to try it.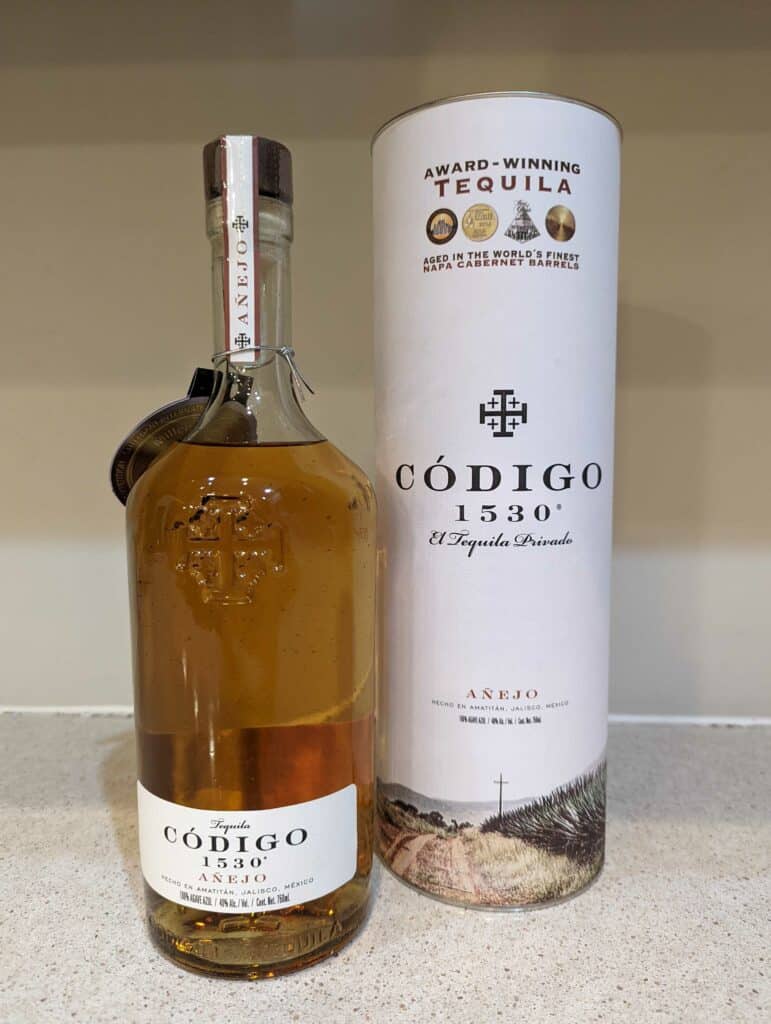 Taste
Sipping Codigo 1530 Anejo neat wakes the tastebuds immediately.  Inhaling the fumes starts the taste with the sweetness from the aroma.  The taste of agave combines with spice when in the mouth, only then giving way to the oak flavor.  There is just a hint of alcohol taste to remind you that you do in fact have an 80 proof drink.
Codigo 1530 Anejo on the rocks softens the flavors and allows the caramel to come forward.  Adding the ice to tequila does not change its flavor profile as much as it does some other Anejos that I have reviewed.  The taste is pretty consistent between the two styles, just a little softer when enjoyed over ice.
Finish
Two things strike me when swallowing the Codigo 1530 Anejo.
It stimulates the tonsils with the alcohol, but that tingling does not continue down the throat to the belly like a whiskey.
It leaves you with a peppery-spice flavor that lingers across the tongue.
Compared to other Anejos, the after-taste does last a while, but it is not unpleasant.
The Bottle
Once you understand that Codigo uses old Napa Valley Cabernet barrels to age their Anejo, it makes sense that their bottle is the shape of a wine bottle.  The bottle comes in a cylindrical box adding a nice level of protection when transporting.  The box and bottle labels are elegantly designed which reflects on its premium offering.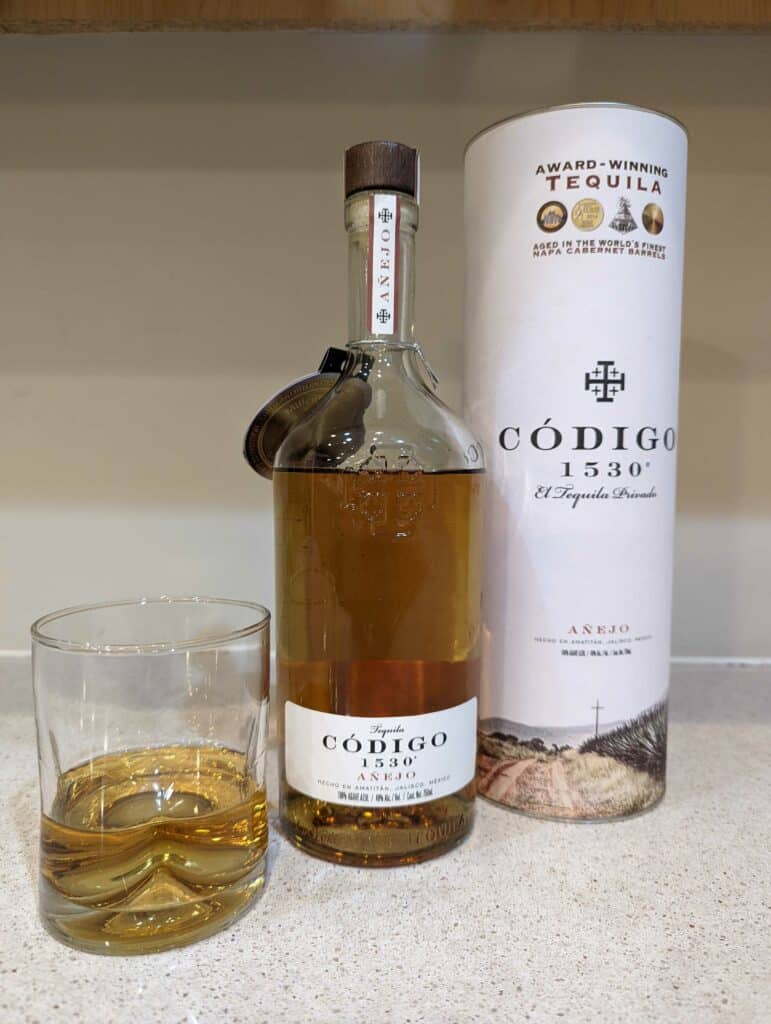 How To Enjoy
To me, any spirit that has a premium price tag and premium quality should be enjoyed in its truest form.  In this case that poured into a tumbler either neat or on the rocks.  To dilute this Anejo would beg the question as to why you would splurge for a mixing spirit.  If you do prefer cocktails, the Tequila Manhattan is your best bet with the Codigo 1530 Anejo.
Final Thoughts (My Recommendation)
The Codigo 1530 Anejo had a lot to live up to in my eyes.  A premium Anejo by an all-time great country music singer, the bar was high.  It meets the mark.  Drinking this Anejo feels like you are enjoying something special.  Every time I drink it, I feel like I should be celebrating something.  The smell and taste, you can tell you are partaking in a well-refined spirit.  If $120 for a bottle is a splurge for you, I do suggest it for a special occasion.  If it is not a splurge for you, I highly recommend adding it to your standard rotation.
About Codigo Distillery
As a distillery Codigo is constantly innovating.  Take the use of Napa Valley Cabernet French White Oak wine barrels in this Anejo as exhibit one.  Then consider that they have a Rosa Tequila, Extra Anejo as well as always working on special editions and even producing Mezcals.
More Anejo Tequila Reviews
Herradura Anejo Tequila Review