I am torn on this Herradura Anejo Tequila review.  Herradura prices their Anejo in the moderate range; premium Anejo is routinely offered in the $100 range.  Herradura ages this Anejo an incredible 25 months in white oak barrels.  This is longer than most Anejos are aged and their patience shows in the overall quality of this spirit.
Given Herradura's dedication to their Anejo, it is no surprise that they collect medals from around the world on this spirit.  53 total medals with 18 of them being Gold since 2006.  You can not question the quality of distillation and expertise that is applied throughout the process.
Herradura Anejo Price & ABV
Price: $51
ABV: 40% / 80 Proof
Quality Rating: A
Value Rating: A-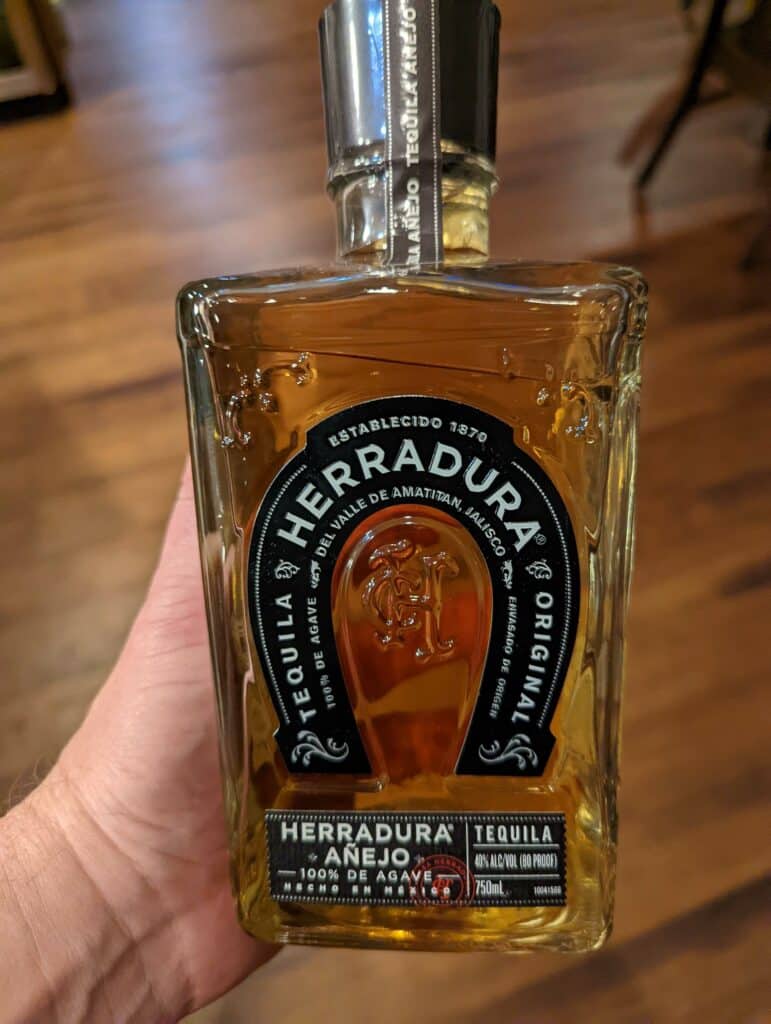 Aroma
The nose of this Anejo is remarkable in its lack of distinct smells.  Herradura archives the faintest scent of any Anejo that I have tried.  Pressed to give an opinion on the aroma, I struggle to notice an oak and pepper smell. There is no hint of alcohol nor is there a distinguishable caramel scent.
Taste
Tasting the Herradura Anejo neat surprises with its flavor, that I did not expect from the lack of aroma.  The oak flavor is farthest forward, followed by pepper and alcohol. Agave is mixed in there as well.
Sipping the Herradura Anejo when poured over ice, helps to blend the flavors into a more enjoyable (in my opinion) drink.  The oak and pepper blend into a single flavor and it seems to allow the agave flavor to really expose itself.  It also develops just a bit of creaminess.  Still no caramel flavor.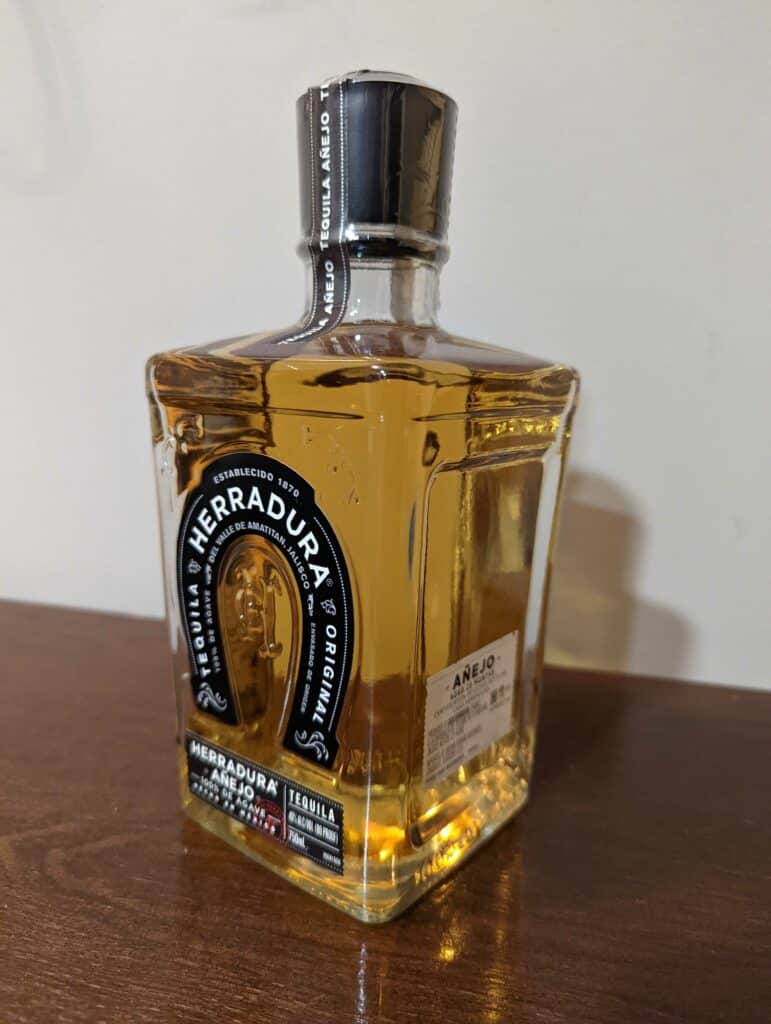 Finish
As with most Anejos, when drinking it neat, the finish of alcohol is prominent, however, it is cut dramatically when enjoyed on the rocks.  It leaves your mouth with a lingering peppery-agave flavor that almost seems to follow in the throat.  Herradura achieves a nice crisp finish with this Anejo.
The Bottle
Herradura stays on-brand with their Anejo bottle matching the rest of their line.  An inverted trapezoid, featuring a screw-top lid is how it is presented.  Personally, I like the extra label they provide on the side of the bottle that showcases some specifics about this tequila style.  The narrow neck can create a potential clug-clug pour, which I simply would rather avoid.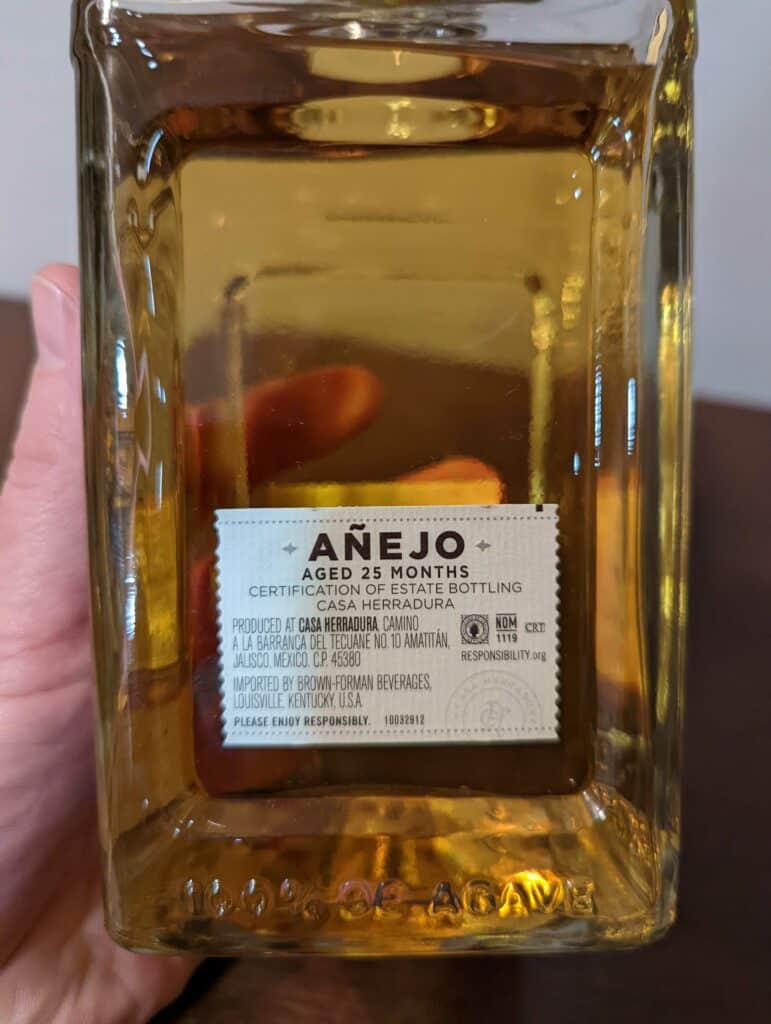 How To Enjoy
Herradura Anejo is a quality tequila fitting of sipping.  The alcohol flavors are very light, making for a good neat option if that is what you prefer.  Pouring over ice does make it almost creamy and blends the flavors into a single experience versus the distinct flavors of enjoying it neat.  With its distinct pepperiness, a Bloody Maria is a very intriguing option.
Final Thoughts
As I mentioned in the open, I am conflicted on this Herradura Anejo review.  It is clearly a high-quality tequila.  It is crisp and clean, there is nothing that I can objectively knock.  It simply doesn't fit my preferred taste profile.  I like that its aroma is faint and does not influence the taste.  I like that it is a high-quality, well-made tequila. If someone told me that this Herradura Anejo was their preferred Anejo, I would not question their opinion.
If you prefer a caramel flavor in your Anjeo as I do, this may not be your favorite.  However, if you are still exploring Anejos to find your preference, this is a must-try.  If you already know that you prefer Anejo's that feature more oak and pepper flavors, this Anejo will probably be among your favorites.
About Herradura Tequila Brand
Herradura has been procduing tequila since 1870.  Based out of Jalisco Mexico, they still use over 100-year-old brick ovens to roast the agave then distill them in modern copper stills.  Herradura is one of the oldest and most respected stills in the original tequila region of Mexico.
More Anejo Reviews