Casamigos Anejo Tequila is a barrel-aged tequila. In 2013, George Clooney and some very rich partners in the luxury lifestyle business started the brand.
The partners say on Casamigos' website that they wanted to create the smoothest and best-tasting tequila to drink neat or with ice. They believe you shouldn't have to hide the taste of tequila with salt and lime. 
But should we take "George Clooney tequila" seriously? Is it all it's made out to be?
Casamigos offers Casamigos Blanco, Casamigos Reposado, Casamigos Mezcal, and Casamigos Anejo, but this review focuses on Casamigos Anejo Tequila specifically.
Below, we consider whether Casamigos Anejo is worth the price tag. Read on to discover details about how this tequila tastes and its overall drinking experience.
Casamigos Anejo Tequila (Our Review)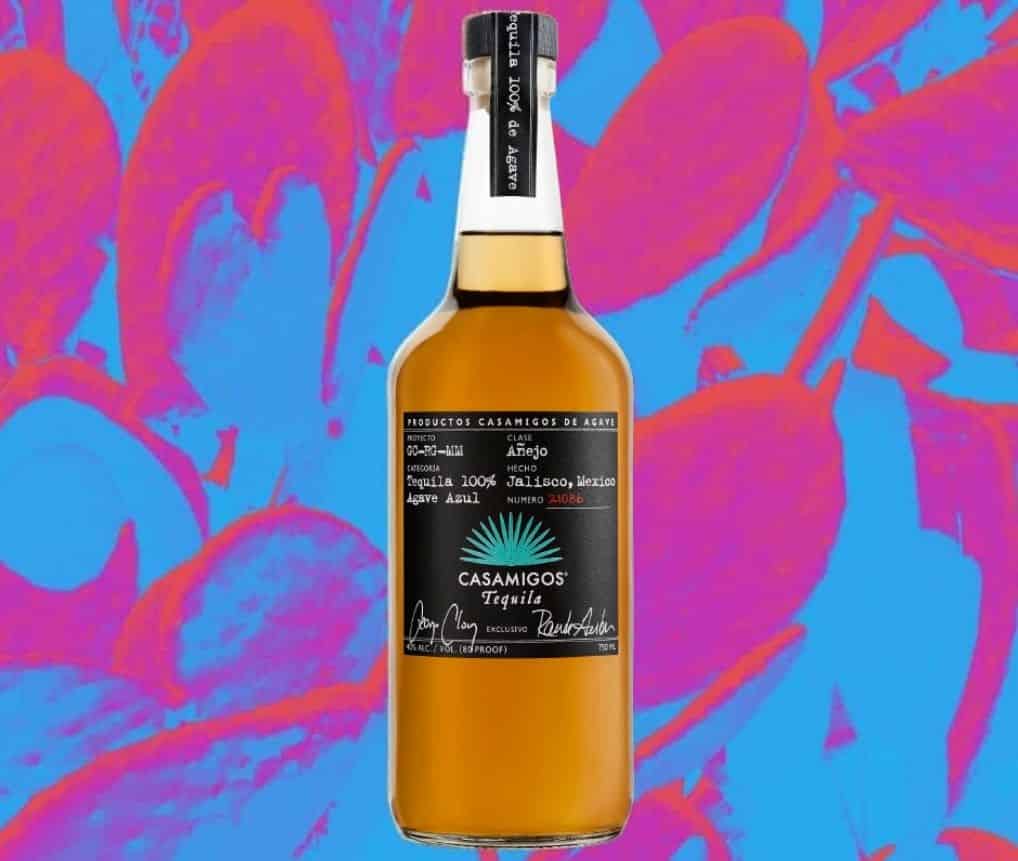 Overall Assessment
Expensive celebrity-backed brands can be disappointing. It's understandable if you are eyeing George Clooney tequila with some skepticism. Casamigos is, in fact, an excellent tequila. 
Clooney was involved from day one. What matters about that is he has a taste for fine tequila. That was always the main aim of the brand, and not mass production or media hype.
In 2017, the partners sold Casamigos to an international company, Diageo. This made wider distribution possible. The label still bears Clooney's signature. 
Casamigos created its Anejo Tequila alongside its Reposado and Blanco sisters. Casamigos Blanco tequila is not aged but sits in stainless steel tanks for about 2 months. 
Reposado means "rested". Anejo means "aged". These two tequilas are stored in charred American white oak barrels. The barrels were once filled with maturing whiskey. It's about as close to a tequila-whiskey hybrid that you would want to get without ruining either one.  
Casamigos Reposado rests for 7 months in the whiskey barrels. Anejo is aged for twice as long, so it's more like whiskey. 
This makes Anejo attractive if you already like whiskey. You may like tequila already, but want to try something different from the average Blanco Margarita. In that case, Anejo is a great option to try.
The oak-barrel maturation is only one of the special aspects of Anejo. Productos Finos de Agave is the tequila distillery that makes Casamigos. They follow very traditional methods and lots of patience. They have more than doubled all the average tequila-making standards for Anejo. 
The Blue Weber agave used to make this tequila grow for at least 7 years. A younger agave does not make for as good tequila. The plants are also grown in the most favorable conditions before harvested.
The agave core or piña is roasted longer than usual inside hornos or traditional stone ovens. Most agave destined to become tequila is steamed. Instead, Productos Finos de Agave roasts the succulents in hornos that heat up more slowly and gradually.  
This caramelizes the agave sugar gently to preserve the flavors better. The roasted agave is then juiced and combined with yeast and bagasse. Bagasse is sugarcane pulp. It enhances the flavor of the tequila, but it's not used for most tequilas. 
This mixture is allowed to ferment for over 3 days. It's then distilled and placed into the whiskey barrels to age. This whole process results in a fine liquor with a 40% alcohol content.
All this extra attention and patience makes Casamigos Anejo Tequila a fine liquor. It justifies the higher price. It is certainly good enough to turn the heads of those who enjoy a fine whiskey, and are looking to try something new.
Pros
High-quality and deserves the label "premium"
Good enough to drink neat or with ice only
Multi-award-winning tequila-maker, with more than 10 awards for Casamigos alone
Cons
More expensive than average tequila
It's never not going to be George Clooney tequila 
Detailed Analysis
Appearance
Casamigos Anejo Tequila is a medium caramel color. When swirled in a glass without any ice, it shows its more golden and amber hues beautifully. 
Droplets form inside the glass. This can be a sign of finer-quality liquor. 
Nose
Caramel and vanilla aromas are the most prominent. The oak is delicate but manages to stand out on its own beside the sweeter notes.
Palate
The taste is on the softer, sweeter side for tequila. This makes it much more enjoyable. It helps that Casamigos Anejo is a 100% blue agave tequila. 
The slower roasting and longer fermentation time have also preserved the sweeter flavors. The sugarcane pulp could be what adds even more balance to the sweetness. But it's by no means sugary.
The tequila is more fruity than expected. It shows up mainly as fleshy tropical fruits, such as dried mango but with fresh papaya. This is balanced with a light spiciness, alkaline minerals, and oak. 
Finish
The finish is smooth. At the same time, the slightest touch of pepper and alkaline minerals linger on the tongue. 
This might feel a bit dry to some, but it's a very enjoyable finish after the sweeter taste.
Price and Availability 
Considering the ridiculous prices of most premium tequila, Casamigos Anejo Tequila is acceptable at $55 to $60 for the 750ml. It's worth the price if you enjoy fine liquor. 
If the oakiness doesn't grab you, perhaps try the Casamigos Blanco instead. There's only about a $5 difference between the Blanco and Anejo. 
If you want to experience something in-between, go for the Casamigos Reposado. The Reposado is almost the same price as the Anejo. The three tequilas are all equally good for what they are intended to be.
Casamigos are available across the US and in some neighboring countries. It's not shipped in bulk worldwide. But you can find out if some specialty liquor dealers will courier to you.
Conclusion
We agree that Casamigos Anejo Tequila does not need to be hidden with extra flavors like lemon or salt. It's good enough on its own. You can leave the shot glasses aside and get your tumblers out for this one.
It wouldn't be a terrible shame to use it in a more simple cocktail, though. A lovely option is the Anejo Old Fashioned. Add a little agave nectar or simple sugar syrup, Angostura bitters, and ice to a shot of Casamigos Anejo Tequila.
Related Reviews