Ciroc Vodka is an extravagant, music-industry favorite. And for good reason. Its price might be steep, but it more than makes up for it with sheer deliciousness.
Most Ciroc Vodkas come in at around $50 and are well worth the price.
With ten different flavors, Ciroc has something for everyone. Let's take a look at what sets these flavors apart.
Ciroc Vodka Flavor Varieties
Ciroc Vodka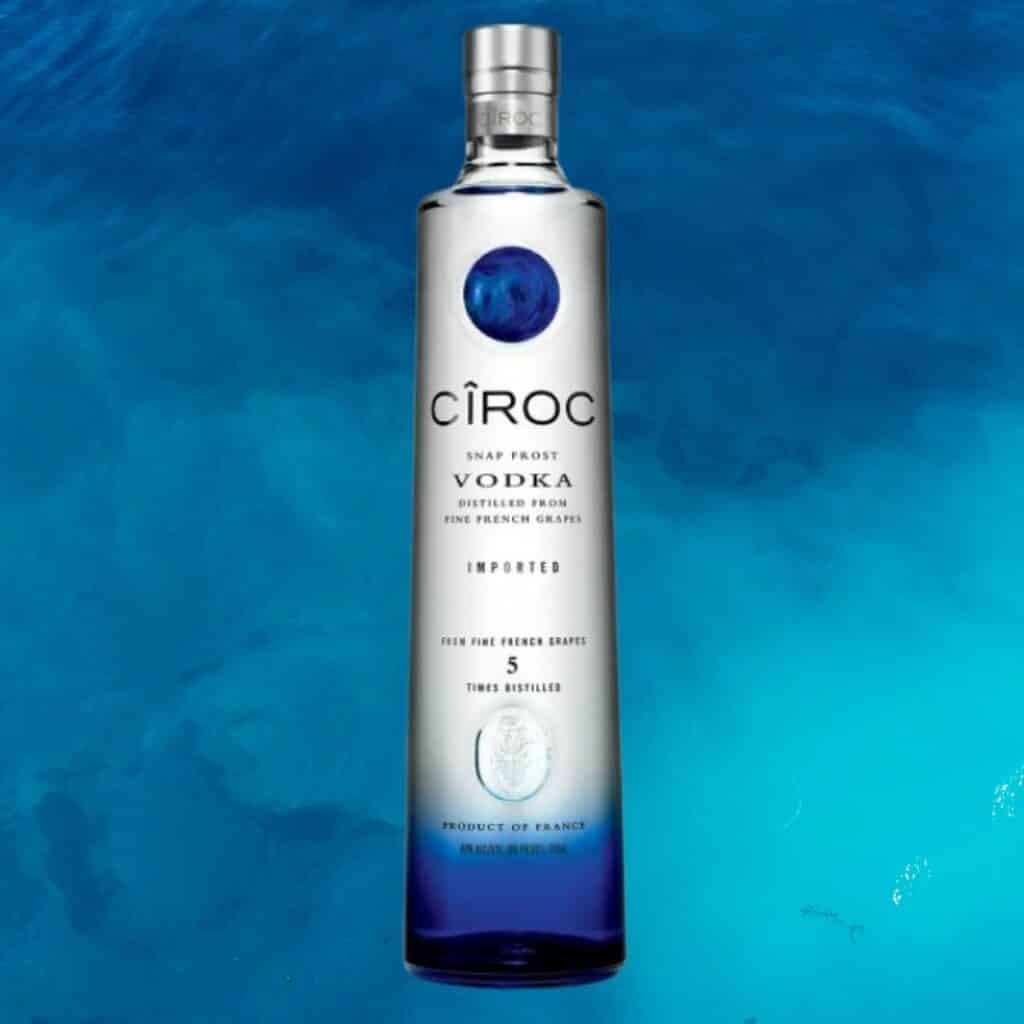 Ciroc Vodka is the standard, flavorless version. Released in 2003, it has been known as a luxury vodka ever since. Compared to other vodka brans like Crystal Head Vodka or Smirnoff, Ciroc Vodka ranks high in terms of luxury.
Unlike most vodka that's made of grains or potatoes, Ciroc Vodka is distilled from grapes, giving it a totally unique flavor. Despite this, it's still "flavorless". Rather than giving it a full-on flavor, the grapes only create a slight, fruity hint when you drink it.
Above all, Ciroc Vodka is impeccably smooth. It's distilled five times and bottled at 80-proof, making it one of the smoothest vodkas on the market.
Its smoothness and fruity hints mean that it's possible to even drink this vodka straight. You don't get that overwhelming medicinal taste that you get with other kinds of vodka.
Ciroc recommends using this vodka for a Blue Stone cocktail, its flavor mixing perfectly with the lemon juice and the grapes.
Pros
Distilled five times
Incredibly smooth
Made from grapes
Doesn't have the same medicinal taste as other vodkas
Cons
Not completely flavorless, not great if you're looking for something plain
Ciroc Red Berry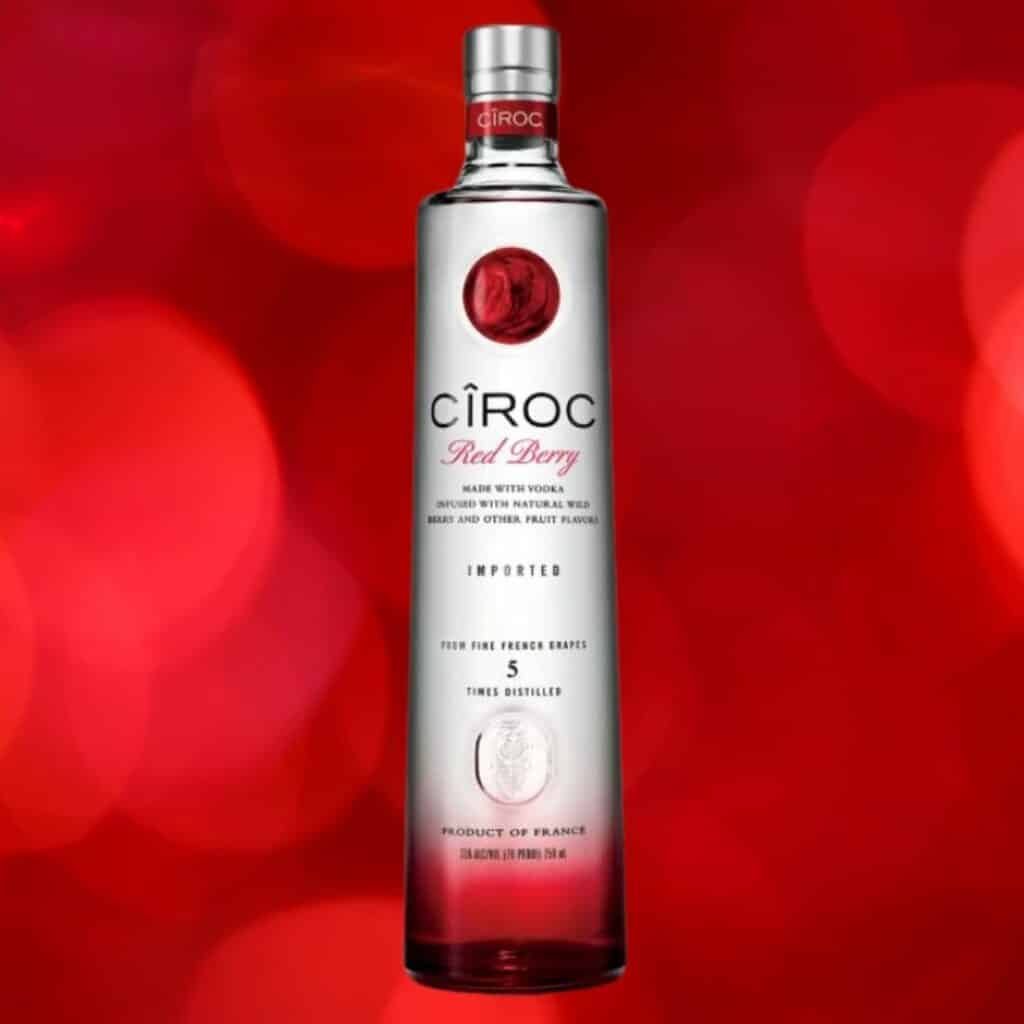 Ciroc Red Berry is one of Ciroc's two oldest flavors. Aside from the original, of course. Ciroc introduced Red Berry in 2010. It has been wildly popular ever since.
Ciroc Red Berry is made mainly from strawberry and raspberry, but it has other natural, fruity flavors contained within it. This mix of berry flavors gives you an ultra-sweet experience when drinking it.
The scent, although sweet, takes a backseat to the flavor itself. Compared to the taste, its scent is pretty subtle.
The flavor itself, on the other hand, is intense and delicious. It bursts with fruity sweetness, from start to finish. Thanks to its fruitiness, it even avoids the bitter aftertaste of most vodkas.
Ciroc recommends using its Red Berry flavor in a Red Berry Punch cocktail. It mixes well with the tonic and raspberry juice to make what almost tastes like an alcoholic soda.
Pros
Rich and intense flavor
Perfect for anyone looking for something sweet
Doesn't have the bitter aftertaste of most vodkas
Ultra-smooth
Cons
Not great if you don't have a sweet tooth
Ciroc French Vanilla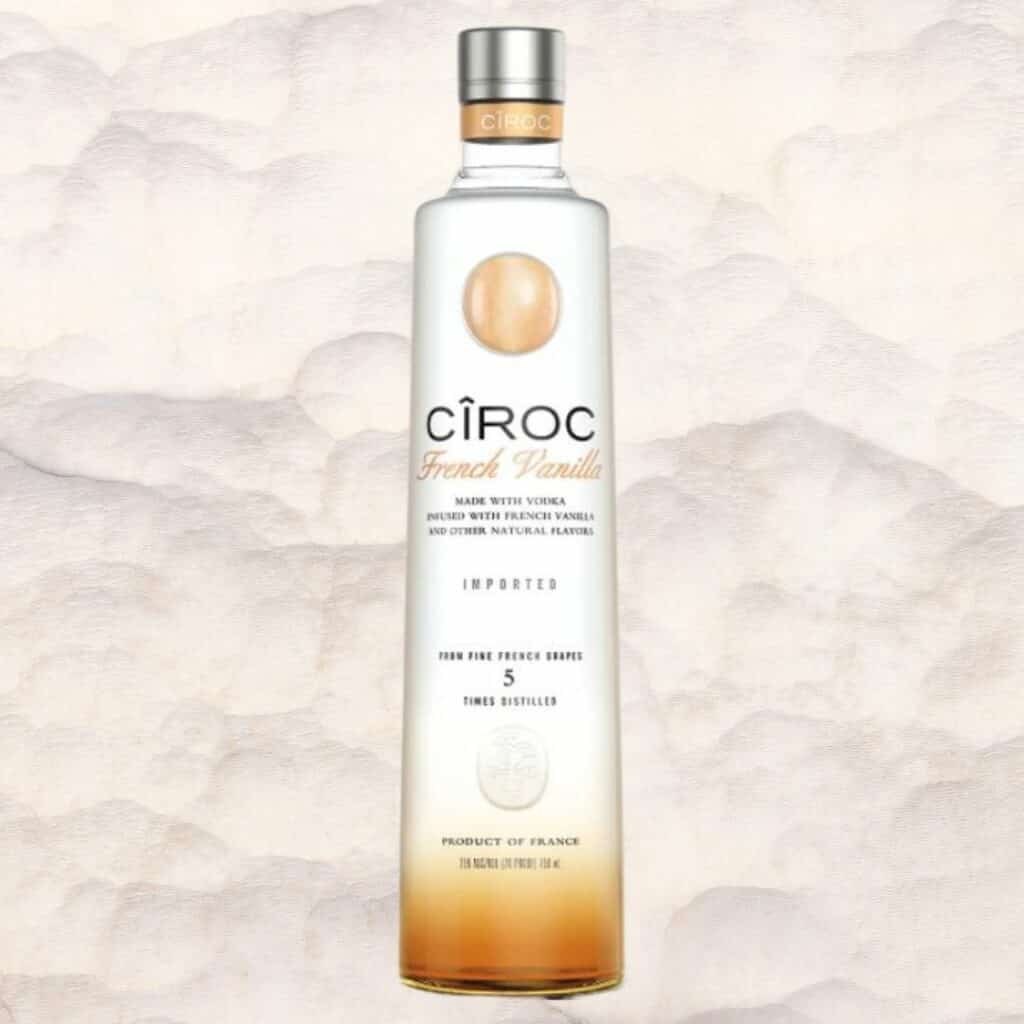 Vanilla vodka is no uncommon thing. In fact, it's a fan favorite for most people. But Ciroc's French Vanilla stands above the rest.
Released in 2017, it's Ciroc's newest flavor.
Although it doesn't have much that makes it truly unique from other vanilla flavors, where Ciroc French Vanilla shines is in its pure quality.
Its scent, taste, and finish, all have a prominent french vanilla scent and flavor. This makes it deeper and richer than other vanilla vodkas. It also carries a hint of a pepper taste.
Ciroc recommends using Ciroc French Vanilla for a Ciroc-Star Martini. The flavors blend to make a delicious drink that tastes like a dessert.
Pros
A high-quality blend that's better than most vanilla flavors
Deep and rich taste
Very smooth
No bitterness
Cons
Not anything special or unique
Ciroc Apple
Introduced in 2015, Ciroc Apple is another one of Ciroc's newer flavors of vodka.
It has a wonderfully fruity flavor from nose to finish. The sour apple scent gives a taste of what's to come. When it hits your tongue, it's sweet and fruity.
As with Ciroc Vodka, Ciroc apple is incredibly smooth and clean.
The vodka itself, while clear, has a slightly yellow, apple-y tinge.
The only downside to this one is that the flavor is a little weak.
So if you're wanting something that screams "apple", this one might be a bit disappointing. But if you're wanting something more subtle and slightly fruity, then this is a great way to go.
Ciroc recommends using Ciroc Apple for an Apple Mojito. It works great for the sweet-and-sour taste of a Mojito.
Pros
Incredibly smooth
Clean scent and taste
Sour-but-sweet fruity flavor
The flavor isn't overpowering
Great if you're wanting something subtle
Cons
A bit on the weak side if you're wanting a rich flavor
Ciroc Mango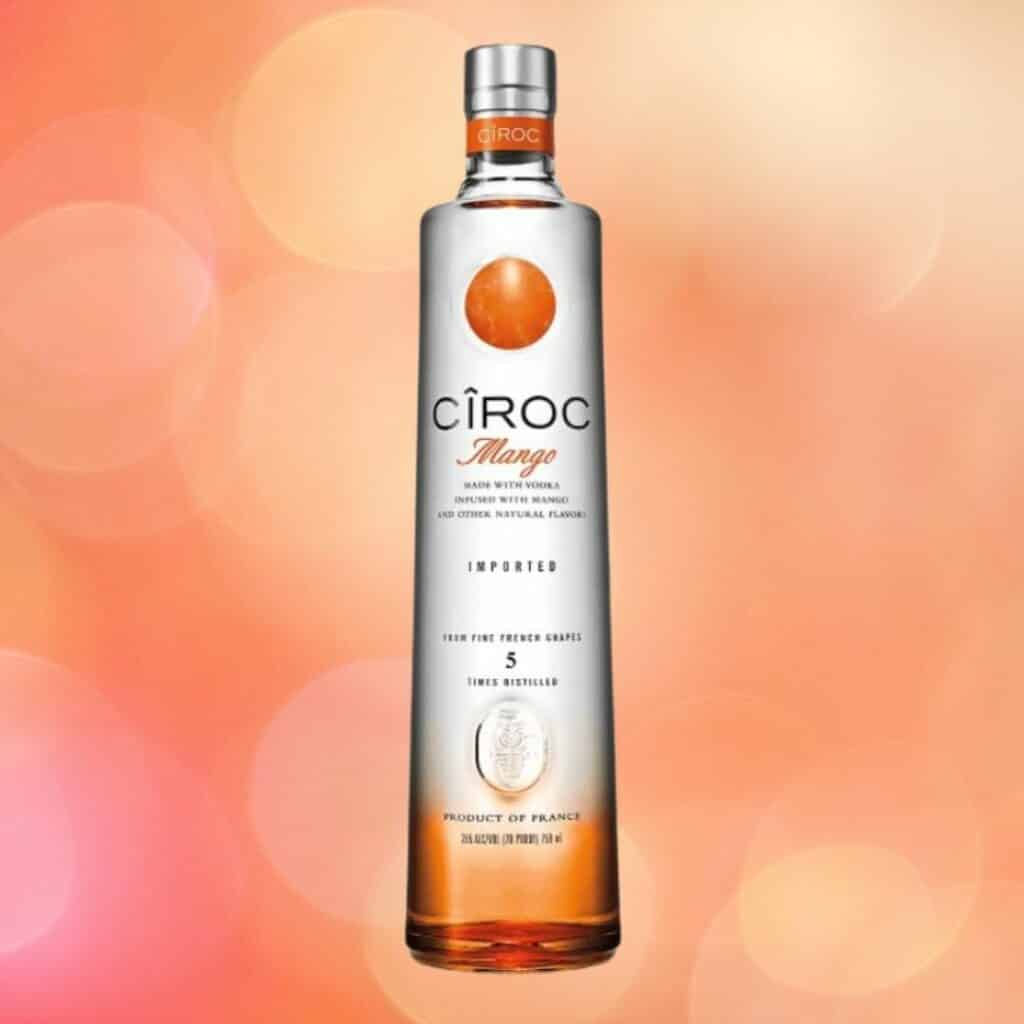 One of the best things about any Ciroc Vodka is that instead of being artificially flavored, they're infused with natural ingredients. This gives them a richer and fuller taste.
When it comes to the Ciroc Mango, this infusion is done with Carabaos mangoes. This gives it a tangy citrus taste, complemented by other tropical flavors.
It's sweet right from nose to finish, almost overwhelmingly so. But this doesn't make it bad. It's a great vodka for use in cocktails or mixed drinks.
If you're not a fan of sweet drinks, though, then this might not be the one for you. The flavor can also be a little overpowering on its own.
Ciroc recommends using this flavor for a Mango Mimosa for something extra fruity.
Pros
Rich, fruity flavor
Great for cocktails and mixed drinks
Smooth, infused mango flavor
No bitterness
Cons
The flavor can be a bit overpowering on its own
Not great if you want something subtle or less sweet
Ciroc Pineapple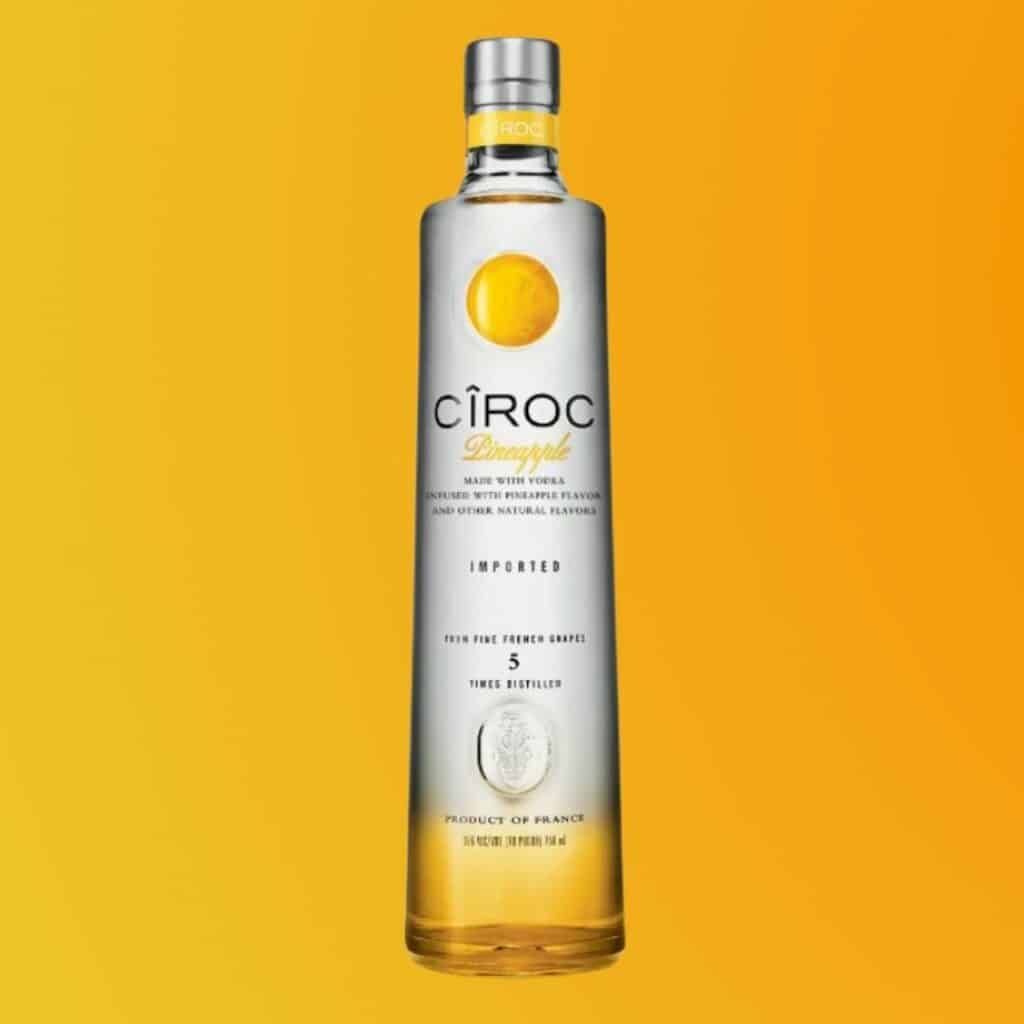 Released in 2015, Ciroc Pineapple is another popular edition of Ciroc Vodka. Though it's also a common vodka flavor, Ciroc nails it better than almost anyone.
The nose is intensely sweet, but this intensity fades a little when you drink it. That's not to say it loses its flavor. Ciroc Pineapple is the perfect blend of tropical pineapple, with just a hint of coconut and vanilla.
It's a little more subtle than some of the other flavors but no less fantastic.
Ciroc recommends using this one in a Pineapple Mojito. It's the perfect blend for something a little tropical.
Pros
A perfect blend of tropical flavors
Sweet, but not overpoweringly so
Slightly more on the subtle side for anyone looking for that
Smooth, but complex
Unique despite being a common flavor
Cons
Can be a bit understated if you're looking for something rich
Ciroc Peach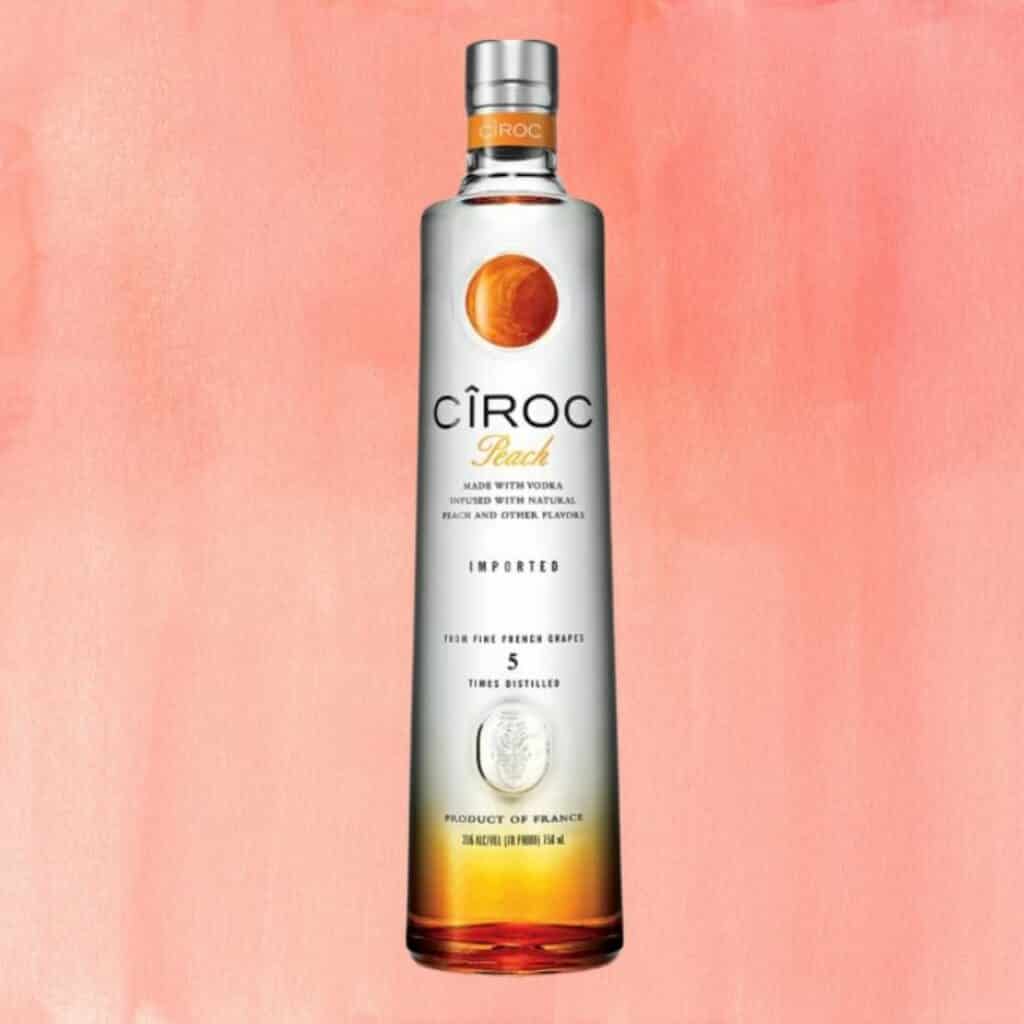 Ciroc Peach was released in 2011 and is another fruity favorite.
More similar to their mango flavor than anything else, Ciroc Peach is sweet and intense. Unlike Ciroc Mango, Ciroc Peach is great to drink on its own as well as in mixed drinks.
You don't taste the vodka at all with this one. This can be either a good or bad thing, depending on your preference.
It's very similar to Ciroc Mango, just with some extra sweetness and a more prominent peach flavor.
Ciroc recommends using this in a Bellini.
Pros
Incredibly rich and sweet
Great to drink on its own as well as in mixed drinks
No bitterness
Super smooth
Cons
Sweetness can be overpowering
Not that different from the mango flavor
Ciroc Coconut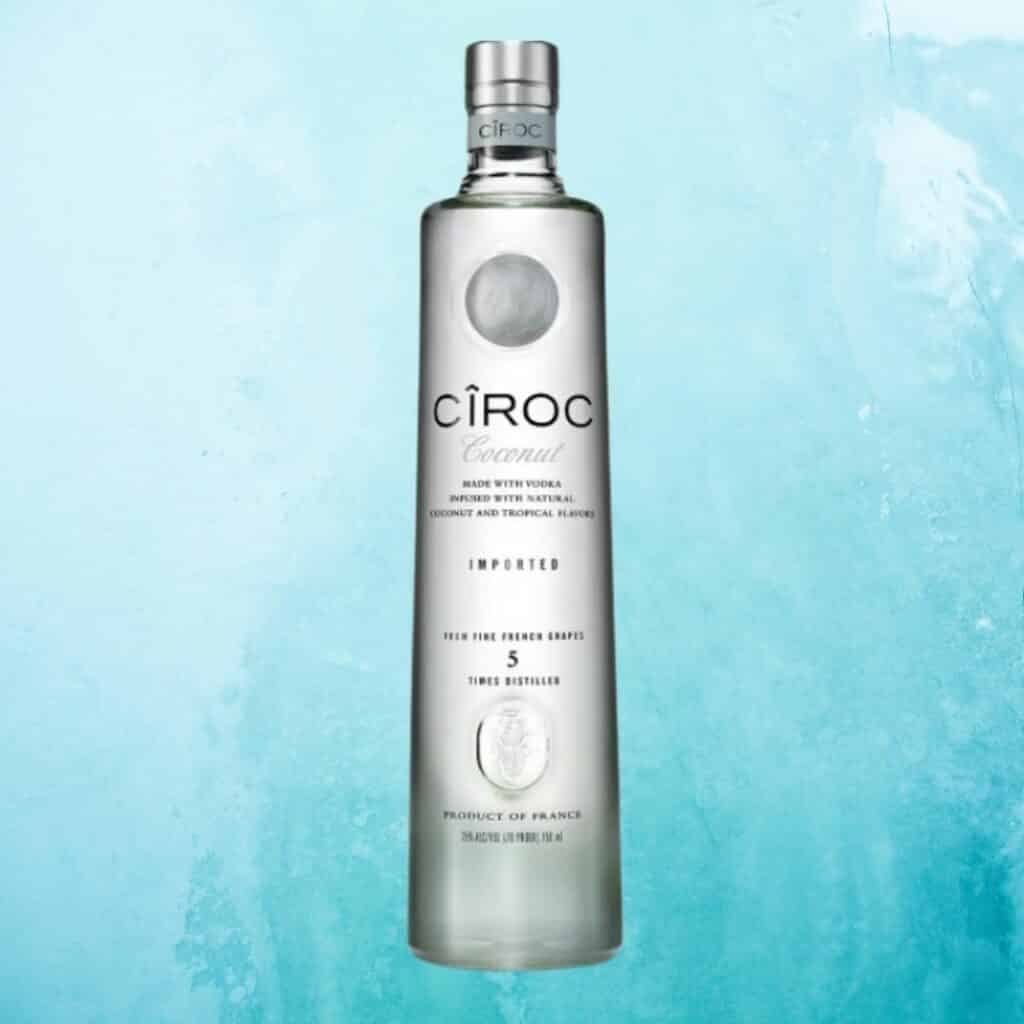 Ciroc Coconut is maybe one of Ciroc's most strongly flavored vodkas. Depending on your preference, this can either be good or bad.
It's wonderful to drink straight, especially if you enjoy the strong taste of coconut. But, it isn't the best vodka for mixing into drinks, unless you're going for a coconut-flavored cocktail.
Released in 2010, Ciroc released its coconut flavor at the same time as Ciroc Red Berry.
Ciroc recommends using this in a Coconut Julep.
Pros
Ultra-intense coconut flavor
Great to drink on its own
Perfect infusion
Ultra-smooth
Cons
Coconut flavor can be overpowering
Not great for mixed drinks, unless they're coconut-flavored
Ciroc Vodka Limited Edition Flavors
Ciroc Summer Watermelon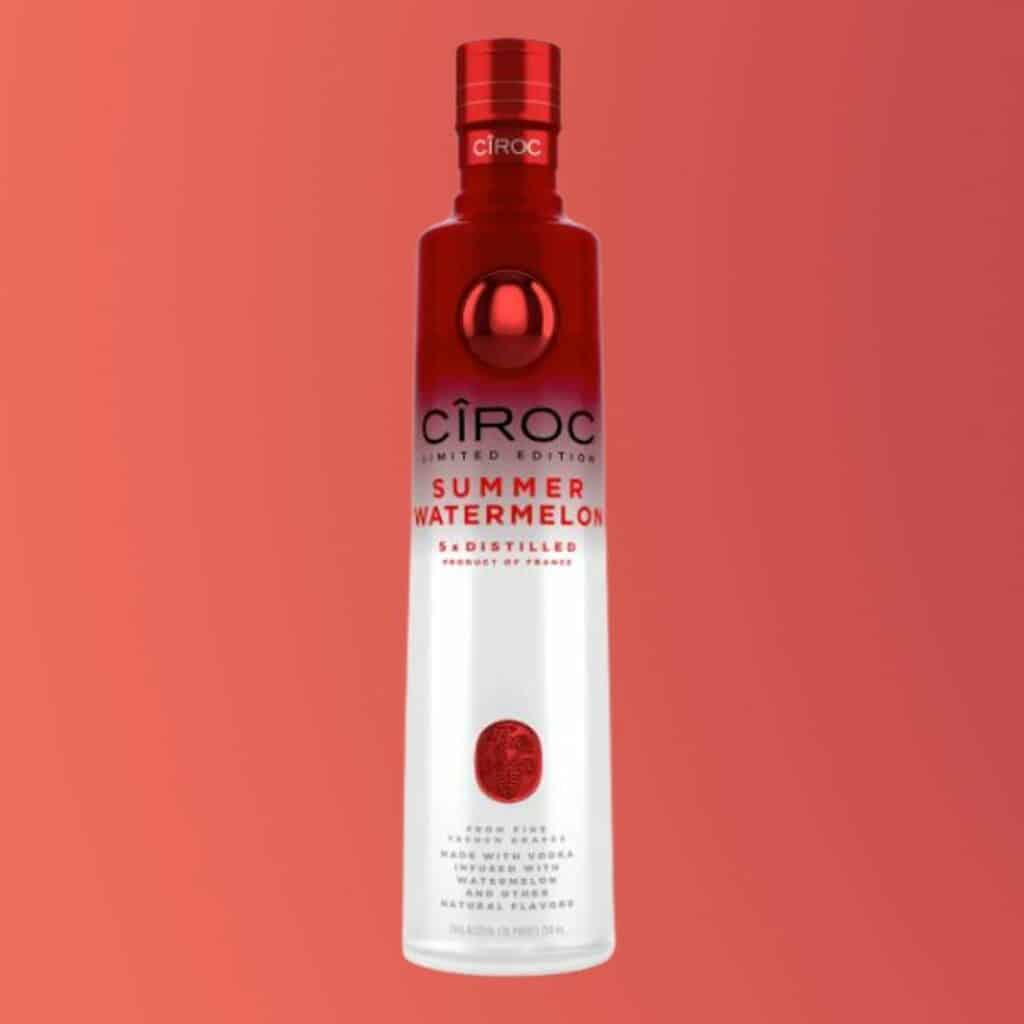 Ciroc Summer Watermelon's flavors come through best when it's chilled, mixing with hints of vanilla and other tropical fruits.
Ciroc recommends using their Summer Watermelon flavor in just about any summer cocktail, such as a Watermelon Le Twist or a Summer Watermelon sparkle.
Pros
A perfect blend of watermelon and other tropical flavors
Sweet and refreshing
Great for summer cocktails
Smooth
Cons
Can be too sweet, depending on your palate
Ciroc White Grape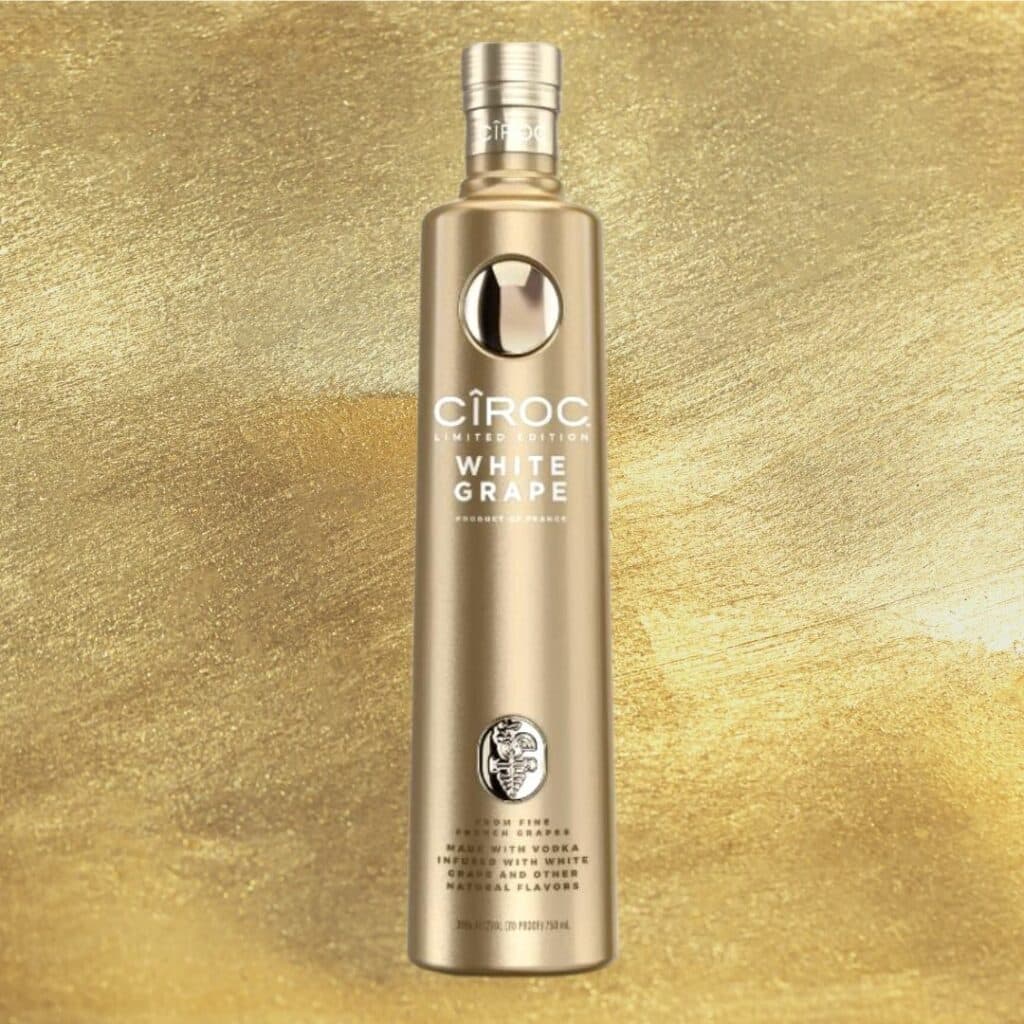 Ciroc White Grape, on the other hand, is a little disappointing. It's a little over-sweet, which overpowers the actual grape flavoring. It's still a wonderfully smooth vodka, but its flavor isn't as stark and unique as other Ciroc flavors.
Ciroc recommends using their White Grape flavor in a Ciroc White Grape 75.
Pros
Flavor not found in many other vodkas
Rich
Smooth
Cons
Sweetness overpowers the actual grape flavor
FAQ
What is Ciroc Vodka made from?
Unlike other vodkas, Ciroc Vodka is made from French grapes. This means that, while most spirits are gluten-free in a technical sense, Ciroc Vodka is 100% gluten-free.
Can you drink Ciroc Vodka straight?
You absolutely can! Thanks to the fact that it's made from grapes and distilled five times, Ciroc Vodka is incredibly smooth. Even the "flavorless" vodka has a hint of sweetness that makes it pleasant and easy to drink straight.
Is Ciroc Vodka expensive?
Ciroc Vodka is on the pricey side, coming in at around $50 per bottle. But it's well worth the price.
Each kind of vodka is a luxury experience, with rich and delicious flavors all around.
Conclusion
Ciroc Vodka is a premium vodka through and through. From its thorough, five-times distilled process to its masterful infusion of flavors, Ciroc Vodka is one of the best quality vodkas on the market.
Each flavor brings you a rich and unique experience. With so many available, there's something for almost everyone. We highly recommend trying it.
Which Ciroc Vodka flavor is your favorite? Let us know.