Crystal Head vodka is a spirit that is undoubtedly good because it is so pure.
The famous Dan Aykroyd vodka first launched in 2008 and is produced using pristine waters that come from the glacial aquifers.
It's crafted from only the best Canadian peaches and cream corn.
In this review, we'll get to know just how good this vodka is by discussing its pros and cons.
We'll also take a look at its quality of taste, the nose, and the finish of this drink.
So, without further ado, let's get started.
Dan Aykroyd Vodka (Our Review)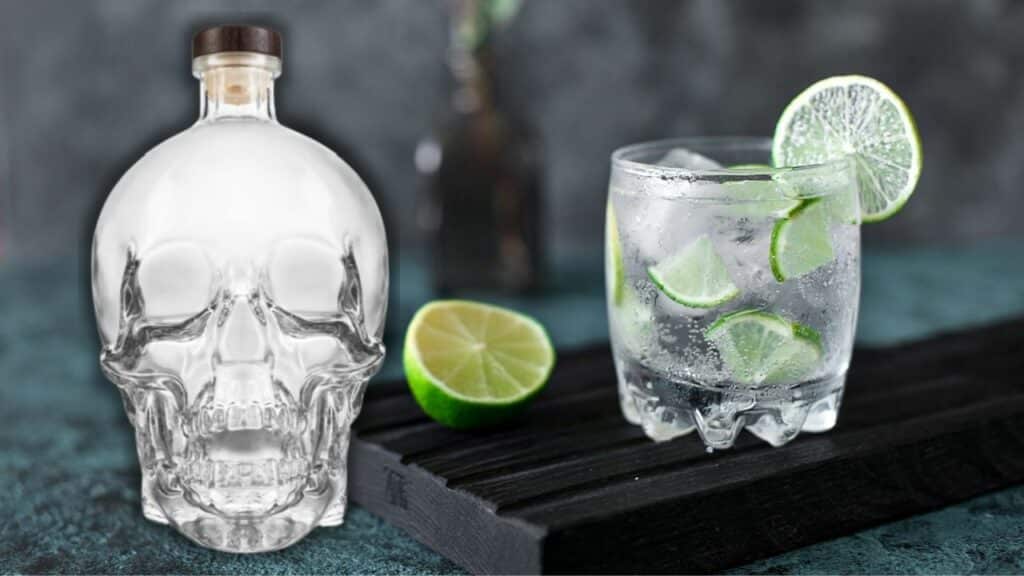 Overall Assessment 
This premium spirit is as astounding as the bottle it comes in.
Crystal Head Vodka is clear in color and stored in a glass bottle, shaped like a human skull. It is a flavorless alcoholic drink that's made from ingredients such as wheat, barley, and rye. 
Unlike most vodkas on the market today like which contain many additives like, Crystal Head vodka uses only the best and highest quality products and materials in its manufacturing process, similarly to Ciroc Vodka.
The name Crystal Head vodka comes from a story about a lost society of humans. The legend says that they distributed thirteen skulls across the globe.
Unlike potato vodka, what's great about this vodka is that it's made using grains from the Chatham region of Ontario. Vodka is made from grains that heavily influence its characteristics, making the quality of grains used crucial.
After being distilled four times, this vodka gets even fancier. They filter the vodka three times using Herkimer diamonds. This is what makes Crystal Head vodka so unique.
The fact that they choose to filter it using Herkimer diamonds is what gives this alcoholic drink the extra benefit of being an enjoyably clean spirit to drink. 
Pros
Can be served straight on the rocks or it goes great in your favorite cocktail
Glycerol, citrus oils, and the use of added sugars are not featured in this drink
Certified as Kosher and it is gluten-free
Cons 
Expensive drink
Most consumers consider it to be tasteless
Detailed Analysis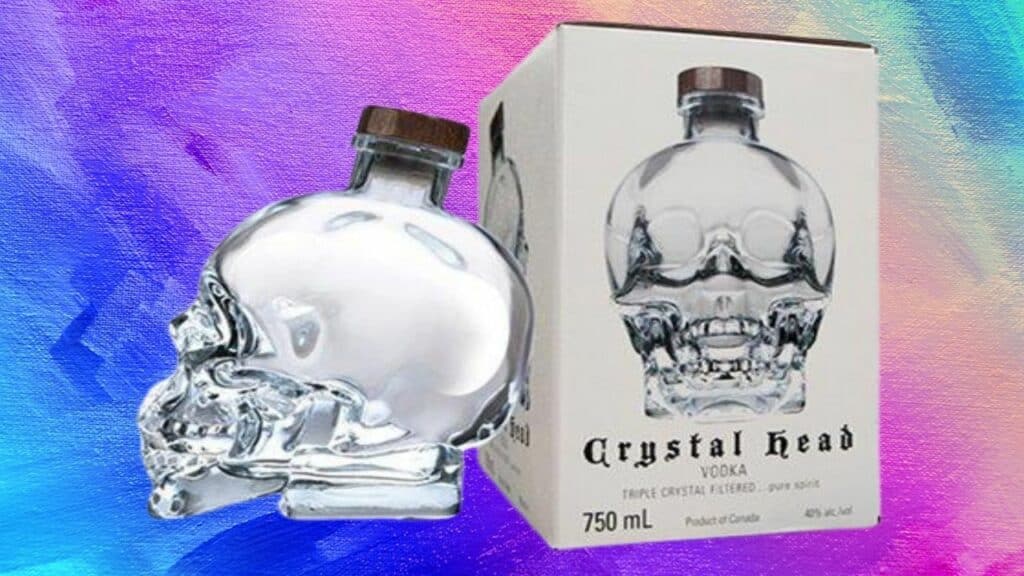 What you see in the bottle is exactly what you get: clean and pleasant vodka.
All people who appreciate vodka as an alcoholic beverage will like that they can drink this in so many ways.
It is the perfect base for a unique and extravagant cocktail and can be served plain in shot glasses.
What makes this vodka so good is its neutral taste. It appears to us that the Crystal Head vodka has a light, sweet spirit with very distinct flavors 
They sell this vodka in a 50ml glass bottle, and they have a standard 750ml bottle size available for purchase too.
John Alexander made this unique bottle design to represent life, power, and also enlightenment.
What we love about this award-winning vodka is that it is available at a reasonable price for a premium spirit.
Nose
When you bring this amazing vodka a bit closer to your nose, you will find mild grainy scents present with a hint of citrus. 
According to us, we believe that this is the most pungent smell that hits the nose as soon as you bring your glass a bit closer for a whiff.
Underneath all of that booze, the smell of this vodka is neutral and clear, with small bursts of black pepper visible in the nose.
Taste
If you are having the Crystal Head vodka neat, you will experience that there's a vanilla sweetness after the initial kick, as well as zesty citrus fruits and maize notes present in the initial taste of the vodka too.
The raw materials and flavors that are present in each bottle of this alcoholic drink are developed during the manufacturing process and it also impacts the flavors that you can taste in the drink.
The taste has a creamy, smooth flavor to it, with a hint of sweetness that comes through.
Finish
Crystal Head Vodka is known to have a clean finish to it.
Another great fact worth noting when it comes to the finish is that we noticed it has a semi-sweet finish with a hint of licorice that lingers in the throat.
Anyone who tastes this exceptional vodka will notice that once you finish this drink, you will get the feeling of warmth along with a long burning sensation down your throat.
The finish of the Crystal Head Vodka also has hints of vanilla and a kick from some peppery notes too.
Conclusion
So, if you're looking for a worthy bottle of vodka with ancient legends, then Crystal Head vodka is for you.
It's a blank canvas, waiting for you to unleash your inner mixologist. 
When you drink Crystal Head, you are drinking vodka that's mixed with luxury.
This vodka is so pure and clean, it deserves to be enjoyed straight. Although, it's a great mix for your favorite cocktail.
Frequently Asked Questions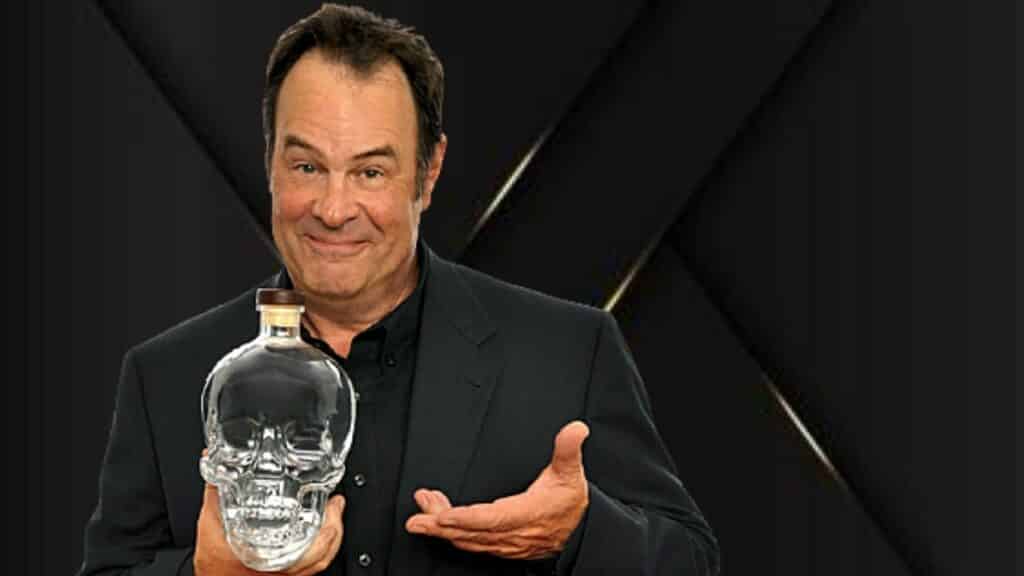 Who produces Crystal Head Vodka?
Crystal Head vodka is produced by Globefill Inc. Actor Dan Aykroyd is the owner of this company and together with well-known artist John Alexander, they created this award-winning vodka.
Does vodka expire?
Vodka does not expire but if the bottle has been opened for more than a year, it will generally have a dull taste. 
Is drinking vodka good for you?
Vodka is known to be heart-healthy. It can improve blood circulation that helps to prevent blood clots and other heart problems. It's low-calorie alcohol that's good for those concerned about their weight.