Jim Beam vs Jack Daniel's, in the world of American whiskey, these two are giants. But what is the difference between them and which is better? We're here to help you out.
There are a few key areas where we'll be comparing the two: flavor, ABV, reputation, and more. We'll break down spirits and compare them against each other, and we'll give you our judgment for which is best, so stick around to the end of the article.
This is a comprehensive breakdown of two of the largest whiskey producers in the US. If you're looking to start drinking whiskey or trying to find the ideal gift, you're in the right place.
↓👇 Jump straight to the poll 👇↓
Jim Beam and Jack Daniel's Whiskey (Compared)
Tech Spec's
Distilling Process
One of the key differences between Jack and Jim is the difference between Tennessee Whiskey and Bourbon.
Brewing starts with a cereal "mash" that is fermented to encourage yeasts in the mash to convert sugar into alcohol. The grains that each distiller uses in their mash are what differentiates a Tennessee Whiskey from Bourbon.
Jim Beam, like all bourbons, uses a mash that is a minimum of 51% corn. It is fermented to no more than 160 proof before it is stored in new, charred oak barrels for at least two years. Each of these criteria is vital to give bourbon its characteristic smoky, deep flavor.
Tennessee whiskey has similarly strict brewing conventions. Jack Daniel's uses a "sour mash" mix of corn, malted barley, and rye.
The sour mash got its name because Jack Daniel's mixes in some of the previous batch of mash, which aims to achieve uniform quality and speed up the fermentation process. This means that every bottle of Jack Daniel's has some of the first batch ever brewed in its DNA.
The final product is "mellowed" through stacks of maple charcoal to remove any impurities that may remain after the distillation process.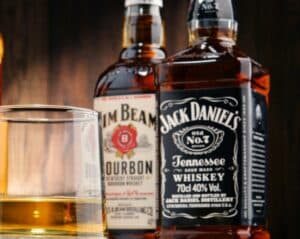 Varieties
When thinking about Jim Beam and Jack Daniel's, two stereotypical images come to mind: for Jim Beam, a white label edged in black and gold with a red stamp in the center; Jack Daniel's, a black label embossed with white saloon-style text and "Old No. 7" proudly displayed.
These are the most popular bottles from each distillery, Kentucky Straight (also called "White Label"), and Old No. 7 respectively. While these may have been the only options available to whiskey connoisseurs of the 19th Century, we've come a long way since.
Jim Beam has a range of fruity bourbon. While it may send shivers down the spines of purists, the sweeter and less harsh drink is a great way to introduce people to whiskey. The Jim Beam Peach is a particular favorite among all of us here.
Jack Daniel's has also introduced a range of "Ready to Drink" beverages for people looking for something a little less heavy than a full-bodied whiskey. Jack and Apple is a crisp, easy-drinking brew and the Jack and Cola is an old-school favorite.
Jim Beam certainly has more options than its competitor when it comes to easy-to-drink mixers, but the quality of the two is on par with one another. While they may not be for the whiskey-drinking elites, it's nice to know that they are gearing their brands to cater to all tastes.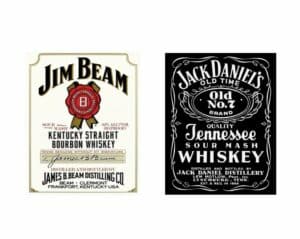 Cocktails
A good whiskey cocktail is a thing to behold. From Whiskey Sours to a good Old Fashioned, whiskey cocktails have been around for years, and being able to make a decent cocktail is a bonus to any good spirit. Where do you stand on the Manhattan Vs Old Fashioned debate?
By and large, Jack Daniel's is easier to make a cocktail out of than Jim Beam. This is because it has a less intrusive flavor profile and blends well with most mixers.
Try a Manhattan Jack, a mix of whiskey, vermouth, and bitters, for a good winter warmer. Tennessee Mules – Jack Daniel's, fresh lime, and ginger ale – are a great easy drink for warm summer evenings.
More adventurous palates can try a Jack Sour – whiskey, lemon juice, syrup, and bitters, shaken with an egg white – if they're looking for a classic and classy cocktail.
Bourbon has a much stronger flavor than whiskey, so trying to find appropriate mixers is a bit more tricky. But the challenge in finding good combinations for bourbon is also what makes it such an interesting base for cocktails and mixers.
Bourbon Old Fashioned – bourbon, bitters, and orange peel – is a fantastic winter warmer. Spicy bourbon and zesty orange make for a refreshing and hearty beverage.
Because of its spicy notes, bourbon also works well in warmed mixers. Try a Hot Buttered Jim – Jim Beam, hot water, and a knob of butter – if you're looking for a delicious and easy sipping drink to keep you cozy.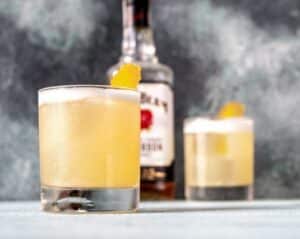 Jim Beam vs Jack Daniel's – Which is Better?
So we've looked at the technical breakdown of the spirits as well as some key selling points of each. But now it's time to put them head-to-head and see which one comes out on top.
It's important to remember that, while we try to be as objective as possible, at the end of the day, it's all down to personal taste. Really, the best way to find out which drink is for you is to try them.
So give this next section a read, head down to your local, and give whatever they have on
the shelves a try. You're going to enjoy yourself either way.
Jack Daniel's
Jack Daniel's has been the top-selling American Whiskey for decades. Interestingly, Moore County, Tennessee, where the distillery is based, is a dry county. So you can't buy any Jack in the town where it's made.
Jack Daniels is currently owned by The Brown-Froman group, which also owns Herradura Tequila. Because of American trade classification laws, it's required to be labeled "straight bourbon," although the company insists that it is in fact "Tennessee Whiskey."
As mentioned above, Jack Daniel's has quite a wide range of ready-to-drink whiskeys and coolers. But they also have a selection of prestige whiskeys.
Old No. 7 – The Flaghship Jack Daniel's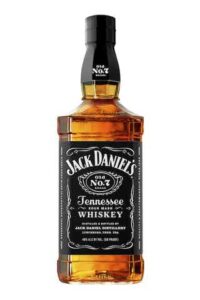 Old No. 7 is by far the most popular Daniel's product. The sour mash process means that the product is consistent and has tasted more or less unchanged for generations. While it's far from a bad whiskey, it has a few drawbacks for us.
It sacrifices bold, heady flavors for easy drinking. Neat whiskey drinkers may find it lacking in body, tasting more like raw alcohol than the intricate flavors whiskey drinkers are looking for. It's also quite a bit more expensive than Beam's White Label, its most direct competitor.
Gentleman Jack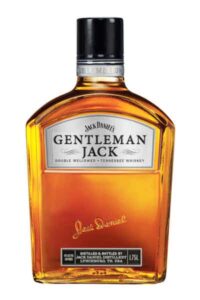 Notable entries include Gentleman Jack, which goes through the mellowing process twice for an even smoother drink. It's ideal for more experienced whiskey drinkers who prefer less peaty, astringent drinks.
Jack Daniel's Single Barrel Select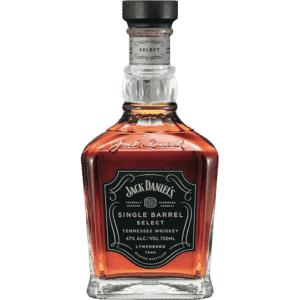 Jack Daniel's Single Barrel Select is their flagship whiskey. Aged in a single barrel, every bottle of Select is unique. They use younger barrels which leave stronger flavors in the finished product. It has a rich, caramel taste and dark brown, almost molasses color.
Pros
Single water source makes it unique to any other whiskey in the world.
Sour Mash brewing imparts an interesting taste and aroma.
Easy to make cocktails and mixers.
Easy drinking whiskey is agreeable to most palates.
Cons
Fewer pre-mixed coolers and varieties than its competitors.
Some of their whiskeys are a bit boring.
Limited production means it's more expensive than other brands.
Full List of Jack Daniel's Varieties
Jack Daniel's Old No.7
Gentleman Jack
Jack Daniel's Single Barrel

Single Barrel Select
Single Barrel Rye
Single Barrel Proof
Single Barrel 100 Proof

Jack Daniel's Tennessee Rye
Jack Daniel's Tennessee Fire
Jack Daniel's Tennessee Apple
Jack Daniel's Tennessee Honey
Jack Daniel's Sinatra Select
Plus too many limited editions to list.
Jim Beam
Jim Beam has a brewing history that's second to none. Their distilleries are divided between three facilities in Kentucky. They pride themselves on family knowledge and heritage. The current brewers are descendants of Jacob Beam, the company's founder.
Originally, locals in Nelson County would bring their own jugs and fill them up directly from the barrels. Much has changed over the last 200 years, but the recipe remains the same.
Like Jack Daniel's, they have a selection of sweetened, mixed bourbons. Most of these are perfectly drinkable, but some of them raised a few eyebrows during tasting.
Jim Beam White Label – Tha Flagship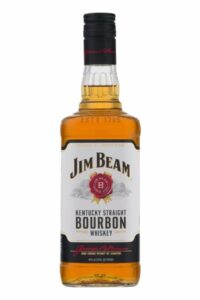 Jim Beam White Label is their main seller. It's a complex drink and surprisingly rough, but not in a bad way. White Label is spicy with noticeable charred notes at the back of the mouth.
Some people may find it a bit of a challenging drink, but palates that appreciate bold, in-your-face flavors will find it a pleasant surprise.
Jim Beam Red Stag
One that springs to mind is the Jim Beam Red Stag – a mix of Kentucky Bourbon and cherry liqueur. It looks and smells delicious, a combination of sour cherries and spicy whiskey, but it's eye-wateringly sweet.
Jim Beam Devil's Cut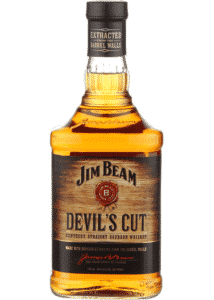 On the opposite end is the Jim Beam Devil's Cut which is hands down the best mid-range bourbon on the market today. Brewers extract liquid that has been absorbed by the barrels during the aging steps. This ambrosia is mixed with premium bourbon to create something entirely unique.
We could easily fill entire encyclopedias with praise for Devil's Cut. Suffice it to say, if you enjoy bourbon, you have to try this at least once.
Jim Beam Double Oak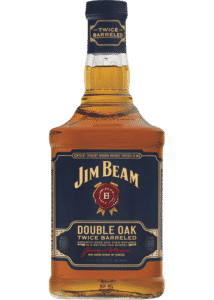 The Double Oak is another notable entry in their catalog. The spirit is aged, as normal, in oak barrels for two years. It's then removed and aged again in a newly charred oak barrel – hence Double Oak.
Opinions on this are somewhat divided. If you enjoy the peaty, wooded flavors of a hearty bourbon, this is for you. If you find that you prefer smooth, subtler drinks you may find this a bit of a challenge with its bold oak flavor and nose.
Pros
Top-selling whiskey at a reasonable price.
Complex, deep flavors in every bottle.
Devil's Cut is one of the best bourbons under $100.
Their bourbon is full of character.
Cons
Strong flavors are not for everyone.
Some of the mixes miss the mark.
Full List of Jim Beam Varieties
Jim Beam White Label
Jim Beam Black
Jim Beam Rye Pre-Prohibition Style
Jim Beam Devil's Cut
Jim Beam Double Oak
Jim Beam Single Barrel
Jim Beam Red Stag
Jim Beam Kentucky Fire
Jim Beam Peach
Jim Beam Orange
Jim Beam Apple
Jim Beam Vanilla
Jim Beam Honey
Jim Beam Repeal Batch
Jim Beam Old Tub
See all of their bourbons here.
Jim Beam and Jack Daniel's FAQ
Is Jim Beam better than Jack Daniel's?
If you like easy-drinking, less on-the-nose flavors, then Jack Daniel's is probably the one for you. The distillation process removes a lot of the stronger flavors and results in a smoother finished product.
Jim Beam is known for bold, strong flavors. If you're adventurous, then it's definitely worth a try.
What's the Difference Between Bourbon and Whiskey?
All bourbons are whiskey. Not all whiskey is bourbon.
Technically, bourbon is brewed from a majority-corn mash. Although Jack Daniel's falls into this category, they insist that they are a Tennessee Whiskey rather than bourbon.
What's the correct way to drink whiskey?
This debate has been going on since whiskey was first made, and it's not likely to end any time soon.
There are so many different camps and arguments that it can seem impossible to find the "correct" way to have your whiskey – straight, on ice, with water, in a mixer, there are almost as many ways to drink whiskey as there are whiskeys.
We're of the mind that the best way to drink whiskey is however you enjoy it. If you like yours with a drop of water, go for it. Want a single shot and a bottle of cola, why not?
Letting someone dictate the purest, "right" way to enjoy a drink is going to limit what you can do with it. After all, you paid for it. Why shouldn't you drink however makes you happiest?
---
👇 VOTE 👇
Which do you prefer – Jim Beam vs Jack Daniels?