Sake, the rice-based alcoholic beverage from the land of the rising sun, Japan, is experiencing a boom globally. 
Foodies and long-time sake connoisseurs have always prized this versatile drink as an elegant alternative to wine, spirits, and liqueurs. 
But it's a new generation of sake drinkers that are transforming this traditional and ceremonial beverage into a mainstay of contemporary dining.
Overview
Sake is being used as an original drink pairing in world gastronomy from celebrity chefs like Jamie Oliver and Iron Chef Masaharu Morimoto. 
Exciting new flavors are adding to its drinkability and an international rise in craft sake breweries are springing up to meet the demand in popularity. 
For clarity, sake directly translates as alcohol in Japanese. Nihonshu, in Japanese, refers to the drinkable clear rice wine, Westerners refer to as sake.
Ryorishu is the correct term to use for cooking sake, where extra salt is added to make it undrinkable. 
Just like wine, sake takes the form of many styles and types depending on purity and sweetness. Just like wine, sake is best sipped luxuriously throughout your meal. Another popular beverage made in Japan is Roku gin. Check out our review here.
The making of sake however is closer to beer than to conventional wines. Sake is brewed, where a two-step process is followed as starch is converted into sugar and then fermented into alcohol.
We'll take a look at some of the best drinking sake (nihonshu) available on the market as well as how to use cooking sake (ryorishu). 
We'll also provide you with some simple ideas on how to incorporate sake into your culinary repertoire. 
7 Best Sake Brands (Our Review)
Sake is ranked according to its purity. It's classified to the degree that the rice is polished and how much brewers alcohol is added.
At the top of these sake classifications is Junmai Daiginjō-shu or junmai. Junmai is followed by honjozo, ginjo, and daiginjo.
Dassai 23 is a good example of junmai in this top-tier of drinking sake.
Brewed in Yamaguchi Prefecture, just west of Hiroshima, it is a smooth drinking exceptional example of Japanese distilling excellence. 
77% of the rice grain is milled, leaving only the heart of the kernel (the 23%) – the pinnacle of quality sake. 
Dassai 23 has a light body with heavenly floral notes. It drinks like a gurgling freshwater stream running down your throat.
Perfumed with summer fruits like green apples, it's crisp, dry, and has an exquisite finish.
Dassai 23 is served at Michelin-starred restaurants around the world. It's so revered that the Japanese Prime Minister Shinzo Abe gifted a bottle to former American president Barack Obama.
Its superiority, freshness, and immaculate reputation in the sake market however make Dassai 23 at the high end of the price range. Bottles can sometimes reach over the $100 price mark. 
It's a special bottle of liquor to splurge on. Save it to celebrate special occasions or to impress a business associate as a gift. 
Dassai 23 is also available in two other main styles of sake, the 39 and 50, which again indicate the percentage of rice kernel left after polishing.
Pros 
Exclusive and highly sought after by sake aficionados
High quality and purity
Crisp, dry with botanical notes 
Great for pairing with appetizers
Cons
Expensive for the average sake drinker 
Dasai 23 is our favorite overall but also our best sake for beginners.
---
Combining a loyal traditional following with rising popularity amongst the younger beginner sake drinking market, Otokoyama is a great gateway into the junmai market. 
Deliciously dry but with an alluring sweet nose, this sake is a versatile liquor that can be paired easily with a range of savory dishes. From classic Japanese favorites like sashimi or tempura to contemporary Western hamburgers and barbecues, Otokoyama sake, is an excellent pairing choice.
Originating in the far north of Hokkaido, the direct translation of Otokoyama is ''Man Mountain.''
It is an easy-drinking sake that is traditionally served warm.  A top tip though is to try it slightly chilled or at room temperature, where you can then appreciate poignant stabs of sticky plum or dried apricot on the palate.  
Otokoyama Tokubetsu Junmai is well priced around $30.
Pros
Reputable brand with a loyal following
An affordable, and great starting point for beginner sake drinkers 
Dry with sweet complex notes of stone fruit
Cons
Might be too sweet for some sake drinkers
---
If you're looking for a sake of pedigree and at a reasonable price, look no further than Junmai Ginjo Kinokuniya Bunzaemon. 
Hailing from Wakayama, the 'rice-growing Mecca' of Japan, this is a special type of sake using two strains of rice, Omachi, and Yamadanishiki. 
The Omachi sake rice is known for its rich aromatic features whilst Yamadanishiki rice adds body. 
Kinokuniya Bunzaemon is named after a famous businessman from Wakayama who made his fortune transporting tangerines (kishu mikan) to Edo,  modern-day Tokyo. The label now proudly displays his cargo ship.
This junmai ginjo has a deliciously naughty flavor. It flirts with the taste buds caressing the senses with its delicate citrus fragrance whilst providing a full-bodied slightly tart taste. Hints of pear and banana complete the flavor profile.
Kinokuniya Bunzaemon is best served chilled and can be enjoyed with all manner of seafood as well as sushi and sashimi.  It's the perfect sake for those just venturing into the enormous rice wine industry, offering a pleasant and effortless drinking experience.
It's affordably priced at under $30. 
Pros
Easy drinking 
Fruity with layered flavors 
Well priced
Cons
Might be slightly dry for some palates 
---
A good dry sake with a delicate drinking texture. 
Mountain Hakkai lends its name to this junmai, as the crystal clear water used to make this fermented rice wine beverage, comes from the melted snow of its peaks. 
It's on the higher side of polished rice at 60%, leaving 40% of the kernel's heart. Vanilla, almond, and buttery goodness coat the palate leaving a mellow gentle finish. 
It's a well-favored table staple for the export market as it pairs easily with most Western cuisine and is suitably priced.
Packaged in beautiful sapphire blue bottles which elicit the freshness of the crisp mountain air, Hakkaisan Tokubstsu Junmai is also available in an emerald green glass 1800ml  bottle.
The 720ml can be purchased for around $26.
Pros
Easy drinking
High polished and milled rice content
Compliments all types of food
Cons
Only available as export product from Japan 
---
Ginjo is the median in the sake affluence structure. This makes it one of the choicest styles of sake for the beginner drinker.
Best served at room temperature or slightly chilled, ginjo is a delicious accompaniment to sashimi, scallops, and other lighter dishes.
Dewazakura sake is packed full of the delights of summer. Floral, peach, and honeydew melon consume the nose whilst the first taste is slightly crisp before giving way to dried fruit.
Affordable at around $23.
Pros
Fruity
Full of floral aromatics
Well priced
Award-winning brewery
Cons
Has a mellow aftertaste if you are looking for a kick
---
6. Takara Masamune Sake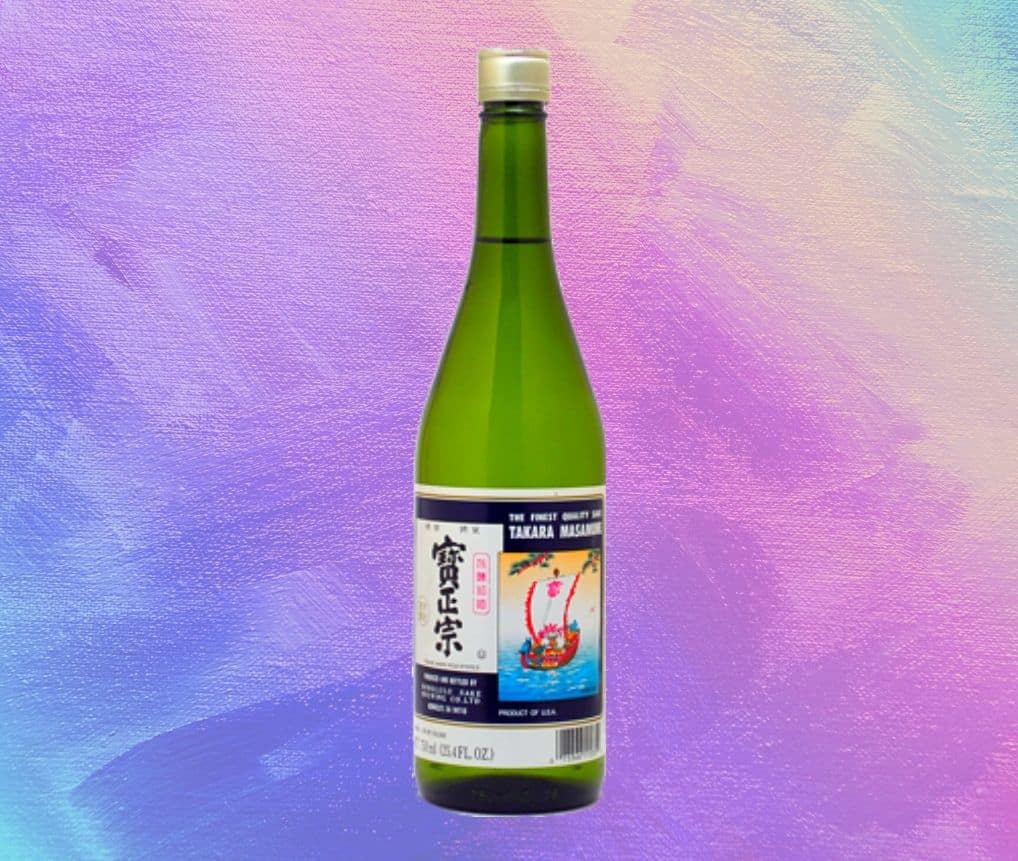 This is not cooking sake, it is drinking sake, but it is one of the most popular brands on the market for bringing out the 'umami' in those special Japanese or Western-style dishes. 
It has a full-bodied and complex piquancy riding between sweet and savory which is always useful when cooking.  
Use sake for steaming seafood like shellfish or chicken, curing fish, or add liberally to your marinades. Sake can also be used to coat ribs, bring out the nuttiness in fried mushrooms, and added to soups, and stews.
Sake helps tenderize the meat and is packed with antioxidants and good bacteria that are helpful to the digestive system.
Pros
Versatile flavor
Health benefits
Great for drinking and cooking
Cons
---
Probably one of the most well recognized, known, and trusted Japanese condiment brands, Kikkoman is the go-to bottle of cooking sake for the amateur chef. 
This is entry-level cooking sake for the beginner. Closer to mirin, it has added corn syrup and alcohol content of 13%. Used in everything from stews and marinades to tare for yakitori, this a fast affordable way to add Japanese flavoring to your cuisine. 
Pros
Cons
Not authentic rice fermented sake 
Contains wheat
---
Conclusion
Globally, the popularity of cooking with sake is part of a general trend towards the health benefits of Asian cuisine. Good quality drinking sake is wheat-free with naturally fermented sugars. When this is used in dishes, sake is a fantastic clean alternative to additive-laden condiments.
But sake's real appeal is in the drinking. Enjoy it slightly warmed, chilled, or served at room temperature. 
Throw your weekly alcohol budget on a special bottle to impress friends. Or delight family members with an affordable high-quality product at your next Sunday get-together.
Sake is the apex of refined, chic, and sophistication in the clear alcohol arena. Slide those bottles of tequila, craft gin, and grappa to the back of the liquor cabinet and indulge in the warmth of the land of the rising sun.