Did you know you can pair a shot with your meal? Yessiree! The Breakfast Shot will wake up your sleeping tastebuds and make the most important meal of the day fun and exciting. Making this shot is easy as 1-2-3. 
Why Is It Called A Breakfast Shot
The shot is named like that simply because it's meant to be paired with your breakfast meal, especially if you're fond of starchy breakfast foods like oats, cereals, wholegrain, or whole-wheat bread. It incorporates elements of a standard breakfast like orange juice, maple syrup, and bacon strips.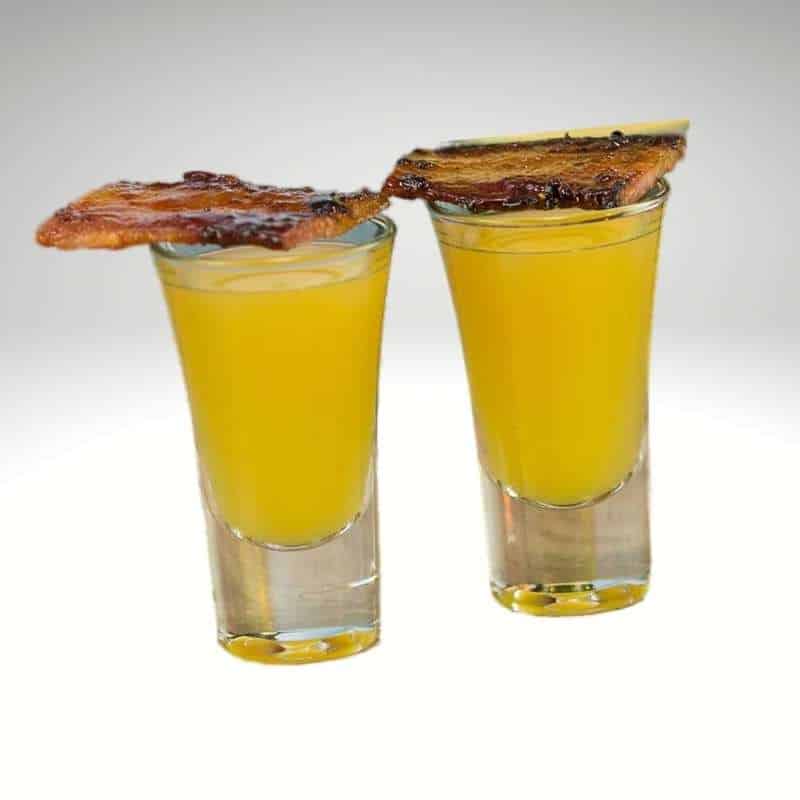 What Does A Breakfast Shot Taste Like?
The Breakfast Shot involves two shots, one shot glass with a mix of butterscotch schnapps, maple syrup, and Irish whiskey and the other filled with orange juice. You drink the alcohol first and then the orange juice as a quick chaser, although, in some recipe variations, the orange juice is already mixed with the rest of the ingredients. 
Then, crispy bacon strips serve as a garnish to complement the shot's flavors. I mean, who wouldn't love some crispy bacon strips in the morning? 
Tools Required
1 Bar Shaker
1 Jigger
2 Shot Glasses
What Is In A Breakfast Shot?
1 oz Irish Whiskey
1/2 oz Butterscotch Schnapps
1 tsp Maple Syrup
3 oz Orange Juice
Bacon (Optional. For garnish)
How To Make A Breakfast Shot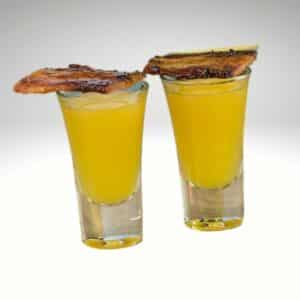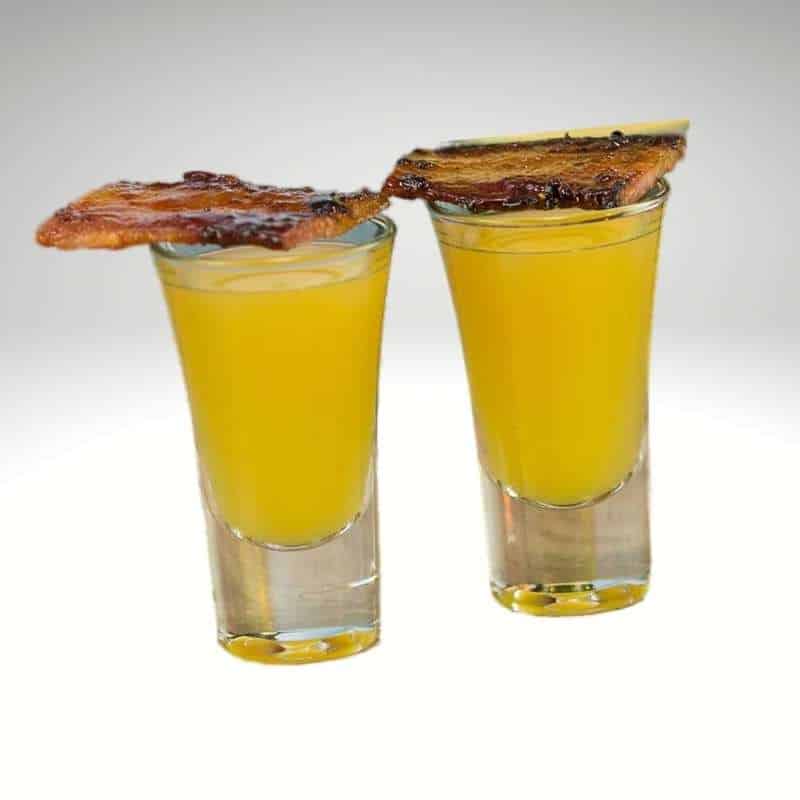 Breakfast Shot Recipe
Start the day right with a hearty breakfast and the Breakfast Shot, that'll surely add some zing to kickstart the daily grind.
Equipment
1 bar shaker

1 Jigger

2 Shot Glasses

(If you want to mix all of the ingredients together, use only 1)
Ingredients  
1

oz

whiskey

(You can use any kind/flavor)

1

oz

butterscotch schnapps

1

tsp

maple syrup

3

oz

orange juice

Bacon strips (crispy)

(Optional. For garnish)
Instructions 
Add the whiskey, butterscotch schnapps, and maple syrup into the cocktail shaker.

Shake for about 10 seconds or until the beverage is cold.

Strain the mixture into a shot glass. On a separate glass, pour the orange juice.

Add a strip of bacon on top and serve.
More Shots