Johnnie Walker is the most popular scotch whiskey sold worldwide. Their two best-selling whiskies, Red Label and Black Label are the topics of our article today.
While they're both affordable, the two vary in important ways. We'll look at their flavor, aroma, and color to find out which is best.
If you, like us, love whiskey then you've come to the right place.
↓👇 Jump straight to the poll 👇↓
Black Label versus Red Label – Differences
Blend
Both Johnnie Walker Red and Black Label are made of a blend of various grains and malts. The grains are brewed at distilleries all across the Scottish Isles. The blends that make up Johnnie Red and Black are the primary difference between the two.
Johnnie Walker Red Label is made from a blend of 35 different 12-year-old grains. The distilleries that brew Johnnie Red are based along the East Coast of Scotland. The blend imparts a spicy flavor and peaty notes on the nose.
Johnnie Walker Black Label is also a blended whiskey. It is made of over 40 different grains and malts. These are all brewed and distilled like normal single-malt whiskies before they are mixed and bottled.
The blend of ingredients determines the flavor profile and aroma of a whiskey. The ingredients used in Johnnie Walker Red give it a spicy, fresh taste. Johnnie Walker Black's blend gives it a full body and strong nose.
Cocktails
Being able to make a seriously good cocktail from your drink transforms it into a versatile tool in your barkeeper's belt. Johnnie Walker themselves advertise Red Label as the best option for making whiskey-based cocktails and mixers.
Johnnie Walker Red Label is strong and spicy, so it makes for good cocktails where the whiskey flavor won't get lost against the other ingredients. It mixed well with spicy, aromatic ingredients like ginger and cinnamon.
Some good cocktail options for Johnnie Walker Red are an Old Fashioned or a Whiskey Ginger Highball. You can also mix it with fruit juice if that's your thing.
Johnnie Walker Black Label is a more mellow and smoother drink. It's a bit more tricky to find good cocktail options for it because it's more likely to be overpowered by other ingredients.
But there are still some choices available if you want to make a good mixer. Scotch and soda were Winston Churchill's favorite way to sip on his Black Label. You can also mix in some more perfume aromatics like rosemary in your drink to bring out the more subtle flavors.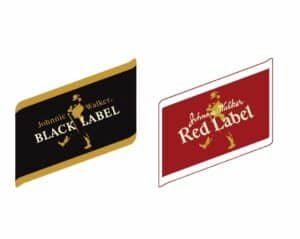 History
Johnnie Walker as a whole has existed since the 1820s. First started as an under-the-counter business to skirt the high taxes of spirits, John Walker sold blended "Kilmarnock Whiskies" from his grocery store.
By 1865, this enterprise had grown to the point that Walker started producing labels and bottles for his brand. The labels on those bottles over 150 years ago are the same style and format as the Johnnie Walker we're all familiar with today.
Their first commercial whisky was released in 1867 by John Walker's son, Alexander. The bottle was branded as "Old Highland Whisky" and the dawn of a scotch empire had begun.
The Walker company started purchasing existing distilleries and building new ones. Their first blends had long, complex names. Most of the time customers would simply ask for the whisky they wanted according to the color of the label.
This was the start of Johnnie Walker's naming convention.
Johnnie Walker Red Label was released in its current form in 1909. A similar blend had existed before that, named "Special Old Highland Red Label." Thankfully, the company shortened the name and the world's most popular whisky was born.
Black Label was launched later the same year. As demand for Red Label skyrocketed, the Walker's saw an opportunity for expansion. They got access to more expensive grains and malts and incorporated more distilleries into their network.
Black Label was originally the Walkers' premium blend of whisky. Since then, they have added even more expensive and exclusive blends to their catalog.
Red Label or Black Label?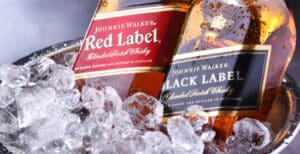 Both Red and Black Label are seriously good whiskies. But there are differences between the two that make them better fits for different people. You can learn about the full Johnnie Walker color range here.
If you want to find out which the best drink is for you, read on.
Johnnie Walker Red Label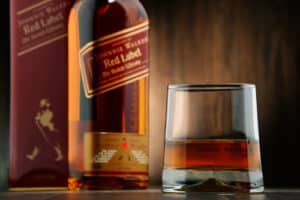 Red Label is the best-selling whisky in the world for good reason. It's sold at a reasonable price and is a versatile, easy-drinking scotch.
Red Label is made of a blend of 35 different grains and malts. They are aged for 12 years in charred oak barrels.
It has a complex, spicy flavor. On the palate, there are notes of apples and sour cherries. The fruity notes of Red Label are almost reminiscent of a good quality cider. At the back of the tongue are lingering perfume flavors like caraway and cinnamon.
The nose is a pleasant blend of toffee and citrus. It picks up this aroma from the aging in oak barrels. While the smell is pleasant, it can be overpowering for people who are unaccustomed to the smell of raw alcohol.
Johnnie Walker Red Label is often used for mixers and cocktails. If you're drinking it straight, throw in some ice to release the flavors.
Pros
Inexpensive
Good for mixing
Spicy
Cons
Strong flavor is not for everyone
Johnnie Walker Black Label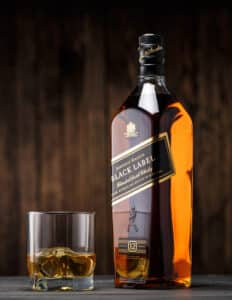 Johnnie Walker Black Label is, unsurprisingly, the second best-selling whisky in the world.
A premium blend of over 40 different 12-year grains. Black Label is meant for the more discerning whisky drinker. In truth, it's one of the best drinks to give to someone who wants to get into drinking whisky.
The nose is full of dried, sweet fruits that make it an absolute delight to savor. These notes are similar to a full-bodied sherry.
The flavor is rich and creamy. There's a subtle sweetness and plenty of smoky peat.
Johnnie Walker Black is best enjoyed neat, either with a couple of blocks of ice or a splash of cold water to release the flavors.
Pros
Smooth and easy to drink
Fantastic aroma
Excellent entry-level whisky
Cons
More pricey than Red Label
Red Label and Black Label (FAQ)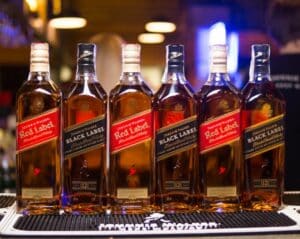 What is the "right" way to drink whisky?
This question comes up all the time in whisky drinking circles. Some people enjoy their drink neat and at room temperature. Others add ice or water. The more dedicated connoisseurs keep specialized stone pellets in their freezer to enjoy their drink literally "on the rocks."
We believe that the undisputed best way to drink whisky is, however, you want to. Want to mix your expensive scotch with a can of coke? Go for it.
An unfortunate downside of the whisky-drinking world is that there are people who insist that there is only one correct way to enjoy it. But you paid for it, so drink it in whatever way you want to.
What's the difference between Bourbon and Whiskey?
All bourbons are whiskey. Not all whiskey is bourbon.
For something to classify as a bourbon, it needs to be brewed from a mash of over 50% corn kernels.
Bourbon tends to be sweeter than other whiskeys, with a more smoky taste.
---
👇 VOTE 👇
Which do you prefer – Black Label vs Red Label?