Kenny Chesney is a veteran in the world of country music, with over 20 albums released. In 2013, he launched Blue Chair Bay Rum at the same time as his No Shoes Live Tour. 
The number of flavors has expanded over the years. Besides the standard White Rum, nine other flavors are now available. 
This review will answer your questions about the various rums in Chesney's collection. We will help you decide if this is a good rum for you. We will also help you choose the right flavor for your tastes. 
Some people have expressed concern about the shelf-life of creamy rum liqueurs. We will explain how to prevent problems with Blue Chair Bay Rum Creams.
Blue Chair Bay Rum Review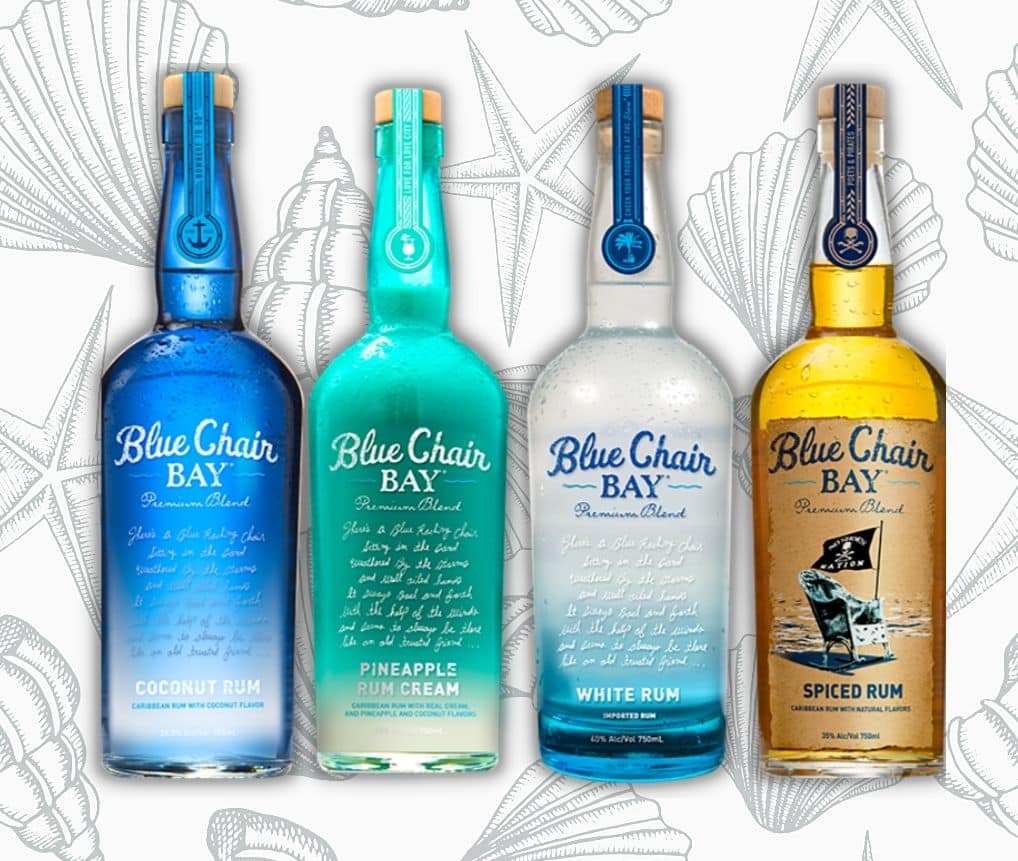 You will be glad to know that Blue Chair Bay Rum does not have a celebrity name slapped on it to boost sales. It's not overrated or over-priced. Many celebrities now own alcohol brands – There is The Rock's Tequila, Ryan Reynolds has a gin, Post Malone has a wine, Dan Akroyd has a vodka, even comedian Ron White has a tequila company. 
Kenny Chesney loves rum himself, but you don't need to like him to enjoy this rum. Chesney named the brand after his ballad "Old Blue Chair". The song is about his love for the Caribbean, where the rum is made. 
Blue Chair Bay Rums are 100% gluten-free. The rum creams have dairy cream. The Blue Chair Bay ice cream range also uses dairy. But the Pina Colada flavor comes in a vegan option so look out for that. 
Quality
We didn't have as many affordable yet unboring rums of the same quality before this brand came along. Captain Morgan has been trying too hard to be cool recently. 
But Chesney naturally brings this to the table with his personality. He seems to have a genuine appreciation for the product and its consumers.   
Blue Chair Bay Rum's other competitors in the same price range are Bacardi. Blue Chair Bay is a bit better, in our opinion, and much more interesting. 
If you're looking for a gift for someone you know likes rum or just cocktails in general, Blue Chair Bay is more impressive than some other, well, has-beens. 
You may be looking for a special gift for a person who already likes cream liqueurs. In that case, Chesney's creamy rums are a lovely choice. The only trick is choosing from all the flavors.     
Price and Availability
Kenny Chesney's Rum is well-priced for what you get. It's not the most amazing rum in the world. But these are at least double the price and can be harder to find. Blue Chair Bay Rum is certainly better quality than those priced under it. It is about the same price as rums of the same quality. 
So whether Blue Chair Bay is the right brand for you comes down to budget and personal preference. That said, if you like rum, this is probably going to be one of your favorites.
We like that the rum comes in the full-size 750ml and a small 50ml. The 750ml liquors go for between $20 and $30. This is well-priced. It's what you would expect for this quality of rum. 
Blue Chair Bay is widely available but can get pricey outside the US. You could pay $40 or more for imports. 
The 50ml bottles are priced at just under $2. This is a brilliant idea with the many flavors to choose from. You can try each one for the same price or less than buying a 750ml bottle.
The small size is also great for picnics and day trips to the beach. It's much more discreet than handing around a 750ml bottle in public. 
Range
Let's run through each of the flavors and how you can choose between them. As this range is wide, we'll split the five liquors from the five liqueurs. 
You may be wondering what the difference is between liquor and liqueur. Liquors are clear distilled spirits, like whiskey or rum. They are much less sweet, if at all.  
Liqueurs are made with a liquor base, but they are sweet, like sherry, unlike many liquors. Liqueurs come in loads of flavors. If you have a sweet tooth and love fruity flavors, Blue Chair Bay Rum Cream liqueurs are for you. 
Blue Chair Bay Spirit Rums
If you want to try this rum for the first time, go for the Blue Chair Bay White or Coconut Rum. These are the best introductions to the brand. They are the better choice if you don't like fruity or spicy flavors as much.
There is plenty you can do with the White and Coconut Rum. Have a look at our cocktail recipes below to see what you can do with them. 
If you like light rum cocktails, especially daiquiris, the White Rum is an excellent choice. 
Blue Chair Bay Coconut Rum is one of the top-selling coconut rums. It's your best friend if you like Malibu cocktails or Pina Coladas. It's ideal for an easy rum punch with fruit juice.
Blue Chair Bay Spiced Rum is awesome with cola and a firm favorite of ours. If you like spiced rum already, this one is a step up from the average. The spices are delicious in this smooth rum and not overpowering.
If vanilla is something you can't get enough of in your drinks, Blue Chair Bay Vanilla flavor is a good choice. This is an elegant rum. The pale gold color is delightful. Next to the average vanilla vodka, there's no competition. It makes a brilliant combo with cherry coke or for the posh vanilla daiquiri.
Banana flavor anything can be a bit suspicious for some. Fake additives don't taste like real bananas. There is a slight synthetic flavor going on, which you may like. But Blue Chair Bay doesn't lean too heavily on it. 
Instead of foam candy flavor, they have gone for caramelized banana. There's also a touch of spice and toasted coconut to make it enjoyable for more people. 
If you are already a banana-flavor fan or banana-curious, try Blue Chair Bay Banana Rum next. It's an upgrade for a classy Banana Sunrise or Fostertini. 
Blue Chair Bay White Rum has the highest alcohol content at 40%. The Spiced Rum is 35% alcohol. The other flavored spirit rums are only 26.5% alcohol.
Blue Chair Bay Rum Cream
Blue Chair Bay Rum Cream comes in Pineapple, Key Lime, Strawberry, and Banana. Mango is the most recent addition. These will work perfectly in affogato-style desserts or milkshakes. They are good enough to enjoy neat if you like fruity sweet liqueurs. 
All these flavors are good. It just depends on which fruit you like. Strawberry is probably going to be the most popular among the fruit cream rums.
The Spiced Coconut Rum Cream belongs in its own category. It's too yummy. You might not be able to stop after you get started. It's the one most likely to be enjoyed by everyone as an after-dinner dessert. 
The rum creams have 15% alcohol, except for the Mango which is 14%.
Cocktail Recipes for Blue Chair Bay Rum
Mai Tai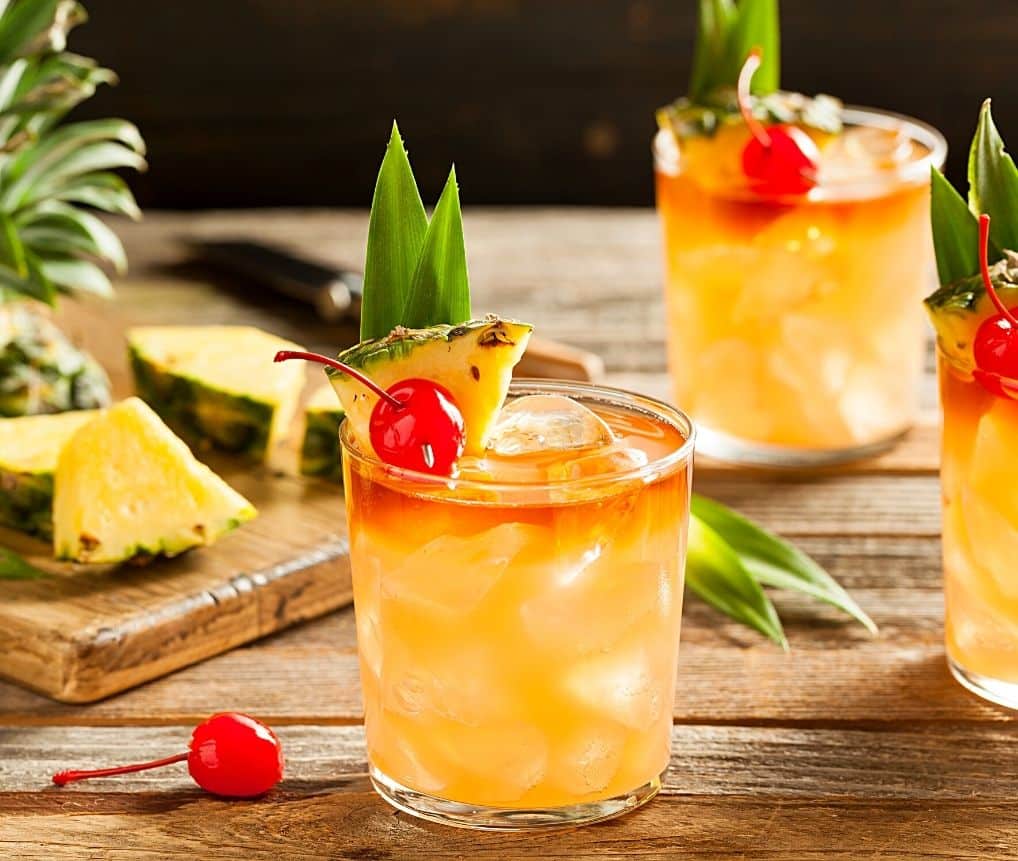 Blitz together Blue Chair Bay White Rum with Triple Sec, lemon and lime juice, amaretto, and ice. Pour into tumblers. 
Garnish with a citrus twist or fresh pineapple triangles. You can even use edible flowers for a tropical feel. You can try versions of the Mai Tai with different types of flavored or spiced rum.  
Pina Colada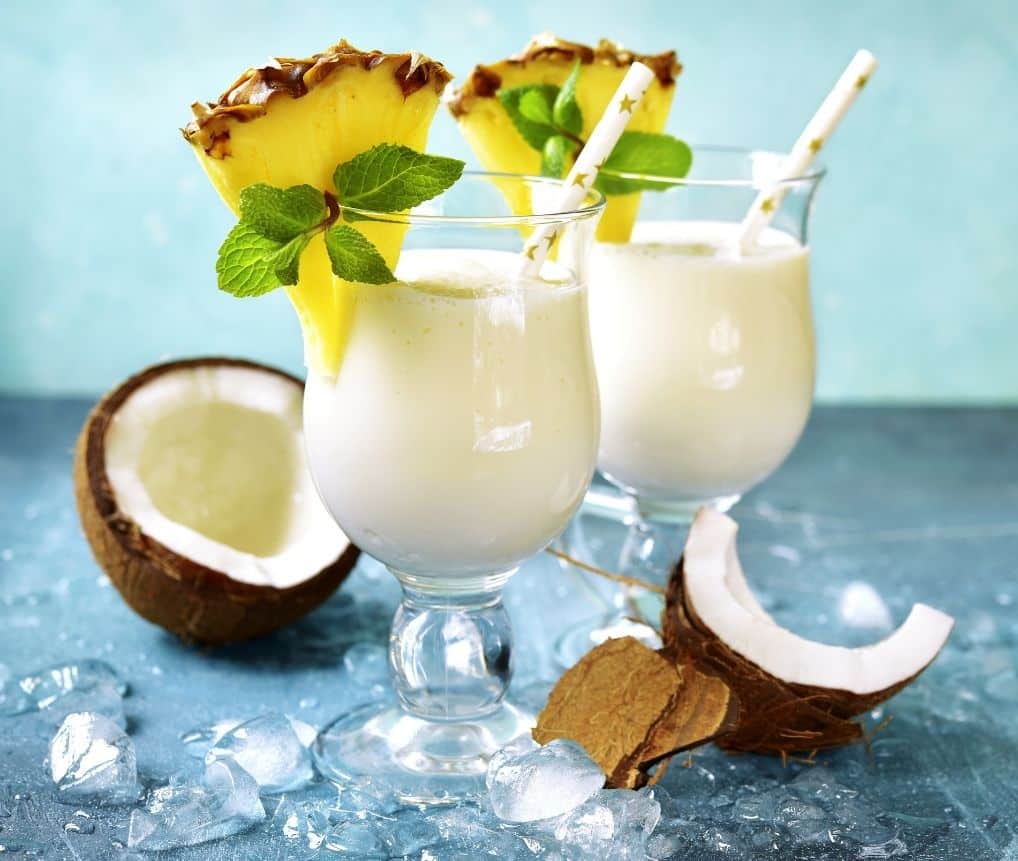 Place Blue Chair Bay Coconut Rum, frozen pineapple, coconut milk or cream, and ice into a blender. Blend and then pour into hurricane glasses. Garnish with pineapple and a maraschino cherry.
Banana Daiquiri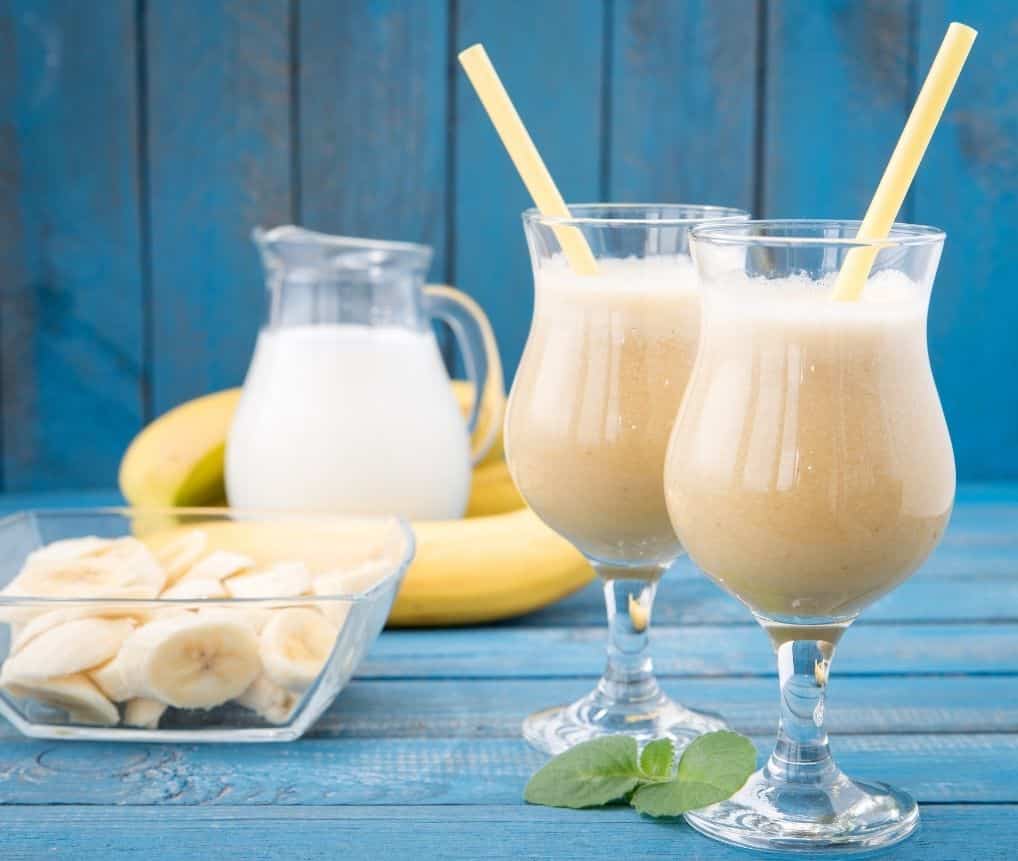 Add Blue Chair Bay Banana Rum with simple sugar syrup and ice to a cocktail shaker. Throw in some lime juice to balance the sweetness. Shake up and then strain into chilled champagne saucers. 
You can garnish these with a slice of banana and a cherry on a toothpick. Swap the Banana Rum for another flavor of your choice.
Strawberry Dom Pedro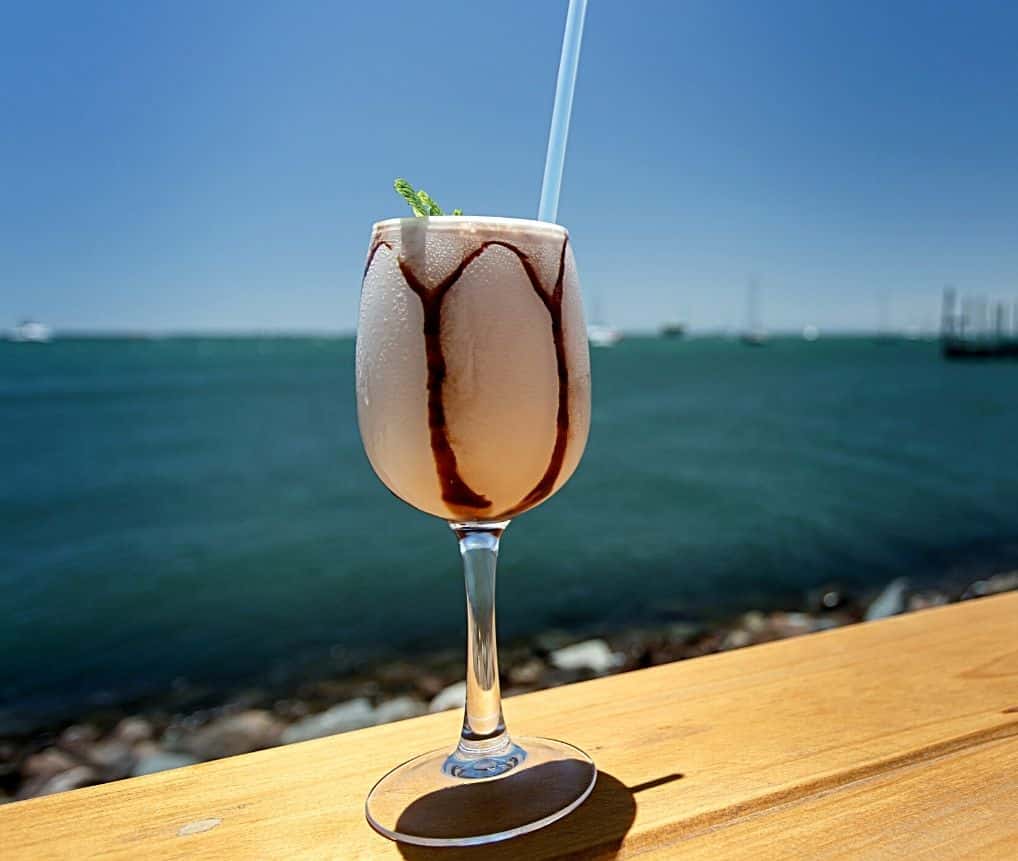 Dom Pedros are liqueur milkshakes.  They make delicious desserts. Blend Blue Chair Bay Strawberry Rum Cream, soft vanilla ice cream, plus a little milk and ice if you prefer. Serve in chalice or milkshake glasses. 
Garnish with whipped cream, chocolate shavings, strawberries, or whatever you like with milkshakes. You can swap the liqueur for any flavor and experiment to make the perfect Dom Pedro. 
Blue Chair Bay Rum FAQs
Does Blue Chair Bay Rum go bad? 
Rum creams are best kept in the fridge to be safe. They taste better cold anyway. To be safe, finish them in 6 months, maybe a year at a push. Don't keep them longer than 2 years. 
If you're not sure, pour some out and smell it. If it's not appetizing, rather pass. If it smells sour or is lumpy, definitely throw it out.
You don't need to worry about spirit rums going off. They can lose their flavors if forgotten about for many years though. 
Is this a good rum to take to a party?
It depends on what you mean by a party. If it's a rage where nobody cares as long as they get drunk, you probably don't want to go with Blue Chair Bay. It won't get the attention it deserves. 
People don't get to have these kinds of parties so much of late. This makes Blue Chair Bay more appealing than ever. It's something you want to keep for yourself and people you like. 
How many calories does this rum have?
Each 1.5 oz serving has 86 to 96 calories for the spirit rums. Blue Chair Bay White and Vanilla Rum are the highest. The Spiced Rum is the lowest in calories. 
Blue Chair Bay Rum Creams have between 75 and 99 calories, with Mango being the highest. Banana and Pineapple have the lowest calories of the rum creams.
This is lower than average. Rum creams are usually over 100 calories. Burn this off by frolicking in the pool for 15 minutes. Just don't ever drink at the same time!
Conclusion 
Kenny Chesney has made a wise investment in creating Blue Chair Bay. It's a brand that many people who drink will enjoy. He's found a neat gap in the market and kept the rum affordable. You don't need to be a fan of his music to like it.