If you, like me, are thirsting for a home-grown American-made whiskey, then Balcones is the bottle you're after. 
Marketed as the original Texas whiskey, Balcones distillery has built up an excellent reputation amongst connoisseurs and easy sippers alike.
Patriotic and built on the backs of the true red, white and blue, Balcones range of bourbons and whiskeys will have you spoilt for choice. 
Balcones Whisky (Our Review)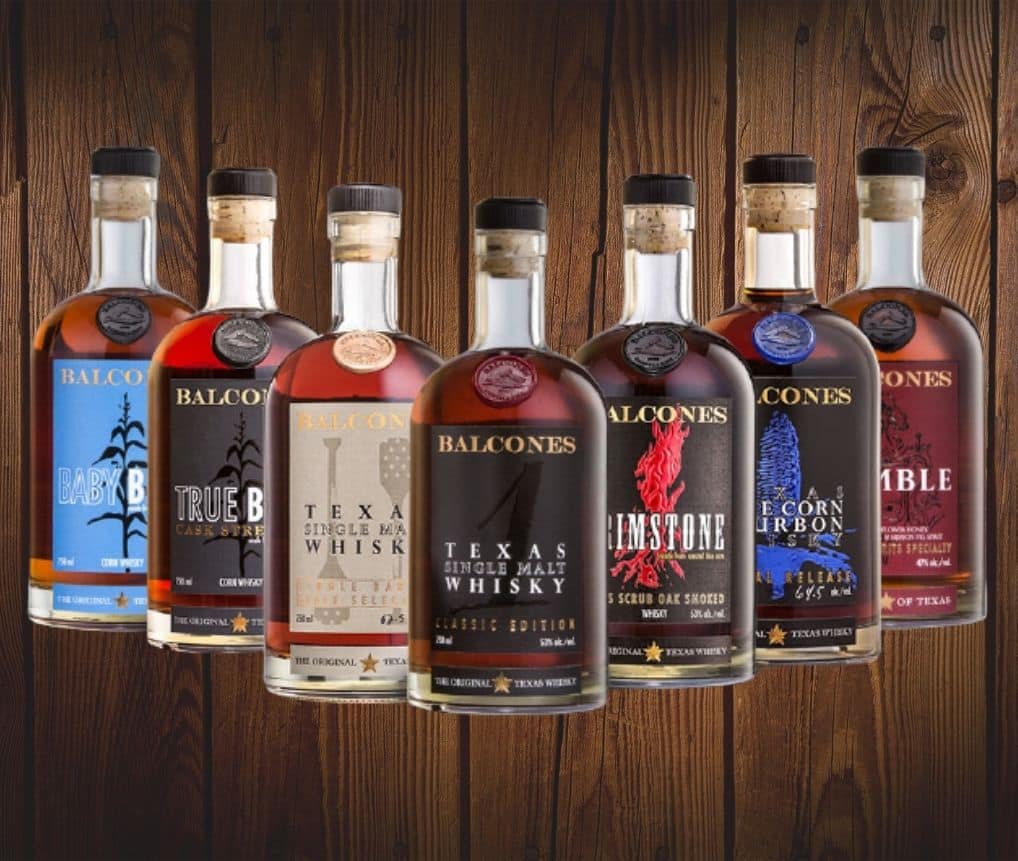 Overview 
Balcones takes its name from its location – the Balcones Fault line stretches almost to the doorstep of the Balcones distillery in Waco, Texas. 
Conceived from an idea in 2008, originator Chip Tate and friends gutted out and repurposed an old welding shop, located under a bridge, and a year later, they cranked their copper stills into action and Balcones whiskey was born.  
Original and authentic, Balcones soon attracted the tastes of whiskey aficionados from around the world. 
Proud of their American roots, the team endeavors to purchase only local quality ingredients from Texas-grown malted barley to blue corn grown in New Mexico. 
The result is a deeply satisfying range that includes single malts, a liqueur, rye, and bourbon whiskies whose taste and flavor are as recognizable today as their flagship first bottles.
Quality
Bold with a lot of bang for your buck, are a constant theme in reviews of Balcones. Quality and recognisability are what the Balcones brand would like you to remember most. 
Aesthetically, Balcones whiskey looks beautiful, packaged in a traditional straight-walled round bottle with a cork and plastic stopper. 
Its darker hues and caramel highlights catch the essence of the Texan sunlight and it looks seductive in a glass tumbler with just a few blocks of ice.
With such a wide selection of whiskeys, bourbons, and limited selections and releases, the Balcones drinker is spoilt for choice.
Award-Winning
Since its inception, in 2009, Balcones has quickly climbed to the top echelons of the global whiskey competition circuit. Every single whiskey in Balcones selection is award-winning with some achieving double-gold status. 
Awards include gold in the World Whiskies Award, Good Food Awards, Best In Class Whiskies of the World Awards, Wizards of Whiskey Awards. 
Double Gold in the prestigious New York World of Wine & Spirits Competition, and Gold in The Spirits Business. 
Their distillers have won Master Distiller of the Year and Gold medals from the American Distilling Institute. 
The limited Balcones Texas Bock whiskey is priced around the $45 mark and is available directly from the distillery and in selected outlets around Texas and Oklahoma. 
Range 
Your first and best choice in sampling the Balcones range would be their original Texas Single Malt. 
The next step would be to get a little more experimental and try the famous blue corn that they use in their light Baby Blue and True Blue,  which is a good 100 proof.
Balcones Brimstone, as the name suggests, has a smoky sugary quality to it whilst the Rumble spirit has a curious, nectar-like thickness. 
Lineage has a more traditional background, inspired by your Scotch Single Malts, and is produced with both Texan and Scottish grown barley.
If you still feel like a good old American bourbon, straight up or in an Old Fashioned, then Texas Pot Still Bourbon, with its honey crisp apple and honeyed flavors is a memorable experience. 
And rounding off the all-year-round drinking Balcone bottles is a 100 proof Texas Rye Whiskey, distilled in copper pot stills and loaded with chocolatey toffee tastes and a peppery finish. 
A new special release this year (2021) is the Balcones Texas Bock Whisky. A collaboration of two Texas brands, Balcones teams up with Spoetzel Brewery to create something truly special for the amber liquid market. 
Incredibly, The Balcones Texas Bock Whisky uses the same recipe as Spoetzel's Shiner Bock beer.  
Price 
Balcones Texas Single Malt Whisky, their flagship, and most loved offering are priced around the $60 – $70 range. All other year-round whiskey and bourbon offerings are in the $25 – $70 range depending on your retailer. 
More expensive seriously limited releases, are in another premium-priced bracket altogether and only exclusively available through their newsletter. 
Overall Balcones classic all-year-round whiskeys and bourbons are very reasonably priced and favorably accepted by the drinking market. 
Distillery Tours
If you would like to dig deeper into Balcones' unique distillation process and view the grain silos up close, their effortlessly cool Waco, Texas-based distillery is open for tours and tasting. 
Here in their red brick buildings, you can see firsthand the passion and history that goes into creating this all-American brand of whiskey. 
Tasting rooms offer sips or cocktails of all whiskey and there is a trendy gift shop selling Balcone vintage style apparel. 
Tours fill up quickly so it's best to book early in advance. 
Balcone Product Range
Though the Balcone spirit range is large, we'll focus on their most popular and best-selling whiskies, available all year round online.
For their premiere and limited editions, it's best to sign up for the Balcone newsletters to make sure you don't miss out on a rare and special release. As advertised, they might never be available again.
Balcones Texas Single Malt Whisky – Classic Edition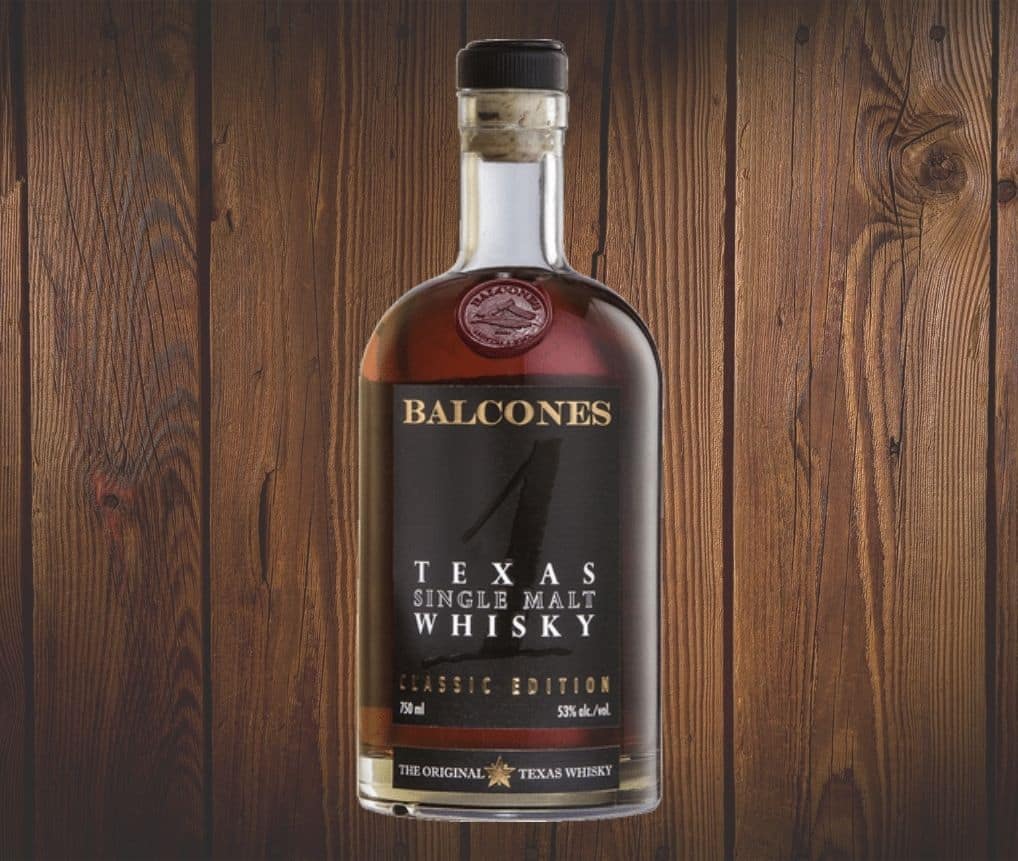 The best and most popular of the Balcones range for casual drinkers. 
Classic distilling techniques and traditional ingredients are succinctly blended to create the Balcones Single Malt that made the Balcones name famous in American spirits. 
Overripe fruit, toffee overtones, and a smooth finish melded with burnt sugar, toasted malt, and a hint of cinnamon.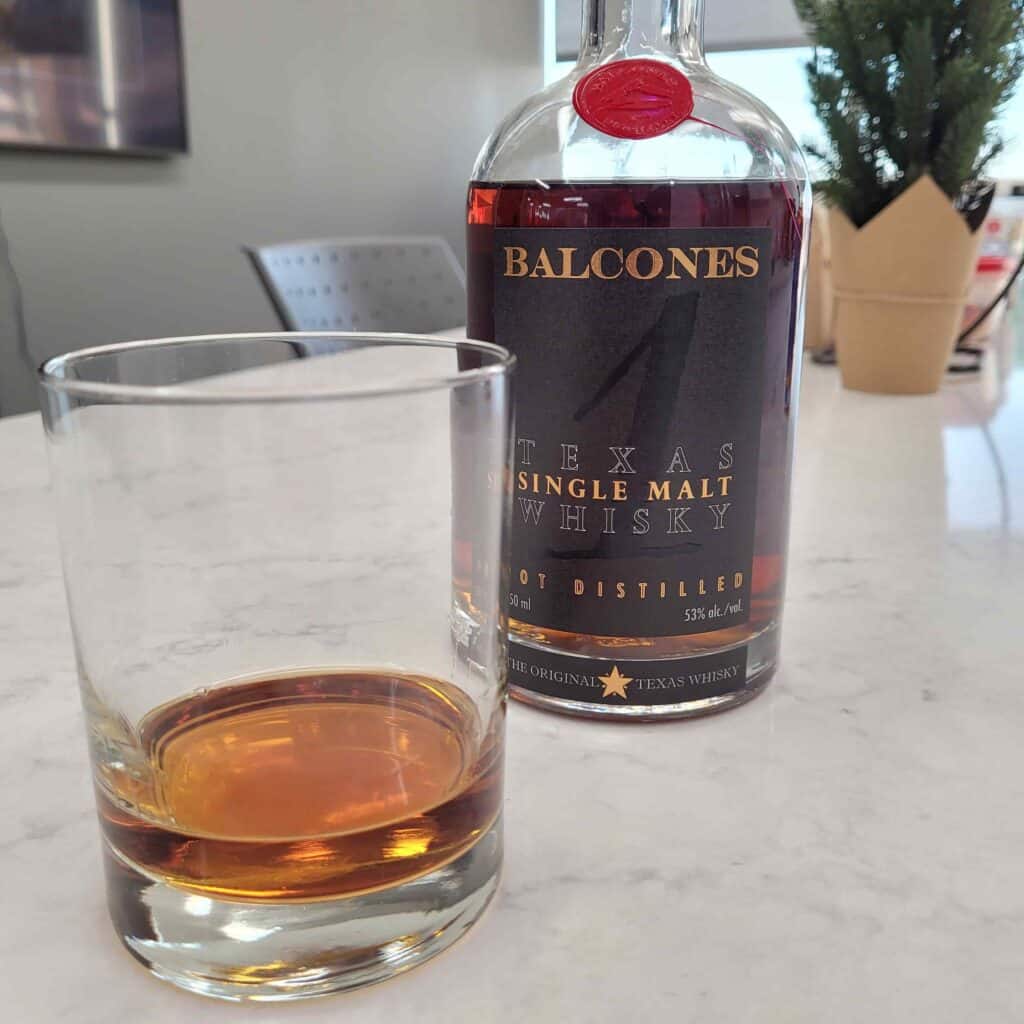 Balcones Lineage Texas Single Malt Whisky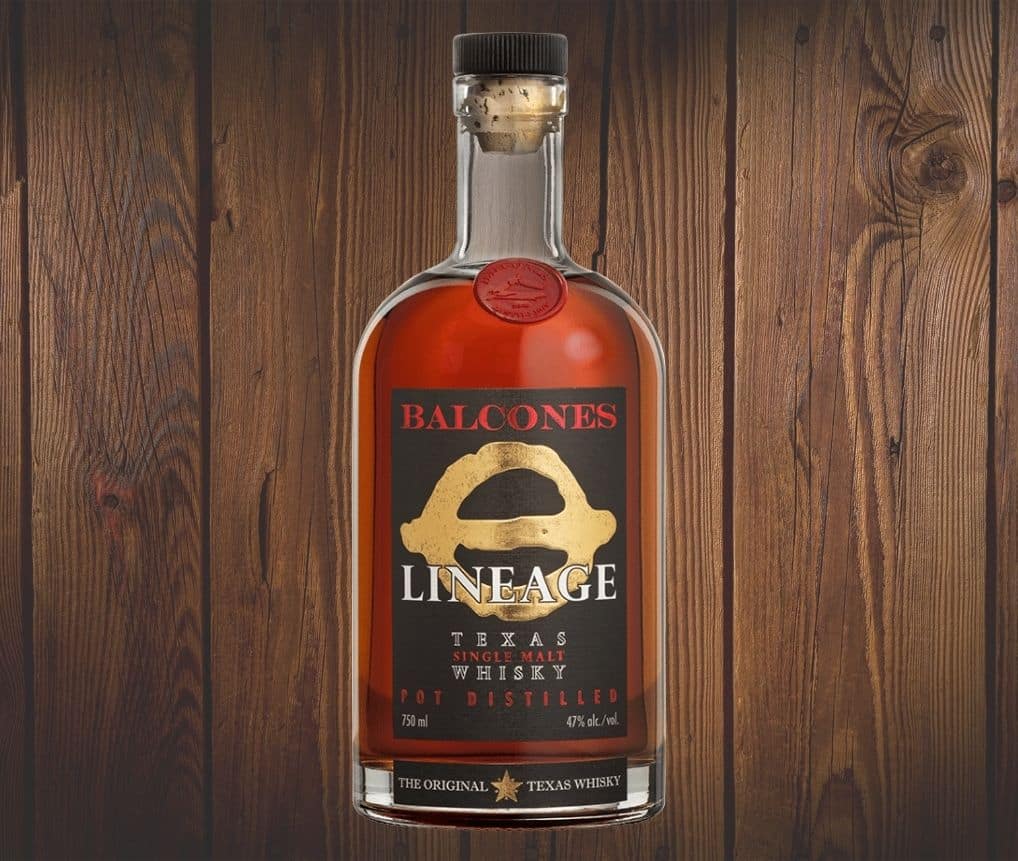 This Balcones single malt uses both Scottish and American grown barley. Aged in new oak-aged and refill barrels it oozes notes of honey, banana, and chestnuts. 
Balcones Texas Rye – 100 Proof Whisky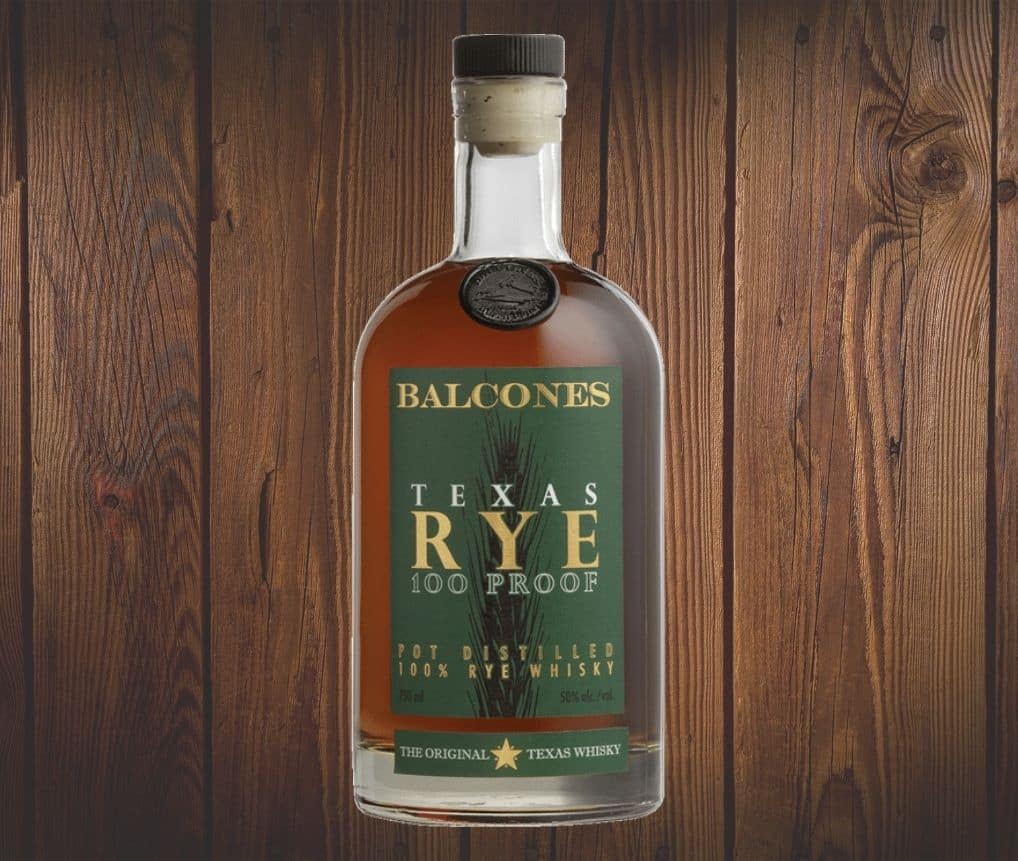 An unusual full-bodied rye whiskey and a favorite amongst Scotch drinkers. 
Its mash bill is made from locally sourced Elbon Rye from Northwest Texas and a blend of crystal, chocolate, and roasted rye. 
It has an easy-drinking creamy taste with hints of coffee, nuts, and dark chocolate. 
Balcones Baby Blue – Blue Corn Whisky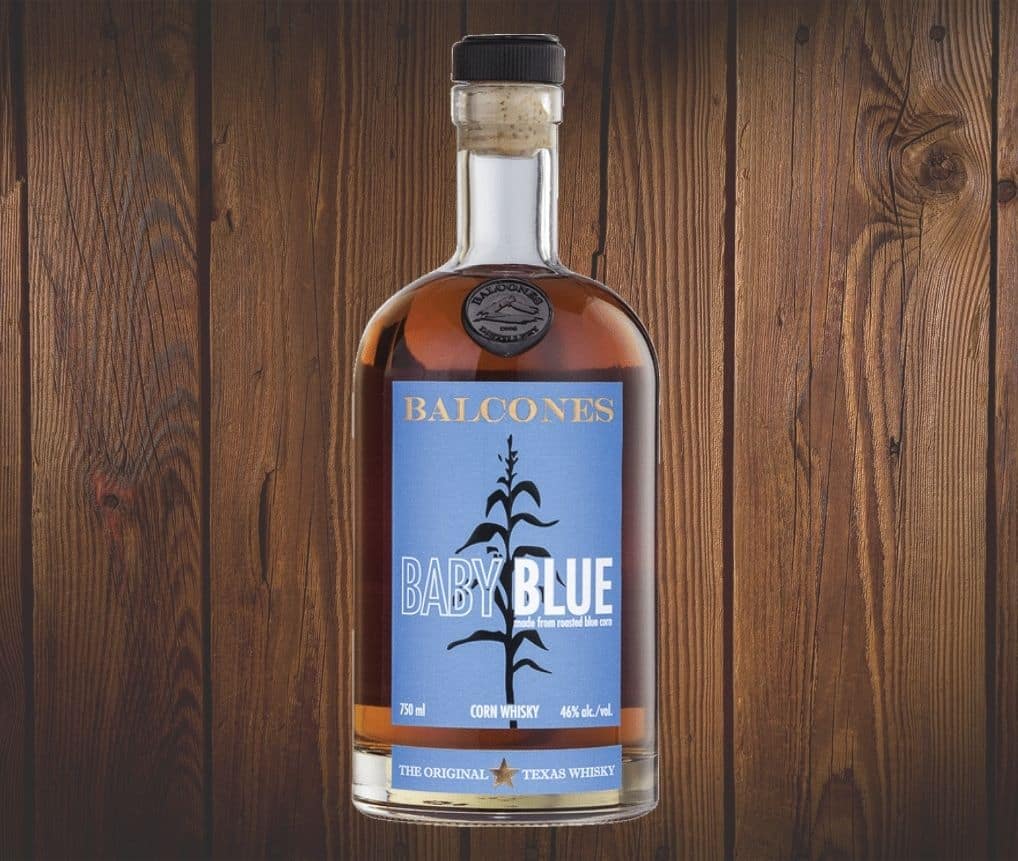 Balcones Baby Blue is a blue corn-based whisky and the cornerstone of the Balcones Distillery and the very first whiskey produced from Texas since the bad old days of prohibition. 
Keeping with the tradition of corn whiskey making, it is willingly fresh with a nutty and melted butter nose and a warm finish.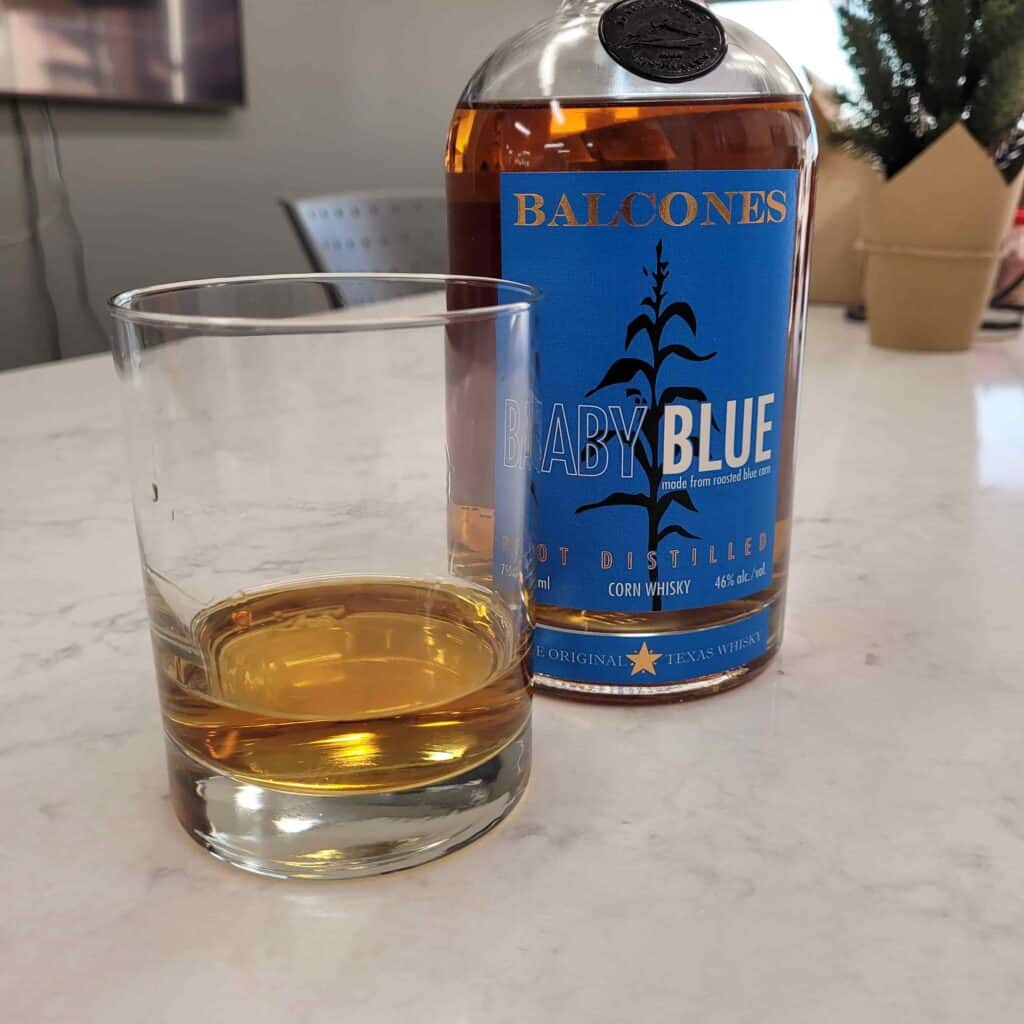 Balcones True Blue 100 – Blue Corn Whisky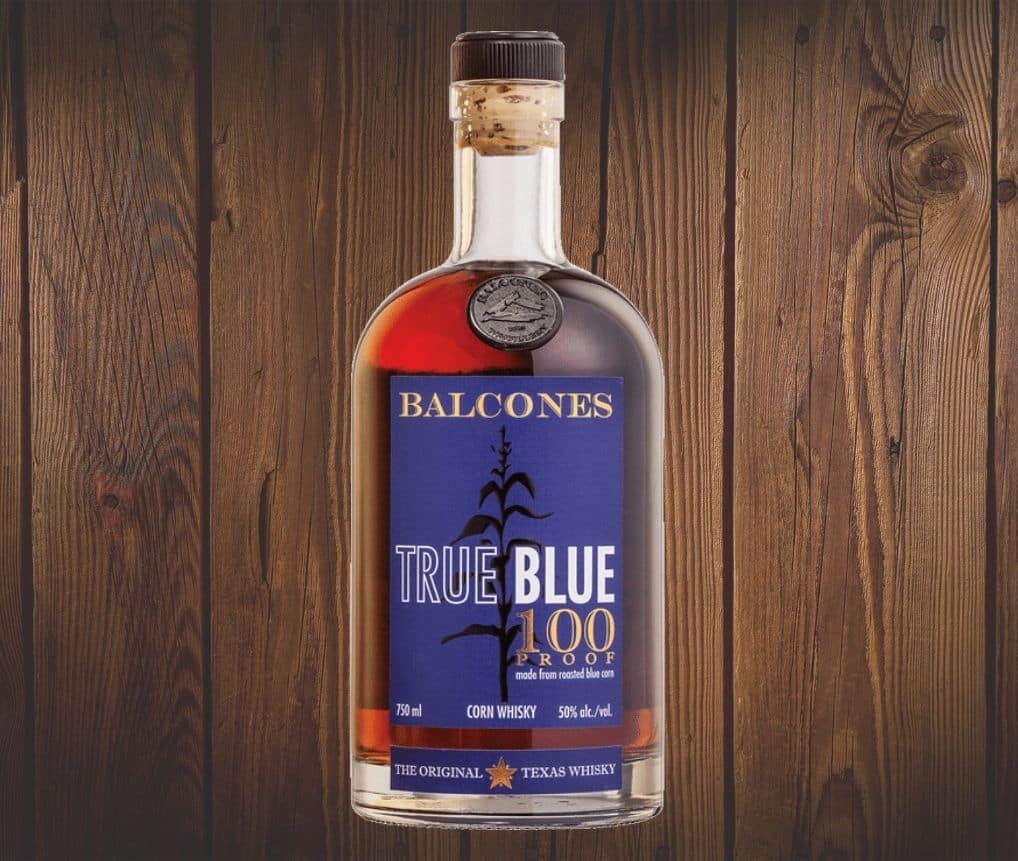 Conceived from the same barrels as Balcones blue corn whiskey and then diluted down to 100 proof, True Blue gives the kick that a bourbon drinker would enjoy. 
Well rounded with notes of tobacco, an arresting flavor of charred corn and custard, and a finish of dried fruits. 
Balcones Texas Pot Still Bourbon – Straight Bourbon Whisky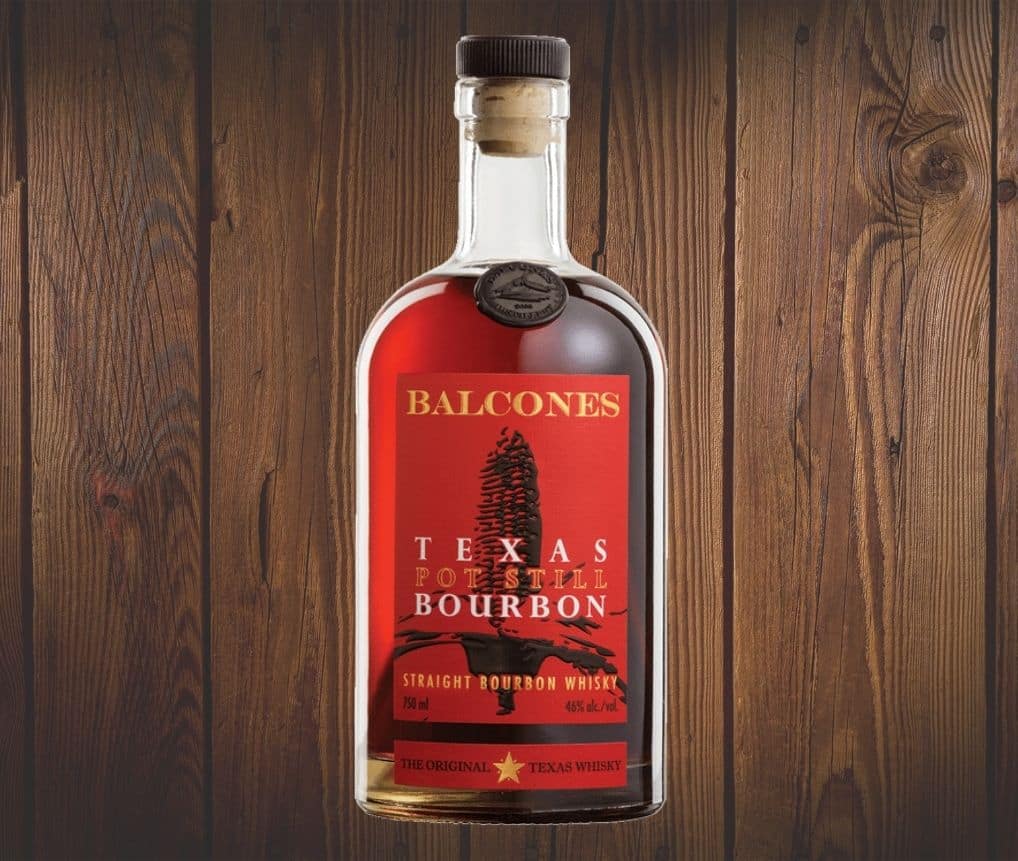 Produced from a 4-grain mash bill consisting of malted barley, blue corn, Texas rye, and wheat, this 46% bourbon, is purposely on the drier side. 
Aged in new charred oak barrels, this spirit has a big, loud Texan heart.
 It has a charred smokiness reminiscent of evening campfires on the ranch combined with a creamy honey sunset finish. 
Balcones Brimstone – A Smoked Whisky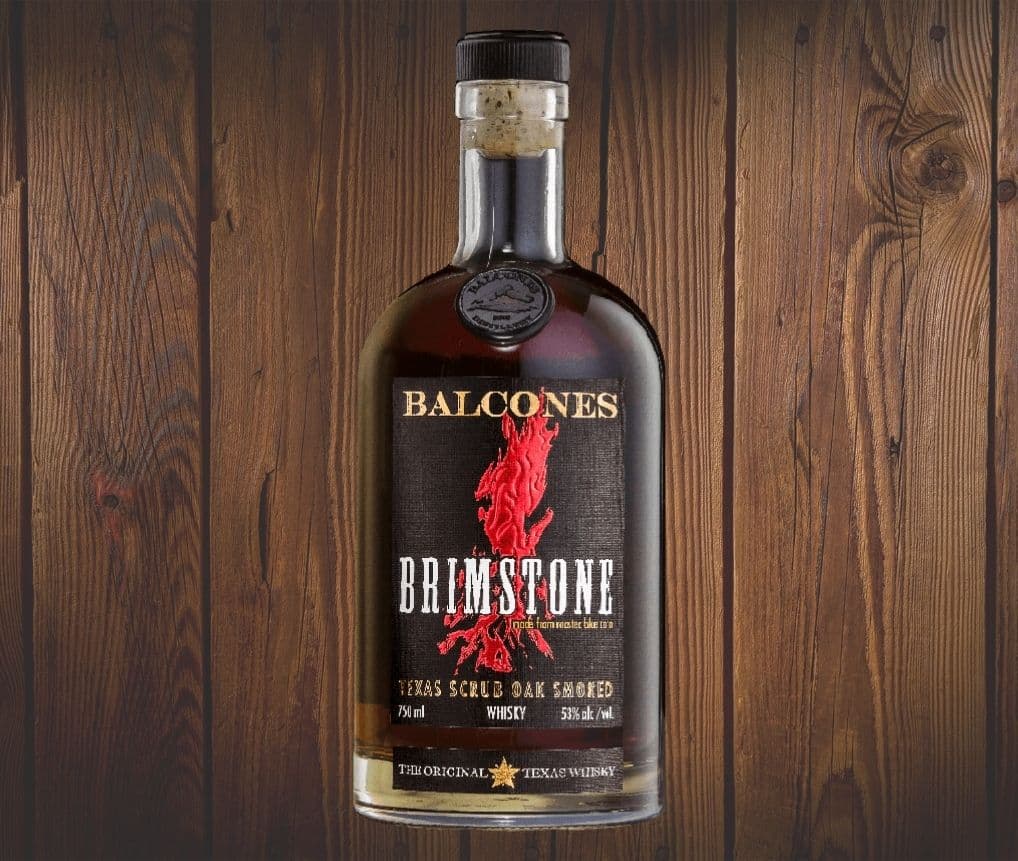 Another smoky whiskey from Balcones, Brimstone is an absolute original. 
From their secret process, they bring you a truly bold spirit, that starts sweet with notes of chili peppers and wraps your tastebuds up in a long minty dry finish. 
Balcones Rumble Spirit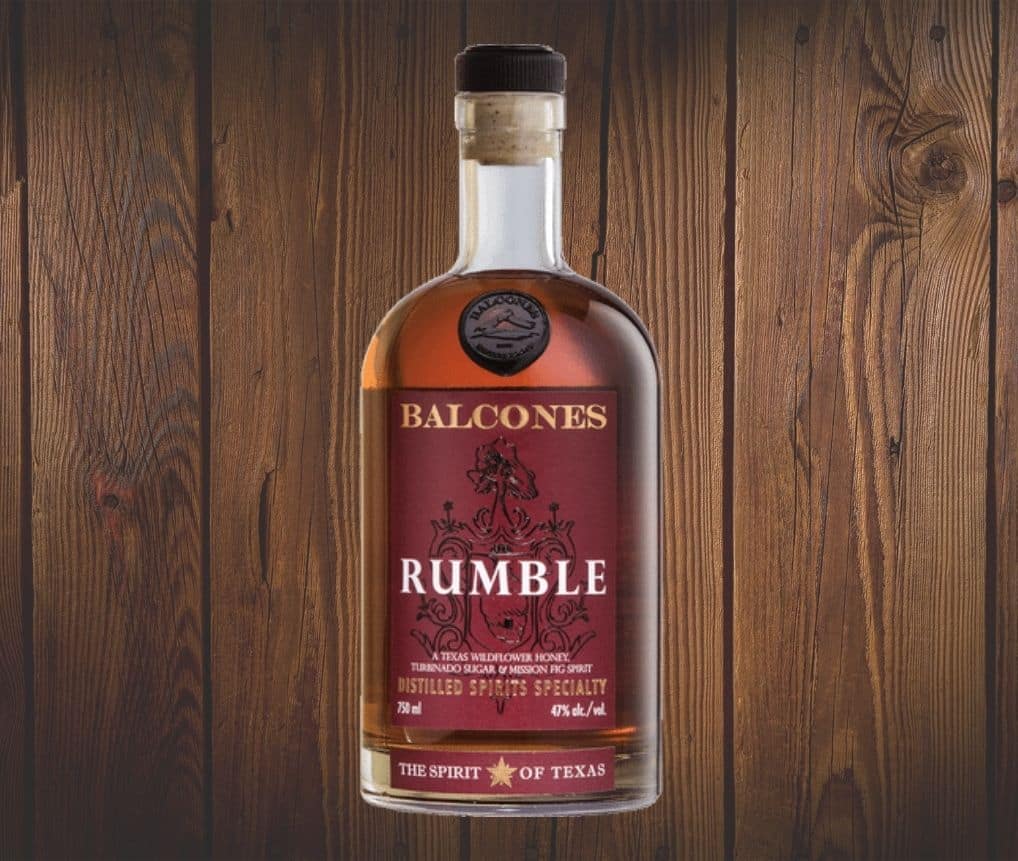 If there is one hard-to-categorize spirit that captures the pioneering and progressive mentality of the Balcones range, it's their aptly named, Rumble. 
More like nectar than a liqueur, it's produced from fermented Texas wildflower honey and twice distilled in traditional copper pots. 
Fig, nectarines, jasmine, and vanilla engulf your tastebuds initially then allow for a warm leathery finish. 
More Whiskey Histories
Blanton's Bourbon – The Whiskey with the Horse