American whiskey is known the world over for its history and distilleries, yet the role of African Americans in building the industry into what it is today is too often overlooked. 
A new whiskey brand with rapidly climbing numbers is looking to remedy that. Uncle Nearest Whiskey honors the man who is often referred to as the true founding father of Tennessee whiskey, Nathan "Nearest" Green. 
We explore the extraordinary story of Green, and the inception of the distillery he inspired, as well as review the range of whiskies the brand has to offer. 
History of Uncle Nearest Whiskey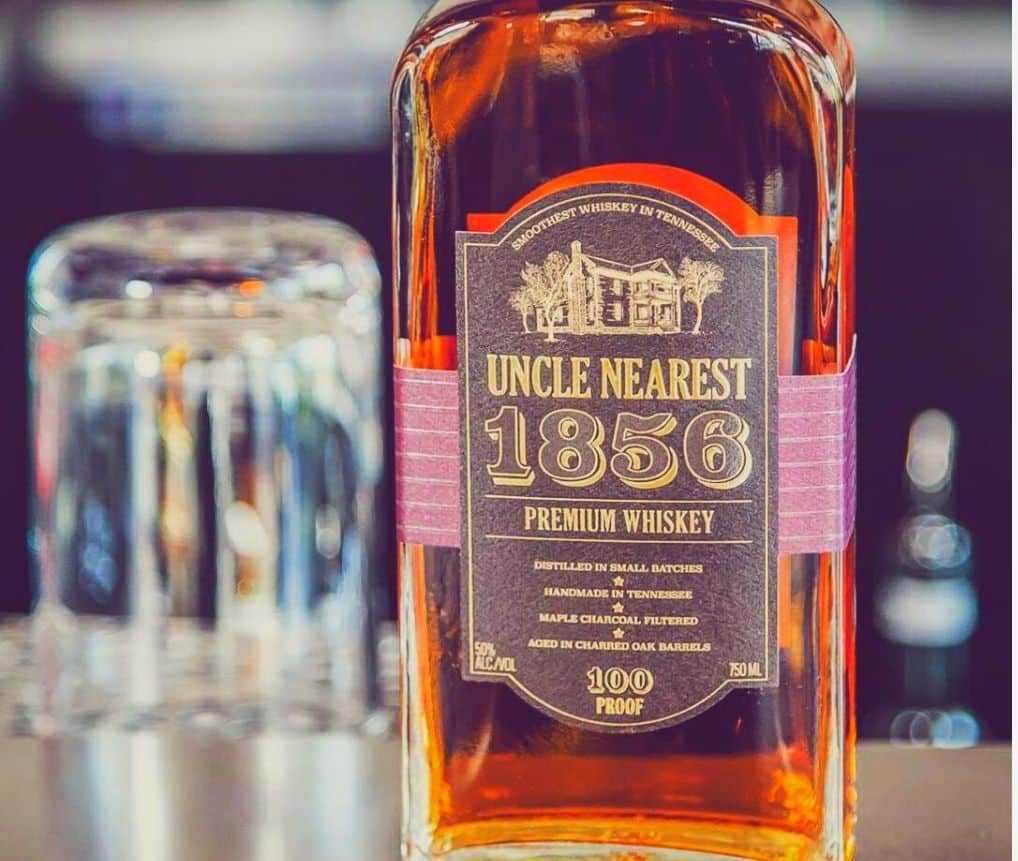 Around the 1850s, in Lynchburg in Tennessee, preacher Dan Call owned a farm and ran a small whiskey distillery down the road. The whiskey he produced was always met with high praise. 
The whiskey was distilled by a slave named Nathan Green (known as Uncle Nearest), who used a special technique of filtering whiskey through sugar maple tree charcoal, a method he would use growing up in West Africa to clean water. This method, known as the 'Lincoln method', is still used today.
Around the same time, Dan Call hired a young white boy named Jasper who was looking for work, to do some chores for him. 
The boy's interest in the distillery was quickly piqued, and after much pleading with Call, he met Green. Green was then instructed to impart his knowledge and skills to the boy. Inspired and passionate, Jasper went out and sold the whiskey as widely as he could. 
Soon after the thirteenth amendment finally passed and slavery ended in 1865, Jasper bought the distillery and named it after his preferred name, not Jasper Daniel, but Jack Daniel. 
He then asked Green to take the position as his first master distiller, and he accepted with no hesitation. The duo worked together for many years until Green retired. 
While Green played a massive part in building one of the most well-known names in whiskey worldwide, after his retirement, his story faded over the years. That is until entrepreneur Fawn Weaver discovered Green's legacy in 2016. 
Weaver became engrossed in his story and moved to Tennessee to delve deeper into Green's history. She eventually got in touch with many of Green's living descendants to find out as much as she could. 
Feeling incredibly inspired from all she learned, she decided to take a chance on a new brand, launching Uncle Nearest Whiskey in 2017, with its distillery in Shelbyville, Tennessee.
Victoria Eady Butler, Green's great-great-granddaughter, started to curate batches of whiskey which were a huge success. 
Weaver appointed her as Master Blender, and she became the first African-American female to hold that position. Several of Green's descendants are involved in the brand, in one way or another. 
Impressively, the company has an all-female executive team and has said that its customer base is made up of about 50% women.
Uncle Nearest recently announced a $50 million investment fund set up to assist minority-owned spirit companies. Fawn Weaver expects at least 50% of the capital to come in from Black investors – this will include an investment from Uncle Nearest itself. 
Uncle Nearest is already forging a change in the whiskey industry with its brand, and the opportunities given to other minority-owned companies will only further diversify the industry. As a result, American whiskey will get a long-overdue renovation. 
Uncle Nearest Whiskey's distillery is now located just down the road from Jack Daniel's distillery, forging on that everlasting bond that was born between Green and Daniels in the 1800s.
Quality
The Uncle Nearest brand has three whiskies in its product line, with a premium-aged whiskey, an 11-year-old single barrel product, and a 7-year-old small batch offering. All three options are distilled, aged, bottled, and hand-labeled in Tennessee.
As the brand is still fairly new, the whiskey on the shelves at the moment is sourced from a third party. It is still bottled with the Uncle Nearest branding, but the homemade blends are still undergoing the aging process at the distillery in Shelbyville, Tennessee. 
All three whiskey bottles are glass and have a short neck with flat sides, and a wood and cork stopper up top. All three labels have the brand name, year, and an image of a house – disappointingly no illustrative links to Uncle Nearest himself, or his story. 
The whiskies themselves have a clear premium taste, which makes them worthy of the price tags. While it's already top-notch whiskey, there's a possibility it might get even better once the homemade whiskey is ready and available in a few years. 
The whiskey has received excellent reviews from its customer base across the United States, and worldwide. It has racked up an impressive number of awards in its short lifetime and was recently revealed to have made history by becoming the best-selling Black-owned and founded spirit brand of all time, according to the brand.
The whiskey is currently available in all 50 US states and 12 countries and has more than 25,000 stores, bars, and restaurants.
Award-Winning
In just four years, the Uncle Nearest Premium Whiskey brand has racked up over 150 awards and accolades.
These include, but are not limited to, Spirit Brand of the Year from Wine Enthusiast, Master Blender of the Year from Whisky Magazine, Double Gold at the 2020 San Francisco World Spirit Competition, and back-to-back honors of "World's Best" at the 2019 and 2020 World Whiskies Awards. 
It was the most awarded American Whiskey of 2019 and 2020. It has also earned 25 Best in Class honors, including one of the "Top 5 Whiskies in the World."
Uncle Nearest Distillery Tours
Fans of the acclaimed whiskey, as well as those open to being converted, can now tour the Nearest Green Distillery in Tennessee. 
In June 2021, to celebrate Juneteenth, the brand opened 'Phase Two' at the distillery, as part of its 270-acre, four-phase, $50 million build-out. Visitors can explore the rich and fascinating history, and present-day success, of Uncle Nearest by booking a tour and tasting on the website. 
Visitors should note that since May 14, The State of Tennessee has not required masks to be worn, but the distillery requires those who are not vaccinated to wear a mask when indoors.
Price
The prices of the Uncle Nearest range vary, depending on which whiskey you decide to add to your cart. The 1884 Premium Small Batch Whiskey is the most affordable, at around $50. 
Next is the 1856 Premium Whiskey, which retails for about $60. At almost double the price of the other two, the 1820 Single Barrel Whiskey will set you back about $120. 
All three whiskies are available in stores, and online. 
Uncle Nearest Whiskey Range
At a glance, the 1856 Premium Whiskey has a caramel color, with a deep golden hue. The aroma is sweet, with notes of caramel, charred oak, and subtle hints of cornbread. 
The alcohol is present in the smell, but by no means overpowering. A closer whiff picks up very subtle notes of peach, orange, corn, and roses. 
The taste is sweet and creamy, with a medium body. The sweetness has a fruity flavor, and there are traces of nutmeg. Chocolate, maple syrup, and apple pie come through at times. At the core of the taste, you find an earthy, oak foundation.
The finish is pleasant and soft, with traces of berries, candy, spices, and a slight earthiness.
The whiskey is mellow, and perfect to sip neat. If your preferences allow, it works well in a simple whiskey cocktail such as an old fashioned. 
Uncle Nearest 1820 Single Barrel Whiskey 120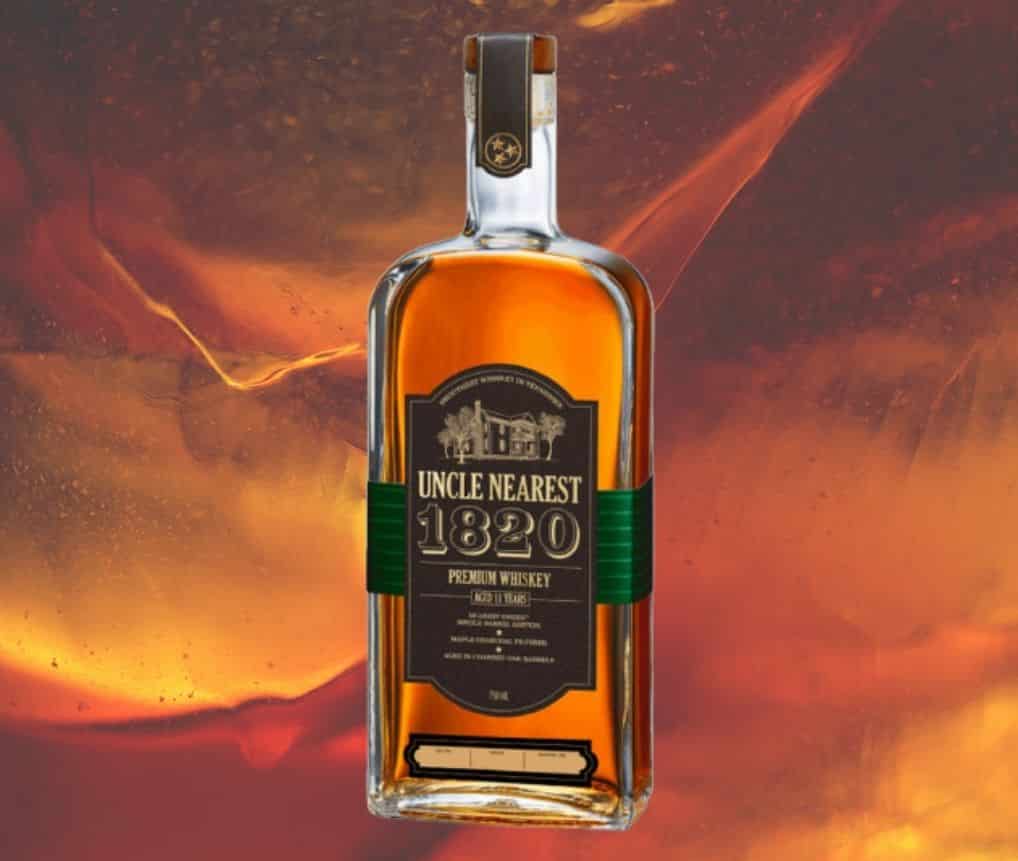 The 1820 Single Barrel Whiskey has a red, coppery appearance. The aroma is sweet and oaky, with notes of berries, cocoa, and vanilla. There are subtler traces of almond and hazelnut on the nose, too. 
On the palate, the whiskey has a rounded body and an immediate sticky sweetness, with dominant notes of vanilla, dark fruit, and oak. The subtler notes tasted are toffee, baking spices, and leather. It packs a long finish, with spiciness and mixed nuts, and the lingering taste of leather.
Best served neat, or with a single ice cube to avoid diluting the flavor. Similarly to 1856, it works well in a traditional whiskey cocktail. 
In the distilling process for the Uncle Nearest 1820 whiskey, less than 1% of the Uncle Nearest Premium Whiskey Barrels are chosen as single barrels due to the strict requirements: aged a minimum of 11 years, and a cask strength above 108. 
Furthermore, each of the single barrels must be picked and approved by the founders, and then it needs to be approved by a panel made up of whiskey industry professionals. 
The minimum seven-year-old whiskey is golden amber in appearance, with a slight yellow glow. The aroma brings a browned buttery whiff with dominant notes of honey and caramel. There are also subtle whiffs of candy corn, chamomile, and sweet peach.  
The light-to-medium-bodied whiskey is strong, yet smooth on the palate, with a slight burn. There is a smokey wood flavor while retaining that crisp Uncle Nearest sweetness from the sugar maple step. 
Vanilla comes through strong, with subtle notes of cinnamon and apple pie. The finish begins pleasantly sweet and evolves into what is reminiscent of baking spices, and a hint of peppermint. 
The complex flavors are best enjoyed neat, or on the rocks. 
For the 1884 Small Batch Whiskey, the barrels used are also specially chosen by the brand's founders, and the blend has been curated by Victoria Eady Butler – Uncle Nearest Master Blender, and a 5th generation descendant of Green.
Uncle Nearest Whiskey FAQs
Is Uncle Nearest owned by Jack Daniels?
No. The whiskey is named after Nathan "Nearest" Green, a formerly enslaved man who imparted his knowledge and skills of the distilling craft to a young Jack Daniel. The brand's owner and producer are Uncle Nearest, Inc., which has headquarters in Nashville, Tennessee.
Is whiskey gluten-free?
Yes. Pure, distilled whiskey is gluten-free and is safe for people with celiac disease, even if it is made with wheat, barley, or rye. This is because of the distillation process.
Is Uncle Nearest 1820 whiskey rare? 
Less than 1% of Uncle Nearest Premium Whiskey barrels are selected as they require rare, single barrels that are aged a minimum of 11 years, with a cask strength above 108. 
What's the difference between whiskey and bourbon? 
Whiskey is generally a spirit made from fermented grain, and then it is aged in barrels. According to the American Bourbon Association, for a whiskey to be classified as a bourbon, it needs to be distilled from either a mixture of mash or grains, that is at least 51% corn.
More Whiskey Histories
Blanton's Bourbon – The Whiskey with the Horse