Connoisseur Whisky drinkers may have heard of VAT 69, as this Scotch blended whisky has been around since 1882. 
At present, this budget-level whisky competes with first-class spirits, due to its smooth and light taste. 
Many whisky drinkers tend to have a level of emotional engagement with this brand, as it has an impressive historical past and heritage associated with it.
This review will shed light on whether VAT 69 is indeed a fine blend, as many loyal drinkers have claimed, by assessing various characteristics of the whisky. 
VAT 69 Whiskey (Our Review)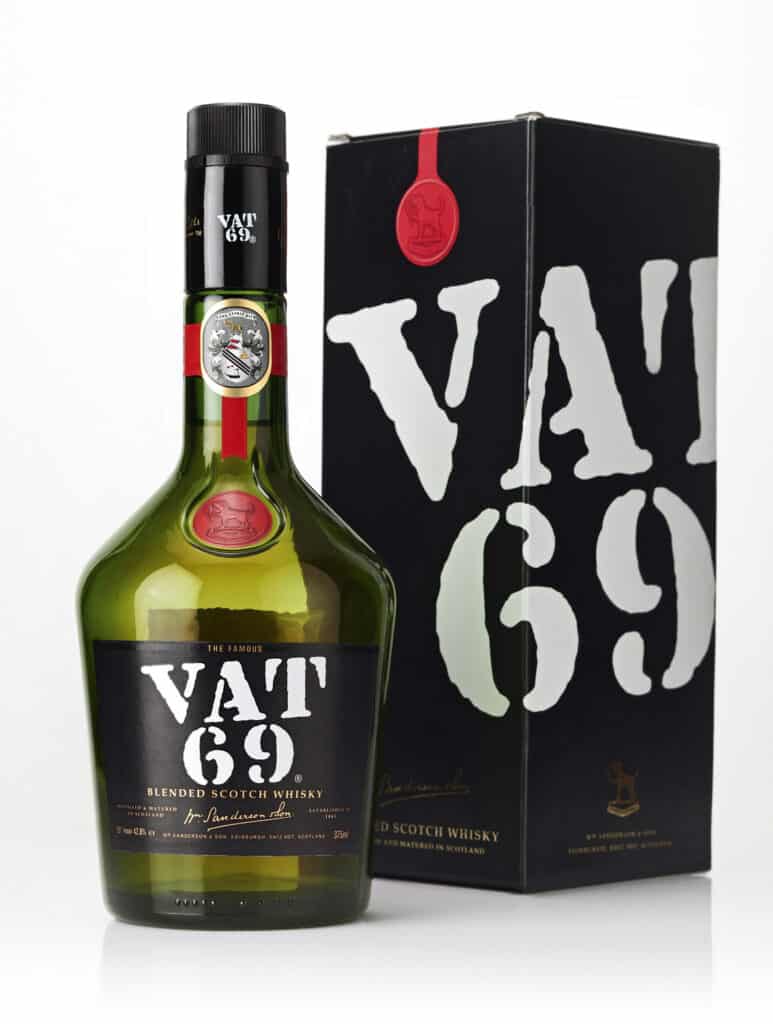 VAT 69 was created by William Sanderson in Edinburgh, Scotland. At present, VAT 69 is owned by the Diageo Group, the parent company of William Sanderson and Son.
This particular blend consists of 40 malt and grain whiskies, owing to this whisky's No-Age-Statement. The scotch label indicates that the youngest drop is at least 3 years old. 
Depending on where you buy this whisky, the alcohol content can range from 40% to 43%. 
This whisky is mostly known for appearing as a 'cameo artist' in various films and TV series. For example, this Scotch whisky has appeared in Hollywood films and TV series such as 'Our Man in Havana', 'The Shining' and 'Band of Brothers.
VAT 69 used to be a very popular whisky in the American market, and it is still one of the most popular imports.
So, is this whisky worth it?
This whisky is a favorite for many, but some may find it to be quite average if it were not for its association with film, TV, or history. For these reasons, there are some mixed opinions about whether VAT 69 is indeed a good whisky.
The rest of the review will provide an in-depth analysis of the whisky and whether it is worth the buy. 
Appearance
VAT 69 comes in one size (1.75 liters or 59.17 fl oz) in a dark green bottle. The green color indicates less artificial coloring. 
The bottle also bears William's signature and a circular stamp-like red sticker. 
You can see VAT 69's motto on the back of the bottle, where it states: "quality tells". 
The drink itself has an amber color with golden highlights. 
Aroma
On the nose, you will immediately smell the spice which is quite rich for such a basic blended Scotch whisky. You can tell that a lot of young grain whiskies have been used in the blend. 
A pleasant aroma comes out of the bottle which includes a twist of honey and crispy woody notes. 
In addition, there are hints of brown sugar, raisins, fresh-brewed English tea, caramel, barley malt, and a touch of wheat and pear juice. 
Taste
The taste can only be described as the following: Sweet, herbal, and bitter. 
On the palate, you will first taste the syrupy, all-spiced flavor. This will dissolve in the background as it is replaced by peat smoke and a woody flavor. 
The taste has distinctive flavors such as ground almonds, barley malt with hints of biscuit, pear notes, and pepper. There is also a surprising taste of caramel that gives the whisky a sweet, rounded character. 
The combination of oak wood and caramel gives rise to a fresh and non-overpowering taste. 
With that being said, the sweet taste may be a bit too sweet for the more mature whisky drinkers out there. 
In terms of taste, VAT 69 is on par with middle-range whiskies such as Cutty Sark, 100 Pipers, and Teachers.
Finish 
The finish is fairly swift and not spectacular. One can describe it as smoky and warm. 
It has a creamy aftertaste that does not have the usual burn one would normally experience with a Scotch blend. 
Some whisky drinkers might find the finish to be a bit thin compared to a smoky Islay whisky. 
Price
For a brand that does not capitalize on frivolous marketing strategies, VAT 69 has maintained a price that is well below its true value. 
Depending on whether you are buying this whisky online or in stores, it should cost around $25 to $30. 
VAT 69 has a superior price-quality ratio to blended Scotch whiskies, such as 100 Pipers and Teachers. 
One would say that VAT 69 is most definitely the best "Bang for your Buck" scotch on the market.
Conclusion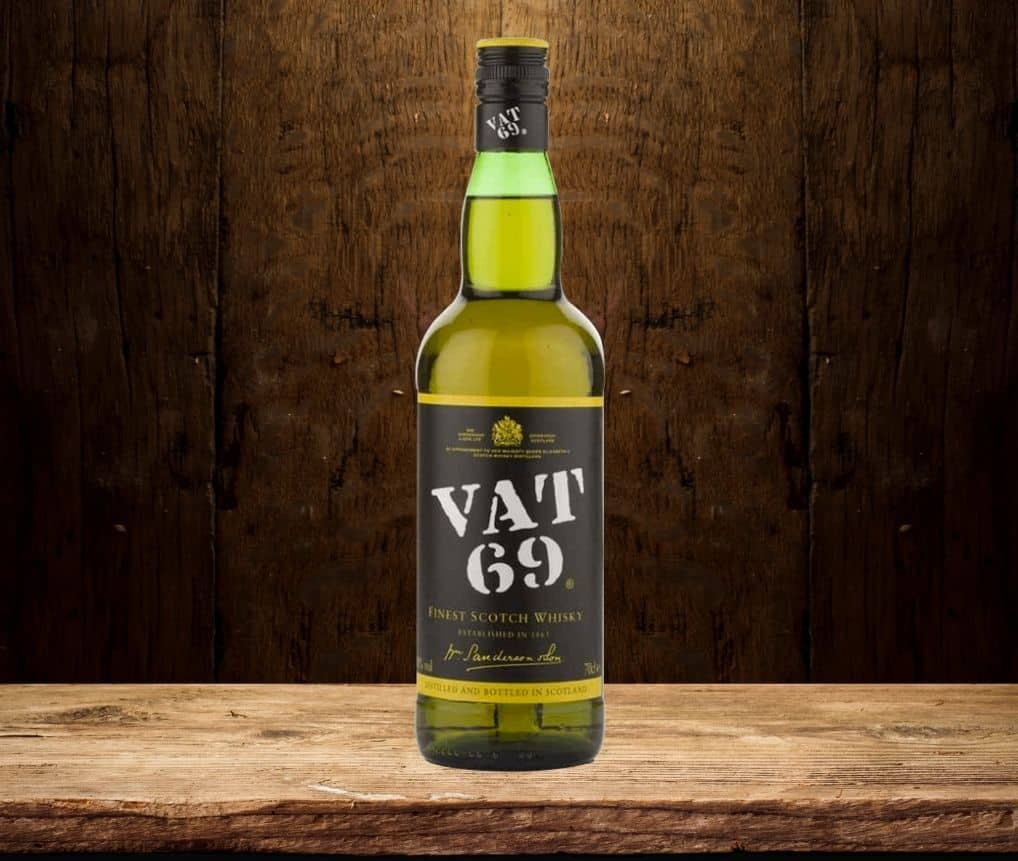 If one word can describe this whisky, it would be this, 'simple'. 
VAT 69 is highly recommended if you are looking for a simple, yet enjoyable Scotch whisky that is sweet and medium-bodied with no alcohol burn, with the bonus of being very affordable. 
It is a very mellow, smooth whisky that is easy to drink and not as overpowering as other blended scotches.
For someone who is a beginner at drinking whisky, this whisky is highly recommended. 
On the negative side, this simple scotch does not have the best range of complexity. The finish is also not amazing. For these reasons, some whisky drinkers may find the blend quite unremarkable due to its lack of depth. 
That being the case, more mature whisky drinkers may want to take a pass on this drink.
VAT 69 FAQs
How do you drink VAT 69?
It is best enjoyed straight and neat, but you can add a drop of water or ice cubes to your drink or mix it. 
You can mix it with Coca-Cola, soda water, lemonade, or even coconut water. This completely depends on your preferences and how you would like to personalize your whisky. 
How did VAT 69 get its name?
In 1882, William experimented with 100 different samples of whisky. He contacted and hired various expert tasters to select the most superior sample. 
The 69th sample was deemed the best. Thus, the name, VAT 69. 
The distinctive VAT 69 logo is an exact copy of the writing on the original cask.
Has VAT 69 won any awards?
Back in 1967, William Sanderson & Son Ltd won the "Queen's Award for Industry" due to their achievement in increased exports of products. 
This can be explained by VAT 69's popularity in countries such as India, South Africa, Uruguay, and Argentina. 
It should also be noted that VAT 69 was one of the first Scotch blended whiskies to land in India's market. 
How does 'VAT 69' compare to 'VAT 69 Black'?
The 'Black' was only introduced back in 2011, and primarily to Asian markets. This whisky holds onto similar sweet notes as 'VAT 69', such as caramel, raisins, brown sugar, and honey. 
The difference is that the 'Black' has more depth than its older sibling due to additional attributes such as cinnamon, grapes, Christmas fruit cake, and nutmeg.