When the all-American Texas whiskey-making outfit, Balcones burst onto the scene in 2009, the first question from dark liquor lovers was, where's the single malt? 
Balcones was quick to answer.
They first released the limited edition Balcones "1" Texas Single Malt in 2011. The short-run was such a success, that it is now a staple of any whiskey drinker's liquor cabinet globally.  
Many key factors make this single malt such a success. We'll take a look at the process, flavors, price, and lineage of the Balcones Distillery that produced this remarkable whiskey.
Balcones Texas Single Malt Whisky Review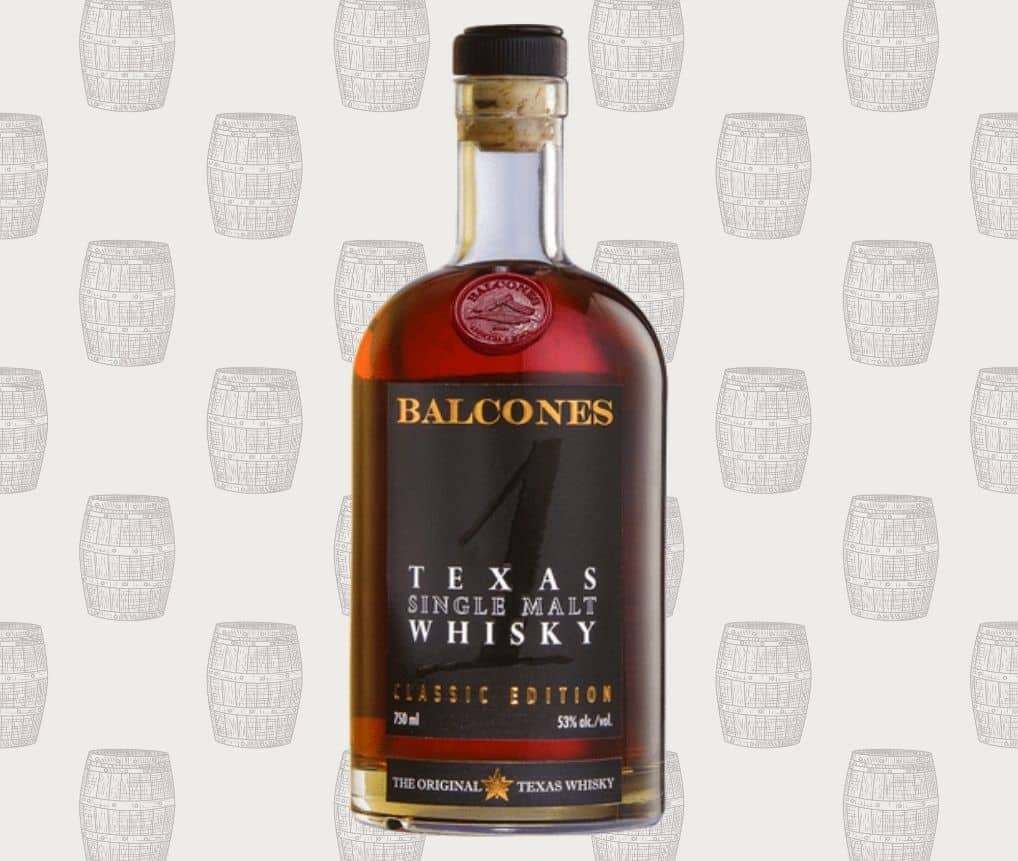 Overall Assessment
All Balcones whiskies are matured in Texas. This gives their brew a particularly dark color because of the warmer climate. Their single malt is a great example of this.
Balcones prides itself on the superiority of its ingredients. They exclusively use New Mexico-grown blue corn and Texas-grown malt barley in their spirits like Balcones Baby Blue Whiskey and more.
The Balcones Texas Single Malt Whisky complies with the American Single Malt Whisky Commission standard of identity (ASMWC). 
This is important as it is a closer standardization to Scottish single malt rules that are stricter.
Single Malt must be made with 100% malted barley, distilled entirely at one distillery, mashed, distilled, and matured in the USA, and matured in oak casks not exceeding 700 liters amongst other guidelines. 
Balcones Single Malt instant recognizable woodiness, toffee center as well as its complexity and attention to detail makes it an American original. 
Pros 
All American single malt with a nod to Scotch whiskey
Internationally multi-award-winning
Made with traditional techniques
Complex unique modern flavors
Reasonably priced 
Cons 
The complexity of the taste might be a bit unusual for some
Combining malted barley aged in new oak makes for an unusual partnership
Competing with a lot of cheaper new single malts that are mixed from different distilleries
Detailed Analysis 
So we've established Balcones Texas Single Malt Whisky comes from a maverick Americana brand that takes their whiskey-making seriously. 
That tradition and great local ingredients are the keystones in building a bottle of Balcones Single Malt. 
Now let's deconstruct what you can expect regarding appearance, nose, palate, taste, and price.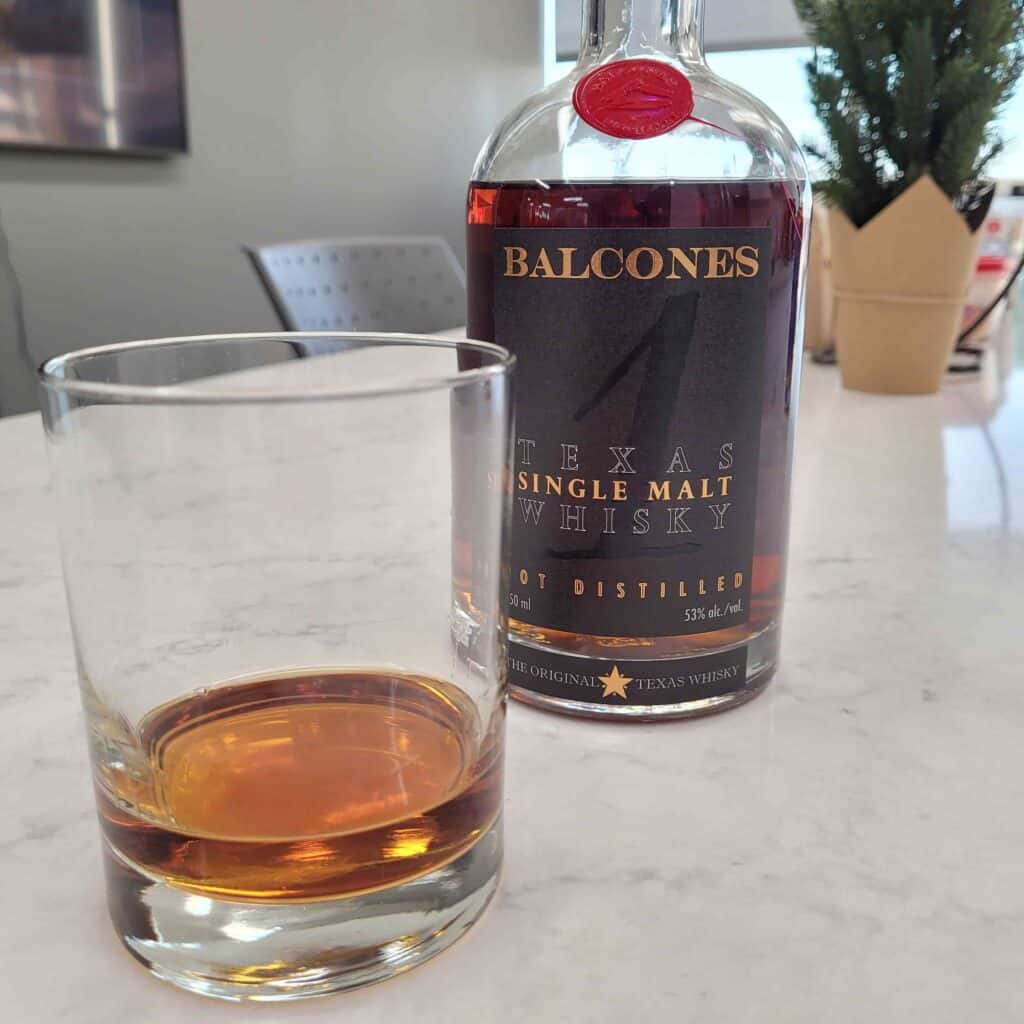 Appearance
The Texan sun can be thanked for the deep warm color of Balcones Single Malt. 
Texas whiskies mature faster because of the heat. This creates drama in this spirit's earthy aesthetic. 
Balcones bottles are always classic and sophisticated. The Texas Single Malt with its sleek rectangular sides and simple labeling harkens back to frontier culture minimalism.
Nose
We're getting to the good stuff, the aroma. 
Popping the cork on this sturdy bottle unleashes a heady mix of sun-ripened peaches and plums with an earthier touch of banana and malt. 
Fresh baked waffles with a sticky caramel syrup scent also coat the nose. 
There's smoke and bourbon in there too. A woody masculine fragrance that balances then dropkicks the dessert-like sweetness right over the goal line. 
Palate
This is where the spicier more bourbon qualities start to shine through. 
Dark sugary molasses and cinnamon emerge. The original woodiness disappears into the background and opens the way for a silky butter syrup. 
Baked apple pie and a hint of campfire smoke keep this Texan single malt whiskey firmly in the USA playground. 
Taste
Experience Balcones high ABV immediately as it hits the mouth. 
Then the flavor matures. It becomes creamier with an almost Xmas cheer – think orange, almond, and nutmeg.
This single malt is rich in body. But there is always the lingering sweetness. Caramel and maple syrup intertwined with light floral notes over the ever-present heavy malt in the medium to long finish. 
Recommended on some large cut blocks of ice whilst enjoying the late afternoon sunshine.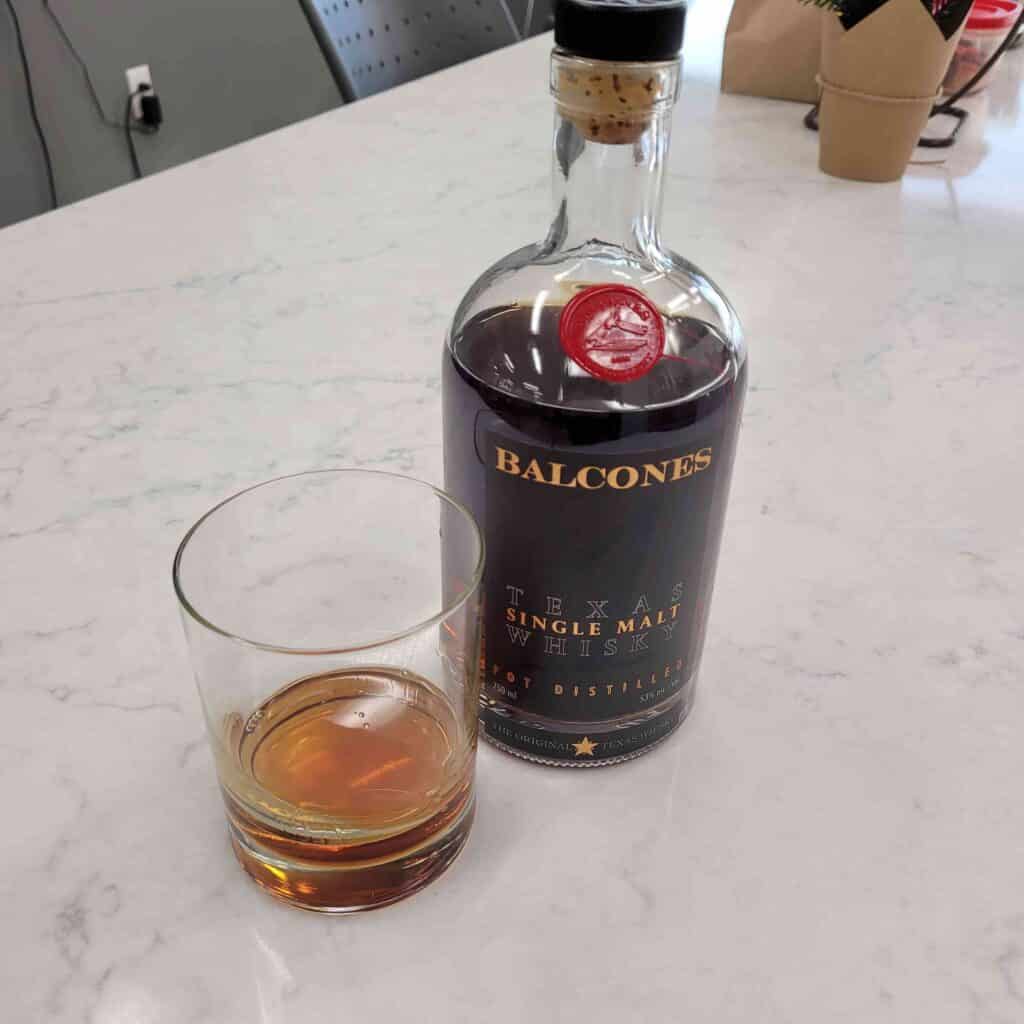 Price
If you were looking for a reason to not try a bottle of Balcones Texas Single Malt and settled on that it must be super expensive, think again. 
Balcones Classic Edition single malt has come down in price over the years. 
For its superior quality and unorthodox flavor profile, it's relatively affordable. 
On average, a bottle would set you back around $60 – $70 from your favorite liquor outlet. 
Limited editions and special releases in the Balcones single malt range go a little higher.
The 3-year aged Single Malt retails for about $90. The Balcones '1' Texas Single Malt at a still reasonable $100 and the Balcones Texas Single Malt (cask 17581) at $125.
Conclusion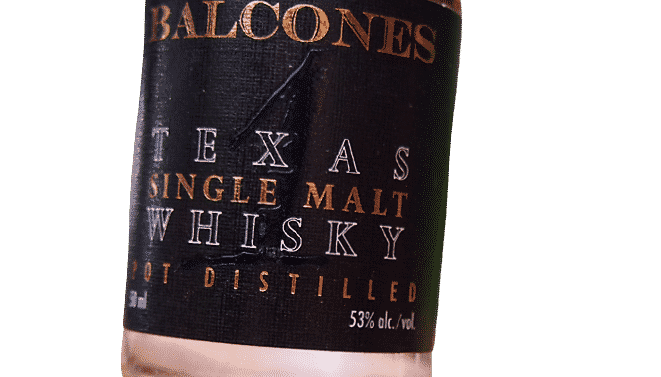 If you've been apprehensive of buying into the burgeoning American single malt whiskey market, Balcones will easily change your mind. 
By adhering to similar strict rules as the very regulated Scotch whiskey set out by the ASMWC, Balcones receives an official stamp of approval for their process.
This combined with the delicious dessert-like flavor profile American bourbon brings to whiskey making elevates Balcones Texas Single Malt Whisky into a class of its own. Highly recommended.
Balcones Single Malt FAQs
How long is Balcones Single Malt aged?
The Classic Edition of Balcones Texas Single Malt is aged between 15 to 24 months. 
The Balcones Lineage and Rum Cask Texas Single Malt are aged up to 36 months. 
The Balcones Staff Selection Single Malt is aged 46 months. The Balcones Mirador Single Malt Whisky collection is made up of whiskies aged from 2 years to 5 years.
Is Balcones Single Malt a bourbon?
No, Balcones Single Malt is closer to scotch than bourbon. Scotch whiskey producers often age their whiskey in ex-bourbon casks. 
Balcones Texas Single Malt has a sweeter profile than most scotch whiskies which some drinkers find reminiscent of its American bourbon roots. 
Is Balcones a good bourbon?
Both the Balcones Pot Still and the Texas Blue Corn are multi-award-winning bourbons. 
Balcones Pot Still Bourbon is aged in new charred oak, giving it a delicious smoky flavor. It is aromatic with a soft finish. 
Balcones Texas Blue Corn Bourbon made with a New Mexico corn mash is a bolder full-bodied bourbon. 
Who owns Balcones Distillery?
Chip Tate is the original owner of Balcones Distillery. In February 2013, there was a deal in progress between the original owner Chip Tate and a wealthy business investor Gregory S. Allen. 
Mr. Tate needed financial help to keep the business running, but during the deal, he became suspicious that Mr. Allen was trying to steal the company. The board suspended Mr. Tate and filed a restraining order after he threatened to shoot Mr. Allen. 
The board took a deal to buy him out, he was then fired and told that he could not make whiskey until 2016.