If you enjoy great-tasting tequila, then you may be familiar with the Casamigos brand. 
This brand is famous for belonging to the actor George Clooney.
What makes this drink so good is that they make Casamigos Mezcal from 100% Espadín agave.
The idea behind this drink was to provide a great-tasting Mezcal that also has a smooth finish to it. 
The founders wanted their customers to enjoy the authenticity of this drink, without having to cover it up with lime or salt. 
Below, we'll give our review on Casamigos Mezcal and discuss the nose, taste, and finish of the drink. 
This review of the Casamigos Mezcal aims to answer that question. Casamigos offers Casamigos Blanco, Casamigos Reposado, Casamigos Mezcal, and Casamigos Anejo, but this review focuses on Casamigos Mezcal Tequila specifically.
Casamigos Mezcal (Our Review)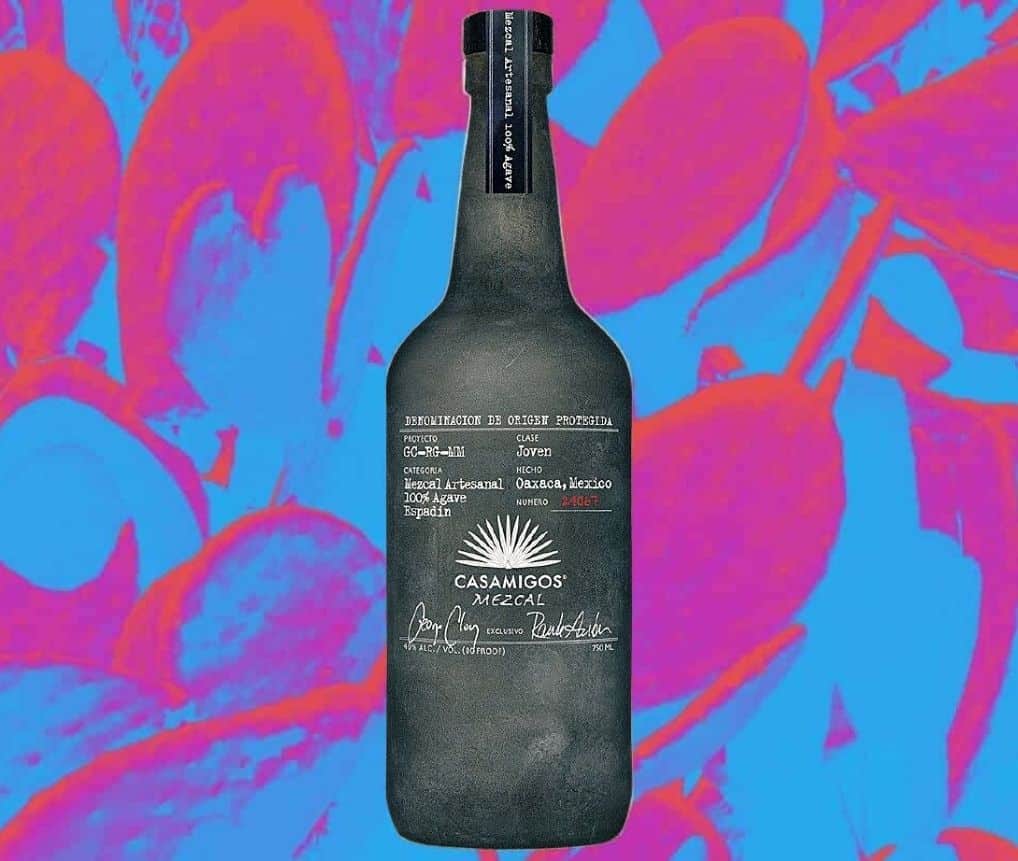 ---
Overall Assessment 
Casamigos handcrafted Mezcal hails from Oaxaca, Mexico. It was recently added to the brands' range of alcoholic drinks.
This clean, easy-drinking spirit is earthy, fruity, and full of rich and thick flavors.
The lack of burn is the first thing that strikes you as soon as it passes through your throat.
We believe that Casamigos Mezcal will appeal to all tequila fans looking for large, robust flavors.
One of the reasons why we love it so much is because it is adaptable. 
This Mezcal has proven to be a pleasant drink neat, over ice, or as a vibrant, smoky, touch to your favorite cocktail. 
Production
They have a unique process for making this drink. It consists of cooking the piñas for four to six days before slow-roasting them.
After a twenty-four-hour cooling period, they crush the piñas using traditional methods.
We believe it is these methods of a horse-drawn tahona wheel that gives the Mezcal such great taste.
Casamigos was first created for sharing among close friends George Clooney, Rande Gerber, and Mike Meldman.
Their Mezcal is the first product they made after the company changed ownership.
George and Rande still play an important role in the brand's product tasting process.
In 2017 the partner decided to sell the business to a larger distributed network.
Casamigos gets distilled twice. It ferments for two to eight days depending on the season before they distill it in covered copper pot stills.
The care and attention put into the manufacturing process are what distinguishes this Mezcal from the rest. 
We believe it will be one of the best Mezcals you've ever had, thanks to its flavors and smokey background. 
Pros 
Multi-award-winning drink 
They grow their agave for at least eight to ten years before using it as an active ingredient for the Mezcal
Gluten-free product
Free from any unnecessary additives
Cons
Detailed Analysis 
Casamigos added this joven Mezcal to its range in 2018. The Mezcal is the brand's only non-tequila product. It is already available in a 750ml bottle.
This ultra-premium tequila has earned multiple awards over the years. Some of the awards include the Los Angeles International Spirits Competition and the San Francisco World Spirits Competition.
They plan to sell 1-liter bottles in the United States, Canada, the United Kingdom, and Australia.
Bottles of Mezcal tend to be more expensive due to the fact that they produce them in small batches.
But we have to say that they've priced this Mezcal at an affordable rate for a premium spirit.
One of the most attractive aspects of this product is the bottle design. The inspiration for the design of the bottle comes from the ashy environment present in the manufacturing process.
Rande Gerber designed each bottle using a unique process to ensure that no two bottles are the same. It is also packaged in the company's first only non-clear glass bottle.
We think Casamigos Mezcal is for people who like to be adventurous with their alcohol.
And of course, this is also a great drink for those who are searching for big, bold flavors.
Appearance
When you pour it into your glass, you'll see that Casamigos Mezcal has a crystal-clear color.
The resting period for this Mezcal is only two months.
This Joven drink is clear because they do not age it as long as some of the other alcoholic beverages in its range.
Nose
Casamigos Mezcal has a smoky profile on the nose and taste of the drink.
We know that this comes from the fact that they roast the agave.
The agave is roasted in underground volcanic rock pits for four to six days.
As soon as you pour some of this Mezcal into your glass and bring it up to your nose, you will immediately experience some fruity and herbal aromas like mint and dried oregano in this drink.
We also find pomegranate and tamarind present in the nose of this Mezcal, and a slight hint of sweetness too. 
Taste and Finish
Like George Clooney, Casamigos Mezcal is smooth.
Once the Mezcal gets onto your pallet, you will get hints of cucumber and pollen. But, the majority of this tastes like water smoke.
One of the first things you will notice when this drink touches your tongue is that Casamigos Mezcal has some earthy flavors to it.
We find that the taste has some notes of black pepper and notes of licorice and minerals in the finish of this drink.
---
Conclusion
It is becoming a trend for celebrities to invest in liquor brands.
But we can say that George Clooney's Casamigos Mezcal is a brand that is well worth all the hype around it.
When it comes to our review, we can say that Casamigos is a winning blend.
This alcoholic drink brings out those herbal and vitric overtones beautifully.
We would suggest that you drink this Mezcal at room temperature. This will allow you to get the full experience of the aromas and flavors present in the drink.  
One thing that we can say for sure is that this drink will not hide in the background.
The Joven Mezcal shines in a cocktail, even though its flavor profile really calls for you to savor it neat or on the rocks.
If you do not want to drink it straight, we recommend that you mix it with some orange juice before serving.