Casamigos Blanco is one of Hollywood's best-kept secrets. For years, this spirit was the go-to drink of movie stars and socialites.
Rumors of this fine drink have permeated out of Los Angeles and now even us average joes can get our hands on a bottle. 
So, does it deserve all the hype? We tested a bottle so that you can find out. In this review, we looked at how a bottle of Blanco is made, and how it stacks up against its competitors.
Casamigos has an offering for each type of tequila. Casamigos offers Casamigos Blanco, Casamigos Reposado, Casamigos Mezcal, and Casamigos Anejo, but this review focuses on Casamigos Blanco Tequila specifically.
Casamigos has also partnered up with Williams Sonoma to create a Casamigos Cocktail Mixer set.
Casamigos Blanco Details
Agave – 100% Blue Weber Agave, aged 7-9 years, from the rich clay soil of the Highlands of Jalisco, Mexico.
Fermentation – 80-hour fermentation process versus the average 48 hours.
Slow-Cooked – agave piñas are roasted in traditional brick ovens for 72 hours, while most others steam theirs for 7 hours.
Color – Clear
Casamigos Blanco Review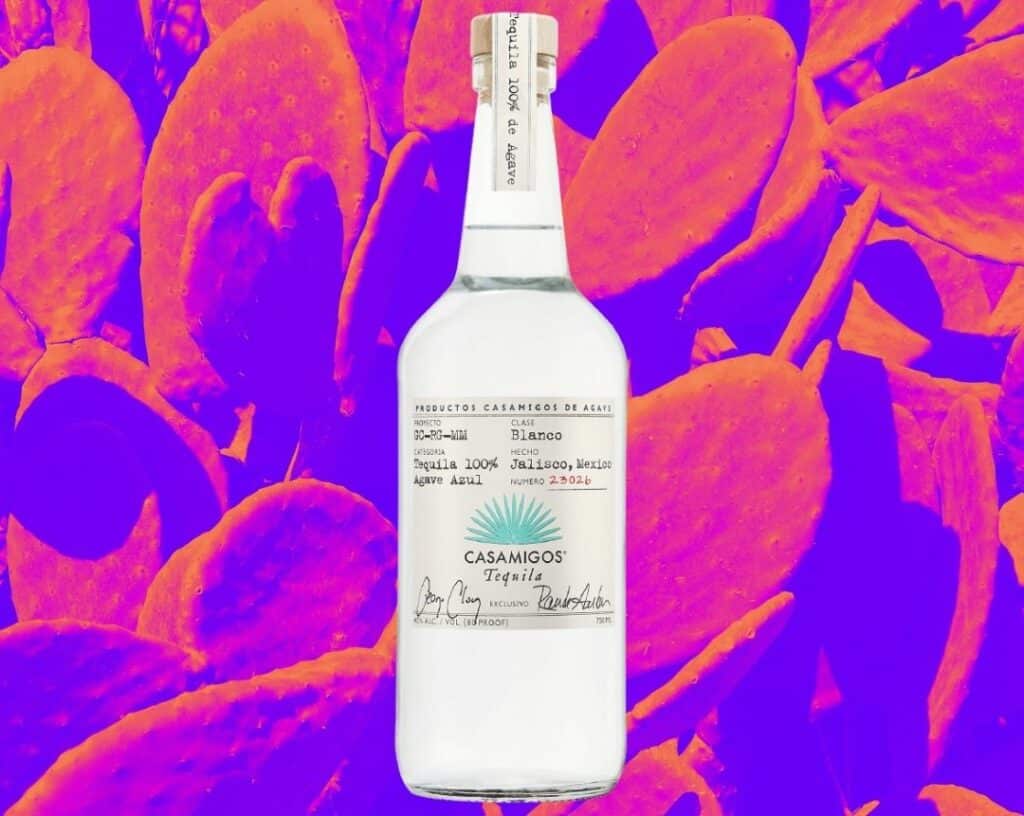 Overview
The Casamigos brand is the lovechild of famed actor George Clooney and his good friend and entrepreneur Rande Gerber. The brand owned by the two was launched in 2013. Their selection of tequila and mezcal was produced specifically to the two friends' tastes.
In 2017 the company was acquired by the British beverage giant Diageo for a whopping $700 million. Since then, the brand has grown from strength to strength, selling its wares all across the globe.
Casamigos prides themselves on producing small batches of high-quality tequila and mezcal. They utilize centuries-old fermentation and roasting methods that other brewers could only dream of.
Casamigos Blanco is great to add that spicy alcoholic kick to classic cocktails like Margaritas and Palomas. Alternatively, enjoy it neat over a couple of blocks of ice to enjoy the subtleties of this rare drink.
Pros
Exclusive, small-batch tequila.
Extra filtered spirit means a manageable hangover.
Uses traditional brewing and fermentation methods.
Cons
More expensive than the average bottle of tequila.
Limited production makes it difficult to get hold of.
Detailed Analysis
To review the quality of Casamigos Blanco we conducted a blind tasting of a bottle. We examined the quality in terms of its flavor, aroma, and finish, and how it fares against other tequilas in a similar price range.
We'll also look at the method of production and how it affects the finished product.
Production
Casamigos is one of the few tequila brewers today that can market themselves as making "real tequila." Where most commercial distilleries use a combination of blue agave and cane spirits, Casamigos use 100% agave in their stills.
Blue agave gives the tequila a distinct flavor profile that others simply can't compete with. The difference between a $20 bottle of cheap-and-cheerful and Casamigos Blanco is immediately noticeable.
Once the agave piñas have been shaved and harvested, they are roasted in traditional brick ovens for 72 hours. This is considerably longer than most other producers, who steam the hearts for around 8 hours.
As a result, Casamigos Blanco is sweeter and smoother than other white tequilas. The longer roasting time breaks down more of the complex carbohydrates into sugars, which are in turn broken down by yeast during fermentation.
The fermentation process is another area where Casamigos take the path less traveled. They utilize a proprietary blend of yeast to begin fermentation, and they ferment the spirit for twice as long as commercial distilleries.
At every step, it's obvious that Casamigos looked at what other brewers were doing and asked themselves "How can we do this better?" The attention to detail is commendable, and the results are obvious in every bottle.
Nose
The aroma of Casamigos Blanco is surprisingly bold without becoming overly pungent.
Primary notes of black pepper, chili, and smoked paprika grab at the tip of your nose. The spice is warm and welcoming. You can feel it opening up your sinuses as it wafts down your nose.
After the initial hit of chili, the aroma fades into rich, earthy notes. You get a sense of the dark, red clay of the Mexican highlands. Scents of turned soil help to carry the more elusive notes hidden in the bottle.
Finally, you are left with the high notes of agave and citrus. The care taken in caring for the agave is clear. The finishing notes are reminiscent of freshly cut grass blended with subtle bitter notes of arugula.
The citrus smells bring in a welcome freshness and complexity. Hints of sour lime make Casamigos Blanco an ideal choice for a margarita, while the notes of blood oranges and grapefruit make for a pleasant neat drink.
Flavor
Casamigos Blanco pours like thick cream. The spirit clings to the sides of the glass with velvety, viscous legs indicating a high oil content.
The spirit itself is crystal clear, showing the care and precision of the distillation process.
The first sip is an explosion of flavor. Hints of vanilla, honey, lemon, mint, and a hundred other flavors prickle the tip of the tongue. It's immediately obvious that this is a complex, nuanced spirit.
The extra sweetness that comes from the extended roasting time is a pleasant counterweight to the flighty sour and spicy notes. It makes for an enjoyable drink that keeps you coming back for more without becoming cloying.
The sweetness fades into a menagerie of herbs and spices. It's similar to spiced liqueurs like Jagermeister or Bitters. Hints of basil and mint cut through the richness of the drink to keep it light.
The flavor ends on a smoky note. Burnt oak tastes similar to aged scotch mingle with notes of paprika to create something unique.
Finish
The oily drink results in a lingering finish. The crystal clear spirit leaves a refreshing tang at the sides of the tongue. 
An oily sweetness coats the tongue and back of the throat. This helps to keep the finish light while allowing the subtler flavors to show through.
As the sweetness fades, wisps of oaky smoke drift up from the throat enveloping your mouth in warmth.
The final notes of Casamigos Blanco highlight the earthy, leafy flavors of blue agave. Peppery hints of chili linger at the back of the palate, while the lively notes of agave are prominent at the tip of the tongue.
Price
Casamigos Blanco is made in small batches. This inflates the price considerably over those that are mass-produced.
A bottle of Casamigos Blanco bought directly from their store will run you around $45, while purchasing it from a third-party retailer will add a few bucks extra.
For what you get, this is an excellently priced spirit.
A similarly priced white tequila is Don Julio Blanco. In a side-by-side comparison of the two, Casamigos comes out on top. It's more flavorful and sweeter than its competitors, making it excellent value for money.
Conclusion
Tequila is often viewed as a spirit meant for shooters on a night out on the town. Casamigos Blanco gives a valiant effort to try and change that perception.
If we were to describe Casamigos in a single word, it would be "classy." Gone are the days when heaps of salt and a twist of lemon are needed to slam down a shot of liquor. Casamigos aims to reaffirm tequila's prestige in the world of spirits.
It's hard to find, but if you can manage to get your hands on a bottle of Casamigos Blanco, you won't be disappointed.