Old Elk Wheated Bourbon is crafted using the minimum amount of corn required to be classified as 'bourbon' and then turning up the dials on the wheat. With a mash bill that consists of 51% corn, 4% malted barley, and 45% wheat, you get an incredible level of smoothness.
| | |
| --- | --- |
| Proof: | 92 |
| ABV: | 46% |
| Color: | Copper |
| Distiller: | Old Elk Distillery Co. |
| Age: | NA |
| Awards: | 2 Gold Medals |
| Mash Bill: | 51% Corn, 4% Malted Barley, 45% Wheat |
| Website: | https://www.oldelk.com |
Old Elk Bourbon Price
A 750ml of the wheated bourbon from Old Elk is available for $69.99
Tasting Notes:
Nose
Toffee, vanilla ice cream, caramel and floral notes.
Palate
Cream, toffee, vanilla, toasted almonds, clove.
Finish
Smooth, smooth, smooth.
Old Elk Bourbon Cocktails
Wheated bourbon cocktails can offer an interesting spin on traditional cocktails that require bourbon. They usually end up having a smoother finish than their traditional counterparts.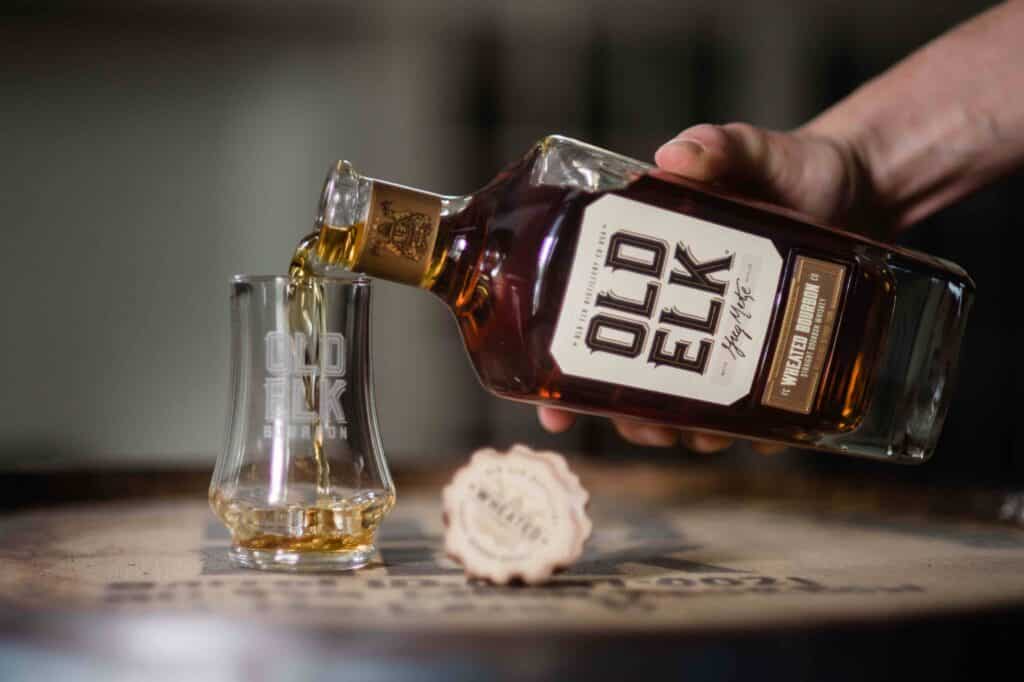 🥃 Old Elk Big Buck
Ingredients
2oz. Old Elk Wheated Bourbon
2oz. Ginger Beer
2 Fresh Strawberries
0.75oz. Simple Syrup
0.75oz. Fresh Lime Juice
Instructions
Muddle strawberries and lime juice.
Add Old Elk Wheated Bourbon.
Add simple syrup.
Shake with ice.
Strain into a Collins glass.
Top up with ginger beer and a fresh lime slice.
---
🥃 Old Elk Boulevardier
Ingredients
1oz. Old Elk Wheated Bourbon
0.75oz. Sweet Vermouth
0.75oz. Campari
1 Orange
Instructions
Add all three ingredients to a mixing glass.
Stir, add ice, and stir again.
Shave an 2″ piece of orange peel.
Twist and garnish.
More Bourbon Reviews
Old Forester 1920 Prohibition Style Bourbon Review
Rock Hill Farms Bourbon Review
Jefferson's Very Small Batch Bourbon Review