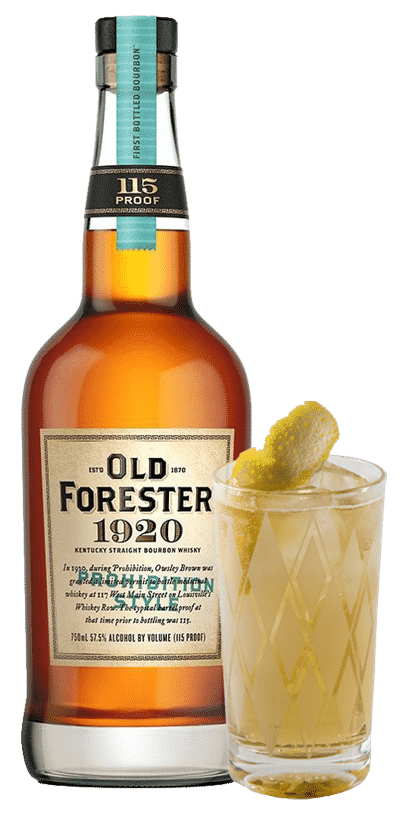 During the prohibition, Old Forester was one of six distilleries licensed to bottle bourbons. This was for medicinal purposes.
In 2015, they released a bourbon-based on their prohibition recipe.
A massive hit, this bourbon became a bourbon lover's favorite. But does it live up to all the fanfare?
We've done the hard work of finding out in this Old Forester 1920 Prohibition Style Bourbon review.
| | |
| --- | --- |
| Proof: | 115 |
| ABV: | 57.5% |
| Color: | Caramel |
| Distiller: | Old Forester Distillery |
| Age: | NA |
| Awards: | 13 Awards – 10 Gold Medals |
| Mash Bill: | 72% Corn, 15% Malted Barley, 13% Rye |
| Website: | www.oldforester.com |
Old Forester 1920 Bourbon Price
A 750ml of the 1920 Prohibition Style bourbon from Old Forester is available for between $44.99-69.00/
Old Forester 1920 Prohibition Style Bourbon (Our Review)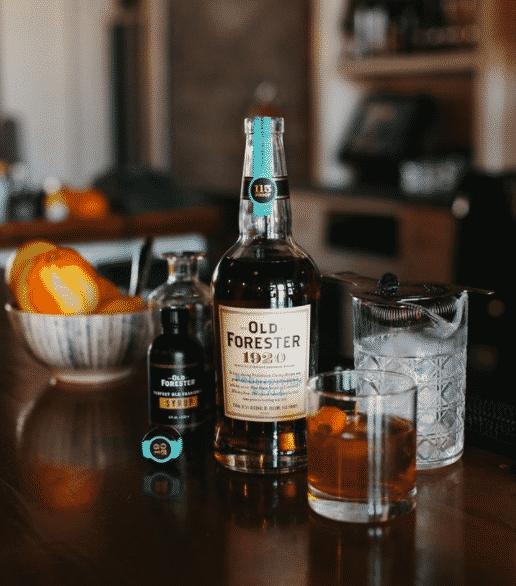 Overall Assessment
The Old Forester 1920 Prohibition Style Bourbon is something a little unique and different. It's not your stock-standard bourbon. That being said, its uniqueness means that it's not going to be everyone's cup of tea.
It has a generally fair sweet flavoring, with a bitter and oaky finish. The flavor is very strong, even more so than other bourbons. While this has made it a hit among many bourbon drinkers, the flavor profile might be a bit too intense for beginners.
It's pretty strong, sitting at nearly 60% ABV. So while you can drink it neat, you'll need to be careful. The nice thing about this bourbon is that it tastes great with a bit of water. You'll find new flavors coming through with even just a dash.
The proofing also has some history behind it. During the prohibition, bourbons and whiskeys had to be proofed at 100. Because of this, Brown-Forman approximated that an aged bourbon from the time would come out at about 115 proof.
So, with this bourbon, you really are getting a taste of the 1920s.
The 1920 Prohibition Style Bourbon comes in at around $60, making it pretty pricey, but not the most expensive on the market.
So if you're a bourbon or whiskey beginner, this might not be the one for you. But, if you want something new and unique and aren't afraid to shell out a bit of cash for it, then this bourbon is the way to go.
Pros
Unique flavor
Rich
More flavors come out with water
Also delicious drunk neat
Styled after the 1920 Old Forester prohibition recipe
Cons
A bit pricey for beginner bourbon drinkers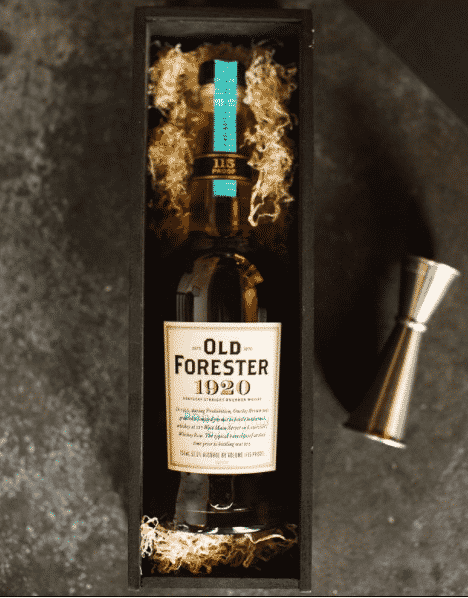 Detailed Analysis
Now that we've laid out our overall assessment of the Old Forster 1920 Prohibition Style Bourbon, let's get into a more detailed analysis of it.
Appearance
The Old Forester 1920 Prohibition Style Bourbon comes in a classic, slightly rounded bottle. The design gives off the feel of something plucked right from the 1920s, adding to the overall experience.
The bourbon itself is a rich, deep amber color, held beautifully in the Glencairn glass.
Nose
Right from the start, the Old Forester 1920 Prohibition Style Bourbon is rich and intense. While smokey like any bourbon, it has a wide mix of sweet scents.
The most intense smell on the outset is the dark fruit. Dried cherries mixed with a touch of banana are quickly followed by burnt caramel and strong butterscotch. These mix nicely with a touch of cola and almond.
The deeper scents that follow are smokey, dark chocolate, seasoned oak, and the tingly trace of the alcohol.
In all, it has a very pleasant nose that speaks well of the experience to come.
Palate
Just like its scent, the flavor of this bourbon is rich and diverse. It opens up with a thick flavor of dark chocolate and caramel that tingles with the strength of the alcohol. The burn quickly fades as new flavors start to come to life.
Nut and spice follow the other flavors, complimented by syrup and peppermint. It finishes with the bitter smokiness of the barrel. This is a nice balance to the initial burst of sweetness.
When adding water, the nut and mint flavors become more prominent. A hint of lemon even comes out, interestingly enough.
Overall, the flavor of this bourbon is sublime. Its intensity and richness make for a truly unique bourbon experience.
Finish
The oaky bitterness continues into the finish, alongside dark chocolate and a nutty flavor. This finishes out smoothly with a long-lasting aftertaste of oak and peppermint.
The finish is as rich and intense as the rest of the experience. The aftertaste lingers on well after the bourbon leaves your mouth.
It's very pleasant and the Old Forester 1920 Prohibition Style Bourbon finishes just as strong as it started.
Uniqueness
One of this bourbon's greatest strengths is its uniqueness. It has an ultra sweet-but-smokey flavor that sets it apart from other bourbons as something different.
If you combine that with the way a dash of water changes the experience, and you've got something truly one-of-a-kind.
Its history also makes it a special experience. It's fun to think that you're drink something that's the same as (or at least similar to) something from the prohibition. Especially when Old Forester was one of the very few legal distilleries at the time.
Cost
As we previously mentioned, the Old Forester 1920 Prohibition Style Bourbon comes in at around $60. Though, the price may vary depending on the vendor.
This makes it fairly pricey, but not out of reach for a bourbon lover.
Coupled with all of its history and uniqueness (as well as its ABV), we think that this $60 is pretty good value-for-money.
Bottom Line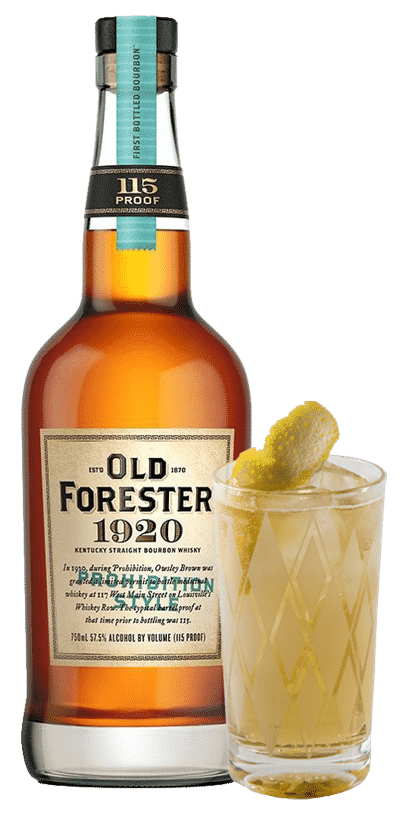 The Old Forester 1920 Prohibition Style Bourbon is a rich and unique experience. It's one that we would recommend you try at least once. It's clear that Old Forester put a lot of thought into providing something different and the results speak for themselves.
From clever styling to a great aroma to a sublime taste and finish, this bourbon is quality through and through.
Now, as we said, the intense flavor and pricing might make it not a great fit for beginner bourbon drinkers. But if you have experience with bourbons and know what to usually expect, then this is a great find.
The Old Forester 1920 Prohibition Style Bourbon is not only unique, but it's also historical. It lives up to the fanfare.
More Bourbon Reviews
Old Elk Wheated Bourbon Review
Rock Hill Farms Bourbon Review