Becherovka is the national pride and joy of the Czech Republic's social scene. It's a herbal liqueur that's been around since 1807. 
It was first sold as "English Bitter" to treat tummy problems. That was way back when you needed a good excuse for a tipple. 
Becherovka is still often served neat as a digestif. But there's so much else you can do with it. We have some of the best cocktail recipes to try below.
Becherovka is Bohemian. It's also made using 20 different regional and imported herbs and spices. This creates a unique beverage that stands out among other herbal liqueurs. These are plenty of good reasons to give it a try. 
So what does this liqueur taste like? Is it something you would enjoy? What's the price tag? And does it do any good for the tummy? 
We will answer all these questions here in our detailed review of Becherovka liqueur.
Becherovka Herbal Liqueur (Our Review)
Overall Assessment
Pernod Ricard produces the liqueur. They bottle Becherovka at a 38% alcohol content. Pernod Ricard makes many high-quality distilled liquors, like Absolut Vodka and The Glenlivet Scotch. So it seems the Becherovka brand is in good hands. 
Becherovka has received many awards. It received the Grand Prix Paris Prize and later was named an "esteemed work".  
The brand has had many bottling make-overs over the years. It has won some outstanding awards for its current apothecary-style design. 
But the recipe has remained unchanged for more than 200 years. Only two people know the recipe at the moment. Pernod Ricard matures Becherovka for a month in oak barrels.
Becherovka is popular across Eastern Europe. Elsewhere it's gaining cult status, as Absinthe once had.
You would be mistaken to think it's like Absinthe or Underberg though. It stands out on its own from other herbal digestifs.
There are two variations on the original, Becherovka Lemond and Becherovka Unfiltered. 
We know a bit more about the ingredients in Becherovka Lemond. It's a lighter, more citrusy liqueur made with orange, lemon, kumquat, Ceylon tea, and a touch of menthol. Lemond may appeal to you if you like the sound of a citrus herbal liqueur. 
Becherovka's small-batch Unfiltered expression is similar to the original. It's just a bit more intense. Before you try Becherovka Unfiltered, try the original to be sure you like it. 
We like the Becherovka Original and Lemond very much. Both are worth a try. We will look specifically at the original version here.
Detailed Analysis
What herbs and spices are used to make Becherovka we cannot say for sure. It is still a secret. We know it contains wine distillate and sugar though. We will detail here what it's like to drink it.
Appearance
Becherovka is clear and light yellow in appearance. It's almost like yellow champagne or a very light beer color. This can be a little misleading though. It is more spicy and herbal than it looks.
Nose
Cloves, cinnamon, and anise stand out in the aroma. It's less pronounced than Jägermeister but more pleasantly aromatic. 
Palate
The herbs create a natural medicinal flavor. The flavors include clove, cinnamon, aniseed, honey, and dessert apples. You may also detect a touch of licorice and ginger.
Becherovka has a decent balance of bitterness and sweetness. The honey sweetness shows first. The herbs and spices come in a moment later. This makes it more refreshing than expected. 
Finish 
Clove lingers for the longest, making for a hot yet sufficiently smooth aftertaste. 
Price 
The 750ml bottle is priced at around US$25. This is a good price for what you get. Sometimes you will pay up to US$30. 
You can also sometimes find the mini 60ml bottle at under US$4. This might be a good idea if you want to try it after a rich meal.
Becherovka Cocktails
There's a lot you can do with Becherovka. If you aren't fond of the taste when served neat, you can make cocktails that can be more appealing to you.
Classic Beton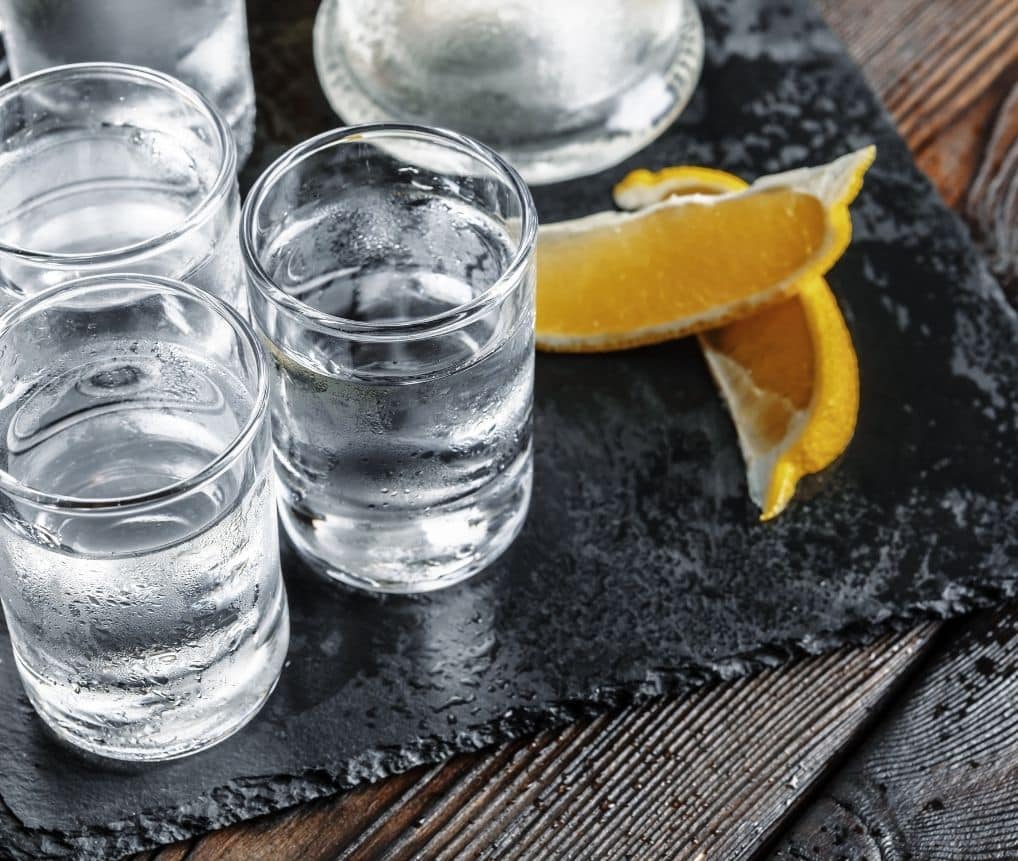 For this cocktail, simply pour 3.34 oz. (100ml) of your tonic of choice over a shot of the liqueur. Add ice, plus a lemon slice if you like. Serve in a tumbler.
Beton Variations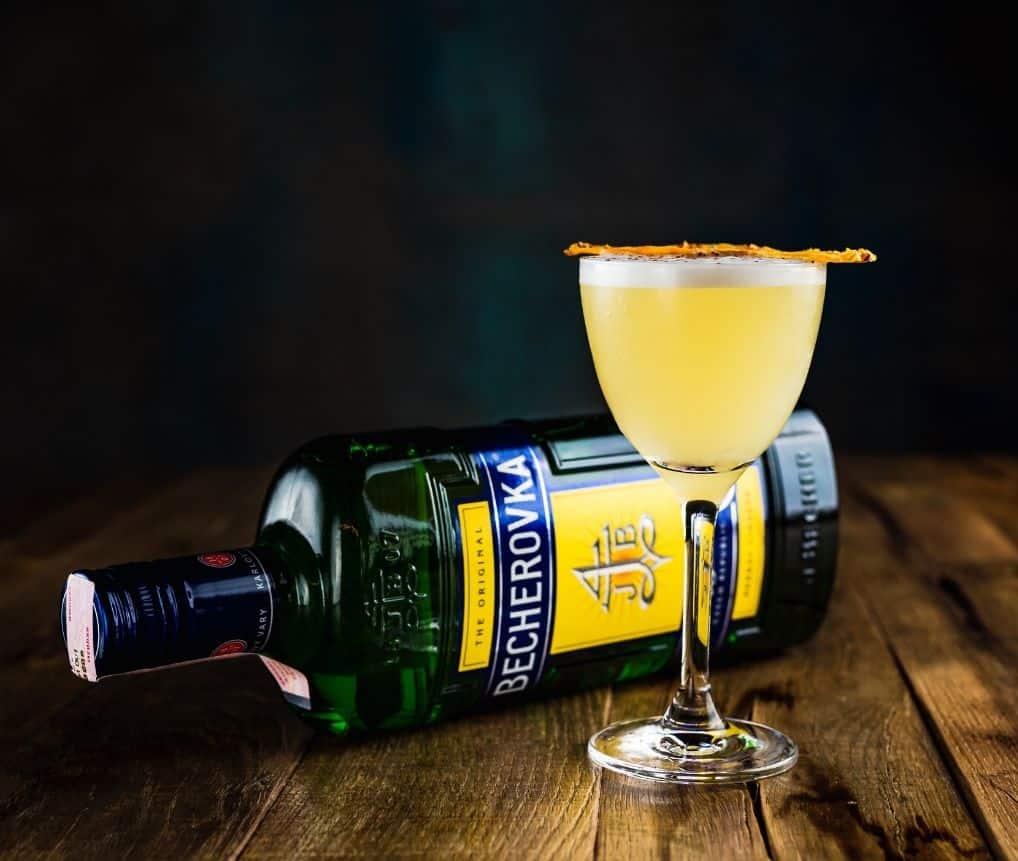 There are endless variations on the Classic Beton. Use the recipe above, and add your ingredients of choice. You can try it with apple, grapefruit, or cranberry juice. 
Becherovka suggests trying it with a dash of beetroot juice. This goes well with the herbal and spicy flavors of the liqueur. 
Some even like it mixed with a light beer, and even red or white wine. You can serve these in different glasses to suit the variation. A gin glass is a good idea all around.
Becherovka Bianca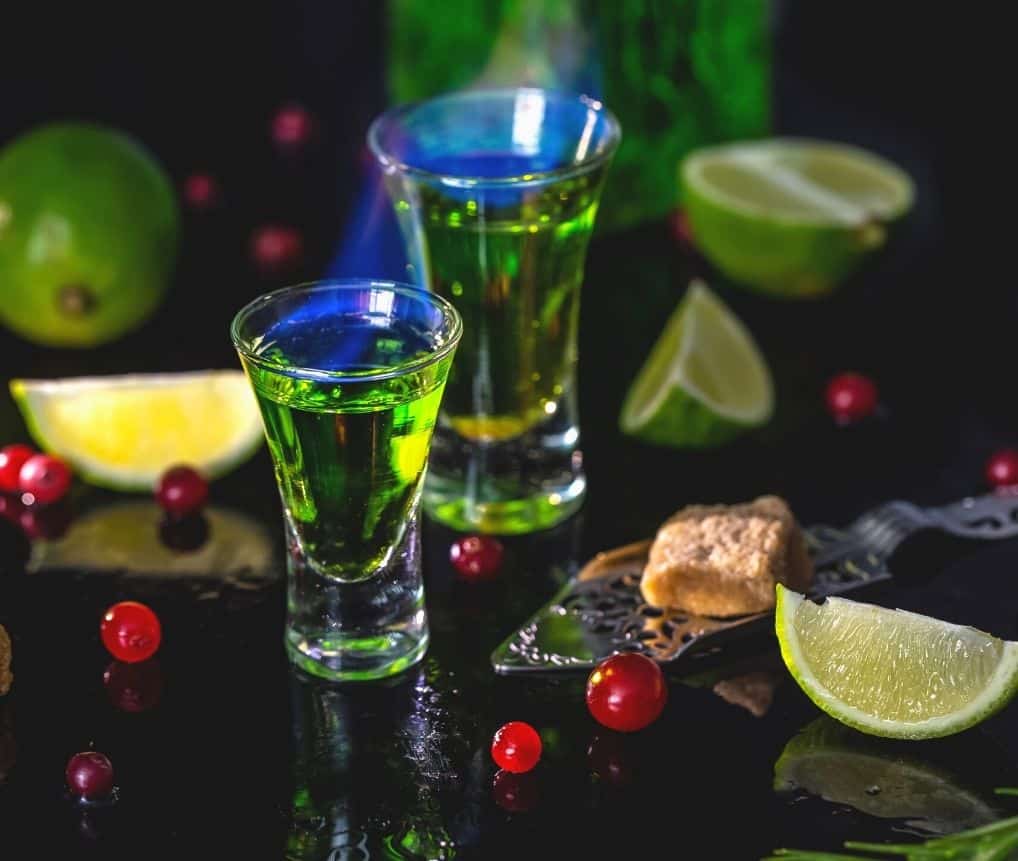 Add white vermouth and champagne or sparkling wine to a shot of Becherovka. Place some raspberries in the glass and top up with ice. Serve in a hurricane glass with a slice of lime on the side.
Conclusion
Overall, there is something quite charming and elegant about this liqueur. You won't get this kind of vibe with most other herbal liqueurs. 
Becherovka is more tasty and flexible than expected. You can enjoy a shot with friends after dinner or mix it up in a cocktail on a hot afternoon. 
For those who like herbal liqueurs, Becherovka is a great choice. It can also make an impressive but not too expensive gift. 
You might be looking for a digestif specifically. With or without tummy trouble, it would be a fine choice. Both young and older people will likely enjoy it equally. 
If you are ever in Karlovy Vary in the Czech Republic, check out the brand's interactive museum with a VR experience. 
Becherovka Herbal Liqueur FAQs
Does Becherovka help with tummy trouble?
Herbal liqueurs have been around for ages. Strangely, there's still not enough hard evidence to say they work. 
Becherovka contains a 'carminative' or herbal preparation. This might help prevent gas and calm the stomach.
Alcohol can stimulate your tummy to make more pepsin. It's the main enzyme for digestion and protein especially. Herbal digestifs might be better at getting pepsin into action than whiskey, for example. 
Another theory is that your body sees a bitter substance as harmful, even when it's not. Your stomach then naturally gets to work to flush your system in case you ate something poisonous. This helps you digest food faster. 
Becherovka is not all that bitter. But it might help trigger some of that flushing mechanism. That might give you some relief. Again, we don't have scientific evidence to back up a claim that Becherovka is a cure or medical treatment.  
Can I drink Becherovka neat?
Absolutely. As a digestif, you would drink Becherovka neat after a meal. Always serve the liqueur cold to enjoy it most. 
Where is Becherovka available? 
Becherovka Original is exported to North America, except Mexico. It's shipped across most of Europe, the UK, and some parts of Asia. It's now available in Australia, Lebanon, Israel, and China as well.
If you are outside these countries, you will need to get it shipped in especially.
Becherovka Unfiltered and Lemond are mostly only available in the US, UK, and Europe.